23 Best Vegan Bread Recipes
Here's the ultimate list of 23 easy, fail-proof vegan bread recipes such as – vegan banana bread, challah bread, gluten free bread and more!
PIN The Image Below To"Vegan Bread Board" and Check It Out Later!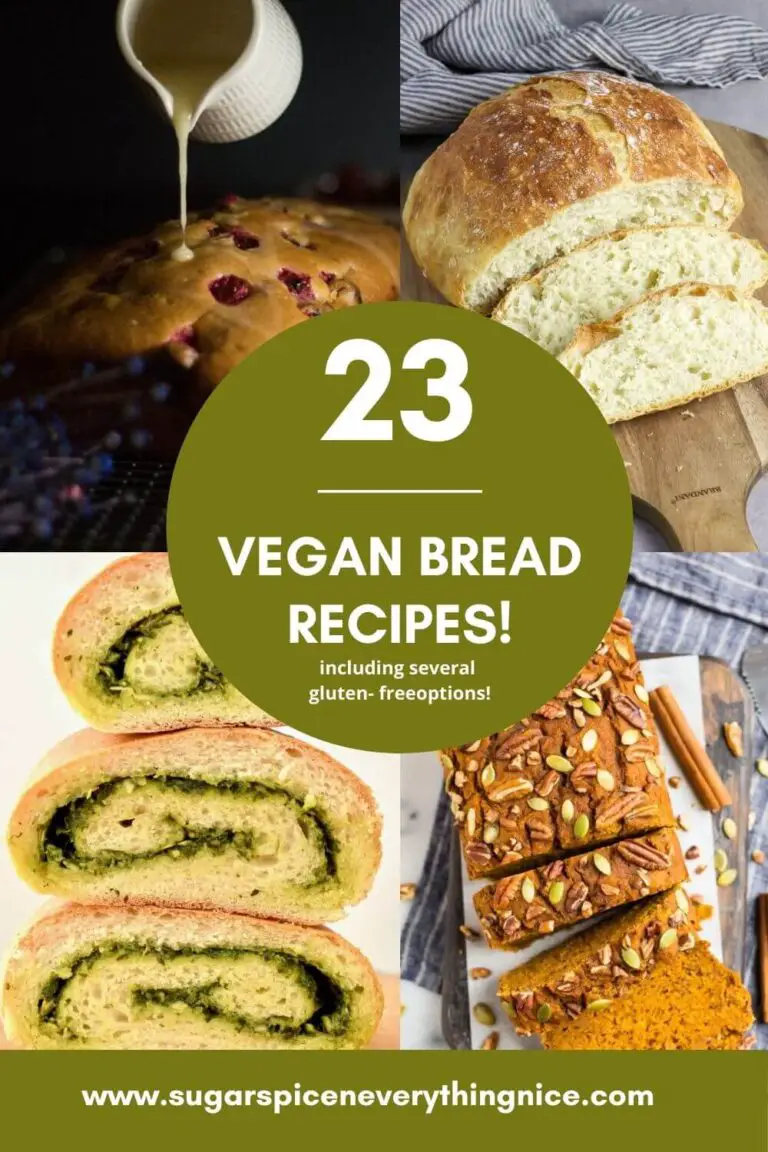 Disclosure: This Page May Contain Affiliate Links, Which May Earn Me A Commission, With No Additional Cost To You. Each Of These Links Are Referenced With The Asterisk Symbol * Next To It, At All Places It Is Posted.
You can't beat a fresh bread straight out of the oven, still warm and crunchy on the outside and soft on the inside. Of course you can buy the same from your grocery store, but for those of you who have baked a bread know what I am talking about.
The pride you can take in a bread that you baked from scratch — kneaded on your kitchen counter, proving, baking — somehow makes even a decent bread taste extra delicious.
Below are some of the popular vegan bread brands, common vegan breads and 23 vegan bread recipes that you would definitely want to bake!  Get ready to make your first loaf today!
Popular Vegan Bread Brands
Below are some of the popular brands that sell vegan breads. Not all of them are available to order in Amazon, or in your closest grocery store (depending on where you are located) but here's to hoping that this helps at least some of you!
One Degree Organic Foods * – One of the popular ones from this brand is the bread made with lentils, oats and sprouted wheat and you can order them from Amazon.
Mighty Manna Bread* – Wide variety of vegan breads including cinnamon date, banana walnut, to name a few.
Angelic Bakehouse* – Has healthy options such as low-sodium and no sodium breads. One of the popular ones you can find on Amazon are the Demi-baguettes made from sprouted whole grains
Food for Life* – Another popular bread brand famous for its variety of Ezekiel breads, and other baked products such as English muffins, cereals, buns and so on. You can out their website to see if you can find their products in your area.
Rudy's Organic Bakery – Find these at your nearby Whole Foods locations. Popular ones include Organic 7 grain with flax, Nut & Oat bread and Organic Cinnamon Raisin.
Most Common Types of Bread that are Usually Vegan
Foccacia: This Italian flatbread is usually topped with herbs, sometimes even decorated with herbs in to resemble an artwork, and baked in a sheet pan. Its rich in fat from olive oil that's used and has a nice yeasty flavor as well. Goes well as a sandwich or simply to just have with some butter.  This also goes well on the charcuterie board.
Sourdough Bread: This bread does not use any commercial yeast or other ingredients to aid in the rise. Instead you use a starter dough which is a mix of fermented flour and water mixture which includes wild yeast and good bacteria
Ciabatta: Another Italian white bread made with whole wheat flour yeast, olive oil, salt and water with a crunchy texture on the outside and soft and airy texture on the inside.
Kosher bread: These are usually free of dairy, since Jewish diets avoid mixing dairy with meat. So a dairy free bread leaves room for meat toppings. Some of these breads do not contain eggs as well, making them fully vegan.
Baguette: A popular type of French bread that's long and thin with a crispy crust and tender crumb.
Pita Bread: Mostly vegan and made with flour, yeast, water and salt, pita is a simple flat bread, most popularly found in Middle Eastern and Mediterranean cuisine.
Ezekiel Bread: Made from sprouted whole grains and legumes, Ezekiel is another popular bread which is usually higher in protein and other nutrients.
The Best Vegan Bread Recipes
Ready to  make your very own vegan bread? Each recipe in this list is devoid of animal products and some are gluten-free as well. Let me know in the comments below which recipes you tired from the list! Enjoy!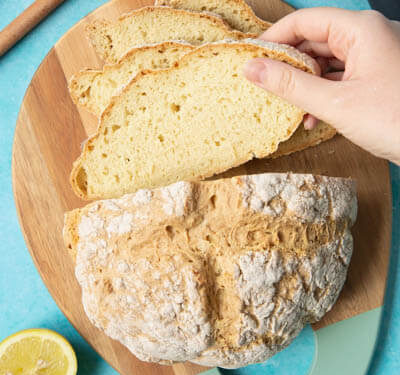 Let's start off this list with this simple vegan soda bread. This is definitely a beginner friendly bread that needs no yeast, eggs or dairy products! All you need are simple ingredients such as any plant milk, bicarbonate of soda, lemon juice and all purpose flour!!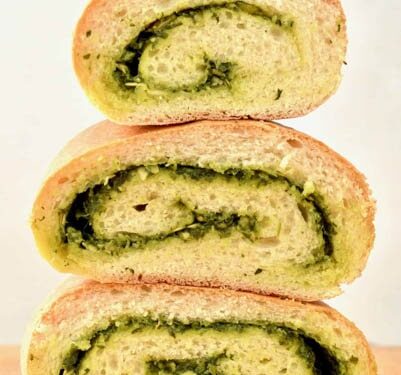 This easy to make soft and fluffy bread features a gorgeous green swirl of homemade flavoursome pesto. Serve it with a side of soup (like this Sopa de Tortilla Soup!)  or on its own
Here we have the perfect vegan challah recipe! Soft and slightly sweet, this vegan round challah bread is as pretty as it is tasty and it  goes really well with a spread of butter!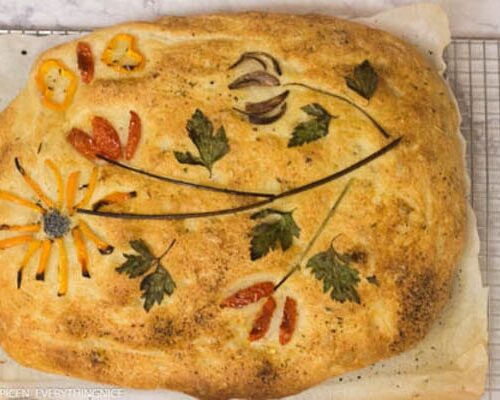 This focaccia recipe is beginner friendly & requires no kneading! The overnight rise is the secret behind this fluffy focaccia bread.
This recipe calls for simple ingredients like olive oil, all purpose flour, yeast, warm water and salt. It is ideal for eating as an appetizer or sopping up rich pasta sauces.
You can also decorate your focaccia with whatever toppings you like and make an edible art!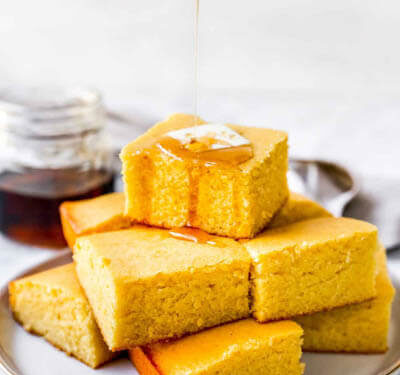 This easy recipe makes 12 slices of moist and fluffy cornbread, with a hint of traditional sweetness. It only takes 15 min of prep time! Best served with some vegan butter or a side to some chili or soup.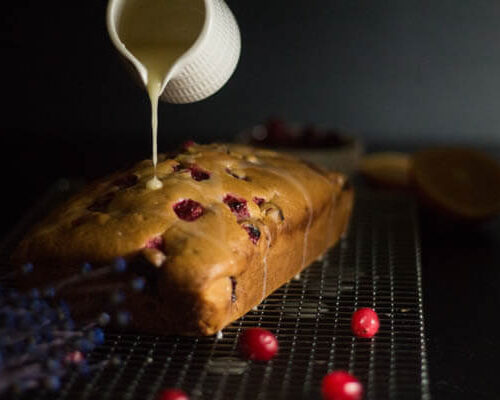 Delicious vegan cranberry orange bread recipe pairs the tartness of cranberry with the sweet citrus flavor of orange juice and orange zest.
Vegan ingredients such as plant butter and almond milk makes this traditional Christmas recipe, vegan. (Also check out this vegan Christmas tree cupcakes for your next Christmas party!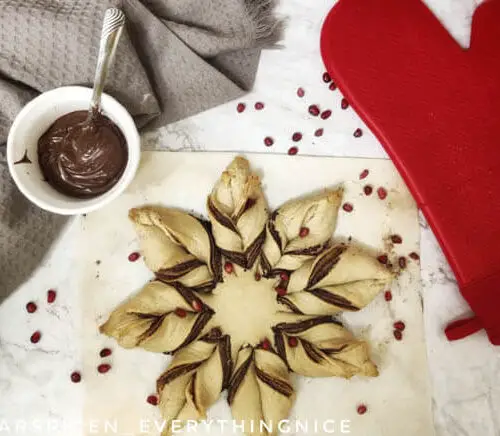 This pull-apart style sweet bread is a perfect showstopper for your holiday party!  Check out the recipe and step by step video to learn how to make this star bread.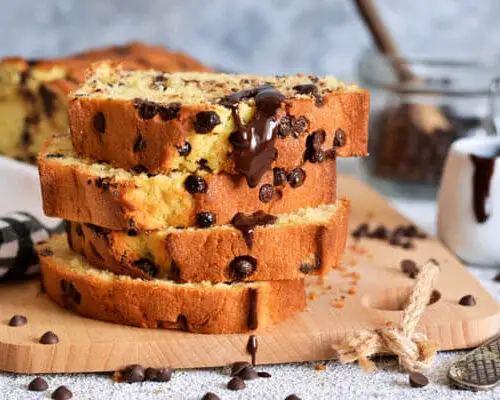 This Chocolate chip vegan banana bread recipe is moist, fluffy, and so delicious.
It's so easy to make the bread fluffy and rich and still keep it vegan. Make it in 9X5 loaf pan* in just 45 min.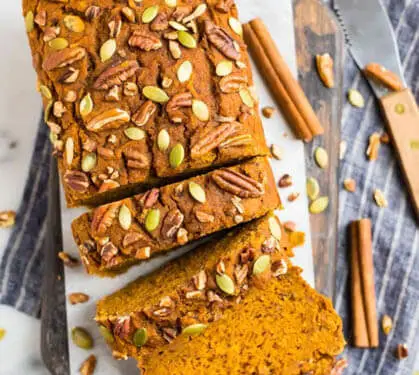 If you thought pumpkin bread was already awesome, how about a  vegan pumpkin bread.
Ingredient list consists of flaxseed meal*, applesauce, fall spices and a whopping whole can of pumpkin. It is sweetened with maple syrup and contains no oil!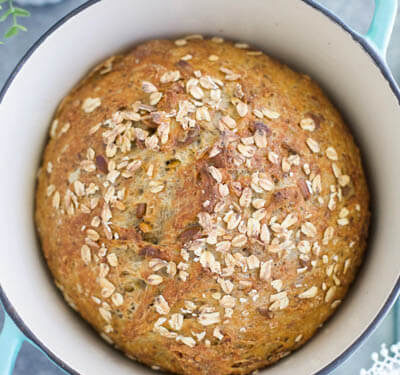 This hearty vegan wheat bread is loaded with whole grains and seeds. It has a beautiful golden crust, and it's extremely easy to make!
With minimal effort, you can make this no-knead dough the night before so you can enjoy freshly baked bread in the morning!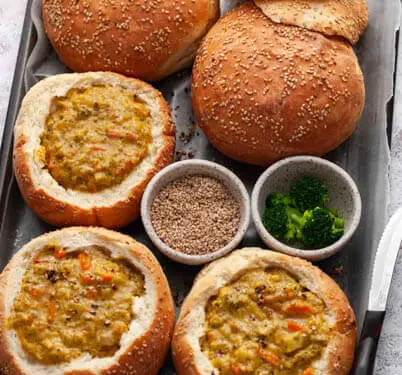 Homemade bread bowls are a great way to serve soup in and making your own is easier than you think.
All you need are five basic ingredients: bread flour*, yeast*, salt, sugar and sesame seeds. Enjoy your favorite soup in these bowls and eat the soup-soaked bowls afterwards!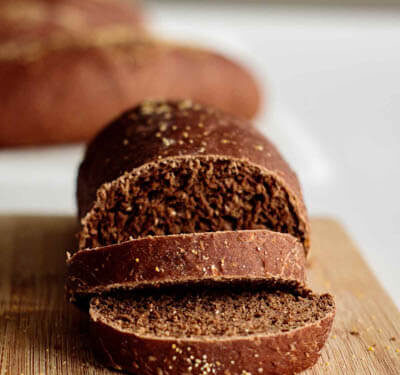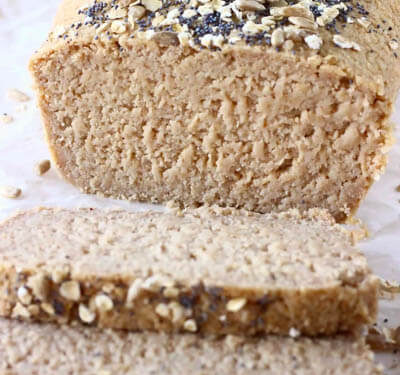 This Oat Flour Bread is crusty on the outside, soft on the inside and has a lovely nutty flavour! It's filling and nutritious, and is a good source of protein and fibre.
There's no kneading or proving time required and it comes together in one large bowl. It's vegan, gluten-free, yeast-free, free from sugar, oil-free and nut-free!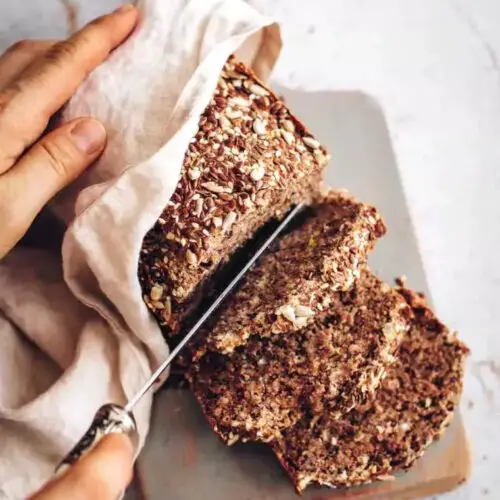 If you like gluten-free breads, you will love this vegan bread made from buckwheat flour* with crispy edges and a deliciously nutty flavor.
This loaf of bread slices well, doesn't require any kneading, yeast or bread machine and is so nutritious!
This easy loaf of vegan beer bread is a no-fuss recipe and requires only 5 ingredients!
Instead of yeast, this bread relies on the fizzy fermentation of your favorite brew. No kneading needed to make this sweet, delicious bread.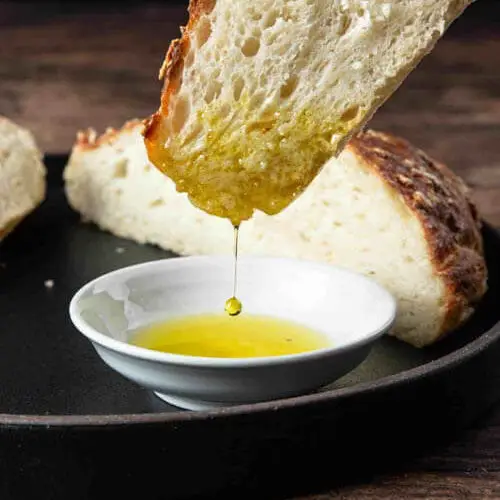 Another easy vegan bread recipe. It is made with 4 basic ingredients and is made in an instant pot*. This foolproof method yields one crusty homemade artisan bread.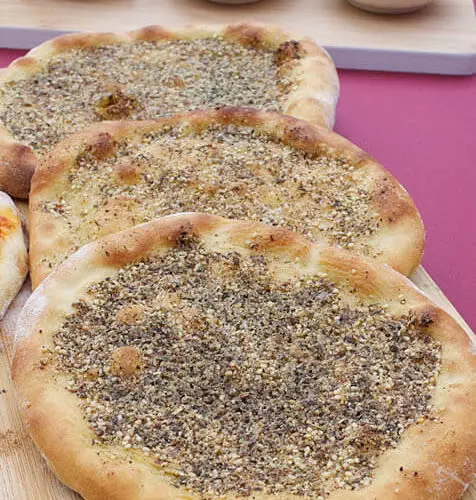 Man'oushe or Manoushe is a popular Lebanese flatbread that is eaten on the go. It is crispy on the outside, slightly chewy on the inside, and topped with the most aromatic of spice blends – za'atar*.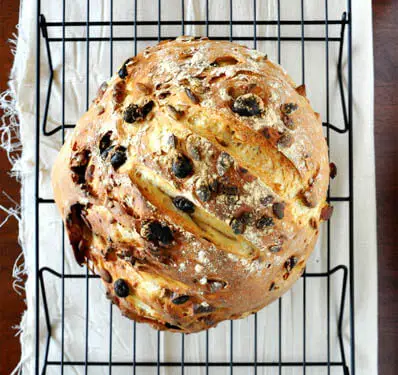 A simple, 7 Ingredient muesli bread studded with pumpkin seeds, almonds and raisins. Perfect for sandwiches, french toast, or toasted with butter and honey for breakfast.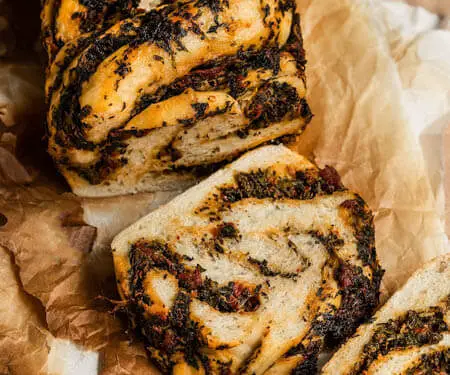 Vegan savory babka is made with common ingredients easily found in your home and it is  filled with spinach, basil & sundried tomatoes*.
This flavorful delicious vegan bread only needs to be baked for 45 min!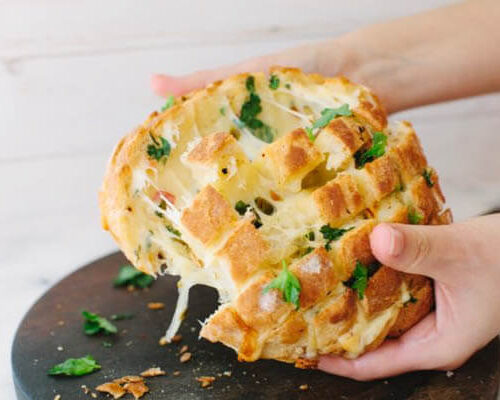 This amazing Cheesy Vegan Garlic Bread is soft and gooey on the inside with a perfectly crispy crust on the outside.
Perfect comfort food, for a day of pure indulgence. The best way to serve is straight out of the oven, sprinkled with fresh parsley leaves.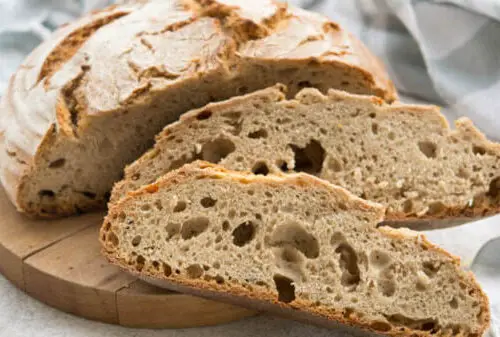 Learn how to make this easy vegan sourdough bread using sourdough starter (made from rye* or whole wheat flour) and 3 other ingredients.
For best results do not bake the bread in preheated oven. Perfect sandwich bread for lunch or dinner!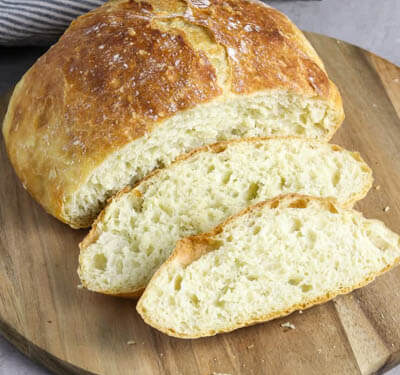 This surprisingly easy No Knead Artisan Bread Recipe is made in a dutch oven* and uses only 4 ingredients!
The crust is golden and crackly, while the inside is soft and fluffy. Remember to let the bread reach room temperature before slicing.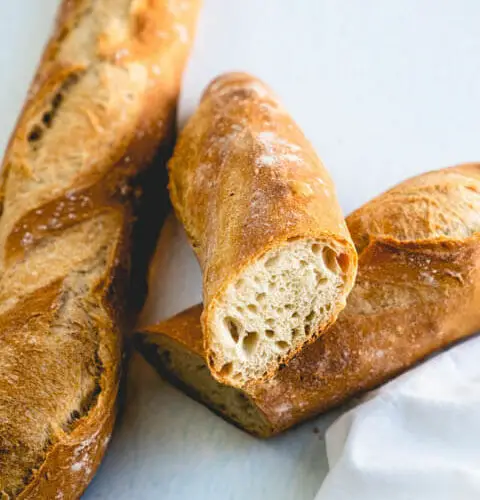 This crusty French baguette recipe is easier to make than you think! No special equipment required and it only ingredients you need are all-purpose flour, yeast and salt.
Did you find this article helpful ?? Leave me a star rating & comment about it or any recipe idea you would love to see. Don't forget to share with family and friends!
Commonly asked Questions
What is gluten-free bread and is it healthy?
Gluten-free bread is dense, which makes each slice heavier than a regular slice of bread. This means more calories, sugar and less fiber.
Is whole wheat bread healthier than white bread?
Whole wheat bread has a lot more fiber, nutritional value and few calories when compared to white bread.
Is yeast vegan?
YES! Yeast is a species of single celled organism that belongs to the fungi kingdom! Its neither an animal or a plant, hence its vegan!
How do you store vegan bread?
Store bread wrapped in plastic wrap, freezer bags* or in any airtight container. Damp and airy places are the worst place you could store breads in, since it can lead to mold build up and make the bread go stale.
If you store it in the refrigerator, it can last up to around 7 to 12 days. If you want to store for longer, then wrap individual slices with plastic wrap and freeze it, it could stay for 6 months.
Do you need bread maker to make bread?
Short answer is no, you do not need a bread maker to make bread. The process of making traditional bread includes mixing, kneading, rising, proofing and finally, the baking. You can definitely do all this by yourself, with some effort and a lot of patience.
Proving especially can be really tricky when it comes to fluctuating temperature and a not-so-controlled environment, which would lead to a less risen dough which in turn leads to a dense cake. Another delicate process is the kneading (for the ones which kneading), where too much kneading or more also called 'overworking' the dough, causes the dough to become tough and lead to a dense, tough bread.
If you are someone who bakes cakes very often, then the element of time would be the biggest attraction. While you may know to make really awesome breads consistently and frequently, then a bread maker will, without a doubt, save you a lot of time. Check out Hamilton Beach Bread Maker* (2 lb capacity) and KBS 17-in-1 Programmable Bread Maker (2 lb capacity)*.
In terms of cost savings, let say your average white bread costs you $2 and you buy them once a week, you can easily make up for the money spent in a year itself, and if you are going for more healthier multigrain type of breads, then its going to cost you more so you definitely save the money even faster. All the above reasons, combined with the fact that bread needs very simple ingredients like flour, yeast, salt and so on, it is a no-brainer that a bread maker is a worthwhile investment to a frequent baker.
Are plant based breads healthy?
Even though you could make the argument that vegan or plant based breads are healthier just because there is no eggs in it and it has whole grains and the nutritional value that comes with it, it still carries a good amount of fat and calories. So vegan breads should be consumed in moderation.
How to check if a bread is vegan?
Best way to check if a bread is vegan is to check the ingredients list and keep an eye out for the following items:
Dairy products: Milk, yogurt, lactose, butter, buttermilk, ghee, caseinate, sodium caseinate, L-cysteine,
Whole Eggs, egg whites, yolks
Lard
Gelatin
Honey
Join Sugar Spice Community:
Facebook Group | Pinterest | Instagram | YouTube
Looking for more recipes? Sign up for our Sugar Spice newsletter and our YouTube Channel for weekly videos. Also rate, comment and share this article!
Disclosure: This page may contain affiliate links, which may earn me a commission, with no additional cost to you. Each of these links are referenced with the asterisk symbol * next to it, at all places it is posted.
About the Author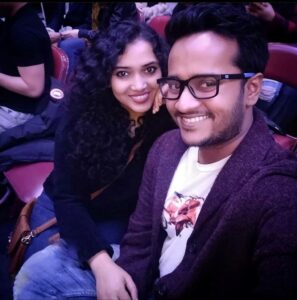 Hi! Akshita & Midhun here! Welcome to our blog where we show simple yet awesome recipes for your cravings.
Akshita being allergic to egg, we are committed to providing egg-free recipes along with some vegan friendly options. Read more about us here!
We are sorry that this post was not useful for you!
Let us improve this post!
Tell us how we can improve this post?