The Best Vegan Challah Bread
Ever braided a bread before? Soft, moist and slightly sweet, this braided vegan challah bread is so pretty and goes perfect with a spread of butter! The term challah in biblical hebrew means a loaf or cake. Jews and non-jews alike love the flavor and shape of this delicious, usually eggy, bread. You can find challah in different shapes – braided long loaf or round like a crown. We decided to do the round challah for our recipe.
Disclosure: This Page May Contain Affiliate Links, Which May Earn Me A Commission, With No Additional Cost To You. Each Of These Links Are Referenced With The Asterisk Symbol * Next To It, At All Places It Is Posted.
A Little More About Challah Bread
There is more to challah than just bread. There is tradition here. A spiritual one. For Jews, it is considered to be a path to connecting with God's spiritual energy. Baking challah is thought of as a blessing in a Jewish home.
Traditionally challah bread is served at the Shabbat tables or during holidays and are mostly considered to be a dish for 'special occasions'. Of course you can make challah any day of the year if you please. After you taste one, you might just do that. The round challah specifically is made for the Jewish New Year and is believed to represent a crown, for crowning God as king on Rosh Hashana.
For me, the most attractive part about a bread is the rise and kneading. What stood out about this challah was the braiding! I have never made a bread that needed any kind of braiding so this was a new challenge to take up. Combining the usual rise & knead of a bread with the braid of the challah was simply, exciting and luckily we didn't mess it up.
If you would like to start off with a simple yet delicious no-knead bread, check out our Fluffy Focaccia Bread. Also check out our Vegan Chocolate Star Bread if you are in the mood for something more challenging and sweet.
Braiding the dough can be quite daunting, especially if you mess up a lot of times. The key is to understand the instructions well before trying it out. If you try to figure it out as you go, then you might end up re-doing the braid few times over and over again till the dough becomes tough and result in a stiff bread, which is the last thing you want when you put all the effort into making a challah.
Tips To Perfect The Challah
The water temperature of the warm water, should be ideally around 110 F. If it is too hot, it will kill the yeast and you will not get the dough to rise. If it is too cold, then the rise will not happen at all.
While kneading the dough after the rise, make sure you do not over knead it. The purpose of kneading is to knock out some of the air in the dough but if you knock all of it out, the resulting dough becomes too tough to work with
Before braiding the dough, watch the video few times and make sure you understand it. If you decide to try and figure it out on the way, you might end up tangling the braids and have to work on it a lot more to untangle and braid again, resulting in an over worked dough which ruins the softness of the challah bread
The Best Vegan Challah Bread
Ingredients  
1.25

oz

Dry active yeast

Approximately 7 g

1/2

cup

Granulated sugar

Plus a pinch

1

cup

Warm water at 110 F + 3 tbsp separate

6

tbsp

Olive oil

Or any other cooking oil

2

tsp

Baking powder

3

cups

All purpose flower

1.5

tsp

Salt
Instructions 
In a small bowl, add yeast, pinch of sugar and the 1 cup of warm water at 110 F and mix. Let it sit for 5 minutes or till it blooms.

Once its bloomed, add 2 tbsp of the oil and mix

In a medium sized bowl, add 3 tbsp of oil, remaining 3 tbsp of warm water and baking powder. Mix till combined

In a large bowl, add the flour, sugar and the salt. Whisk till combined.

Add in the prepared mixtures from the small and the medium bowl. Mix with a spatula and once the mixture becomes a bit more thick, switch to your hands

Add in little bit of flour, about a tbsp at a time while mixing the dough with your hand. Mix it gently till the dough becomes smooth and evenly combined as you see in the video

Grease the inside of the bowl with some oil. Leave the dough in the bowl, cover it with a damp towel and let it rise for 2 hours or until doubled in size.

After 2 hours, take the dough out, place it on a floured surface and knead it into a log. The goal is to knock out some of the air in the process but still keep the dough soft and fluffy. Do not over-knead the dough as it will make the dough tough

Cut the log into 6 equal pieces.

For the braided design of the Challah we have shown, you only need 4 pieces

Roll out each of the 4 pieces into thin long strips

Lay out the four strips in the form of tic-tac-toe with each braid going over and under the other. It could get a bit confusing so check out the video to see how the next few steps are done.

Braid the strips as shown. Tuck any extra length under the braided dough.

Brush the dough with some olive oil.

Line a baking pan with parchment paper. Transfer the dough carefully on to the pan

Bake at 325 F for 25 minutes

After baking, let the bread cool for 5 minutes on a wire rack. Serve it warm and goes awesome with butter.
If you give this recipe recipe a try, let me know if you liked it in the comments below. Also, don't forget to snap a photo and share it on Instagram. Make sure to tag @sugarspice.2020 so I can see your creations!
Pin the Image below to "Bread" Board and check it out later!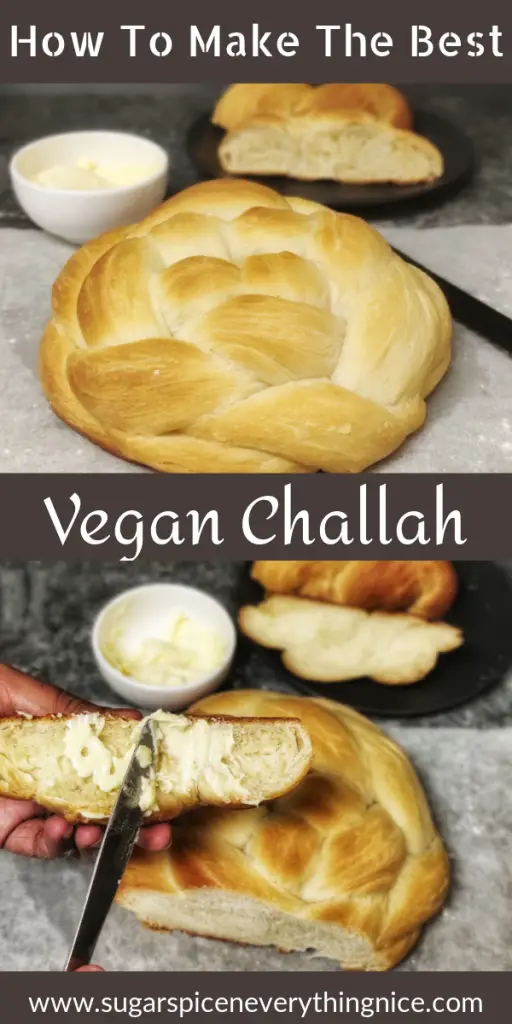 Disclosure: This page may contain affiliate links, which may earn me a commission, with no additional cost to you. Each of these links are referenced with the asterisk symbol * next to it, at all places it is posted.
We are sorry that this post was not useful for you!
Let us improve this post!
Tell us how we can improve this post?