Easy Christmas Tree Cupcakes (Vegan)
These chocolate Christmas tree cupcakes are rich, moist and perfect for your next Christmas or holiday party. This is going to be one of the standout desserts on your holiday dessert table!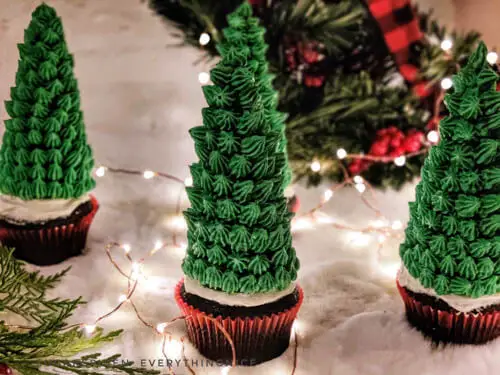 Disclosure: This Page May Contain Affiliate Links, Which May Earn Me A Commission, With No Additional Cost To You. Each Of These Links Are Referenced With The Asterisk Symbol * Next To It, At All Places It Is Posted.
I love baking during the holiday season. I especially love making Christmas cookies like this hot chocolate sugar cookie cups I made last year!
This year I decided to bake these easy Christmas tree cupcakes. The chocolate cupcakes are made festive by adding edible Christmas tree toppers made from ice cream cones with green ermine frosting and a light dusting of powdered sugar for snow.
These cupcakes do look impressive and they are incredibly easy to make. In fact, your kids would be able to give you a hand. These are so much fun to decorate as well! 
Another cute holiday treat that you can make with your kids are these Rudolph the Reindeer Ice Cream Bars.
All you need to turn these simple chocolate cupcakes into adorable Christmas tree cupcakes are some sugar cones*, green food color and some powdered sugar to resemble snow.
A pastry bag with small star tip will give the Christmas tree shape. And trust me, you don't need to be an expert in piping to make the tree leaves!
Looking for more festive holiday treats? Try our easy Vegan Cranberry Orange Bread and delicious Vegan Cinnamon Rolls!
Shortcuts + Flavor and Tree Topper Alternatives
I used chocolate cupcakes as the base of the Christmas Tree but you can also use plain Vanilla Cupcake, Red Velvet Cupcake any other flavor that you love. 
If you are short on time, you can even use a boxed cake mix to make the cupcakes or just decorate a store bought one!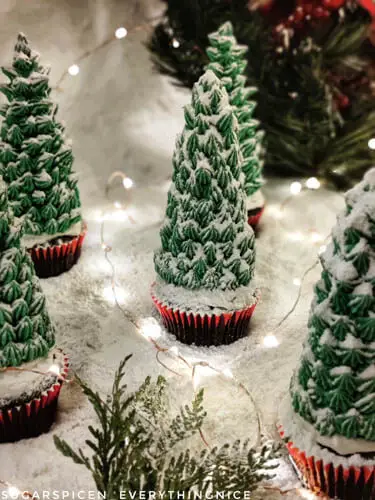 If you are someone who doesn't like frosting, you don't have to chuck this Christmas tree cupcakes recipe! 
You can use this recipe to make the delicious cupcakes and for cupcake topper, instead of using frosting covered cones, make Christmas tree out of pretzel stick and melted green candy.
Pipe the candy melts over the pretzel sticks in the shape of a tree then immediately top the trees with the sprinkles. Voila! Another version of Christmas Tree Cupcakes is ready.
Ermine Frosting
We decorated our cupcakes with Ermine frosting. Its different from the traditional buttercream frosting we usually get from a commercial bakery. 
Ermine frosting uses flour as part of the ingredients to give it a thicker and more sturdy frosting. You can keep it at room temp for up to 6 hours.
So if this is your first time trying out frosting and doing some piping work with it, ermine would be a good start since it won't melt easily or lose shape. Plus, it tastes pretty good and  just as smooth as regular frosting.
But if you prefer buttercream frosting like I used in this recipe, you can definitely give it a try.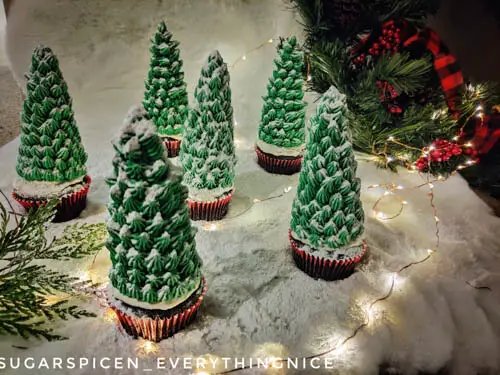 Christmas Tree Cupcake Ingredients Used and Alternatives
Milk: Use either regular milk or vegan options such as almond milk. For this recipe we used almond milk.
Green Food color*: For best results, use the gel type food color. It yields the best color for the least amount of gel added. Alternatively you can use liquid color, but you would need more than a few drops of green food coloring.
Ice cream cones*: Use waffle cone with a flat trimmed base. Or you can use sugar cone.
Unsalted vegan butter: You can use regular butter as well. Make sure to prepare ahead by keeping it at room temperature
Others: All purpose flour, granulated sugar, cocoa powder, baking soda, baking soda, salt, vanilla extract (natural), vinegar and powdered sugar
How to make the perfect Christmas Tree Cupcakes
Make Chocolate Cupcakes
Mix the dry ingredients and the wet ingredients as mentioned in the recipe. Add the liquid mixture into the dry ingredients and use a whisk to mix everything till you a get a smooth batter with very little or no lumps. 
Pour this batter up to 3/4th of the cupcake liner. Make sure not to under or over fill it. Bake at 350F for 18-20 min. Let it cool to room temp before applying frosting.
Make Ermine Frosting
Heat sugar, flour, salt, almond milk and vanilla extract* in a pan over a stovetop till the mixture starts to boil. Keep stirring till it thickens. Move it to a bowl once it reaches pudding like consistency and let it cool to room temperature. 
Beat up butter using electric mixture* in a small bowl and add this flour mixture 1 tbsp at a time until all of the flour mixture is added in and mixed. 
The frosting is ready to be used. Separate out two cups of frosting and add green color to the rest.
Assemble!
Now this is the fun part – assembly and decoration! Apply a thick white frosting on the chocolate cupcake to resemble snow and then keep them aside.
Then get your Christmas trees ready by applying a thin layer of green frosting on the waffle cones and then place these cones on the cupcakes. Using a closed star tip pipe out the tree leave. 
Check out the video below to get a clear idea on how to do this. Finish off by dusting these Christmas Trees with powdered sugar!
Best Color for Frosting
I prefer using Gel food coloring* to color my frosting as they are highly concentrated and you don't need very much of it to get a bold color. 
You would need to use a lot more of water based color and this can mess with consistency of the frosting, making it much thinner.
Storage Options for Christmas Tree Cupcakes
Cupcakes are best eaten the day they're made but you can store these cupcakes in a tall, airtight container at room temperature for up to 3 days or in the fridge for up to 7 days. 
Unfrosted cupcakes can be frozen up to 2 months. Thaw overnight in the refrigerator and bring to room temperature before frosting and serving.
I do not recommend freezing already-frosted cupcakes for this recipe.
Make Ahead Options
Cupcakes can also be made 1 day in advance, like a day before your Christmas party. Cover and store unfrosted cupcakes at room temperature. Frost the day of serving.
You can also make frosting ahead of time and store it in the fridge in an airtight container for up to one week. Let it reach room temperature and whip it up before using.
Tips to make the perfect Christmas Tree Cupcakes
Make sure to add frosting only after the cupcakes have completely cooled down to room temperature.
Don't over-mix the cupcake batter.
Use a small scoop to fill the liners* to about 3/4th of the total volume.
For an added surprise try adding some candy such as MnMs in the cone before putting it on the cupcake.
You can also decorate the tree by adding cute little sugar or fondant ornaments to it.
LOVE HOLIDAY BAKING??
Christmas Tree Cupcake
Cute and Festive Christmas Tree Cupcakes! These vegan chocolate cupcakes are so delicious and at the same time so easy to make.
Instructions 
Chocolate Cupcake
Line a baking tray with cupcake liners

In a large bowl, mix together all dry ingredients, except sugar, until well combined

In a separate bowl or container, mix vinegar and buttermilk together and let it sit for 10 minute

Add granulated sugar to the mix and whip until all the sugar has melted

Add in the oil and mix it again till everything is well combined

Add the liquid mixture into the dry ingredients and use a whisk to mix everything is combined and you a get a smooth batter with very little or no lumps

Pour out the batter into the cupcake liners. Fill up to 3/4th height of the liners

Bake at 350 F for 18- 20 mins or until a toothpick comes out clean from the cupcake

Let them cool to room temperature before you apply frosting
Ermine Frosting
Add sugar, flour and salt into a medium saucepan and mix.

Add in the almond milk and vanilla extract.

Turn on the heat to medium and stir until the mixture starts to boil

Keep stirring continuously for the next 2 minutes until the mixture thickens to a pudding-like texture. After this, remove the pan from the heat

Transfer to a bowl, wrap it with a plastic wrap and let it cool down to room temperature. The plastic wrap ensures that the mix does not create a dry thin layer on top.

On a separate bowl, beat up the butter to a fluff using an electric beater.

Add the flour mix to the butter, 1 tbsp at a time and beat until mixed well. Repeat this till all the flour mix is added in.

The frosting is ready at this point. You can store it in the fridge in an airtight container for up to one week (Let it reach room temperature and whip it up before using)
Applying the frosting
Separate out 2 cups of the frosting for applying on the cupcake to represent snow

Add green food color to the rest of the frosting and mix. Repeat till you get the desired color for the tree.

Apply the white frosting on the cupcake as a thin layer as shown in video

Apply a thin layer of green frosting on the waffle cones and place the cones on the cupcakes

Put the green frosting in a piping bag (or a sandwich bag). Use a Closed Star tip (we used No. 5 star tip by Kitchwise) and pipe out the Christmas tree on the waffle cones.

Dust the Christmas Tree Cupcakes with powdered sugar
Did you find this recipe helpful ?? Leave me a star rating & let me know how it turned out in the comments below. Don't forget to share with family and friends!
If You Found This Post Useful, PIN The Image Below To Check It Out Later!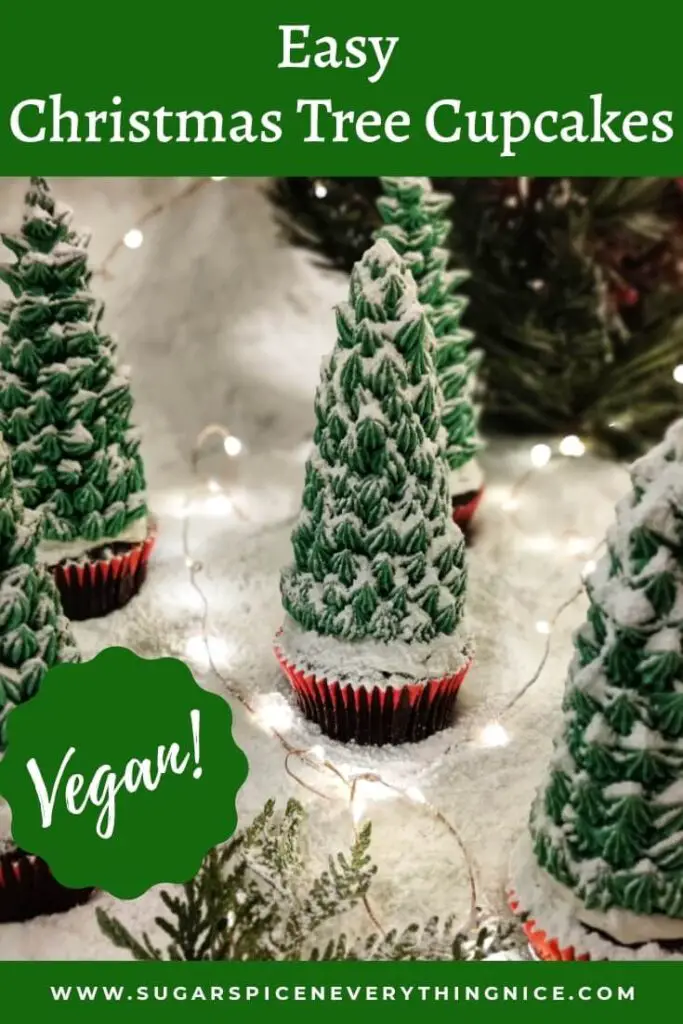 Join Sugar Spice Community:
Facebook Group | Pinterest | Instagram | YouTube
Looking for more recipes? Sign up for our Sugar Spice newsletter and our YouTube Channel for weekly videos. Also rate, comment and share this article!
Disclosure: This page may contain affiliate links, which may earn me a commission, with no additional cost to you. Each of these links are referenced with the asterisk symbol * next to it, at all places it is posted.
About the Author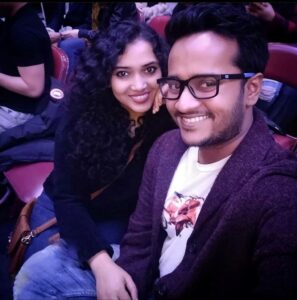 Hi! Akshita & Midhun here! Welcome to our blog where we show simple yet awesome recipes for your cravings.
Akshita being allergic to egg, we are committed to providing egg-free recipes along with some vegan friendly options. Read more about us here!
We are sorry that this post was not useful for you!
Let us improve this post!
Tell us how we can improve this post?