The Best Vegan Sugar Cookies
These vegan sugar cookies are crispy, buttery and so light. Every bite, is going to immerse you in the flavor of butter . The maple leaf shape of these sugar cookies and the colors are gonna remind you of all things beautiful about the fall season. Everything you see in the photo below holds some anecdotes and deep meaning for me and Akshita. It is our hope that it will bring out some memories for those of you who have had the fortune of being through at least one fall.
Disclosure: This Page May Contain Affiliate Links, Which May Earn Me A Commission, With No Additional Cost To You. Each Of These Links Are Referenced With The Asterisk Symbol * Next To It, At All Places It Is Posted.
Fall……my favorite season. The change of colors of the trees around you, along with a change in your mood. Its the time when you wouldn't mind taking a long walk, enjoy the light cool breeze and the view. Growing up in India, I never had the experience of knowing fall, besides in movies. Tropical climate is not much fun and full of colors. Its warm and warmer and the occasional rain picking up the humidity. Its filled with a thicket of green, which I gotta admit is still beautiful. Different kind of beauty though. There's no concept of change in clothes with seasons. Works for me since I hate shopping!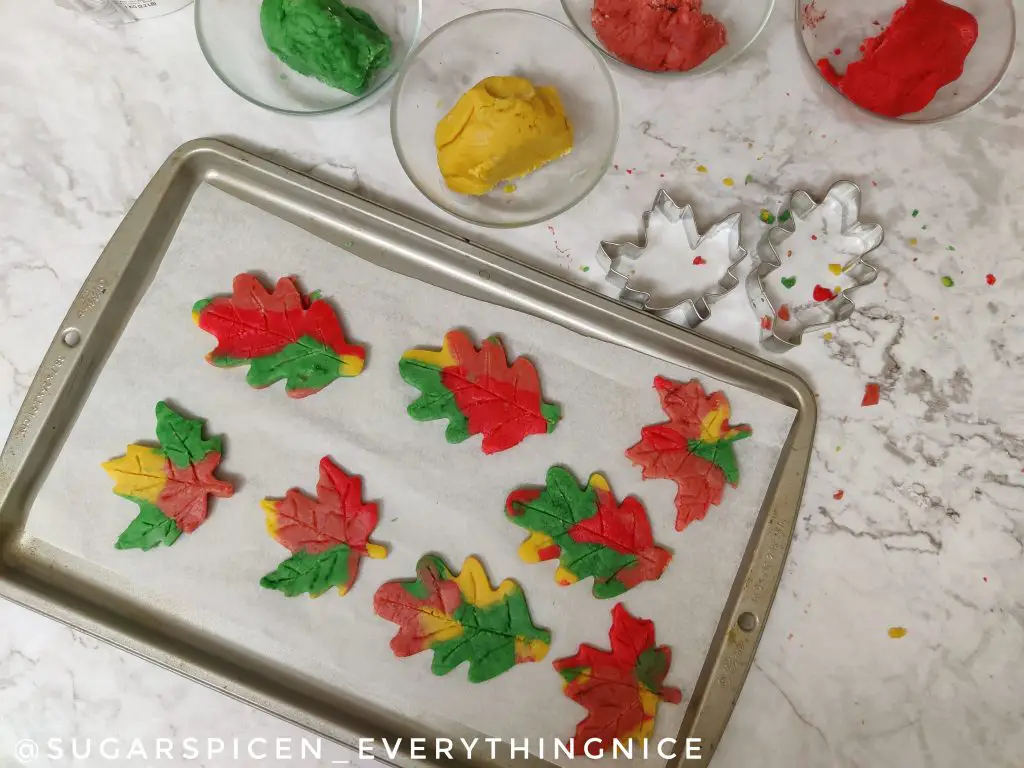 First experience with fall was just amazing. Seeing the colors of the leaves change and a street covered with the fallen leaves does not seem like an unwanted mess anymore. Its like a fluffy rug decorating your neighborhood. Fall , to me, is a time of the year when everyone is dressing up warm and comfortable and still goes out, enjoying a walk in the park, picnics, barbecues and pumpkins.
Check out our another one of our fall favorite recipe : Homemade Vegan Cinnamon Rolls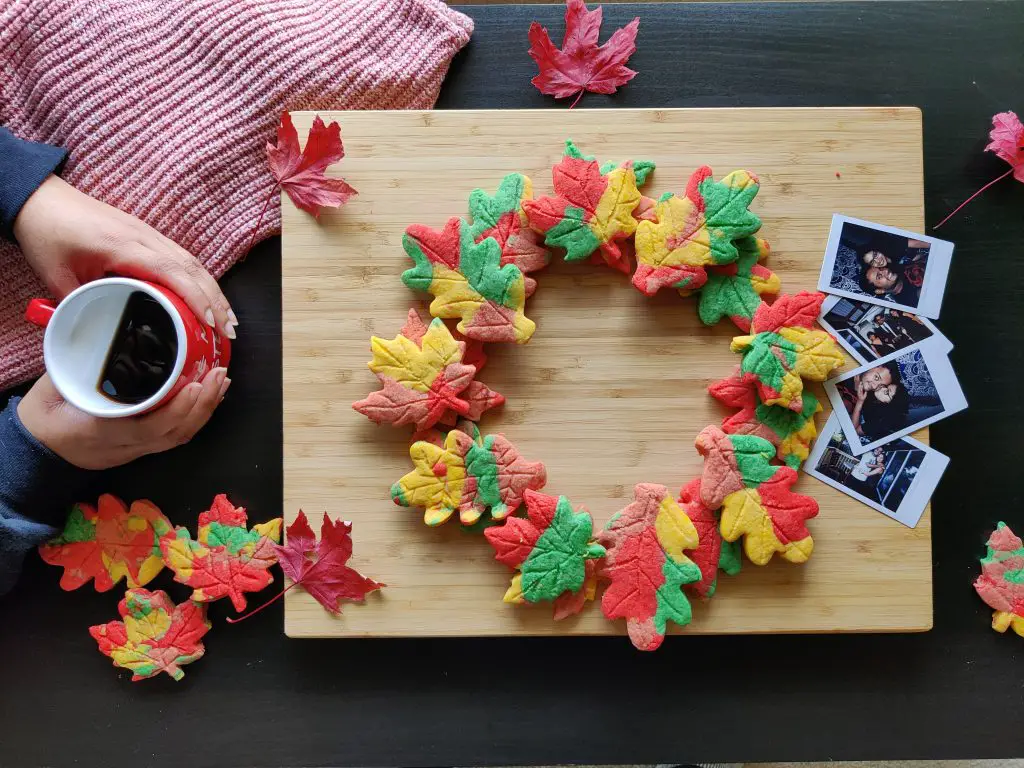 Few of the main snippets of fall in my mind, are the times when me and my friends used to go out drinking . We used to stay out late till the bars closed. After this we used to grab food from food carts and walk around in the campus grounds of Iowa State University. I love that campus. We would soak up the beauty and the silence and slowly find our way home. Happy times. Everyone's attitude was enjoy it while it lasts; winter is coming. Even now, when I see a street with maple trees all now, it brings back these memories.
Since we are closing in on the end of fall, we wanted to make a dessert that reminded everyone of the beauty of fall, even in the midst of this pandemic. This will be an easy recipe. It does not need a lot of prep work besides the butter, which similar to the Coffee Bean Cookies . But we do have to roll out the dough for this one. So lets get started here!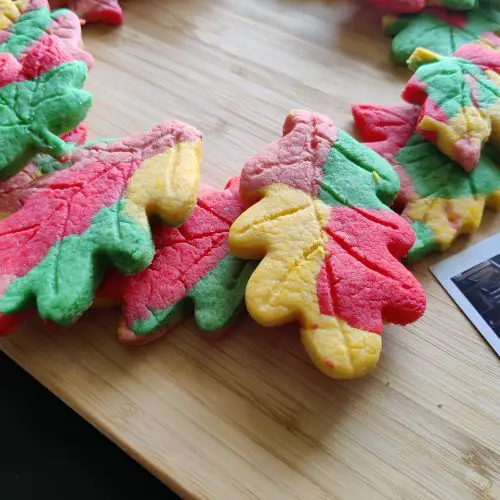 The Best Fall Leaf Sugar Cookies (Vegan)
Fall leaf sugar cookies inspired by the beautiful fall color. Right on time for Thanksgiving. We can't promise that you won't fall in love with them!
Ingredients  
1

cup

Vegan unsalted butter/ Vegan margarine

Softened at room temperature

3

cup

All purpose flour

1

cup

Granulated sugar

1

tsp

Vanilla extract

1/4

cup

Unsweetened almond milk

+ 2 tbsp

1

tbsp

Baking powder

+ 1 tsp

1/2

tsp

Salt

Food color (red, orange, green, yellow)

Preferably gel color
Instructions 
Using a mixer, fluff up the vegan margarine/butter and sugar together

Add vanilla and almond milk, and beat until well mixed

In a separate bowl, whisk together flour, salt and baking powder.

Add half of the dry ingredient to the wet ingredients, mix and add the second half.

Use your hands to mix in thoroughly

The dough might be a bit dry and crumbly but its normal. Just press the dough together and it should come together

Split the dough into 4 equal parts

Add green, red, yellow and orange to the dough, one on each part and mix well

Wrap the dough in plastic wrap and let it sit in the refrigerator for an hour

Rip out small portions from each color and arrange it as shown in the video

Roll out the dough using a rolling pin to about 1/8 to 1/4 inch thickness. If you like having really thin crispy cookies, 1/8 inch thickness is perfect

Using the cookie cutter, cut out the dough out. Keep the remaining dough for using in the next roll. Do not overwork the dough, else you will end up with a solid brown cookie.

Move the cut out dough onto a baking tray lined with parchment paper

Bake at 350 F for 8 minutes

Let them cool for about 10 minutes before digging in!
If You Found This Post Useful, PIN The Image Below To Check It Out Later!
If you give this recipe a try, let us know how it turned out in our comments below and leave us a rating! Also, snap a photo and share it on Instagram. Make sure to tag @sugarspice.2020 so I can see your creations!
Disclosure: This page may contain affiliate links, which may earn me a commission, with no additional cost to you. Each of these links are referenced with the asterisk symbol * next to it, at all places it is posted.
We are sorry that this post was not useful for you!
Let us improve this post!
Tell us how we can improve this post?