Vegan Chocolate Star Bread
With Christmas right around the corner, we bring to you our chocolate filled vegan star bread. It is crunchy, chocolatey and a perfect way to start the holiday season.
Disclosure: This Page May Contain Affiliate Links, Which May Earn Me A Commission, With No Additional Cost To You. Each Of These Links Are Referenced With The Asterisk Symbol * Next To It, At All Places It Is Posted.
This is our tried and tested recipe. We have also included a video to show how to easily shape this beautiful star bread. It is surprisingly easy to make and will impress everyone!
This fluffy bread is also known as snowflake bread or flower bread. It is layered with vegan chocolate spread, then twisted into an easy star shape which is perfect for tearing and sharing.
Without a doubt, this is one of the most festive bakes ever and is perfect for Christmas morning breakfast.
Ingredients and Alternatives
Vegan Butter – It adds incredible flavor to the bread. Feel free to use regular butter if you are ok with a non-vegan recipe.
Almond Milk – You can use any plant milk or if you aren't particular about this recipe being vegan, you can use regular milk (whole or 2%)
Active Dry Yeast- You can also use instant yeast in its place.
Vegan Chocolate Spread – You can use Nutella in its place for a non-vegan recipe. You can also replace this with any other sweet or savory fillings.
Others – Agave Syrup, All Purpose Flour
You can use sweet or savory filling to make this holiday star bread. An important thing to keep in mind is that filling should not have too much moisture and it shouldn't be runny. 
Also make sure that you don't go too heavy on the filling. A thin layer of filling is more than enough. 
You can replace this vegan chocolate spread with delicious cinnamon-sugar filling. This can be made by adding 4 tbsp of granulated sugar with 1 tbsp of cinnamon sugar.
You could go one step further and your cinnamon sugar star bread even more christmasy by adding 2 teaspoon orange zest and 3 tablespoon dried cranberries to the cinnamon-sugar mixture.
Apply some softened butter on the circle, sprinkle 1/3 of the mixture evenly on the layer. Repeat this for the remaining 2 layers, leaving the top of the dough bare.
If you like this cinnamon-sugar combination, you will love my vegan cinnamon rolls!
Spread around 1 tbsp of your favorite homemade or store bought jam on each layer. Strawberry or raspberry jam would go really well with this recipe.
I love the garlic flavor. This pull apart bread with garlic butter would be a winning combination in my opinion.
You can even mix softened butter with dried herbs such as rosemary and thyme and spread it evenly between layers of the dough. Finish this off by sprinkling some sea salt on top of each layer.
Another good savory filling is pesto. Spread a thin layer of pesto and top it off with some parmesan cheese. You can even sprinkle some walnuts or pecans on top of this for a nice crunch.
You cant go wrong with this classic combination. Apply a layer of softened butter (Vegan or non-vegan), followed by a thin layer of tomato sauce. 
Top it off with some sundried tomatoes, dried oregano, basil, chili flakes, and some mozzarella cheese. Remember not to add a lot of toppings though!
6. Nut butter, pumpkin butter or apple butter
Add your favorite nut butter such as almond butter or smooth peanut butter. You could also add pumpkin butter or apple butter to each layer.
7. Pumpkin spice or Chai spice
Mix 4 tbsp of granulated sugar with 1 tbsp of pumpkin spice or chai spice. Brush softened butter on each layer and sprinkle 1/3rd of this mixture one each layer.
If you can't find chai spice in your grocery store, you can make it easily at home. Combine 1/4 teaspoon of ground ginger, ground green cardamom, ground cloves and ground cinnamon. Mix all the dry spices along with 4 tablespoon of sugar to make chai spice!
If you like chai as much as I do, try my easy Chai Tea Latte recipe!
If you love Mediterranean food, try Za'atar spice filling! It is a is a blend of dried herbs such as marjoram, thyme, oregano, toasted sesame seeds, dried sumac and salt. 
Brush each layer with 1 teaspoon of olive oil and then sprinkle 1 tablespoon of zaatar spice blend evenly on each layer of dough.
Star Bread Toppings Ideas
You can keep it simple and leave it bare like I did or you can sprinkle powdered sugar on top to give a snowflake look. Another option is to make a glaze with powdered sugar, milk and vanilla to drizzle over the top instead of just using powdered sugar.
How to Make the Perfect Vegan Star Bread
You can make this beautiful star bread in 6 simple steps.
Heat milk and butter to about 110F (43C). Add yeast to it and set aside for 10min or until the yeast mixture becomes frothy. Then in a large bowl, mix flour and agave syrup. Add the wet ingredients to the dry ingredients and knead to form a soft dough.
Place the dough in a greased bowl and cover it with a damp tea towel. Let the dough rise in a warm place for 1-1.5h until it doubles in size. Then punch it down to release the air.
Now, place the bread dough on a floured surface and divide it into 4 equal pieces using a bench scraper. Next, sing a rolling pin, roll out each piece of dough into a 10-inch circle, one at a time.
The layering process is simple – transfer the first circle of dough to sheet pan lined with a piece of parchment paper or a baking sheet. Add the sweet filling to it.
Then place the second circle of dough on top. Again add a layer of chocolate filling before adding the next circle of dough.
Basically, layer each dough circle one on top of the other with chocolate filling between each circle. There will be 4 layers of dough and 3 layers of filling. I used one heaped tbsp of chocolate spread for each layer.
I would highly recommend that you check the video above before this step.
To shape this beautiful bread, you can trim the outer edge to get a smooth circle. Then place a 3 inch small bowl or cookie cutter in the center of the top circle of dough to make an indent. 
Cut 16 equal strips from the center to the edge. You can use a sharp knife or a pizza cutter to do this. Then using both hands, grab two adjacent strips, twist them away from each other, twice. Then press the two ends together.
Repeat this process with the remaining strips. Your star bread will have 8 pull apart pieces.
Cover the shaped bread with plastic wrap and let it rest for 20 min.
Using a pastry brush, lightly brush this sweet bread with vegan butter. Here are some other egg wash alternatives you can use as well.
Bake in a pre-heated oven at 350F for 20-30 min. Since we are not using egg wash in this recipe, you may not get the same golden brown color but it will still be a beautiful and delicious pull apart bread.
Once done, remove it from oven and cool for 5 -10 min over a wire rack. Enjoy it warm!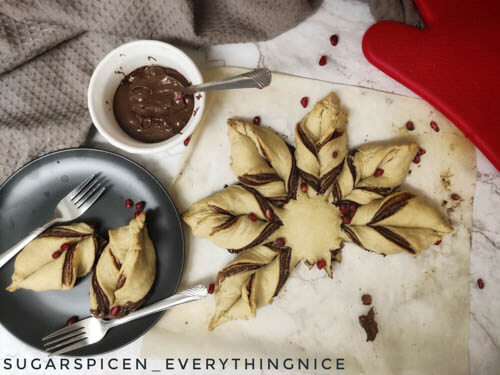 If you want to make this bread ahead, you can prepare the soft dough and do the first proofing. Once it has doubled in size, gently punch the air from it, wrap it tightly in some cling film and place in the fridge for up to 2 days.
When ready to bake, take it out of the fridge and let it sit at room temperature for 20 minutes. Gently punch the air out of the dough again, then shape the star bread and bake
The dough can also be frozen for up to 3 months after degasing post first proof. If frozen, thaw the dough in the refrigerator overnight, then let it sit on the counter, at room temperature for 30 minutes. Then release any air bubbles by punching the dough. Shape the bread and bake!
However, It's not recommended to store shaped bread in the fridge overnight. This could cause the bread to rise too much and loose it's beautiful shape later, when baking.
Here are some of my favorite ones, that I am sure you would love –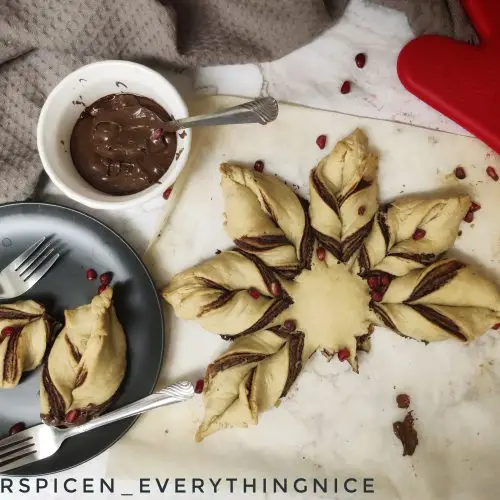 Vegan Star Bread
Ingredients  
275

g

All Purpose Flour

60

g

Vegan Butter

130

mL

Almond Milk

1

tbsp

Active Dry Yeast

1

tbsp

Agave Syrup

Chocolate spread

Vegan
Instructions 
Heat almond milk and vegan butter in a sauce pan.

Cool the milk + butter mixture to about 110F (43C).

Add yeast it MIx and set aside for 10min, till the mixture becomes frothy.

In a large bowl, mix flour and agave syrup.

Add the wet ingredients to the dry ingredients and knead to form a soft dough.

Place the dough in a greased bowl and cover it with plastic wrap. Place in a slightly warm environment and let it rise for 1-1.5h until it doubles in size.

Punch down the dough to release the air.

Add flour to a clean surface and roll out each piece into a circle, one at a time.

Layer each circle one on top of the other with chocolate filling between each circle. The top layer does not have any chocolate spread on it ( check video to see the assembly)

Next, place a3 inch bowl or ramekin in the center to make an indent.

Cut 16 even strips from the center to the edge.

Using both hand, grab two strips, twist them away from each other,twice. Then press the two ends together. You get a star shaped bread with 8 pull part pieces (check video for clarity).

Cover the bread with plastic wrap and let it rest for 20 min.

Lightly brush the star bread with vegan butter.

Bake at 350F for 20-30 min.

Remove from oven and cool for 5 min. Enjoy it warm!
DID YOU MAKE THIS RECIPE?
Let me know what you thought!
Leave a rating below in the comments and let me know how you liked the recipe.
Tips To Perfect Vegan Chocolate Star Bread
The temperature of the warm almond milk should be around 110 F while adding the yeast. If the milk is too hot (around 140 F), it will kill the yeast and the fermentation won't happen.
When the dough is resting in a greased bowl, drizzle couple of drops of oil over the dough to ensure that it does not lose any moisture during the time it rises.
You need a warm environment for the dough to rest and double in size. If you live in a place where it is relatively cold, best place for this process would be an oven. Preheat the oven to 150 F and switch it off. Place the sealed large bowl with the dough in the oven.
Twisting the layered dough can be tricky as you need to be gentle with your pull and twist motion. Watch the video to get an idea how soft you have to be with your touch.
Don't overfill the dough. You will just lose the extra filling when you twist it or it will be difficult to shape.
Make sure not to over-proof the bread once it has been shaped. Resting the dough for more than 20 minutes during the second proof, can cause the bread to lose its shape while baking. It can also change the structure of the dough.
If you plan on making this bread savory, reduce sweetness of the dough by only using 1/2 Tbsp of Agave syrup
What to do with leftover bread?
You can cover and store the leftover star bread at room temperature for 1-2 days or in the refrigerator for 4-5 days. Freeze for up to 3 months.
How to reheat leftover star bread?
Brush some water on top of the leftover bread then reheat in a microwave for 30 sec to 1 min or place it in a baking sheet with a loose aluminum foil over it. Warm it up in a preheated oven at 350F for about 5-7 minutes or as hot as you would like.
How to store baked star bread?
Once it is completely cooled, store the bread in an airtight container or ziplock bag.
If You Found This Post Useful, PIN The Image Below To Check It Out Later!
Disclosure: This page may contain affiliate links, which may earn me a commission, with no additional cost to you. Each of these links are referenced with the asterisk symbol * next to it, at all places it is posted.
DID YOU MAKE THIS RECIPE?
Don't Forget To Leave A Review!
If you give this recipe a try, let us know how it turned out in our comments below and leave us a rating! Also, snap a photo and share it on Instagram. Make sure to tag
@sugarspice.2020
so I can see your creations!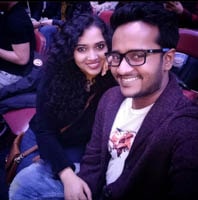 Hi! Akshita & Midhun here! Welcome to our blog where we show simple yet awesome recipes for your cravings. Akshita being allergic to egg, we are committed to providing egg-free recipes along with some vegan friendly options. Read more about us here!
We are sorry that this post was not useful for you!
Let us improve this post!
Tell us how we can improve this post?