Iced White Chocolate Mocha Recipe (Starbucks Copycat)
Love Starbucks Iced white chocolate mocha, but you hate those long lines? Make this copycat recipe at home instead! This iced mocha is creamy, sweet, and perfect for sipping on a hot summer day.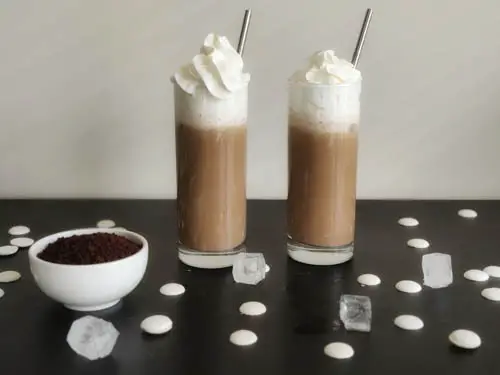 Disclosure: This Page May Contain Affiliate Links, Which May Earn Me A Commission, With No Additional Cost To You. Each Of These Links Are Referenced With The Asterisk Symbol * Next To It, At All Places It Is Posted.
During the heat wave this summer, the idea of hot coffee wasn't very appealing, so we decided to make a refreshing and decadent iced mocha instead.
To make this caffeinated beverage, all you need are few simple ingredients and about 5 to 10 minutes of your time.
This easy decadent Starbucks copycat recipe can be made at a fraction of the cost you would spend on your next order at Starbucks. This may just be your new before-work go-to or special weekend treat!
Full Recipe Ingredients/Instructions are available in the recipe card at the bottom of the post. You can find important tips/tricks in the blog post.
Get New Recipes Every Week Directly in your Inbox!
What is iced white chocolate mocha?
Iced white chocolate mocha is a delicious combination of brewed coffee with white chocolate sauce. The rich flavors of coffee is balanced with white chocolate, milk, and whipped cream.
How does an iced white chocolate mocha taste like?
Iced white chocolate mocha tastes quite sweet because of the added white chocolate and whipped cream but the sweetness is not too overpowering.
You can still taste a robust coffee flavor, making for a perfectly balanced iced white mocha flavor.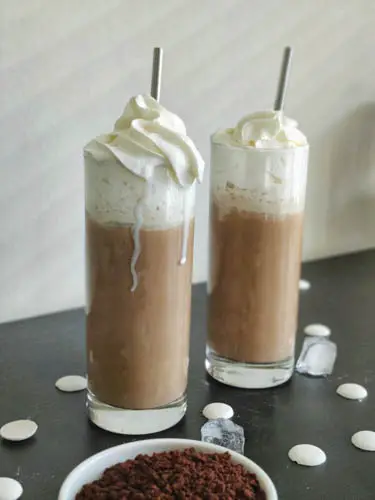 No Espresso Machine, No Problem!
Starbuck's original recipe uses espresso but you don't skip this recipe just because you don't have an espresso machine!
You can use strong cold brew coffee like I did or you can use instant espresso powder*. Decaf coffee also works well in this recipe if you are worried about your caffeine intake!
A note on White Chocolate!
Make sure to use a good-quality white chocolate that you like the flavor of. Cheap white chocolate chips are great in cookies but don't always have the best flavor for drinks.
We used Wilton's* white chocolate candy melts which is our go to option. We used this for making Galaxy Fudge  and for  glazing our Eggless Donuts.
Recipe Variations
Add peppermint syrup* to this recipe to make peppermint white chocolate mocha.
Drizzle caramel over the whipped cream and around the inside of the cup of white chocolate mocha to give it an extra boost.
If you prefer dark chocolate, swap out white chocolate and use dark chocolate instead to make the dark chocolate version of this drink.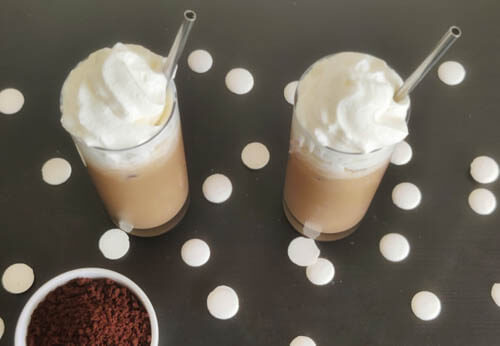 Ingredients & Alternatives
White Chocolate: It is used to make our homemade white chocolate sauce.
Starbucks uses Fontana White Chocolate Sauce.* Its a tad bit pricy. A cheaper alternative, is Torani* white chocolate flavoring syrup. If you are vegan, this would be a good option. 
Milk: You can use any type of milk for this recipe. For best results use full fat milk. It gives the best taste and richness. You could use 2% milk or nonfat milk for a less decadent version. 
If you are lactose intolerant or leading a vegan lifestyle, then you can use almond milk or soy milk as an alternative, though I cannot comment on how it would taste. 
Coffee: You can use instant coffee or cooled fresh brewed coffee for this.
The strength of the coffee is dependent on how you like your iced mocha to be. You can of course replace it with a shot of espresso if you prefer that.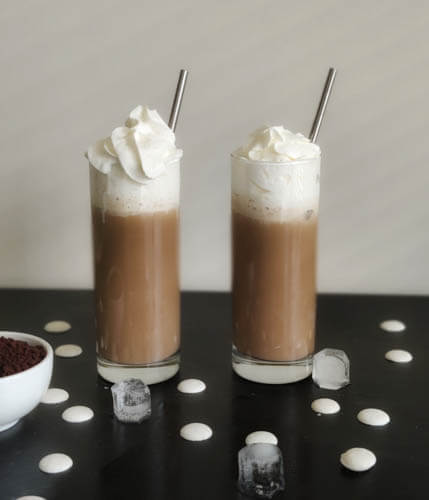 Granulated sugar: If you are trying to cut down on sugar consumption or going keto, you could try Monkfruit sweetener*. I have switched to using this for my daily coffee since 2 months ago and I have barely noticed any difference.
I have tried using honey* as well but it had a distinctive taste. 
Ice – It is added to make this coffee drink, cold. You can also use coffee ice cubes in place of regular ice cubes if you don't want to dilute the delicious taste of coffee.
Others: Heavy cream (optional), whipped cream (optional).

How to make the perfect iced white chocolate mocha
Brew coffee
Brew fresh coffee using a moka pot* / french press* or a regular coffee machine*. The strength of the coffee is dependent on how strong you like your iced mocha to be. 
Cool it to room temp and then keep it in the fridge till you are ready to use it.
Make homemade white chocolate mocha sauce
This homemade sauce is very easy to make and is definitely cheaper and just as delicious as the store bought version.
Combine 1/2 cup milk, white chocolate and sugar in a small pot and heat it on medium till the chocolate is completely melted. Remove the pot from heat once it is well combined and let it cool completely. 
You can store it in the refrigerator in an airtight container for a few days or use it immediately.
Mix fresh brewed cold coffee and white chocolate sauce
Mix in the rest of the milk, cold coffee and heavy cream to the white chocolate sauce.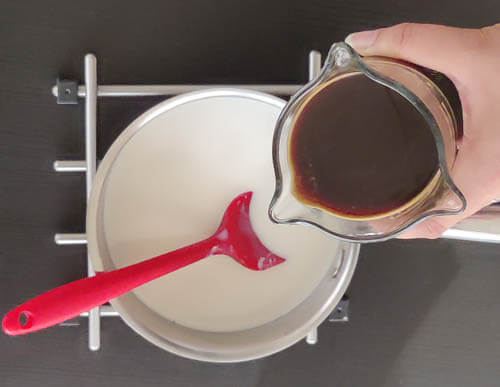 Top it off and Serve!
Add ice cubes to a tall glass and pour the prepared drink in it. Top it off with whipped cream for an ultimate treat and serve!
Make ahead options
You can make the white chocolate sauce ahead of time. Make it the night before and store it in the refrigerator. Mix it with cooled fresh brewed coffee, iced and heavy cream in the morning.
You can also make a bigger batch and store it in an air tight container in the fridge for upto a week.
LOOKING FOR mORE STARBUCKS RECIPES??

Here are some of my favorite ones, that I am sure you would love –
Get New Recipes Every Week Directly in your Inbox!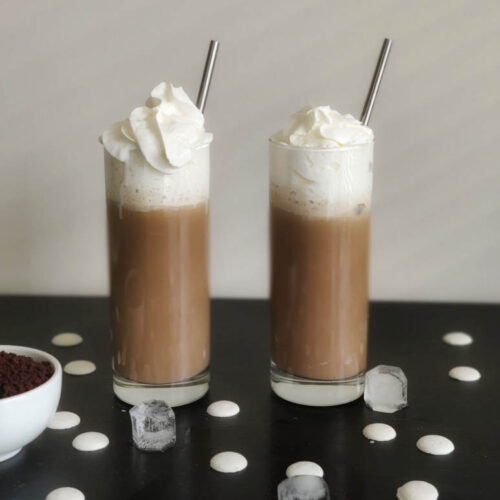 Iced White Chocolate Mocha
Delicious iced white chocolate mocha topped with whipped cream on top makes for a perfect drink in summer when you want Starbucks at home!
Ingredients  
1 1/2

cup

Milk

Preferably full fat/whole milk

4

tbsp

Chopped white chocolate*

4

tsp

Granulated Sugar

1

cup

Strong cold coffee

Depending on how strong you need

2

tbsp

Heavy cream

Optional

Ice cubes

Whipped cream

Optional, depending on the size of the mug
Instructions 
In a small pot on medium heat, combine 1/2 cup of the milk, white chocolate* and sugar.

Stir till all the chocolate is melted and sugar is combined.

Remove the pot from the heat and add in the rest of the milk, cold coffee and the heavy cream. Mix well.

In a tall glass, add some ice cubes and pour the drink over it. Top it off with whipped cream.
Did you find this recipe helpful ?? Leave me a star rating & comment about it or any recipe idea you would love to see. Don't forget to share with family and friends!
Commonly Asked Questions
Is there coffee in iced white chocolate mocha?
Yes! A white chocolate mocha is a combination of espresso or strong coffee with white chocolate sauce and milk
What is the difference between mocha and macchiatos?
Macchiatos are strong espresso drinks with steamed milk and foam in it. While they are are strong and creamy, there are not any options of flavors.
Mocha on the other hand has flavors of milk, white or dark chocolate. Plus it can be either hold or cold.
How do you make a skinny white chocolate mocha?
I suggest using sugar free white chocolate syrup for a lower calorie treat! You can reduce the sweetness and calorie content of this drink by reducing the amount of sugar used and by omitting the whipped cream.
You can also use sugar alternatives that has zero calories in place of sugar. Also substitute full fat milk with low fat or almond milk.
How strong is this copycat Starbucks recipe?
This is completely up to you. If you prefer a stronger coffee flavor, it is best to use espresso shots or a strongly brewed coffee.
If you found this post useful, PIN the image below to your
"Starbucks Copycat Recipes" Board on Pinterest to check it out later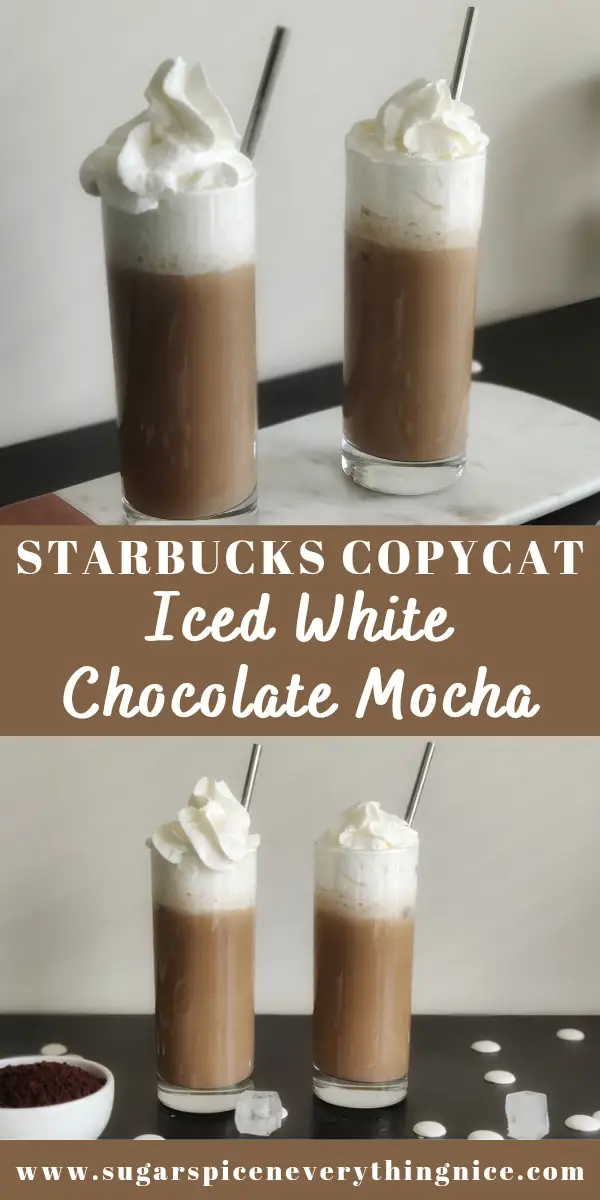 Looking for more recipes? Sign up for our Sugar Spice newsletter and Follow along on Facebook, Instagram, Pinterest for updates. Remember to Subscribe to my YouTube Channel for weekly videos.
Disclosure: This page may contain affiliate links, which may earn me a commission, with no additional cost to you. Each of these links are referenced with the asterisk symbol * next to it, at all places it is posted.
About the Author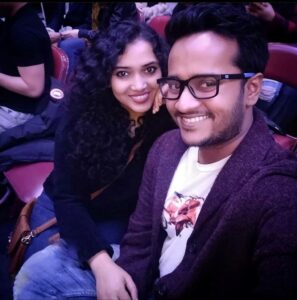 Hi! Akshita & Midhun here! Welcome to our blog where we show simple yet awesome recipes for your cravings.
Akshita being allergic to egg, we are committed to providing egg-free recipes along with some vegan friendly options. Read more about us here!
We are sorry that this post was not useful for you!
Let us improve this post!
Tell us how we can improve this post?