Chai Latte Starbucks Copycat Recipe
Hot, creamy chai latte with a thick frothy layer topped with a dusting of cinnamon – just what you need to kick back after a busy day and read your favorite book. If you love Chai latte from Starbucks, use this Chai Latte Starbucks Copycat Recipe to make it at home for a fraction of the cost.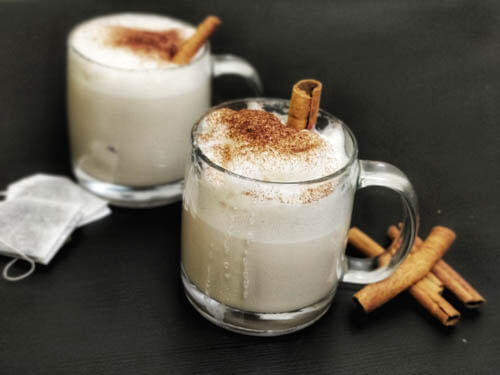 Disclosure: This Page May Contain Affiliate Links, Which May Earn Me A Commission, With No Additional Cost To You. Each Of These Links Are Referenced With The Asterisk Symbol * Next To It, At All Places It Is Posted.
This hot tea will definitely keep you warm during the cold winter months. 
The homemade version of the chai tea latte recipe you have here is the easiest way to make a quick one at home. It is made with just a few simple ingredients that you might already have in your pantry or you can easily get them from your local grocery store. 
I'm keeping this recipe as simple as possible, so everyone can make it with little effort and still get a delicious outcome.
Interesting fact though, Starbucks uses a tea concentrate at their cafes. So if you want to make it exactly like the one that Starbucks sells, then you need to make your own homemade chai concentrate, which is a blend of black tea with spices.
Do you prefer coffee flavor instead of tea? Try Dalgona Coffee or this Coffee shaped Cookies.
What is Chai Tea Latte?
The word chai means tea in Hindi. It is basically black tea that is usually infused with warming spices such as cinnamon, cardamom, cloves, black pepper, and star anise.
It can be sweetened with either sugar or honey. Mixing chai with steamed milk and topping it with foam makes it a latte.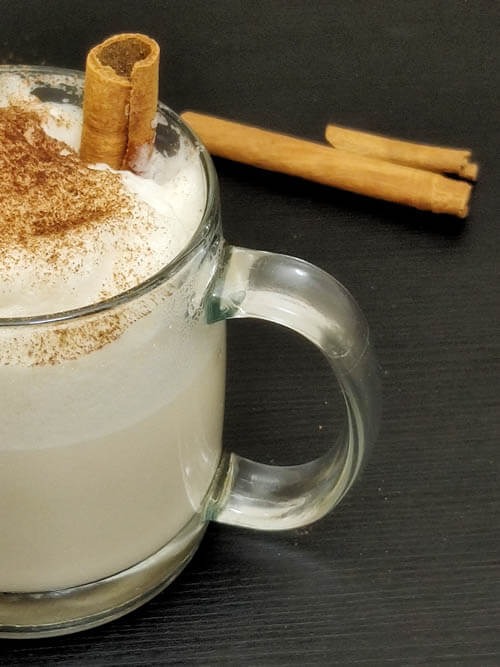 It is a pretty common and popular drink in India where we steep water, milk, and spices and add it to tea. The Latte part is the Westernization of this traditional recipe.
So when people ask for a Chai tea latte in various coffee shops, they are asking for a tea tea latte, which is funny and an unnecessary repetition. 
In this recipe, we will be referring to it as chai latte from here on!
Starbucks Chai Concentrate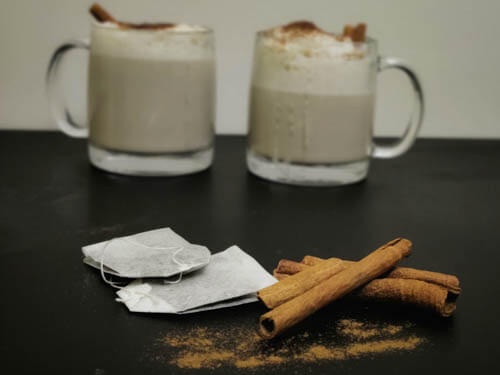 Starbucks uses chai tea concentrate in all its drinks. The chai concentrate is made with a very strong black tea, infused with spices such as cinnamon, ginger, cardamom, vanilla, cloves and it also contains added sugar.
I used masala chai tea bags* instead of using chai concentrate for this recipe as it allows you to control the amount of sugar you want to add.
It is also WAY cheaper overall than buying the chai concentrate that only makes a few drinks. But, if you do prefer using chai concentrate, I would recommend making homemade chai concentrate or buying Tazo chai concentrate*.
Is there caffeine in Chai Latte – Starbucks Copycat Recipe?
Yes, there's caffeine in Chai Latte as it is made with black tea. 
Although Starbucks does not have a decaffeinated chai latte on its menu, you can make it at home using decaffeinated black tea bags*. But please be aware that decaffeinated black tea bags still has little caffeine in them.
Is Chai Latte Starbucks Copycat Recipe healthy?
The spices present in the black tea bags have proven health benefits. You can read more about it here.
However, it also contains ingredients that are not very healthy for you such as sugar.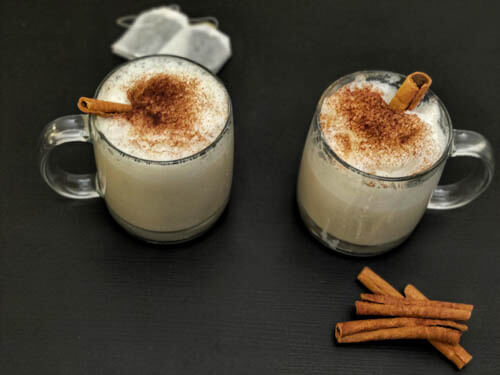 If you using this recipe to make a chai latte at home, you can control the amount of sugar/honey that goes in this drink. You can also use zero-calorie sweeteners such as monk fruit*.
Use non-fat milk instead of 2% milk and convert this Chai Latte into Skinny Chai latte. The drink and the foam on top of this drink, just may not be quite as creamy.
Chai concentrate is best avoided if looking for a healthy recipe as it is packed with sugar.
Chai Latte Starbucks Copycat Recipe Modifications
A good thing about this Chai Latte recipe is that, once you have mastered it, you can use it as a base and make other Starbucks Chai recipes such as :
Starbucks Iced Chai Latte
This is made with the same ingredients used in this Chai Latte Starbucks Copycat recipe. The main difference would be that it is not frothed. It is chilled by shaking the chai and milk mixture with ice cubes. 
You can also add brown sugar syrup and brown butter topping to this iced chai latte to make cookie butter chai!
Pumpkin Spice Chai Latte
This is a seasonal drink at Starbucks and comes in during the fall season and stays around through Thanksgiving and Halloween. 
But you can make it at home any time of the year. All you need to make this pumpkin spice latte are pumpkin spice mix* and pumpkin puree added to this Chai recipe.
Vanilla Chai latte
This is just the regular chai latte with vanilla syrup* added to it.
Dirty Chai Latte
To make this drink, follow the recipe to make a hot chai latte and add a shot of espresso to it. 
It is called a dirty chai tea latte as you add coffee to the tea! This drink does contain a lot of caffeine but it is incredibly easy to make!
Ingredients and alternatives to make chai latte starbucks copycat recipe
Here is a complete list of ingredients used as well as possible alternatives to make this recipe vegan.
Tea bags: Use masala tea bags* with spices such as cinnamon, green cardamom, black pepper, ginger, cloves, and star anise.
Most masala tea bags will have some variation of those spices in them so as long as you get that type of tea, you should be good. You can also use regular tea bags with no spices and add them separately while making tea.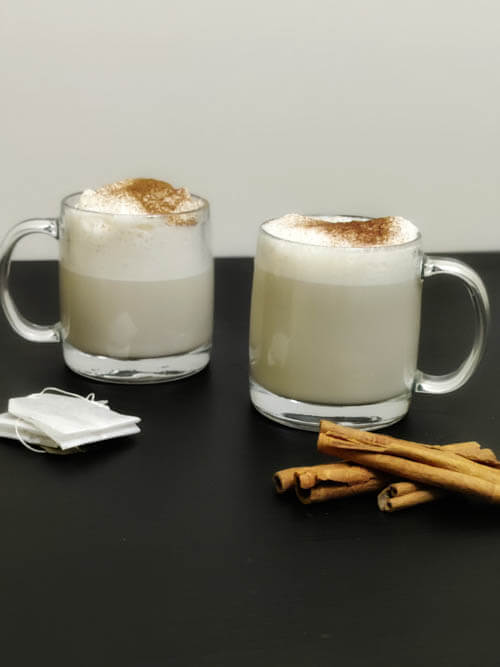 Milk: I used 2% milk for this recipe but you can use any type of milk such as whole milk or non-fat milk. 
To make this recipe vegan, use oat milk, soy milk, or almond milk instead. Plant-based milk may not froth well.
Honey: Honey* was used as a sweetener for this recipe. Use pure maple syrup* instead to make it vegan.
Others: Water, cinnamon*, and nutmeg* (for garnish)
How To Make The Perfect Starbucks Chai Latte
Steep Tea Bags
Boil water in a small saucepan and add 2 tea bags to the hot water. You can add 2-4 tea bags, depending on how strong you like your tea to be. 
Steep the tea bags for 7 to 10 minutes and then remove them. If you want a stronger concentration of tea, you can steep for longer.
Froth Milk + Chai mixture
Then, bring the heat to medium and add milk and honey. Use a frother* or immersion blender*, to blend the hot milk + chai mix until frothy. This step adds a really good texture to the latte.
If you end up splashing the latte all over the place while using an immersion blender, then you might want to do the frothing part in a deep container. 
Serve warm!
Pour into cups and serve warm with a sprinkle of cinnamon powder* or nutmeg powder* or on top (both are optional).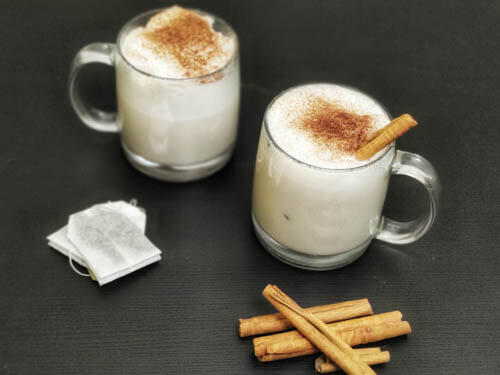 What to serve with Chai latte
Cheddar and Chives scones pair perfectly with your Chai Latte Starbucks CopyCat for afternoon tea. You can also have Blueberry scones with this Chai latte for a mid-morning snack!
Commonly Asked Questions
Does chai tea latte have coffee in it?
The short answer is no, chai latte does not have coffee in it. But a dirty chai latte has a shot of espresso in it.
How much carbs are in a Starbucks chai tea latte?
The nutrition facts for a 16 fl. oz or grande chai tea latte at Starbucks are as follows: 240 calories, 42 grams of sugar with a total of 45 grams of carbs
Can chai latte be made keto-friendly?
To get a keto-friendly chai tea latte, replace the sugar or honey with an artificial sweetener. One of my favorite keto-friendly sweeteners is Monk fruit sugar*, it has zero calories and it tastes so similar to sugar.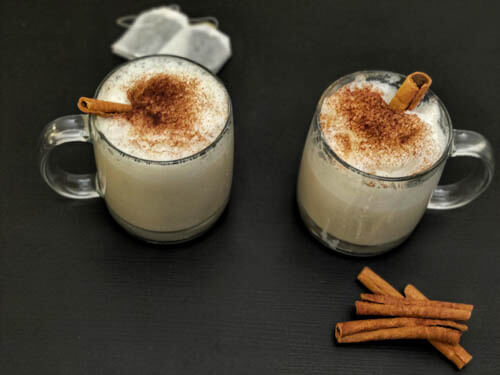 How to make a vegan chai latte?
Simply replace regular milk with any non-dairy milk to make your chai tea lattes vegan. However, non-dairy milk might not froth as well as regular milk so you might not get the signature foam of Starbucks chai latte. Also, replace honey with equal amounts of pure maple syrup.
What are popular toppings for chai tea latte?
You can use a light dusting of cinnamon or powdered nutmeg. You can also add vanilla extract, brown butter topping, or caramel drizzle *on top.
LOOKING FOR MORE OTHER COPYCAT RECIPES?
Here are some of my favorite ones, that I am sure you would love –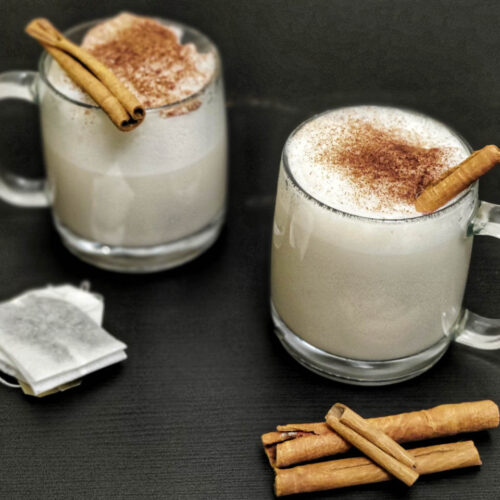 Chai Latte Starbucks Copycat Recipe
Hot, creamy chai latte with a thick frothy layer topped with a dusting of cinnamon – just what you need to kick back after a busy day and read your favorite book. If you love Chai latte from Starbucks, use this Chai Latte Starbucks Copycat Recipe to make it at home for a fraction of the cost.
Instructions 
Take a small sized saucepan, bring water to a boil

Add in the tea bags* and let it sit there for In a small saucepan, bring water to a boil.

Bring down the heat to medium.

If you have a frother* or immersion blender*, blend until frothy. This step is optional but adds a really good frothy texture to the latte.
Did you find this recipe helpful ?? Leave me a star rating & comment about it or any recipe idea you would love to see. Don't forget to share with family and friends!
If you found this post useful, PIN the image below to your
"Starbucks Copycat Recipes" Board on Pinterest to check it out later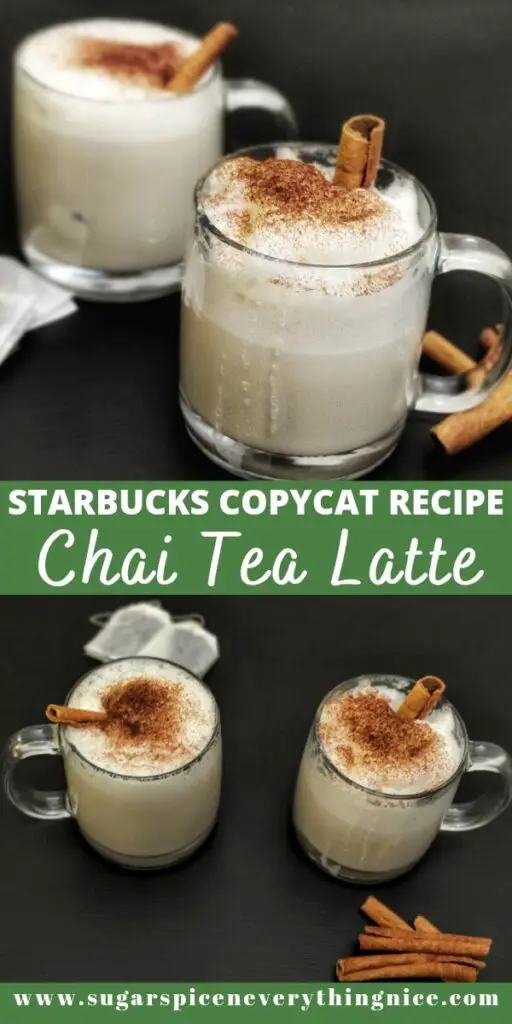 Join Sugar Spice Community:
Facebook Group | Pinterest | Instagram | YouTube
Looking for more recipes? Sign up for our Sugar Spice newsletter and our YouTube Channel for weekly videos. Also rate, comment and share this article!
Disclosure: This page may contain affiliate links, which may earn me a commission, with no additional cost to you. Each of these links are referenced with the asterisk symbol * next to it, at all places it is posted.
About the Author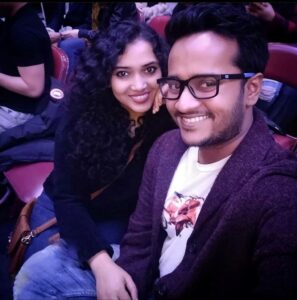 Hi! Akshita & Midhun here! Welcome to our blog where we show simple yet awesome recipes for your cravings.
Akshita being allergic to egg, we are committed to providing egg-free recipes along with some vegan friendly options. Read more about us here!
We are sorry that this post was not useful for you!
Let us improve this post!
Tell us how we can improve this post?