Sopa de Tortilla Receta ~ Sopa Azteca (Tortilla Soup Recipe)
This authentic tortilla soup recipe or Sopa de Tortilla Receta is made with tomatoes, and chicken or vegetable broth along with spicy flavors from pasilla peppers (pasilla chile or chile pasilla ). This traditional soup recipe is delicious and a great option for a comforting weeknight dinner.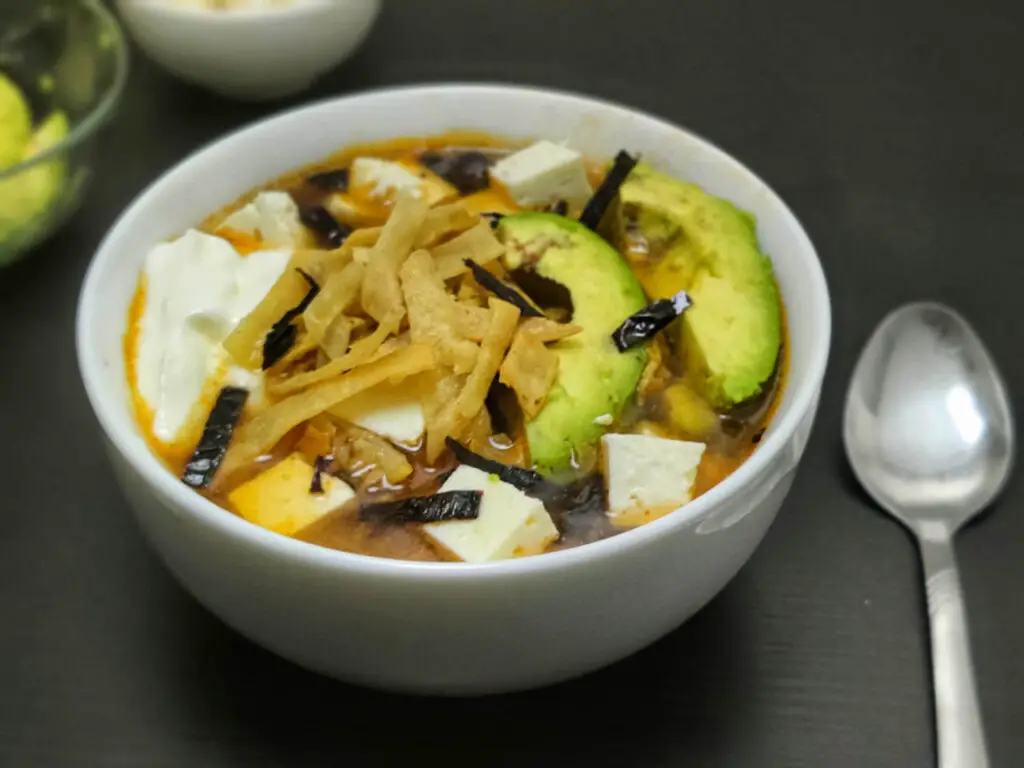 Disclosure: This Page May Contain Affiliate Links, Which May Earn Me A Commission, With No Additional Cost To You. Each Of These Links Are Referenced With The Asterisk Symbol * Next To It, At All Places It Is Posted.
This warm bowl of flavors will set your mood right up on a cold rainy day, like the many ones you could see here in Vancouver, or you could have it in the middle of summer just because!
This mildly spicy Mexican soup, as delicious as it looks, does not take up much time to make. This recipe is cheap as well as easy to make at your home. 
It can be served with avocado, Cotija cheese, crema fresca, and fried tortilla strips on top.
Buen provecho!
Full Recipe Ingredients/Instructions are available in the recipe card at the bottom of the post. You can find important tips/tricks in the blog post.
Get New Recipes Every Week Directly in your Inbox!
What is Sopa de tortilla?
Sopa de Tortilla or Sopa Azteca or Sopa de Tortilla Azteca is one of the most famous soups in central Mexico, especially around Mexico City. A variation of this soup called Tarasca soup contains beans.
It is said to have originated in the state of Tlaxcala however it is currently a dish that is consumed in all regions of the country. This dish is also prepared in other countries, such as Guatemala, Honduras, and Costa Rica.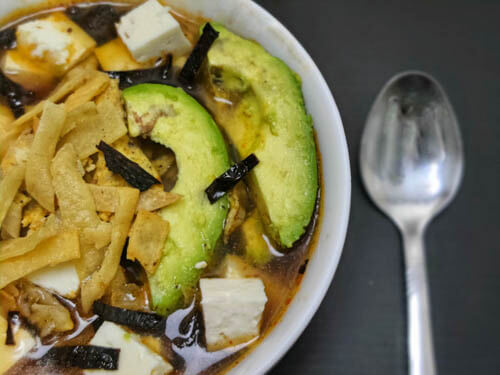 This soup is a good representation of traditional Mexican food and a Mexican food palette. You will find this tortilla soup being served in both small as well as big and upscale restaurants across the country.
Being a cheap, nourishing comfort food, one or the other version of this Sopa de Tortilla Receta is present in every home in Mexico.
This soup is a good way to accommodate the tortillas from the day before by making strips and frying them. These crispy tortilla strips are then added to this classic Mexican soup.
What is Pasilla Pepper?
The pasilla pepper* (chiles pasillas) is the dried form of the chilaca chili pepper, a long and narrow member of the species Capsicum annuum. This pepper is initially dark green and turns dark brown as it matures. It is typically 8-10 inches long.
This is one of the essential ingredients that you want to get your hands on before making this recipe, and I strongly suggest you try to get it. Pasilla chili does not carry a lot of heat.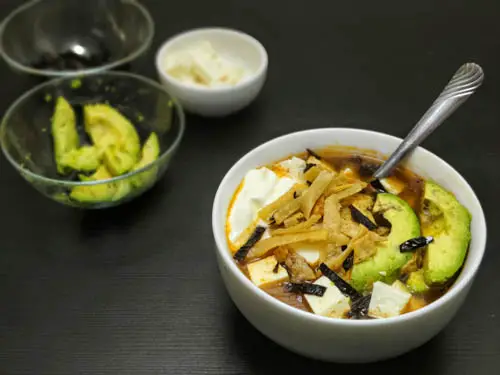 Before using it, try taking a small bite out of it. You will notice it has a very mellow taste and a hint of bitterness which will go away once the pepper is cooked, and leave some very good flavors with light heat for you to enjoy.
If you are unable to find this, you can use any other medium to mild heat chilies such as dried Ancho chiles* (chile ancho) or even dried Kashmiri red chili*.
If you are not very used to working with the whole chili or don't use a lot of spices in general, don't feel intimidated. Check the recipe video and follow along!
Toppings for sopa de tortilla
The toppings add additional depth and flavor to this soup. You can make this soup your own by deciding to add which all toppings to add to this soup. Feel free to add all of the recommended toppings or go with nothing at all!
Cheese
I recommend adding only a small amount of cheese. Add a few cubes of Mexican cheese such as cotija cheese or crumbled panela cheese or queso fresco.
If you aren't able to find any of these, you can add some Feta or Cottage cheese in its place. For plant-based options, store-bought vegan feta will work as well.
Tortilla Strips
You can either bake or fry the corn tortilla strips but frying the tortillas gives a more intense flavor.
Add a handful of tortilla strips on top of the hot soup just before serving. You can also add them to the soup base to boost the corn flavor.
Other toppings
Sliced avocado, fresh cilantro, fresh epazote sprigs, a dollop of crema fresca, and a dash of fresh lime juice or a couple of lime wedges.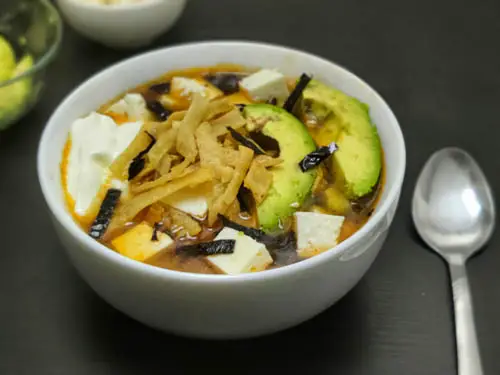 Making sopa de tortilla recipe healthy
1) To make this recipe healthy, look for a low-calorie corn tortilla. I also recommend baking them instead of frying them in oil.

2) Use low-fat veggie stock instead of veggie* or chicken bouillon*.

3) Use very little oil and I also recommend using a healthy oil such as extra virgin olive oil* for cooking.
Ingredients Used and Alternatives
Oil*: Use any vegetable oil.
Corn tortillas: Use 6-inch corn tortillas, shredded into thin strips
Pasilla pepper/chili: Pasilla peppers* are originally from Mexico and fall under the mildly hot category. It has 1000 to 2500 Scoville Heat Units (SHU).
Avocado: Get avocados that are ripened to the right amount. Sometimes people get darker-skinned avocado thinking it's the right amount of ripeness.
The best way to check would be to feel it. If the avocado yields to gentle pressure, it is good to eat. It should not be mushy to touch.
Cotija Cheese: Originating from the town of Cotija in Mexico, Cotija cheese is made from cow's milk and is salty to taste and crumbly in texture.
If your local grocery store does not supply Cotija cheese, you can use Feta cheese as a substitute. You can also use vegan feta as a plant-based substitute.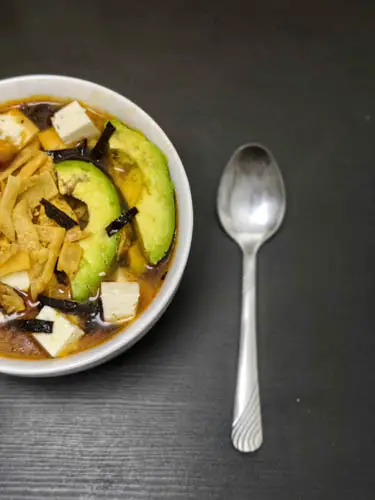 Crema fresca (fresh cream): Crema is Mexican cream that has about 30% fat. A good substitute would be sour cream which has 20% fat but is more acidic than crema and is thicker.
Keep in mind, sour cream might curdle at high temperatures, so don't add it to anything extremely hot. This ingredient is optional and you can omit it to make this recipe vegan.
Bouillon: You can use vegetable* or chicken bouillon*. You can also use vegetable or chicken stock in its place
Others: Tomatoes, white onion, garlic cloves, dried oregano, and parsley. Having as many fresh ingredients as possible makes this sopa de tortilla as awesome as possible.
To learn more about the toppings used and their possible substitutions, read the subheading "Toppings for sopa de tortilla" above.
How to make the perfect Sopa de Tortilla
To get this Mexican soup recipe right, follow the below steps closely. Some of the steps are crucial while for some you can go with your gut, if you have been cooking for a while and have kind of an 'instinct' by now, if you know what I mean. 
Fry tortilla strips
Cut up the corn tortillas into strips. Add the tortilla strips in small batches to hot oil and fry them. Toss them around to make sure you don't burn them and they get evenly browned and crispy.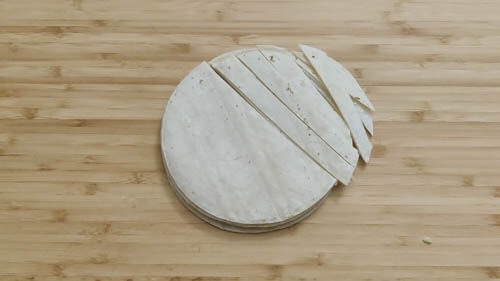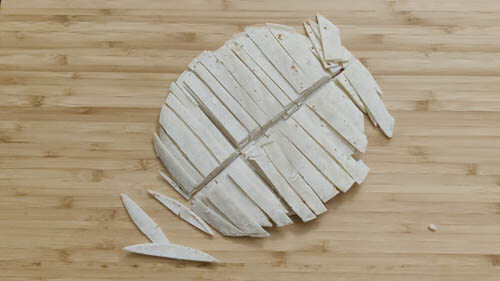 Once fried, remove the strips using a slotted spoon from the pan and place them on a paper towel and let the extra oil drain out.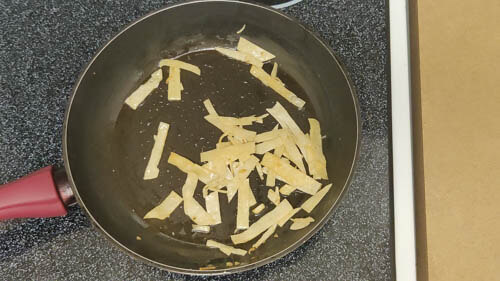 Sometimes I like to wrap a whole bunch of strips in a paper towel to remove as much oil as I can, but that's your call.
Prepare Pasilla peppers
Remove the seeds of the pasilla pepper* as shown in the video. Fry the pasilla peppers in the same pan used to fry the tortilla.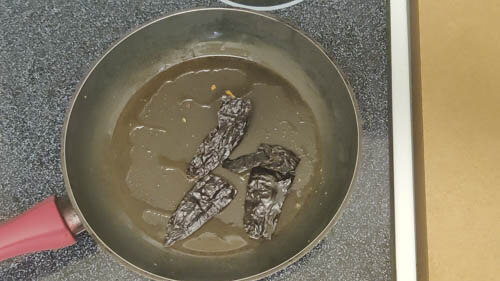 Fry for 2 to 3 minutes and make sure you don't burn them. Once fried, strain out the toasted chiles on paper towels.
Make tomato-pasilla puree
In a food processor, add in 1 fried pasilla pepper, tomatoes, onion, garlic, and oregano. Blend till you get a smooth consistency of tomato paste.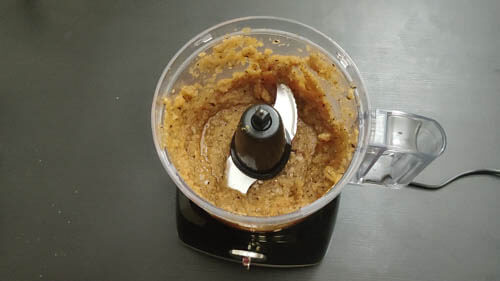 Make the soup
Heat oil over medium-high heat in a deep and large saucepan. Add the prepared pasilla-tomato mixture into the pot and cook for 2 minutes.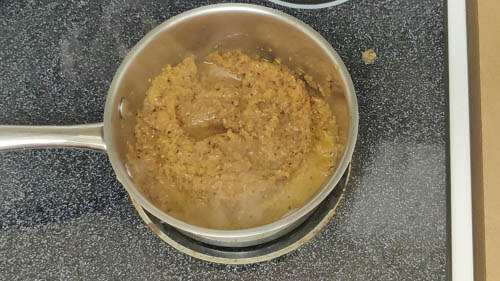 Next, add water. When it starts to boil, add parsley and bouillon granules. Cover and cook for 15 min. Then take it off the heat and remove the parsley.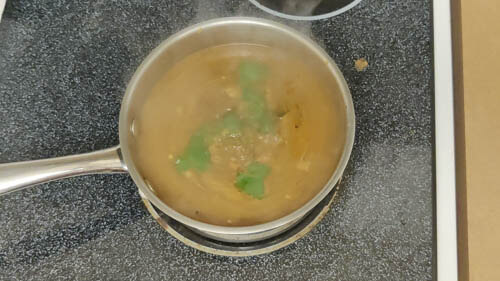 Serve
In 4 separate bowls, add a handful of tortilla strips. Then add the soup to each bowl.
Garnish each bowl of soup with avocado, cotija cheese, and a sprinkle of cut-up chile strips. Also, add a dollop of crema fresca or any of the other toppings mentioned above.
Serve while still hot. You can also have focaccia bread or white rice on the side.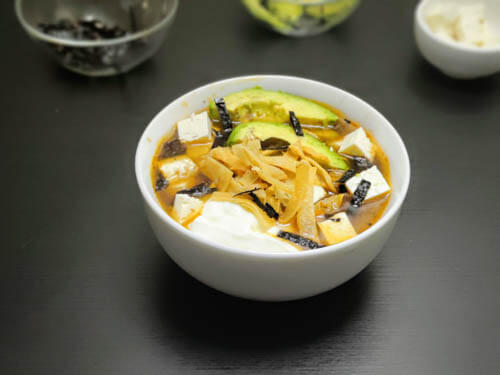 What to serve with this sopa de tortilla receta?
You can serve sopa de tortilla as a starter before dinner or you can serve it as dinner with a side of Mexican white rice, sliced avocado, and crispy tortilla chips.
Storing Sopa de tortilla
The soup, without the toppings can be stored in the refrigerator for about 3 days.
You can also freeze this soup. Once the soup has completely cooled down to room temperature, move it into an airtight container and freeze for up to 2 months. Thaw in the fridge overnight and gently rewarm the stovetop before serving.
Make sure to freeze the soup before adding any of the toppings. Toppings should be added fresh while serving the soup.
LOOKING FOR MORE COOKIE RECIPES??
Here are some of my favorite ones, that I am sure you would love –
Get New Recipes Every Week Directly in your Inbox!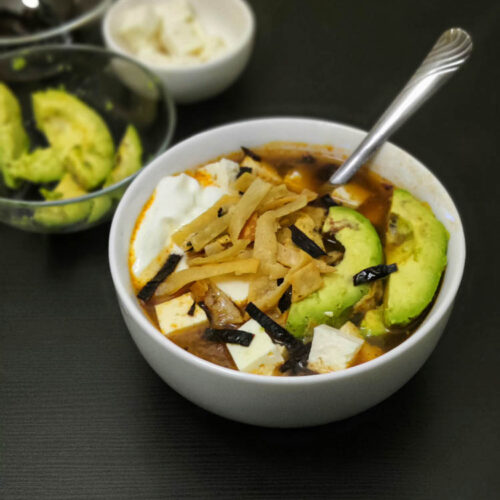 Sopa de Tortilla / Tortilla Soup
An authentic Mexican soup, Sopa de Tortilla is packed with flavors of pasilla peppers, tomatoes and herbs, filled with tortilla strips.
Ingredients  
Olive oil

Use any vegetable oil

12

6 inch corn tortilla

2

Roma tomatoes

1/2

White onion

1

Garlic clove

1/2

tsp

Dried crushes oregano

4

cup

Water

1

sprig

Parsley

1

Avocado

3/4

cup

Diced Cotija cheese

2

tbsp

Crema fresca (fresh cream)

Optional
Instructions 
Heat up the oil in a pan on medium high heat

Add tortilla strips, few strips at a time. Don't crow the pot

Fry it for 2 to 3 minutes till the strips are brown and crispy.

Remove the tortilla strips and place the over some paper towels to drain the oil.

In the same pan, add in the pasilla chilies and fry for about 2 minutes, without burning them.

Fry pasilla chiles in the same pan, being careful not to burn them, until browned, about 2 minutes.

Remove from the pot and drain over paper towels

In a blender, add in 1 fried pasilla pepper, tomatoes, onion, garlic and oregano. Run the blender till you get a smooth consistency

Heat about a teaspoon of oil over medium heat in a deep pot.

Add the prepared pasilla mix into the pot and cook for 2 minutes

Add the water. When it starts to boil, add the parsley and bouillon granules.

Cover and simmer for 15 minutes. By now all the flavors would be blended in.

Take it off heat and remove the parsley

In 4 separate bowls, add in equal parts of the tortilla strips

Add in the soup on each bowl, along with avocado and cotija cheese and sprinkle cut up strips of the remaining pasilla peppers on the soup.

Add the fresh cream on each bowl. This step is optional. Serve while still hot.
Did you find this recipe helpful ?? Leave me a star rating & comment about it or any recipe idea you would love to see. Don't forget to share with family and friends!
If you found this post useful, PIN the image below to your
"Soups Board" on Pinterest to check it out later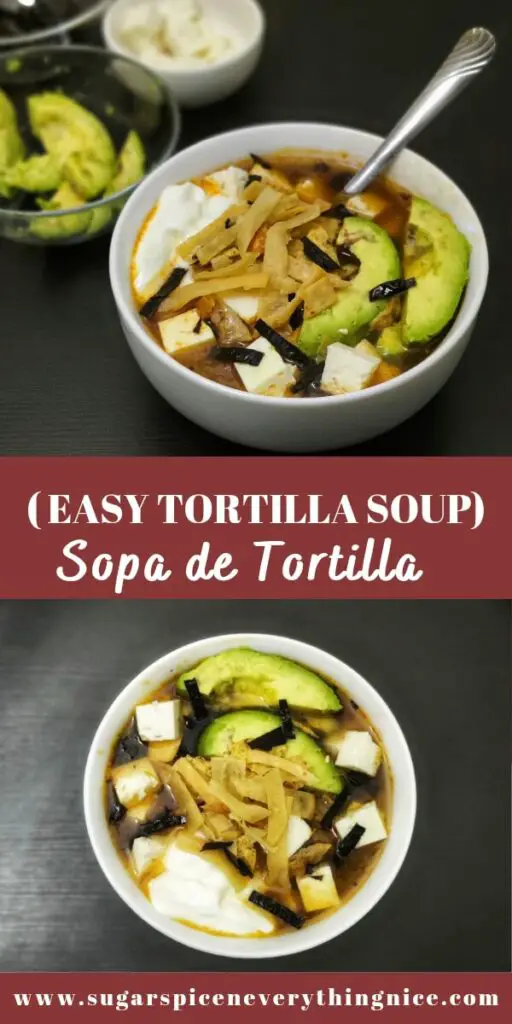 Looking for more recipes? Sign up for our Sugar Spice newsletter and Follow along on Facebook, Instagram, Pinterest for updates. Remember to Subscribe to my YouTube Channel for weekly videos.
Disclosure: This page may contain affiliate links, which may earn me a commission, with no additional cost to you. Each of these links are referenced with the asterisk symbol * next to it, at all places it is posted.
About the Author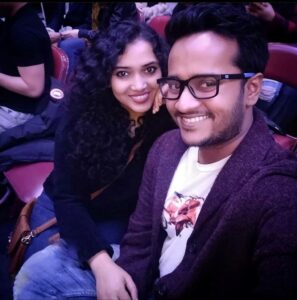 Hi! Akshita & Midhun here! Welcome to our blog where we show simple yet awesome recipes for your cravings.
Akshita being allergic to egg, we are committed to providing egg-free recipes along with some vegan friendly options. Read more about us here!
We are sorry that this post was not useful for you!
Let us improve this post!
Tell us how we can improve this post?