Shockingly Simple No Knead Focaccia Recipe
No knead focaccia bread is the easiest bread to make! It is crispy on the outside and soft and airy inside.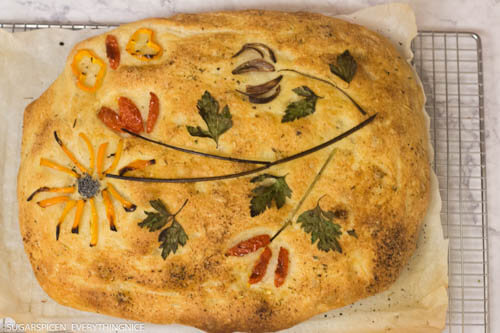 Disclosure: This Page May Contain Affiliate Links, Which May Earn Me A Commission, With No Additional Cost To You. Each Of These Links Are Referenced With The Asterisk Symbol * Next To It, At All Places It Is Posted.
This beginner friendly recipe requires no special equipment and is hard to get wrong. It is a perfect introduction to the world of bread baking!
Don't forget to check the video instructions to see the step by step process to make this amazing vegan focaccia.
This recipe needs simple ingredients that you most likely already have like flour, yeast, salt, water, and oil. This easy bread recipe requires minimal attention and no elbow grease, similar to my vegan cranberry orange bread recipe.
As focaccia uses yeast to rise instead of a starter, it can be prepared the day of or the night before you actually want to have it. This focaccia is remarkably chewy, rich, and flavorful.
Check out my other bread recipes using :
A little bit about Focaccia
Its not odd that people do think of focaccia to be a precursor to what we all call 'pizza', considering that focaccia seems like a fluffier version of the pizza crust but with less toppings.
Believed to be originally from Ancient Greece and later seeped into Italy, where it did undergo a bit of change to adapt to Italy's tastes.
Much of the original focaccia recipe still survived throughout history. It used to be baked on a heated tile or earthenware disk. Now we use conventional ovens.
Technique has changed too, though to make things easier. I mean, where am I going to get a tile to bake a bread on!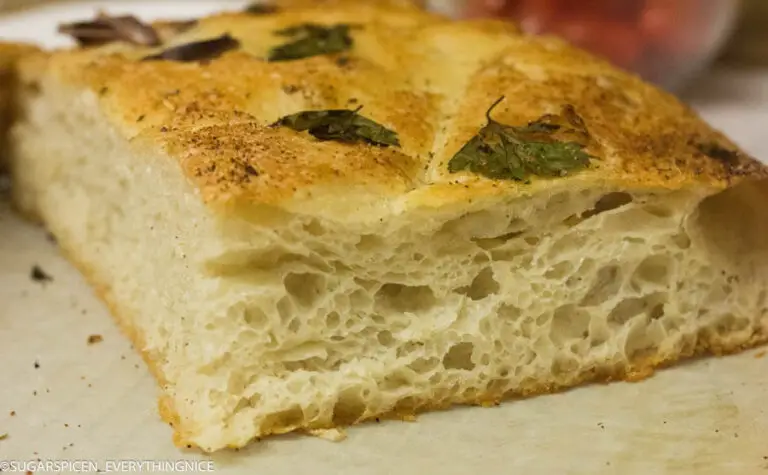 One of the most important ingredient of this focaccia recipe is olive oil. Below, you will notice we do use quite a bit of it. Olive oil forms a coat and retains the moisture in the bread during the time of cooking.
The other important ingredient is the yeast, and the amount of time you give for the 'rise'. For me personally, I like breads like sourdough, which has a slight sour (duh!) taste to it.
So I like to give my focaccia more time to rise, to a point where it has a slight acidic kick from the fermentation. You don't want to overdo this though.
Difference between Pizza and Focaccia
When you look at the basic ingredients, its very similar to a pizza dough. The main difference is again, in the amount of yeast and the fermentation or 'rise' time you give for the dough.
Pizzas usually use less yeast and lower rise time compared to focaccia. For the same reason, pizzas as you know already, are not too fluffy.
Focaccias, as I mentioned before, use waaaaay less toppings compared to pizzas. Reason for this is that if you add more toppings, the weight of the toppings might cause the focaccia to weigh down and lose its shape and fluff.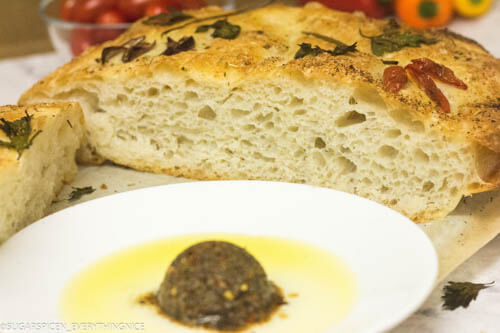 Difference between Pizza and Ciabatta
Focaccia and ciabatta are both Italian bread and made with similar ingredients but they are quite different from each other.
Focaccia is baked as a flat bread and typically dimpled on top to hold oil during the proof. Ciabatta on the other hand is formed as loaves – not as a flat bread. In terms of texture, Ciabatta has a dense and chewier texture whereas focaccia is light airy.
Ciabatta bread is primarily used only as a sandwich bread, whereas focaccia is much more versatile extremely versatile and can be served as an appetizer, table bread, a soup dipper and can also be used as a sandwich bread.
Toppings Ideas for Focaccia
This easy no-knead focaccia bread recipe is an excellent base for any number of seasonal focaccia toppings. Drizzle the dough with the olive oil, then add one or more of these toppings.
You could also get creative and make garden focaccia like I did! The best part is you get to customize it however you like it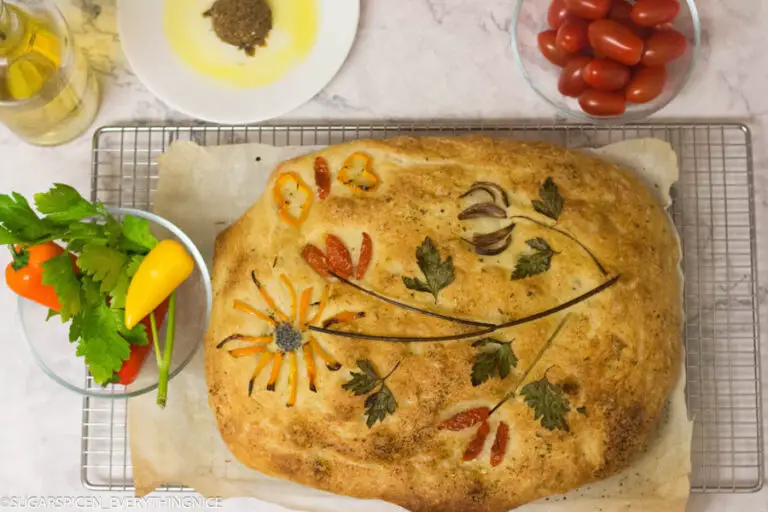 Here are few ideas :
chopped sun-dried tomatoes
sliced olives
raw or caramelized onion
Dollops of pesto and or pizza sauce
Fresh chopped garlic cloves
fresh or dried herbs like oregano, thyme, basil, red pepper flakes
Dried or fresh rosemary
cherry tomatoes
flaky sea-salt
cheese
bell peppers
poppy seeds
mushrooms
What kind of yeast to use for no knead focaccia bread
I recommend using Instant yeast or quick rise yeast. This yeast does not need to be proofed, ie dissolved water and allowed to bloom, before mixing. You can use active dry yeast instead but is a different kind of yeast and it will require proofing and longer rising time.
What to serve with no knead focaccia
This vegan focaccia is wonderful served warm from the oven or completely cooled. You can serve it as a side dish and its texture is perfect to dunk or dip soups like my Sopa de Tortilla soup or Chili (try my texas roadhouse copycat chili).
It can also be used to make wonderful sandwiches and you can add it to a charcuterie board as well.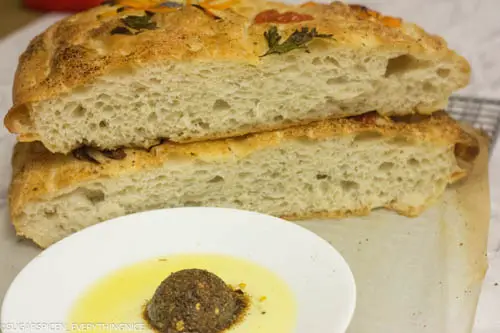 Ingredients and Alternatives
Flour – I used all purpose flour for this recipe. Bread flour or a combination of bread flour and all purpose flour should also work but I personally haven't tried it. The water required would vary based on the flour used
Salt – It brings out the focaccia's flavor. Use flaky sea salt, kosher salt or table salt
Yeast – I recommend using instant yeast for this recipe. You could also use active dry yeast but as mentioned above, it needs to be proofed before use and the bread would take longer to rise.
Olive oil – Generous amount of olive oil is added to the focaccia dough to create a richer tasting bread. You'll also use it to coat the pan and the surface of the dough before baking. Use your favorite kind– I prefer extra-virgin olive oil.
Water – The dough rises when combined with water and sugar, yeast. We use lukewarm water to cut down on rise time, about 100-120°F. Anything over 130ºF will kill the yeast.
Toppings – I used bell peppers, oregano, garlic powder, poppy seeds and onion. You can use the same toppings that I used or use any of the topping ideas mentioned above.
How to make the best no knead focaccia
Make the dough
In a large bowl mix the ingredients together, then knead the dough by hand using the pinch method. You can watch this method in the video. You will have a wet sticky dough.
First rise
Add 2 tablespoons of olive oil and spread it around the dough. Cover bowl with a damp tea towel or plastic wrap. Refrigerate for 12 to 18 hours and let the dough rise. Dough should almost double in size.
Release the dough from the bowl
Rub some olive oil on your hands and gently release the dough from the sides of the bowl.
Fold the dough into the center by pulling from the side and folding them to the center. This helps trap more air, creates more air bubbles and makes it fluffy.
Second Rise
Transfer dough to the baking tray with parchment paper. We used a 9 x 13 inch baking tray*. Coat it with olive oil. Fold the dough in just like you did before on all sides. Now, leave it to rise for another 2 hours on the counter.
Flatten dough out onto a baking pan
Rub oil on your fingers and spread the dough around to the sides of the pan. If it resists, don't push it. It might just cause the dough to deflate. Just leave it free for 10 minutes and try again.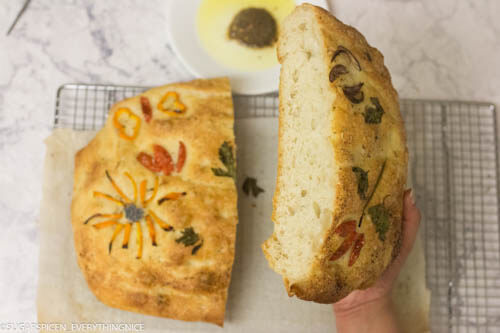 Preheat oven
Focaccia bakes in a very hot 425°F (218°C) oven.
Dimple focaccia
Use your fingers to dimple the entire surface of the dough. The dimples give the olive oil and toppings "a place to go.
Add toppings
I have plenty of focaccia topping suggestions listed above. No matter which topping you use, drizzle olive oil all over the surface. Also sprinkle salt on top
Bake
Bake focaccia for 30 to 35 minutes or until golden brown. Do a quarter turn halfway through the bake to make sure you get an even browning on all sides in case your oven does not distribute heat evenly
Cool and Serve
Take it off the pan and place on a cooling wire rack for around 10 to 15 minutes. If you plan on making sandwiches, you can let it cool completely down to room temperature and serve!
Storing no knead Focaccia
This no knead focaccia tastes best warm and right out of the oven. Having said that it will still taste pretty good the whole day.
Though it is best eaten the same day, leftovers can be wrapped and kept for a day or two at room temperature. But I would recommend to warm it in the oven at 350F for 10-15 min or pop it in the microwave for 20-30 s before eating them.
This homemade bread also freezes beautifully. Once it is at room temperature, cut it into slices and store it in freezer bags for up to 3 months.
When you want to reheat them, defrost overnight at room temperature and then reheat on a baking sheet at 300ºF got 5-10 minutes or until warmed through.
Make Ahead Options
Focaccia is also a convenient make-ahead recipe since you can do most of the work the day before serving. After the dough rises in the mixing bowl, punch it down to release the air, coat it with a little olive oil, then cover dough and freeze for up to 3 months.
Thaw in the refrigerator and allow to rest for 30 minutes on the counter. Finally, shape the dough on the baking sheet and continue with the recipe.
Here are some of my favorite ones, that I am sure you would love –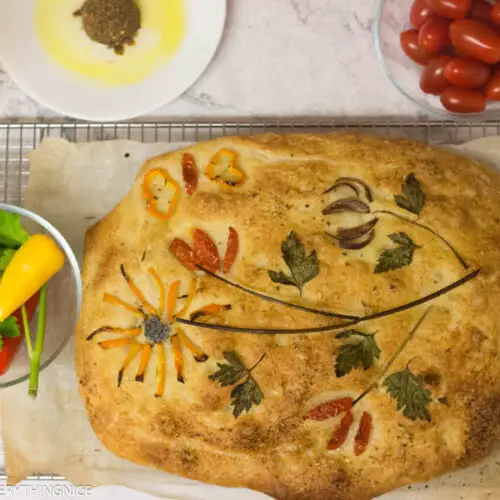 The Easiest Vegan Focaccia Recipe
This no knead focaccia recipe is vegan and beginner friendly ! It is chewy and soft in the center with a mega crisp exterior.
Ingredients  
Bread
4

cup

All purpose flour

(512 g)

2-3

tsp

Salt

2-3 tsp (10 g) – Salt

2

tsp

Instant yeast (Quick rise yeast)

(8 g)

2

cup

Warm water 120 F

2 cups (455 g) warm water at 120 F. (Check instructions for details about temperature requirements

4-5

tbsp

Olive Oil
Toppings
Bell peppers, onions, poppy seeds, garlic powder (or fresh garlic), oregano

Use as needed
Instructions 
In a large bowl, mix in the flour, salt and yeast.

Add warm water and mix with spatula. (Check 'Tips to perfect focaccia recipe' about the temperature of the water)

Switch to your hands now. Gently fold in the dough from the sides to the center as shown in the video. I followed a pinch method to ensure the dry and wet ingredients are mixed well. To do, simply grab part of dough and pinch. Repeat.

Your dough should be more on the wet side by now. Add in 2 tbsp of olive oil. Spread it around the dough and in the bowl so that the dough does not stick to the inside of the bowl

Cover the bowl with a damp tea towel or plastic wrap. Refrigerate for 12 to 18 hours for the yeast to do its magic. We stored it for 18 hours.

When it's time, the dough should have almost doubled after fermenting.

Rub some olive oil on your hands and gently release the dough from the sides of the bowl.

Fold the dough into the center by pulling from the side and folding them to the center. This helps trap more air and make it more fluffy. Do this till all sides are folded in.

Take a 9 x 13 inch baking tray* and line it with parchment paper. Add 2 tbsp on olive oil to it to prevent the dough from sticking to it later.

Place the dough on the pan and turn it around till the oil coats the dough evenly. Fold the dough in just like you did before on all sides.

Now, leave it to rise for another 2 hours on the counter.

Preheat an oven to 425 F.

Rub oil on your fingers and spread the dough around to the sides of the pan.

Once you have spread it around, dip your fingers in water, and then press down on the dough to create dimples. After every few presses, dip your fingers in water again.

Now add in the toppings. I went with few veggies, lot of garlic powder, oregano and poppy seeds. Also sprinkle some more salt on top.

Bake for 30 to 35 minutes. Turn the pan halfway through to make sure you get an even browning on all sides in case your oven does not distribute heat evenly

You will know its baked when the top and bottom are golden brown( as shown below). Take it off the pan and place on a cooling wire rack for around 10 to 15 minutes. If you plan on making sandwiches, you can let it cool completely down to room temperature.
Did you find this recipe helpful ?? Leave me a star rating & let me know how it turned out in the comments below. Don't forget to share with family and friends!
Also check out our amazing list of 23 vegan bread recipes!
Tips To Perfect no knead Focaccia Recipe
Make sure to use only lukewarm water in this recipe as yeast has an optimum working temperature. For instant yeast, this falls around 100 F to 120 F. I would highly recommend using a thermometer to check the temperature of the water. Too hot and you'll kill the yeast. Too cold, and it won't properly activate.
Also make sure yeast is fresh and not expired.
Use only good quality olive oil.
I recommend using a digital scale to measure the flour.
While pressing and creating dimples on the dough, keep dipping your fingers in water to make sure you the dough doesn't stick to your fingers.
Line the baking tray with parchment paper and coat it with olive oil so that the dough doesn't stick to it.
When handling the dough, ensure to add a little olive oil to your hands and fingers to prevent it from sticking to your hand
Do not add too many heavy toppings as they can prevent the dough from rising.
For the second rise, find a warm spot to let the dough rise or you can place it in the oven with the light on to let it rise.
Bake time can slightly change depending on the oven. Check the color at 20 mins, especially for a strong oven. If your oven isnt very strong, it can take up to 25-30 mins
Commonly Asked Questions
Is focaccia vegan?
Focaccia calls for olive oil, making it vegan. There are very rare variants which uses eggs and butter, but in general, focaccia is a vegan bread.
Is focaccia dough meant to be sticky?
Yes! It is a high hydration dough so it will be sticky. The Olive Oil is to helps to stop it sticking to the bowl and your fingers.
How to do I know when the dough is ready to bake?
The dough is ready to be baked if it has doubled in size, and is jiggly. You can also give it a poke test and gently poke it with your finger – it should leave an indentation that slowly springs back.
Can I bake focaccia in a glass pan?
You can but it isn't recommended as the dough is more likely to stick to the glass bottom, and glass being a very poor conductor of heat may not give the best texture to the bread. I recommend using metal pan instead!
How long does focaccia stay fresh?
Focaccia stored at room temperature and wrapped in a plastic cling wrap could stay decently fresh for 2 days. After that the texture might get dry and tough.
Pin The Image Below To Check It Out Later!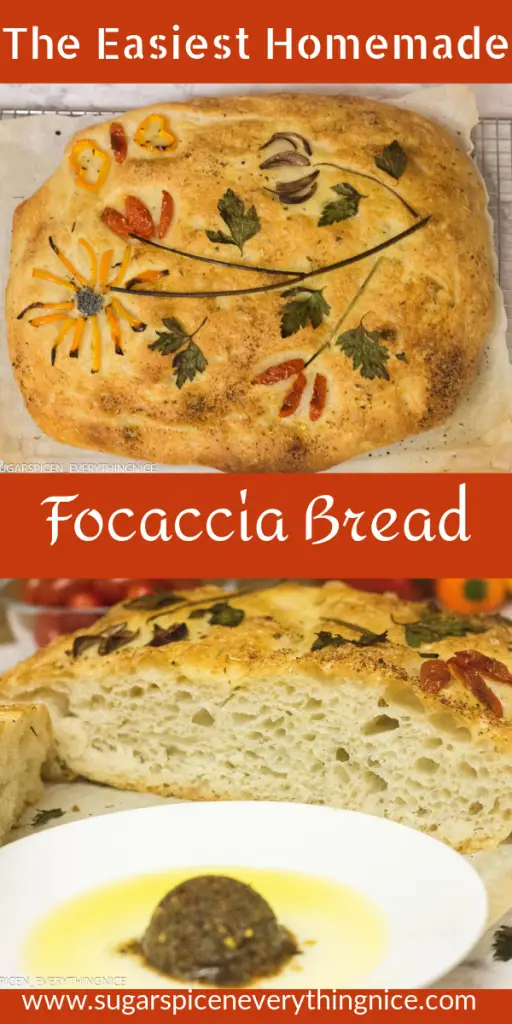 Join Sugar Spice Community:
Facebook Group | Pinterest | Instagram | YouTube
Looking for more recipes? Sign up for our Sugar Spice newsletter and our YouTube Channel for weekly videos. Also rate, comment and share this article!
Disclosure: This page may contain affiliate links, which may earn me a commission, with no additional cost to you. Each of these links are referenced with the asterisk symbol * next to it, at all places it is posted.
About the Author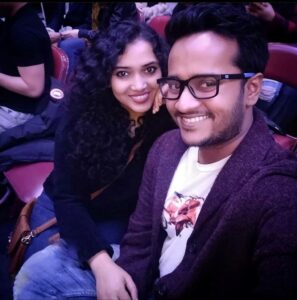 Hi! Akshita & Midhun here! Welcome to our blog where we show simple yet awesome recipes for your cravings.
Akshita being allergic to egg, we are committed to providing egg-free recipes along with some vegan friendly options. Read more about us here!
We are sorry that this post was not useful for you!
Let us improve this post!
Tell us how we can improve this post?