How to make the best vegan charcuterie board
Make this epic vegan charcuterie board as a fun appetizer for your next party! Loaded with dairy-free cheese, tasty plant-based meat, vegan bread, and more., this board will be a hit with your vegan and even non-vegan friends!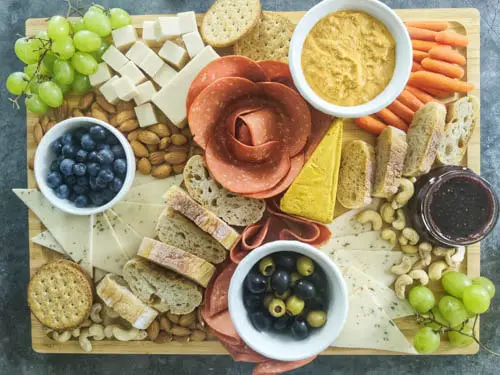 Disclosure: This Page May Contain Affiliate Links, Which May Earn Me A Commission, With No Additional Cost To You. Each Of These Links Are Referenced With The Asterisk Symbol * Next To It, At All Places It Is Posted.
Charcuterie boards are all the rage nowadays. How can they not be? They are so easy to put together! All you need to do is assemble the items and you will have a stunning appetizer ready in no time whatsoever!
Charcuterie boards are notoriously known to be expensive, but they don't have to be! I highly recommend you raid your fridge, cupboards, and fruit bowls before you hit your grocery store.
Read on for the step-by-step guide on how to curate your very own Vegan Charcuterie Board.
Full Recipe Ingredients/Instructions are available in the recipe card at the bottom of the post. You can find important tips/tricks in the blog post.
Get New Recipes Every Week Directly in your Inbox!
What is a charcuterie board?
First things first, let's start with how to say the word! It is pronounced "shar-koo-tuh-ree," with the "koo" and "ree" accented.
Charcuterie is a French word that refers to the art of preparing and assembling cured meats and meat products. Charcuterie has become very popular around the globe and has evolved to include a variety of foods and there is a focus on more than just meat.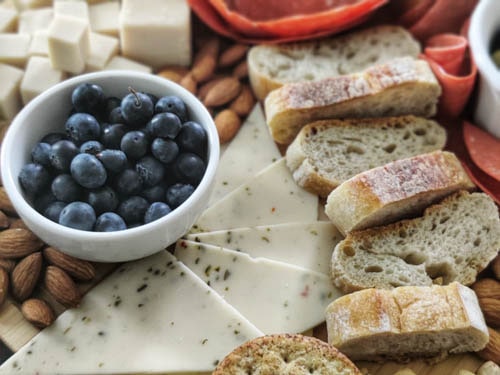 A good charcuterie board is an assortment of meats, cheeses, artisan bread, olives, and more., artfully arranged on a serving board. They are also sometimes called grazing boards or cheese boards.
Meat and cheese were the stars of the traditional charcuterie board. But now, with the rise in popularity and availability of dairy-free cheese and vegan meat., vegans can join in on the fun too.
The vegan version is similar to the traditional charcuterie board but it contains no animal products.
Size and type of board to make a vegan charcuterie board
There is no right size! You don't need to have a big fancy board! Your board can be as big or as small as you want them to be.
The only thing you need to keep in mind is that the size of the charcuterie board should accommodate and suffice the size of your party. So choose the size of the board based on the number of people that would be grazing this board.
Also, the larger the board, the longer it will take to put together. You will also need more food to fill it up.
The standard size is about 9×13 inches but they can be as large as 12×18 inches.
Go for a smaller board if you want to highlight some specific ingredient or if you are making it for 1 or 2 people. You can also have multiple smaller charcuterie boards* that have different themes!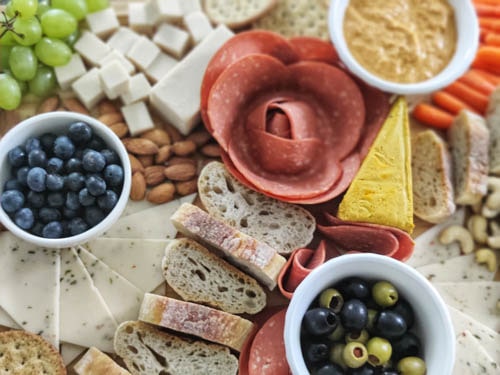 Once you've chosen the board of your preferred size, you'll require to consider the type.
Hardwood cutting boards* are non-porous and they make the best charcuterie boards like the large wooden board I used today.
Smaller wood serving trays*, bamboo*, or slate boards* are good alternatives too. If you don't have any of these, you can also use a baking sheet as a make-shift charcuterie board.
However, it must be noted that most true charcuterie boards are not dishwasher friendly. They are required to be hand-washed or wiped right after use to ensure that they don't absorb the smell or color of the food kept on them.
Ingredients to Make Vegan Charcuterie Board
Vegan Cheese : There is plenty of vegan cheese available in the market thanks to the growing plant-based movement. You can add any that you like to this vegan cheese board.
A good rule of thumb is to include at least 2-3 varieties of cheese that are different in taste and texture from each other. Include hard as well as soft and creamy vegan cheeses.
I also recommend buying cheese in different shapes. Vegan cheese blocks such as the smoked gouda that I used, can be partially cut into cubes and the rest kept uncut. I also used chipotle cheddar style wedge and fanned-out pepper jack slices.
Vegan Meat : If you are not a fan of plant-based meat, feel free to omit it.
If you are adding charcuterie meats to your board, use one or two types of plant-based cured meat, and/or deli slices. They look nice rolled up or you can try arranging them in the shape of a flower, just like I did!.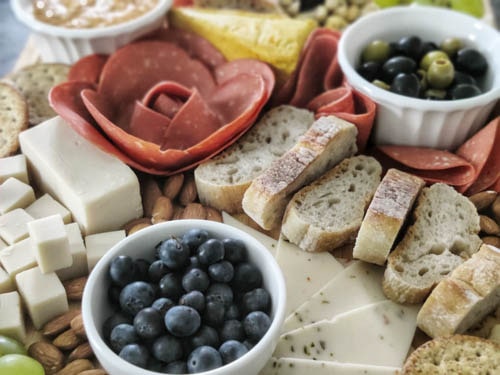 Fresh Fruit: Fresh fruits bring in sweet flavors to the charcuterie board and they are good to refresh the palate between different cheeses and dips. They also make the board appear vibrant and colorful.
I used blueberries and green grapes. They pair well with crackers and vegan cheese. Other great options are apple slices, strawberries, pears, oranges, red grapes, sliced kiwis, and raspberries to this vegan charcuterie spread.
In addition to fresh fruits, you can also add dried fruits such as dried cherries*, figs, apricots, dates, golden raisins*.
Raw veggies : Go for strong and sturdy veggies that will be great dippers such as carrot, celery, or cucumbers. Other great choices include bell peppers, zucchini, cherry tomatoes, and radishes.
This is a great way to include a variety of colors and make your board pop!
Dips and Spreads : Adding the right dips and spreads will elevate the overall flavor of this vegan snack board.
Choose any dip or spread like this southwest chipotle dip. Just make sure it complements all the assortments on the board. I like to serve them in small bowls.
You can incorporate vegan dips as the red pepper hummus I used or you could add tapenade, Baba Ganoush, Italian/Ranch Dip. You could also add sweet sauces like this blueberry or strawberry sauce. I added this yummy raspberry with merlot jam for my board.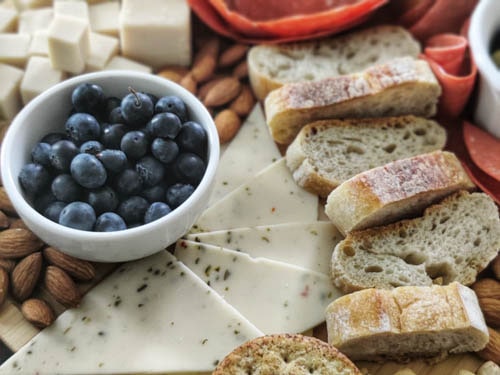 Bread and Crackers : You can bake  vegan bread like this beautiful focaccia or buy a vegan baguette and slice them thinly.
You can also add any of your favorite crispy crackers or pita chips. These add a variety of textures and crunch to your vegan charcuterie board.
Nuts: They also add texture and crunch to your board and fill any empty spaces. Add at least two types. You can use almonds, cashews, pecans, walnuts, macadamia nuts*, or pistachios
Others : You can add pickles, olives (I used a mix of black and green olives), dark chocolate, and even fresh herbs such as rosemary, basil to add a decorative touch and a wonderful aroma.
How to assemble the best Vegan charcuterie board
Once you have prepared all the assortments and poured the dips/spreads into smaller bowls, it is important to assemble them properly.
1. Add Structure
Start by adding some structure to the board. I placed small bowls* and ramekins* with blueberries, olives, hummus, and the raspberry jam on the board.
They serve as anchors around which I can style my other items. They also add texture and depth to my board.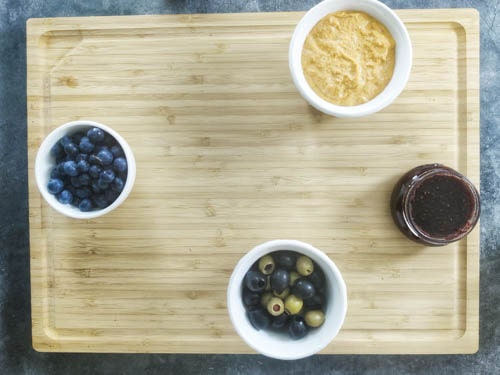 2. Add Vegan meat
Next, I added my vegan meat shaped like a flower. I retained its shape by keeping the wine glass I used to assemble it. The wine glass was removed once the whole board was assembled.
3. Add Vegan cheese
I used 3 different kinds of cheese as mentioned above. I cut the gouda in blocks and fanned out the pepper jack slices. The cheddar wedge was kept as it is. I like to have different shapes of cheeses to make my board visually interesting.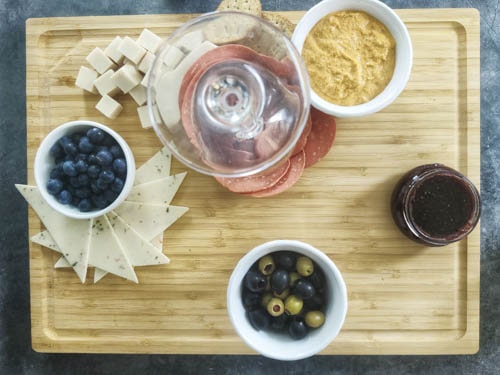 4. Add Fruits & Veggies
I added green grapes and carrots on the outer edges. They add a pop of color to the board. Use can use any other fruits and veggies you like. Check some of my favorite options above.
5. Add Bread & crackers
Next, I placed bread and crackers. I spaced them out in different areas of the board. This fills up the board and also makes it easy to grab them and sample different cheese and dips from all sides of the board.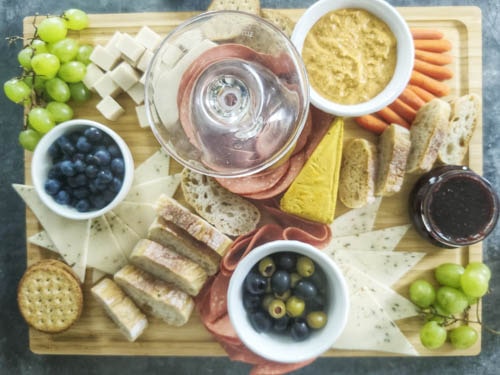 6. Add nuts and fillers
Fill any remaining gaps on the board with more crackers, meat, or nuts!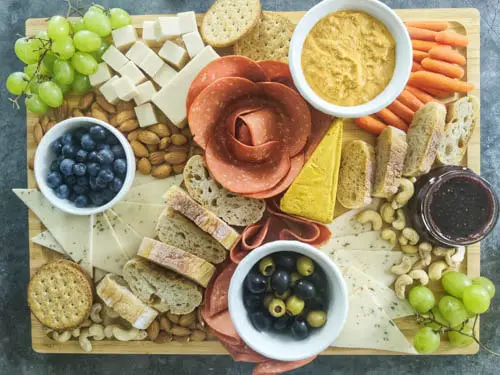 When to serve a vegan charcuterie board
The vegan charcuterie board is essentially an appetizer and it should be served before the entrée. It is best complemented with some wine and is idle for movie nights, date nights, seasonal parties, holidays, etc.
However, these boards can be modified in various ways and served as the main course or even as a dessert board!
More vegan charcuterie board ideas
A simple Charcuterie board can be modified and presented in various innovative ways as mentioned above. Here are some suggestions for next level charcuterie :
Cuisine-based boards
You can theme your charcuterie board according to any particular cuisine of your liking. Incorporate the elements of that particular cuisine into your board.
For example, if you're making a Mediterranean Charcuterie board or Mezze Platter, then incorporate traditional elements like hummus, pita bread, olive, tapenades, salty cheeses like blue cheese, and feta, etc.
Vegan Dessert Boards
This could be apt for the holiday season and even kid's parties. You can incorporate vegan cakes, candies, cookies, brownies, various types of chocolate dips, fruits, nuts, and berries, etc.
Vegan Holiday boards
You can also create a holiday-themed board such as Vegan Christmas Board. This could be part of your appetizer or dessert at your holiday party!
Serve Christmas-themed cupcakes like this Christmas tree cupcakes, hot chocolate cookie cups, and have a stunning centerpiece like this Star Bread.
Similarly, you can create a Thanksgiving board or Valentine's Day Board.
Vegan Breakfast Boards
You can do this for Mother's day or as a Birthday Breakfast.
Include vegan pancakes or waffles, maple syrup, vegan muffins, cinnamon rolls, croissants, bread, butter, jam, and fruits like strawberries and oranges.
You can also serve mimosas or orange juice along with it.
Vegan Charcuterie Board Serving Guide
The amount of each item needed is pretty relative. In general, aim to have about 2-3 ounces of vegan meat and cheese per person for an appetizer or roughly six ounces per person for a main meal.
Make-Ahead Options
You can prepare your vegan cheese board a few hours ahead of time. Just assemble your board as you would like but leave out crackers and bread. Cover tightly with plastic wrap* and store in the fridge.
Take it out 30-40 min before you are ready to serve it. Add crackers and bread just before serving!
Here are some of my favorite ones, that I am sure you would love –
Get New Recipes Every Week Directly in your Inbox!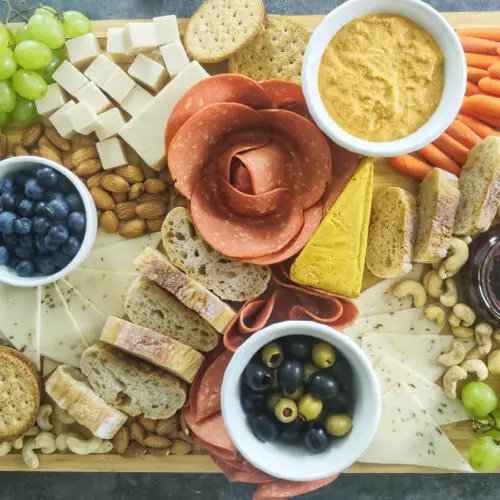 Vegan Charcuterie Board
Make this epic vegan charcuterie board as a fun appetizer for your next party! Loaded with dairy-free cheese, tasty plant-based meat, vegan bread, and more., this board will be a hit with your vegan and even non-vegan friends!
Ingredients  
Vegan Cheese
280

g

Smoked Gouda flavored cheese

Cut into cubes

10

slices

Vegan pepper jack cheese

10 – 15

slices

Vegan salami

150

g

Regular or flavored cheddar

1

cup

Mixed olives

Green and kalamata olives

1

loaf

Baguette

1

bunch

Grapes

any type

100

g

Nuts – any kinds

200

g

Hummus

100

g

Raspberry jam*

50

g

Blueberries

100

g

Baby carrots
Instructions 
Add structure to the board by starting off with small bowls* of blueberries, olives, hummus and the raspberry jam.

Add the vegan meat. You can shape it into a flower or any other creative shapes

Add the different vegan cheese. Cut part of the gouda into cubes, leave the cheddar as a block and arrange the pepper jack as shown in the photo

Add the baby carrots and fruits to add a pop of color.

Place the sliced baguette and the crackers in different areas of the board to fill up the board

Add the nuts to fill up the remaining spaces
Did you find this recipe helpful ?? Leave me a star rating & comment about it or any recipe idea you would love to see. Don't forget to share with family and friends!
Tips to make the perfect vegan charcuterie board
Include a variety of categories as mentioned above and try to include a variety of items of each category. To create a visual appeal, include a variety of colors and spread them across the board.
Take your time arranging all the items on the board. If it doesn't look good the first time, you can always move things around.
Arrange all your items fairly tightly on the board.
Add some items like bread or crackers or fruits in 2 or 3 places on the board so all your guests can have access to it from any side of the board.
Don't put more than 10-12 different items on your charcuterie board. If you are using a smaller board, you can even have fewer items.
Replenish ingredients as needed.
Commonly Asked Questions
Is charcuterie the same as antipasto?
No, charcuterie has a French heritage and antipasto has an Italian heritage. They both comprise of cured meats, however, antipasto typically stays within the realms of Italian ingredients and charcuterie could include ingredients from around the world.
Is charcuterie healthy to eat?
Yes, the vegan charcuterie is healthy to eat. It consists of fruits, vegetables, vegan meats, and other ingredients that are high in protein and low on carbs. Although, you can customize this vegan platter with healthier options as per your preference.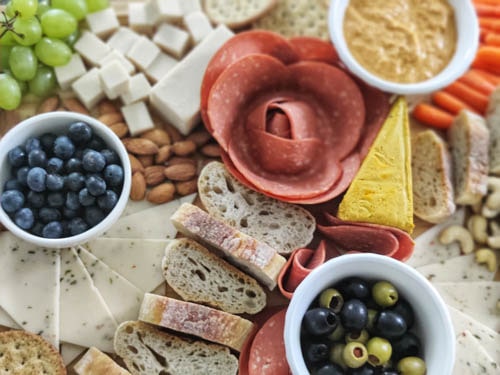 What is the difference between charcuterie and crudité?
Crudité is a French appetizer that consists of whole raw vegetables which are dipped in a vinaigrette, olive oil, or some other sauce. Charcuterie on the other hand refers to cured meats and meat products.
How long can a charcuterie board sit out?
The charcuterie board should not be sitting out for more than 2 hours at room temperature. If it is a really hot day, then it should be consumed within 90 minutes since there is a chance that the food could get spoilt.
How do I travel with a charcuterie board?
If you need to travel after assembling the charcuterie board, I would advise you to use a rimmed board or tray. The rim would keep everything in place while moving. Assemble the tray at home. Then cover tightly with plastic wrap and transport the board.
If You Found This Post Useful, PIN The Image Below To Check It Out Later!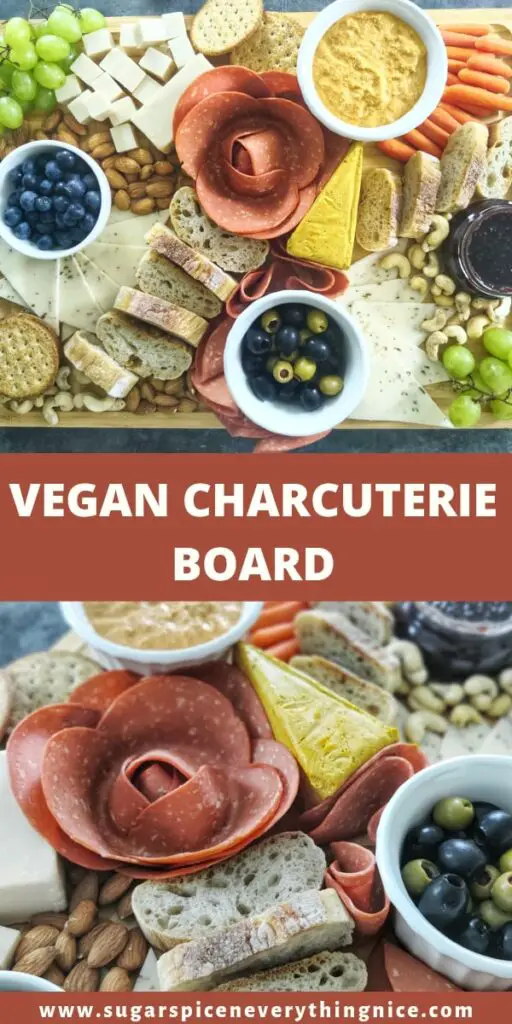 Looking for more recipes? Sign up for our Sugar Spice newsletter and Follow along on Facebook, Instagram, Pinterest for updates. Remember to Subscribe to my YouTube Channel for weekly videos.
Disclosure: This page may contain affiliate links, which may earn me a commission, with no additional cost to you. Each of these links are referenced with the asterisk symbol * next to it, at all places it is posted.
About the Author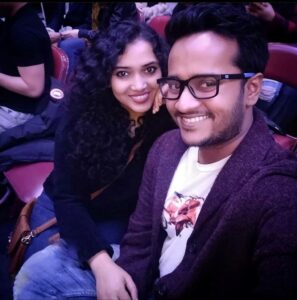 Hi! Akshita & Midhun here! Welcome to our blog where we show simple yet awesome recipes for your cravings.
Akshita being allergic to egg, we are committed to providing egg-free recipes along with some vegan friendly options. Read more about us here!
We are sorry that this post was not useful for you!
Let us improve this post!
Tell us how we can improve this post?