Easy Vegan Lemon Poppyseed Muffins
Hey ya'll, its muffin time! Treat yourself to delicious airy vegan lemon poppyseed muffins. I have made a vegan version of this popular muffin recipe.
Cover the top of the muffin with a thick, sweet lemon glaze for a zesty kick.
If you like lemon desserts, do check out these Lemon Bars.
Disclosure: This Page May Contain Affiliate Links, Which May Earn Me A Commission, With No Additional Cost To You. Each Of These Links Are Referenced With The Asterisk Symbol * Next To It, At All Places It Is Posted.
Ingredients Used And Alternatives
Like most of our recipes, we have tried to keep this one vegan as well. Here is everything you need for this vegan lemon poppy seed muffins recipe.
Almond Milk: After testing almond milk few times with cereals and protein drinks, I switched completely over to almond milk over the past few months. Its thick, tasty and vegan. If you still want to use regular milk that is totally fine and works well for the recipe. If you are allergic to almonds, then I would recommend oat milk or regular milk.
Also, soy milk is supposed to curdle better than almond milk, which would give a better texture for the muffin. So you might even end up with a better muffin that what we got. For me personally, I never liked the taste of soy milk, hence never used it so far.
White Vinegar: Some people might prefer to use white wine vinegar or even apple cider vinegar to make the buttermilk mixture. Any of these choice of vinegar works to make this vegan lemon muffins.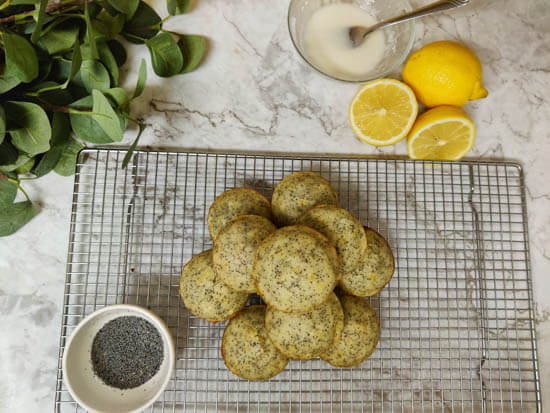 All purpose flour: For those of you who prefer a healthier recipe, you can try switching out to buckwheat or gluten-free flour blend. Though I have not used these alternative options so far, there is a general consensus that this still works. The taste, however, would vary.
Sugar: We normally use white sugar for all of our bakes and regular daily requirements as well. For this recipe you can replace regular sugar with coconut sugar, which has started to gain some amount of popularity among people who wants to switch to healthier life styles.
Coconut sugar is supposed to have vitamins, minerals and fiber contents but you really have to have a lot of it to reap the benefits of the nutrients. Plus coconut usually tends towards the more expensive side. Since we bake quite a lot and uses a lot of sugar, for now we have decided to go with white sugar.
If you are interested in checking out the benefits of coconut sugar and thinking about switching check this article by Healthline and Livestrong.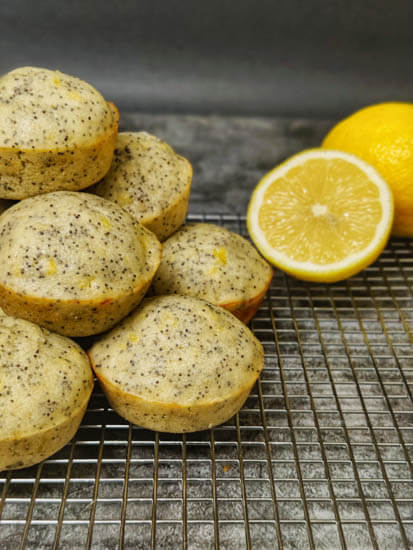 Oil: From the time we started baking, we have been using olive oil. Extra virgin olive oil, to be precise. I have read few comments in some food blogs, that olive oil gives a distinctive taste, that some people do not like. However, from our experience so far, its been pretty good.
If you still would like to try out other oil, one of the popular ones is coconut oil. Keep in mind, coconut oil tends to solidify quickly in color environment so you should warm and melt it, prior to using it. You could also use any vegetable oil as well.
Fresh Lemon Zest: This adds the lemon flavor. It should be finely chopped up so that it does not stick out in the muffin
Vanilla Extract: I prefer the natural vanilla extract over the artificial one, just because, less preservatives and the taste that the preservatives have is noticeable. –
Others: Baking powder, baking soda, fresh lemon juice or lemon extract, crunchy poppy seeds, salt.
How Make The Perfect Vegan Lemon Poppyseed Muffins
Below are the detailed instructions for making the perfect vegan lemon poppyseed muffins. This is a very easy recipe. If you are just looking for an overview before you start, you can check out the recipe at the end. To get all the minute tips that you need to get it right, I suggest going through the steps below.
Preheat oven to 375 F
First you need to make the buttermilk mix. Now, I say buttermilk, but its not the traditional buttermilk where you use milk and get it to curdle with an acidic ingredient like vinegar.
Here we are using almond milk. It does not curdle as much or as quickly as regular milk, but it will do the trick just given some more time.
Mix the almond milk and vinegar together in a small bowl or glass container to make vegan buttermilk. Leave it aside for 5 minutes to curdle.
In a large bowl, add sugar, oil, lemon juice and lemon zest. Mix everything.
Add the curdled mix into this bowl and mix well.
In a medium bowl, add in the flour, baking soda, baking powder, salt and poppy seeds. Whisk till well combined.
Add the dry ingredients to the wet ingredients, little by little and mix well till the batter is evenly wet. Make sure there are no dry patches or lumps. You can use a spatula or whisk to mix the batter.
Grease muffin tins with butter and scoop out the batter into the pan. Fill up to 2/3rd on each of the muffin mold. If you fill up to the top, during the bake, the muffin will rise and spill out.
This vegan lemon poppy seed muffins recipe yields about 12 muffins. You will notice one is missing in the pan, we used it to test and confirm our 2/3rd filling theory. Success!
Bake for 18 minutes or until a tooth pick inserted comes out clean.
Each oven will be different. Depending on the branding, age, heat distribution, the time duration for baking may vary slightly. So best practice would be use the toothpick method for checking if the muffins are done.
Let it cool to room temperature. Slip a knife in between the muffin and the pan to free these vegan lemon poppy seed muffins. Then cool it more over a wire rack.
Add the lemon glaze on to the muffin top
Making Simple Lemon Glaze
Add the 1/2 cup of powdered sugar and 2 tsp lemon juice and mix it well till you get a thick liquid.
If you want it more lemon-y then you can increase the amount of lemon juice though it will thin out the glaze.
Once ready, add it on the top of the cooled muffins.
Tips to Perfect Vegan lemon Poppy Seed Muffins
While mixing the batter, make sure you do not overmix. Overmixing can cause development of too much gluten, which in turn creates a thick muffin.
Measuring the flour, as simple of a task as it may seem, actually has an impact on how your bake turns out. The ideal way to take flour is by using a spoon to scoop out flour little by little and add it into a measuring cup. Use a knife to level it out
Give the vegan muffins time to cool off to room temperature before removing them from the muffin pan. Muffins come off easily from the pan when its cooled, else there is a chance the muffin might stick to the pan and become a mess.
Check out other breakfast recipes that we have, which you might like and may even go well with the vegan lemon poppy seed muffins.
If you give this recipe a try, let us know how it turned out in our comments below and leave us a rating! Also, snap a photo and share it on Instagram. Make sure to tag @sugarspice.2020 so I can see your creations!
Easy Lemon Poppy Seed Muffin (Vegan)
Hey! It's muffin time! Treat yourself to a delicious airy lemon poppy seed muffin. Cover the muffin top with lemon glaze for an extra kick!
Ingredients  
Muffin
1

cup

Almond milk

1

tsp

Vinegar

2

cups

All purpose flour

2 1/2

tsp

Baking powder

1/4

tsp

Baking Soda

1/2

tsp

Salt

3

tbsp

Poppy Seeds

2/3

cup

Granulated sugar

1/4

cup

Oil

+ 1 tbsp

1/2

cup

Freshly squeezed juice

Zest of 2 lemons

1

tsp

Vanilla Extract
Lemon Glaze
1/2

cup

Powdered sugar

2-3

tsp

Lemon juice
Instructions 
Making the muffins
Preheat the oven to 375 F

In a small bowl or container, take the almond milk. Add the vinegar to prepare the buttermilk solution. Mix and keep aside for 5 minutes to curdle

In a large bowl, add sugar, oil, lemon juice and lemon zest. Mix everything. Add the buttermilk solution to this and mix well.

In a separate bowl, add in the flour, baking soda, baking powder, salt and poppy seeds. Whisk till well combined.

Add the dry ingredients to the wet ingredients, little by little. Mix until the batter is evenly wet and all ingredients are well incorporated.

Grease a muffin pan lightly with butter. Scoop out the batter and fill the muffin pan* with each mold being filled up to 2/3rd.

Bake for 18 minutes or until a tooth pick inserted comes out clean

Let the muffins cool to room temperature in the pan itself. Use a butter knife to help release the muffins from the pan.
Making the lemon glaze
Add the powdered sugar and lemon juice in a small bowl

Whisk it well to get a thick glaze

Pour it on to the muffin top.
Do you have to soak poppy seeds before baking?
While not a necessity, you can soak poppy seeds in hot milk, oil or water before baking. This step is supposed to soften the outer skin of poppy seeds and help release its natural flavor more during baking
What can replace poppy seeds in this vegan lemon poppyseed muffins recipe?
The best alternative for poppy seeds would be black sesame seeds. These have a good nutty flavor and would go well in baking. The next best option would be chia seeds.
Is it better to use oil or butter in muffins?
Oil used in cakes and muffins make them stay moist and tender longer than when using butter, though muffins with butter might taste better.
What is the secret to making moist muffins?
There are two things that you do that could lead to a dry muffin. One is overmixing the muffin batter, the other is overbaking the muffin. Avoiding these two will increase the odds of having a moist muffin.
How to store lemon poppy seed muffins?
Store them in airtight container for upto a week. To keep them longer freeze them in a sealed container or freezer bag so they don't get freezer burn.
If you like the recipe, PIN the image below to your 'Vegan Breakfast Recipes' board!
Disclosure: This page may contain affiliate links, which may earn me a commission, with no additional cost to you. Each of these links are referenced with the asterisk symbol * next to it, at all places it is posted.
We are sorry that this post was not useful for you!
Let us improve this post!
Tell us how we can improve this post?