15 Surprising Egg Wash Substitute Ideas and When to Use Them!
Looking for the best egg wash substitute to add the perfect shine and golden color to your bread and baked goods? Here are 15 options, including several vegan egg wash alternatives to choose from.
PIN the image below to read it out later!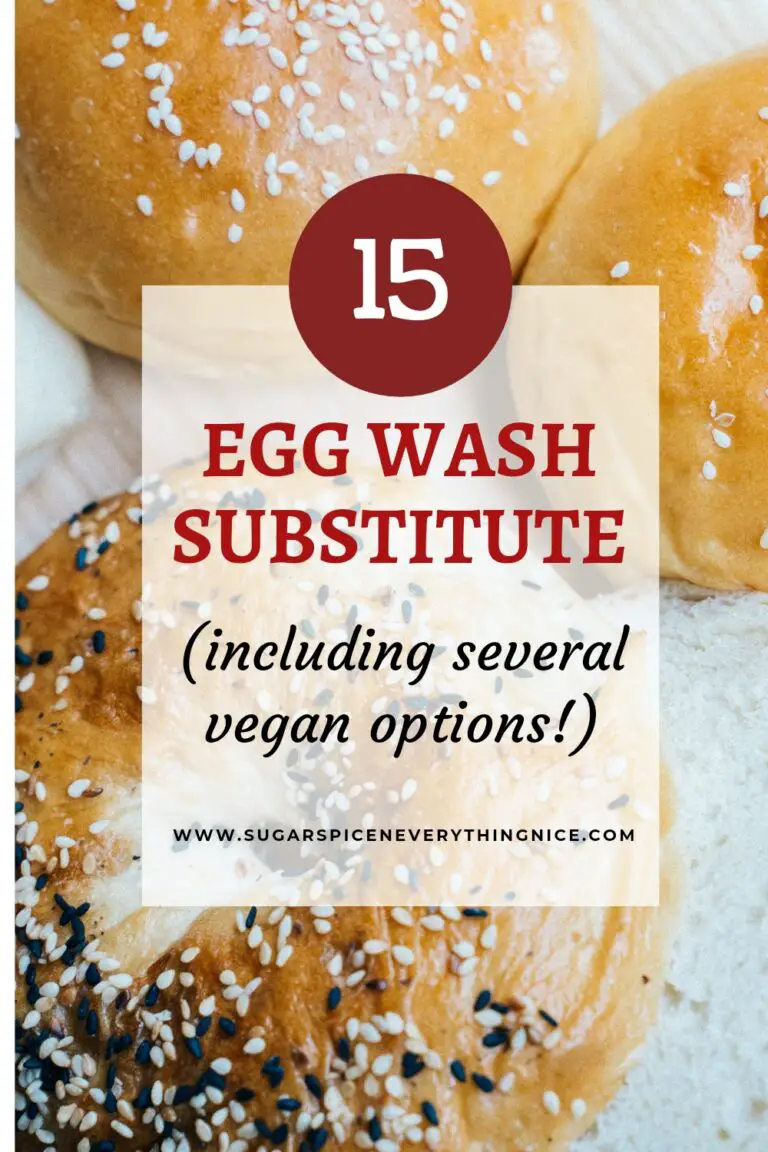 Disclosure: This Page May Contain Affiliate Links, Which May Earn Me A Commission, With No Additional Cost To You. Each Of These Links Are Referenced With The Asterisk Symbol * Next To It, At All Places It Is Posted.
Egg wash is a mix of eggs and water that is brushed on top of bread and pastries to give it a golden brown shine and crispy texture. If you have wondered why those pastries you find in your favorite bakery look so crunchy and shiny, now you know.
But if you are allergic to eggs like me or if you are a vegan baker, you cannot use a regular egg wash on your baked product. Instead, choose one of the substitutes for egg wash mentioned here.
Read on to see which is the right egg wash alternative for you.
Egg Wash and Egg Wash Substitute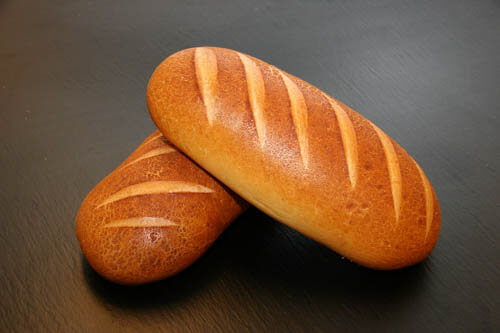 Egg wash is a mixture of raw eggs with either milk or water. It is often used in baking to give a beautiful sheen, golden color, and crunchy texture to baked goods as well as to bind things together.
In frying, egg wash usually helps bread crumbs and other toppings to stay on the surface of meat or vegetables. An egg wash substitute is any liquid-based wash that can mimic these properties of the classic egg wash.
Why use an egg wash substitute?
Egg allergy – which is MY reason! I am highly allergic to eggs and cannot have anything that has an egg wash on it.
Dietary restrictions – If you are a vegan, or following a plant-based diet.
Health reasons – if you have cholesterol or cardiovascular disease etcetera and are looking to avoid eggs, you will find healthier options in this list.
Availability – if you are in the middle of baking but have run out of eggs!
Cost
Leaving a pastry without an egg wash will give it a pale, doughy unfinished look. So whatever your reason for not using an egg wash is, we have got you covered!
Choosing the Right Egg Wash Substitute
Egg washes are used not only to add the beautiful golden sheen to baked goods but also to help toppings such as bread crumbs, sugar, and ground cinnamon stick to the surface of the finished product. It is also used to seal the edges of pies and make pieces of pastry stick together. So an egg wash alternative should be chosen based on the role it is serving and what purpose it needs to achieve.
Dietary restrictions would also play a role in choosing the right egg wash alternate. I have included vegan as well as nut-free options in this list.
The type of egg wash substitute you choose would also depend on what you are using it on. Some may be more suitable to be used on sweet dishes than savory dishes.
So keep this list handy and use the ones that best suit your needs!
Egg Wash Substitutes
Here are the top 15 egg wash substitutes. I have also included several vegan egg washes on this list.
1. Milk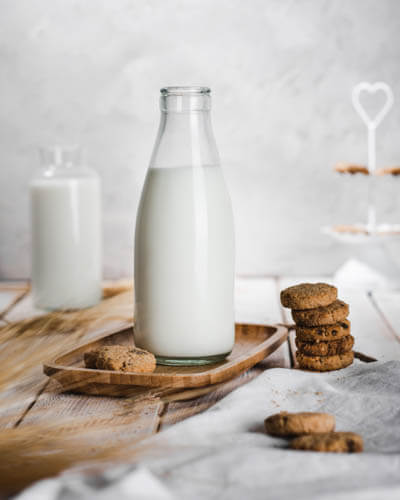 Milk is a good substitute for egg wash. I also recommend using full fat, unsweetened milk for milk wash.
Milk gives a golden color similar to egg wash without any unwanted flavor. It however will not give your baked goods a good shine but gives more off a matt finish.
To use, just apply a little bit of milk on the surface of your baked item with a pastry brush*. It is best used on breads that are baked at a lower temperature.
2. Melted butter
You can use regular or vegan butter as an egg wash. It not only gives a light crispy texture but also improves the taste!
Butter will complement most baked dishes well so there are no concerns when it comes to flavor. I mean, you really cannot beat the taste of butter!
For best results, use it sparingly. If too a lot of melted butter is added to a dough, it can get really oily and prevent it from rising. You can use it on dinner rolls, and other pastries. I have used it for many of my bread recipes.
Vegan butter is one of my favorite vegan egg wash substitutes. We used it for this Blueberry Galette and Star Bread recipe and they turned out great!
3. Rice milk, almond milk, soy milk
This is another vegan option. Instead of regular milk, you can use unsweetened plant-based milk such as rice milk, almond milk, or soy milk.
These leave behind a golden caramelized color and some rustic shine. They are great for bread and pastries.
If you use almond milk, it could leave a nutty flavor, which might not be appetizing for everyone. If you are allergic to almond or soy then this would not be a good option for you.
4. Oil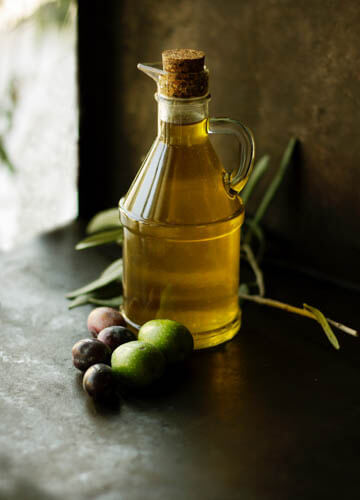 Vegetable oil is one of the best vegan egg wash options for savory goods. It gives a nice crunchy texture as well as a good shine.
If you are looking to sprinkle any salt, sugar, sesame seeds, or any other topping, then this may not be the ideal option.
We used olive oil for our Focaccia as well as the Challah recipe. You can also use coconut oil or a flavorless oil such as canola oil if you don't want to add any additional flavor to your baked goods. 
Thicker oils should be thinned by adding water, milk, or plant milk.
5. Honey/Maple syrup
You will get a deep, rustic golden brown color and a nice crunch thanks to the caramelizing of the sugar in the honey*, maple syrup*, and agave nectar*. Read my post of maple syrup vs agave if you aren't sure which one to use.
They also provide a sticky surface for the breading and toppings to stick to. Avoid using this for savory goods.
These liquid sweeteners are quite viscous, so you might want to thin them a bit with water before applying. This will also prevent over-browning.
Since there is sugar present in them, they can burn quickly in a hot oven. So it's best used with quick recipes with a short baking time. Alternatively, use them towards the end of the baking time.
Mayonnaise or vegan mayonnaise will work well as an egg wash substitute for savory foods such as for frying chicken.
To use, thin it out with water or milk and apply a light layer. Once a light layer of mayo is applied, toppings such as breadcrumbs and flour will stick to the surface easily,
This is, however, not a good egg wash alternative for dessert or pastries.
7. Yogurt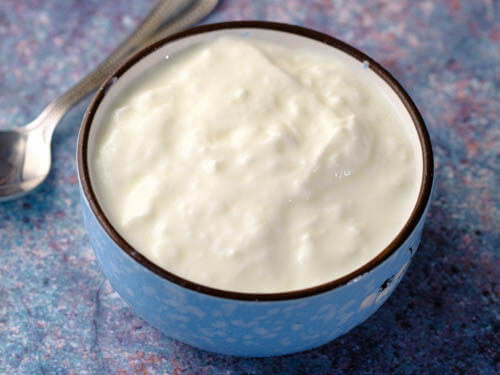 Yogurt is a good substitute for egg wash if you are looking to use it as a binder. If the yogurt is too thick, thin it by adding water before using it.
You can use yogurt to cover food in breadcrumbs before frying/baking it. The dairy will help bind the breading retaining the moisture.
8. Malt Syrup
While not seen as often as other egg wash substitutes, malt syrup* can be used to give a glaze while roasting meat such as pork. You can also use it on top of bread doughs to give a caramelized color and nutty flavor.
It has a slight sweetness that makes it a good egg wash substitute for both sweet and savory dishes.
Malt syrup is quite thick, similar to honey. So it is best to thin it down with water and before applying it with a brush.
9. Molasses
Molasses* is formed as a result of refining sugarcane into sugar.
Light molasses is best used as an egg wash for baked goods that contain fruits. Medium to dark molasses can be used to glaze meat such as ham or even salmon. Don't use backstrap molasses as it has a bitter edge.
10. Custard Powder
Custard powder* may seem like a weird option but it does work. The combination of custard powder with water gives a smooth lustrous finish to puff pastries.
But unlike your typical egg wash, it doesn't add much in terms of crunchiness, but it does give a nice fruity sweetness that can complement other sweet dishes.
To get the custard wash, mix equal parts of custard powder with water and stir into a paste. So for 1 tbsp of water, use 1 tbsp of custard and so on. Use a pastry brush to apply this paste evenly to the surface of your baked goods.
11. Aquafaba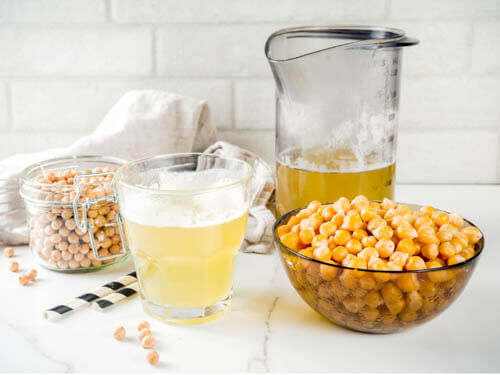 Aquafaba, also called as chickpea water, is the starchy liquid you find in canned chick peas*. 
This liquid can be used to give a golden hue and slight shine when applied to pastries. It is also flavorless so it doesn't add any unwanted flavor to your baked goods. This is also good for sealing pastries and is an excellent egg replacer.
12. Cream
Heavy cream gives a good golden brown color as well as some shine to pastries. We used this in our Cheddar & Chives Scones as well as for our Blueberry Scones and got awesome crunchy results. 
Apply it to the surface of the pastry that does not rise or expand a lot. So pies, tarts (like this fruit tart), and scones are a good fit. 
The high-fat content in the cream results in shine and the natural sugar present in it gives it the golden brown color. It is also good for sealing.
13. Flour + water Slurry
Mix water and flour to create a thick glue-like paste. This is a good batter for binding. It can be used to coat and deep fry food instead of using egg wash. This is best for breading/ crumbing.
This won't yield the same golden brown color like when you use egg wash or some of the other substitutes.
14. Ground Flaxseed
Ground flaxseed, also called flax meal* is a good substitute for beaten egg. To use this, combine 1 tablespoon of ground flaxseed with 3 tablespoons of warm water. This is called a flax egg.
Set aside for 5-10 minutes to thicken. Once it's thick, you can spread it over the food with a brush or grease your baking pan with it.
This works particularly well for binding before breading and also gives a good shiny glaze. Flax egg however leaves a residue that may not be visually appealing.
Though it gets the work done, I prefer it more as an egg replacer or egg substitute in recipes than as an egg wash substitute. If however, you do plan on using it, remember ground flaxseed comes in a dark and light version. They may vary in flavor, so pick the one that best compliments your recipe.
15. Chia Seeds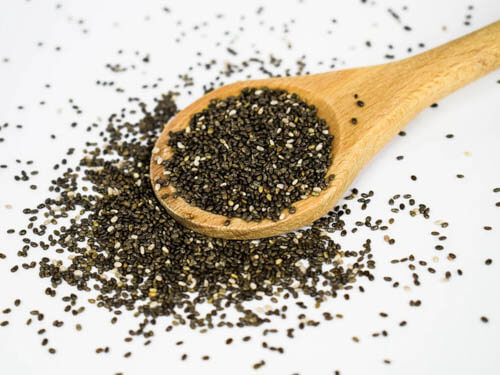 Similar to flaxseeds, you can combine 1 tablespoon of ground chia seeds, with 2.5 tablespoons of water, and whisk together. It will create a beaten egg-like consistency that can be used as a substitute for egg wash when used as a binder.
Commonly Asked Questions
Is Egg Wash or egg wash substitute really needed?
Egg wash or egg wash substitutes are needed as they not only improve how the final product looks but also increase its flavor and texture. They can also seal in moisture and can be used as glue to hold pieces of dough together or act as a binder for holding sugar and other toppings in place
Does puff pastry need an egg wash?
Puff pastry doesn't necessarily need an egg wash as it has enough fat to produce a golden color on its own. However, an egg wash or a vegan egg wash can also add a nice shiny finish to its golden hue color, making it more appetizing.
Did you find this recipe helpful ?? Leave me a star rating & comment about it or any recipe idea you would love to see. Don't forget to share with family and friends!
LOOKING FOR MORE EGGLESS RECIPES
Join Sugar Spice Community:
Facebook Group | Pinterest | Instagram | YouTube
Looking for more recipes? Sign up for our Sugar Spice newsletter and our YouTube Channel for weekly videos. Also rate, comment and share this article!
Disclosure: This page may contain affiliate links, which may earn me a commission, with no additional cost to you. Each of these links are referenced with the asterisk symbol * next to it, at all places it is posted.
About the Author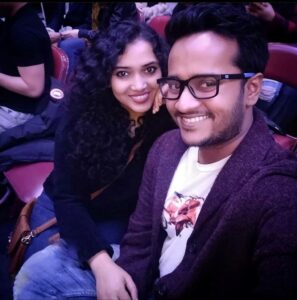 Hi! Akshita & Midhun here! Welcome to our blog where we show simple yet awesome recipes for your cravings.
Akshita being allergic to egg, we are committed to providing egg-free recipes along with some vegan friendly options. Read more about us here!
We are sorry that this post was not useful for you!
Let us improve this post!
Tell us how we can improve this post?