Hot Chocolate Cookie Cups
Crunchy sweet cookie cups with candy cane handles filled with "hot chocolate", topped off with marshmallows and sprinkles. Here's another snack to decorate your Christmas dinner table next to the Christmas Tree Cupcake and Star Bread!
I love the idea of desserts that look like inanimate objects. Like a cake that is shaped like a car or the famous chocolate frog from the Harry Potter books. Sure, the ones I make won't jump off my hand or vanish before I get a bite off it. So we thought we should give something like that a try.
Disclosure: This Page May Contain Affiliate Links, Which May Earn Me A Commission, With No Additional Cost To You. Each Of These Links Are Referenced With The Asterisk Symbol * Next To It, At All Places It Is Posted.
That is when we found out about these cute tiny chocolate filled cookie cups giving the pretense of hot chocolate. The ones we found were too small though. I could easily fit in 4 or 5 of them in my mouth in a go. Haha! Finally, we decided to use a muffin pan and flip it over to have a larger size and the shape of a wide mug, with candy canes for handles.
Getting candy canes was not an easy feat. You would actually think that getting candy canes in November would be an easy thing, considering that its so close to Christmas. I had to go through about 5 stores including couple of dollar stores before finding it in a tiny shop next my puppy's vet. Of all places, that's where I found it.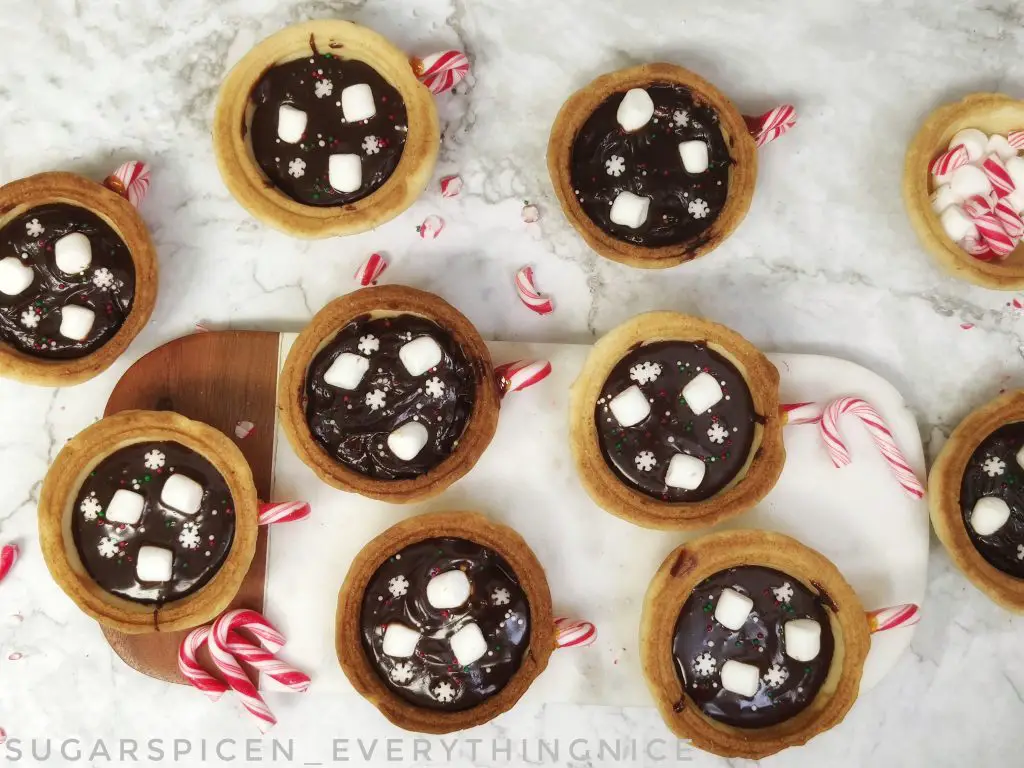 We used melted white chocolate to use as a glue to stick the candy canes to the cups. That did not quite go as what we hoped for since it could not hold the weight of the cookie cups. That reminded me of this episode from The Great Canadian Baking Show, where one of the bakers used caramel for gluing together gingerbread house. To say it works well would be an understatement. It works like magic. The hold is so firm and enough to hold the weight of the cups. Only problem was that the caramel needed to be heated up again and again since it solidifies so quickly, that you are left with very little time to work with it. Enough of that for now! Let's do this now.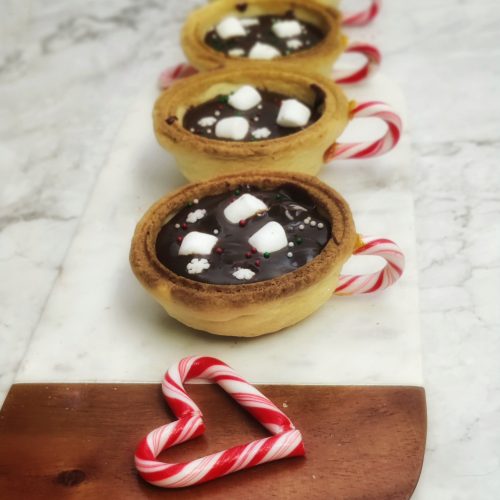 Hot Chocolate Cookie Cup
Cute & festive Christmas Hot Chocolate Cookie Cups! So easy to make and taste as amazing as it looks~
Ingredients  
1

cup

Vegan unsalted butter/ vegan margarine

Softened at room temperature

3

cup

All purpose flour

1

cup

Granulated sugar

1

tsp

Vanilla Extract

1/4

cup

Unsweetened almond milk + 2 tbsp

1

tbsp

Baking powder + 1tsp

1/2

tsp

Salt

1 1/2

cup

Nutella

1 1/2

cup

Heavy cream

Sprinkles for decor
Instructions 
Using a mixer, fluff up the vegan butter/margarine and sugar together

Add vanilla and almond milk, and beat until well mixed

In a separate bowl, whisk together flour, salt and baking powder.

Add half of the dry ingredient to the wet ingredients, mix and add the second half.

Use your hands to mix in thoroughly to form the cookidough.e dough

Take a muffin tray and flip it over. Brush some melted butter over it.

Depending on the muffin mold size, put dough on it and gently press it around the mold. It should come up to around 1/4 inch thickness.

Put dough on alternate molds, otherwise the cookies might stick to each other if there is no space left between two cookies. Check video for reference

Bake at 350F for 10 minutes. When you take it out of the oven, you may notice that the cookies are a bit soft but that's normal. Do not attempt to remove them from the mold.

Let it cool down and it will harden eventually. Remove the cookies from the mold only after its cooled down.

Take few candy canes and cut them to length and the angle to fit against the cookie cups to look like handles

Melt and caramelize around 3 to 4 tbsp of sugar in a pan to use as a glue to attach the candy canes to the cookie cups

Caramel hardens very quickly so once ready, use it quickly by applying lightly on the candy cane tips and press them against the cookie cups and hold for few seconds. It should harden quickly and firmly. Check video for clarity.

Reheat the caramel if it hardens in the pan and use it again to attach the candy canes.

Mix the heavy cream and Nutella thoroughly till you get a thick creamy texture.

Add 4 tbsp of the Nutella mix to each cookie cups. We used a standard muffin pan so this quantity worked for us. Depending on the size of your molds, your quantity might vary so put accordingly

Add small marshmallows and sprinkles on top for decor. Dig in!
If You Found This Post Useful, PIN The Image Below To Check It Out Later!
If you give this recipe a try, let us know how it turned out in our comments below and leave us a rating! Also, snap a photo and share it on Instagram. Make sure to tag @sugarspice.2020 so I can see your creations!
Disclosure: This page may contain affiliate links, which may earn me a commission, with no additional cost to you. Each of these links are referenced with the asterisk symbol * next to it, at all places it is posted.
We are sorry that this post was not useful for you!
Let us improve this post!
Tell us how we can improve this post?