Hot Chocolate Sugar Cookie Cups
Sugar cookie cups with candy cane handles are easy treats and are perfect for your holiday party! They are filled with "hot chocolate" ganache and topped off with marshmallows and sprinkles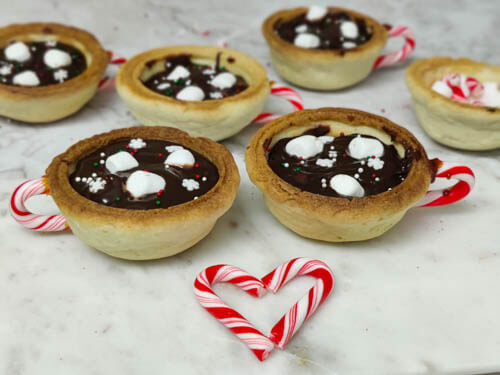 Disclosure: This Page May Contain Affiliate Links, Which May Earn Me A Commission, With No Additional Cost To You. Each Of These Links Are Referenced With The Asterisk Symbol * Next To It, At All Places It Is Posted.
This holiday season I decided to turn my favorite winter drink into a cookie cup!
I love cookie cups! This is a perfect little sweet treat for sharing with friends and family during a holiday party or during cookie exchange.
Looking for more fun cookies for cookie exchange?? Try these easy recipes – coffee bean cookies, almond flour cookies, or chocolate cookies with MnMs.
These adorable hot chocolate cookie cups are a fun twist on my simple recipe of fall leaf sugar cookies. You can customize these cookie cups for any special occasion such as Easter, Baby shower, or Bridal shower.
What are cookie cups?
Cookie cups are cookies shaped as cute cups that are filled with chocolate ganache, cheesecake filling, lemon curd, creamy vanilla frosting, or whipping cream with fresh fruit.
You can make the cookie cups using a simple sugar cookie recipe or even a store-bought sugar cookie mix if you are short on time.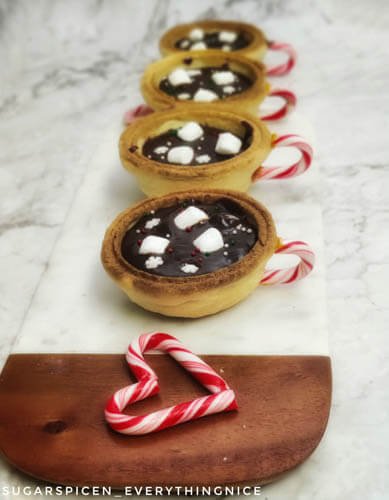 Flavor Variations
Cheesecake Sugar Cookie Cups ​
Use your favorite cookie dough base and shape them as tiny cups. Fill it with the cheesecake flavor of your choice! I love to use this no-bake cheesecake filling and decorate it with cut strawberries or your favorite fruit.
If you are a fan of cheesecakes like I am, check out 23 eggless cheesecake recipes!
Red Velvet Cookie Cups ​
Make cookie cups out of red velvet cookie dough. These pair well with cream cheese filling. This  as well as red velvet cupcakes would be perfect recipes for Valentine's Day!
Chocolate Chip Cookie Cups ​
Elevate your simple chocolate chip cookies by converting them into chocolate chip cookie cups. You can have a shot of milk in these cups instead of dunking the cookies in milk!
S'mores Cookie Cups
Make buttery graham cracker crust filled with toasted marshmallows. Top it off with Hershey's Chocolate Bar. These non traditional s'mores will be a huge hit with children and adults alike!
Lemon Sugar Cookie Cups
You can also make little lemon sugar cookie cups! Use this simple cookie recipe to make a chewy sugar cookie base and fill it with yummy lemon curd for a tangy treat! The bright flavour is bound to be a huge hit!
If you love lemon desserts, try these lemon bars and lemon poppy seed muffins!
Ingredients and Alternatives
Vegan Unsalted Butter or Regular Butter – If you only have salted butter, you can use those as well but just omit the salt from this recipe. You could also use vegan margarine instead of butter or even regular butter.
All-Purpose Flour – I haven't tried this recipe with any other type of flour so I won't be able to give any alternatives for this yet.
Almond Milk or Regular Milk– I used unsweetened almond milk for this recipe. I prefer the original flavor. You can also use any other plant-based milk or even 2% milk in its place.
Nutella or Vegan Chocolate Spread – I used Nutella to create the "hot chocolate" filling. Feel free to use any other chocolate spread or any other fillings that you may prefer.
Mini Candy Canes – If you aren't able to find these, you can also use mini pretzel sticks
Others – Granulated sugar, vanilla extract, baking powder, salt, heavy cream, sprinkles, mini marshmallows
How to make the Perfect Hot Chocolate Sugar Cookie Cups
Sugar Cookie Dough
In a large bowl, mix butter, sugar, milk, and vanilla extract* using an electric mixer at medium speed. In a medium bowl mix flour, salt, and baking powder.
Add flour mixture or dry ingredients to the butter mixture and mix till soft dough forms. Check out the video to see how the consistency of the dough should be.
Cookie Cups
An easy way to make cookie cups is to flip a muffin or mini muffin pan* and brush the back of each muffin mold with melted butter. Put dough on these muffin molds to form the cup shape and press gently.
The dough should be around 1/4th inch thickness. I would recommend putting the cookie dough on alternate molds to prevent the cookies from sticking together when they bake.
Heat oven to 350F and bake for 10 min or till it turns golden brown. Once the cookies have been baked, leave them in the mold till they cool down completely to room temperature.
The center of each cookie cup might be soft when they are just out of the oven, but they harden as they cool and then can be removed easily from the mold.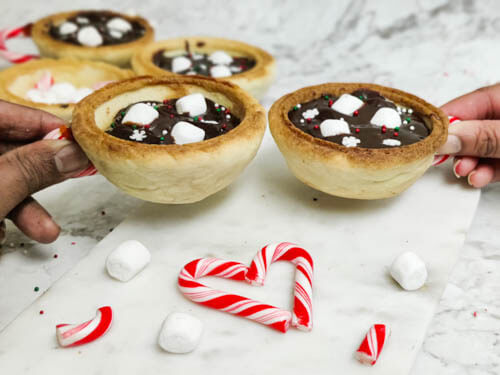 Candy cane handle
You should be able to find mini candy canes* in your grocery store, especially closer to Christmas. Take a few canes and cut them in length and angle so that they can fit against the little cookie cups and look like handles.
Melt and caramelize around 3-4tbsp of granulated sugar and use this to glue the candy canes to the cooled cookie cups.
Work fast as caramel hardens very quickly. It might need to be heated up again and again since caramel solidifies very quickly.
Also, be very careful when working with hot caramel. I would advise adults to do this step if kids are also helping you make these adorable cookie cups!
Filling
Mix heavy cream and Nutella* till you get a thick creamy texture. Add 4 tbsp of this to each cookie cup if you are used a regular muffin tin like we did. For mini sugar cookie cups, add around 2 tbsp of the filling.
Top each hot chocolate cookie cup with mini marshmallows and Christmas sprinkles as we did!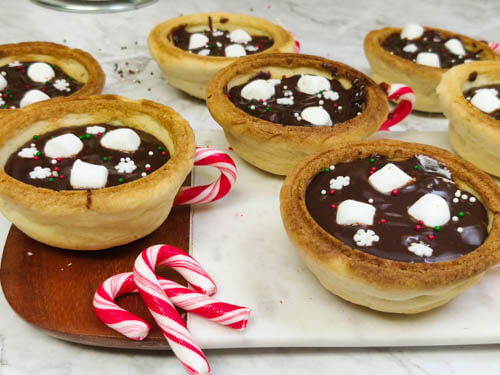 Storage Options
Store these tasty sugar cookies in a large air-tight container, in the pantry, away from sunlight.
You can also freeze these sugar cookie cups for up to a month! I would recommend storing them in individual ziplock bags to prevent them from breaking. Add the filling to these cookie cups just before serving!
Make Ahead Options
Make cookie dough and store it in the refrigerator for up to 4-5days or in the freezer for up to 3-4 months.
It is best to portion out the cookie doughs in small balls in the freezer. This way, you can easily pop them in a muffin or mini muffin tins & make these fun little treats anytime!
LOVE HOLIDAY BAKING??
If you love holiday baking as much as I do, you will love these recipes –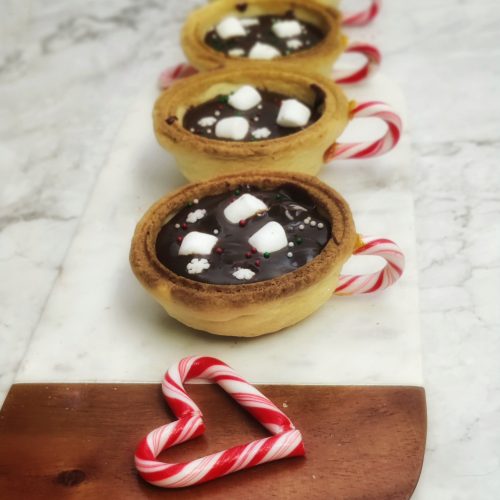 Hot Chocolate Sugar Cookie Cups
Sugar cookie cups with candy cane handles are easy treats and are perfect for your holiday party! They are filled with "hot chocolate" ganache and topped off with marshmallows and sprinkles!
Ingredients  
1

cup

Vegan unsalted butter/ vegan margarine/regular butter

Softened at room temperature

3

cup

All purpose flour

1

cup

Granulated sugar

1

tsp

Vanilla Extract*

1/4

cup

Unsweetened almond milk/regular milk + 2 tbsp

1

tbsp

Baking powder + 1tsp

1/2

tsp

Salt

1 1/2

cup

Nutella/vegan chocolate spread

1 1/2

cup

Heavy cream

Sprinkles and marshmallows for decor
Instructions 
Using a mixer, fluff up the vegan butter/margarine and sugar together.

Add vanilla and almond milk, and beat until well mixed.

In a separate bowl, whisk together flour, salt and baking powder.

Add half of the dry ingredient to the wet ingredients, mix and add the second half.

Use your hands to mix in thoroughly to form the cookie dough.

Take a muffin tray and flip it over. Brush some melted butter over it.

Depending on the muffin mold size, put dough on it and gently press it around the mold. It should come up to around 1/4 inch thickness.

Put dough on alternate molds, otherwise the cookies might stick to each other if there is no space left between two cookies. Check video for reference.

Bake at 350F for 10 minutes. When you take it out of the oven, you may notice that the cookies are a bit soft but that's normal. Do not attempt to remove them from the mold.

Let it cool down and it will harden eventually. Remove the cookies from the mold only after its cooled down.

Take few candy canes and cut them to fit against the cookie cups to look like handles/

Melt and caramelize around 3 to 4 tbsp of sugar in a pan to use as a glue to attach the candy canes to the cookie cups.

Caramel hardens very quickly so once ready, use it quickly by applying lightly on the candy cane tips and press them against the cookie cups and hold for few seconds. It should harden quickly and firmly. Check video for clarity.

Reheat the caramel if it hardens in the pan and use it again to attach the candy canes.

Mix the heavy cream and Nutella thoroughly till you get a thick creamy texture.

Add 4 tbsp of the Nutella mix to each cookie cups. We used a standard muffin pan so this quantity worked for us. Depending on the size of your molds, your quantity might vary so put accordingly.

Add small marshmallows and sprinkles on top for decor. Dig in!
Did you find this recipe helpful ?? Leave me a star rating & let me know how it turned out in the comments below. Don't forget to share with family and friends!
If You Found This Post Useful, PIN The Image Below To Check It Out Later!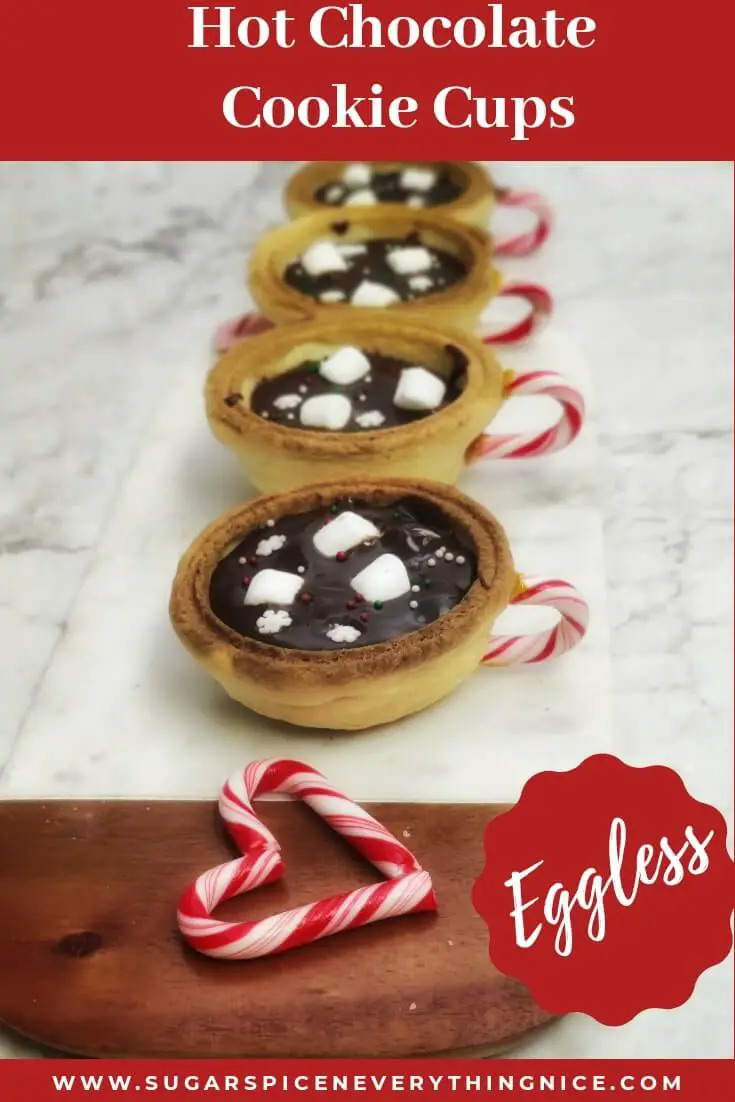 Join Sugar Spice Community:
Facebook Group | Pinterest | Instagram | YouTube
Looking for more recipes? Sign up for our Sugar Spice newsletter and our YouTube Channel for weekly videos. Also rate, comment and share this article!
Disclosure: This page may contain affiliate links, which may earn me a commission, with no additional cost to you. Each of these links are referenced with the asterisk symbol * next to it, at all places it is posted.
About the Author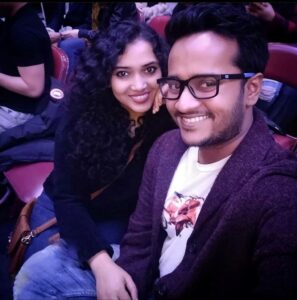 Hi! Akshita & Midhun here! Welcome to our blog where we show simple yet awesome recipes for your cravings.
Akshita being allergic to egg, we are committed to providing egg-free recipes along with some vegan friendly options. Read more about us here!
We are sorry that this post was not useful for you!
Let us improve this post!
Tell us how we can improve this post?