Proffee (Tiktok Protein Coffee Recipe)
Jumpstart your day with Proffee, aka protein coffee -a high protein, low carb, on-the-go breakfast + coffee drink using this quick and easy recipe!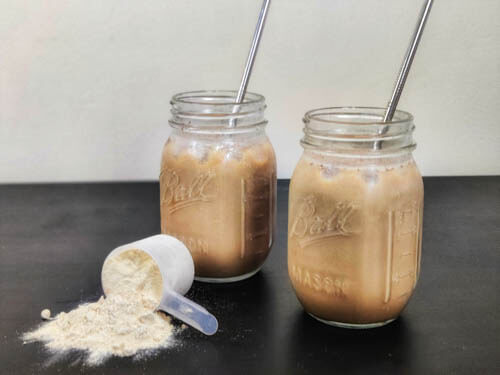 Disclosure: This Page May Contain Affiliate Links, Which May Earn Me A Commission, With No Additional Cost To You. Each Of These Links Are Referenced With The Asterisk Symbol * Next To It, At All Places It Is Posted.
After Dalgona, the next viral coffee-inspired TikTok trend is Proffee – an ultimate combination of coffee and protein mixed in one cup.
This super easy recipe takes only a couple of minutes and it can be taken on the go. It is perfect for someone like me who wakes up late..ish and scrambles to make breakfast before rushing off to work!
If you are looking for other easy breakfast recipes, check out – the mango smoothie bowl and eggless pancake.
Read on to see how to make this easy coffee recipe to get your caffeine kick and daily protein intake in one (or more) delicious cups of proffee.
What is Proffee?
Proffee, also called protein coffee is essentially a coffee concoction that combines protein in coffee. It can be made using black coffee or espresso mixed with protein powder or a pre-made protein shake. It is usually served over ice cubes.
It's a delicious drink for anyone who wants to up their protein intake or post-workout muscle growth & recovery or for those looking for a low-carb breakfast option!
Why you will love this recipe
Proffee is delicious. Trust me, protein +coffee is a match made in heaven.
A great way to ensure you have a low-carb, protein-filled breakfast without relying on eggs! (Good option for vegans!).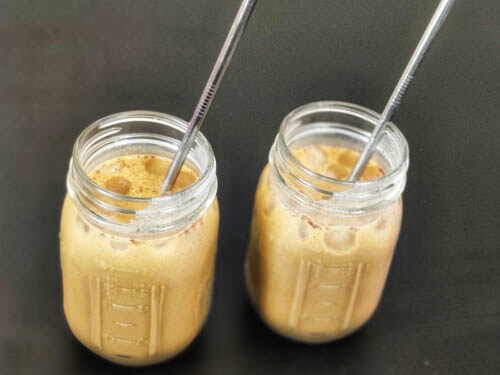 Perfect for busy parents & working professionals who don't have time to make elaborate breakfast as well as for fitness enthusiasts and coffee lovers.
A quick and easy recipe that can be had on the go.
Adding a protein shake to morning coffee will keep you full for longer and prevent snacking.
Protein Powder or Protein Shake?
A lot of people on TikTok make Proffee using a premade protein shake such as premier protein*. Using this protein drink is the quickest and most convenient way to make proffee.
However pre-made protein drinks are often made with fillers and a higher amount of sugar and other unwanted ingredients.
Proffee can also be made using protein powder. But to make it drinkable, the protein coffee will need to be blended with some water or milk. The advantage of using the powder option is you can control the amount of protein in each drink and reduce the calorie intake.
Best protein to use for proffee
You can use any protein powder of your choice. However, not all protein powders are created equal and there are tons on the market. The best protein source for you will depend on your lifestyle, any dietary intolerances, as well as your individual nutritional needs, and fitness goals.
Health experts recommend using a protein powder that has few quality ingredients and is less processed. It is also a good idea to choose one with little to no added sugar and avoid the ones with artificial sweeteners.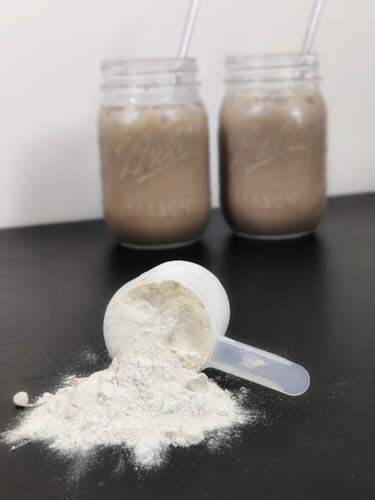 You can use any flavored or unflavored protein powder. If you're using unflavored protein, just keep in mind that you'll need to add some kind of sweetener to make it taste better. It is also best to use flavors such as vanilla, chocolate, hazelnut, caramel, etc that pair well with coffee.
Here are some of our favorites :
Best coffee to make proffee
Coffee serves as the base for protein coffee. You can use the following types of coffee for this recipe :
Add single or double espresso shots, depending on how much caffeine you prefer to have. Moka Pot* or an AeroPress* can be used to make espresso at home.
Store brought cold brew or one made at home would work. This Bizzy cold brew concentrate* makes an amazing cold brew!
French press coffee can also be used. If you are new to using french press*, take a look at this easy guide to make the best french press coffee.
Drip coffee or even instant coffee will also work for this recipe.
How to make the best Proffee
Brew a cup of coffee
You can use a French Press, cold brew immersion brewer or a drip machine to brew your coffee. You can also use one or two shots of espresso.
Make protein shake
Make your protein shake according to the package instructions and measure out 1 cup of protein shake for use in your drink.
Mix everything Together
Place ice cubes in your glass, add a protein shake to it, and then add in your brewed coffee. Stir to combine and make a delicious Proffee!
The ratio of coffee to a protein shake is completely up to you. Add more or less to achieve your preferred flavor mix. You can also top it off with a dash of cinnamon!
Optional Add-ins
You may jazz up your proffee recipe with numerous add-ons.
Syrups – you can add sugar-free caramel or vanilla syrups to your proffee.
Spices – a dash of cinnamon, nutmeg, allspice, or pumpkin spice can add flavor without any additional calories.
Flavored sauce – add caramel, peanut butter, or chocolate sauce to the sides of the cup or you can drizzle them on the top. Keep in mind these would add extra calories to your proffee.
Is this protein coffee recipe sweet?
Depending on the protein you use for your proffee, you may need to adjust the sweetness. Some protein powders already have some sweetness to them.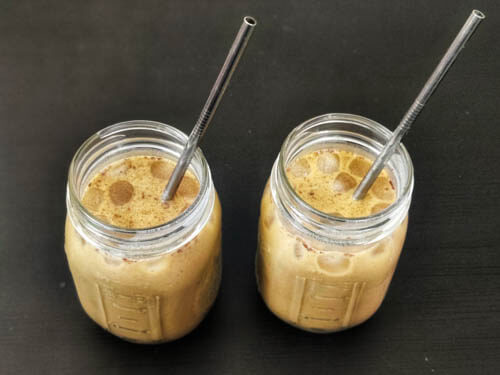 However, if you are using a less sweet or unflavored powder, you may want to stir in a bit of sweeteners like regular sugar or honey.
Plant-based sweeteners such as agave or maple syrup or my favorite monk fruit sugar* (keto-friendly + zero calories) can also be added.
Best time to have proffee
Proffee is best consumed after a strenuous workout. Having some additional protein after a good workout will assist in faster muscle recovery.
You can also consume Proffee at least an hour before your morning workout. The caffeine boost will help you perform better and get your workout on track.
I would avoid having it at night as the caffeine in the proffee might hamper your sleep.
Difference between Proffee and Protein Shake
The main difference between a standard protein shake and TikTok protein coffee is that protein shake has protein powder mixed in either milk or water and they lack any significant amount of protein. A Proffee also contains either moderate or high doses of caffeine, unlike protein shakes.
So if you love coffee and protein shakes, the proffee is the best way to combine your two favorite drinks to make a delicious caffeinated protein drink.
Is coffee with protein healthy?
Proffee can be healthy if taken in moderation by those who need it. Using protein powders and shakes to flavor coffee would also eliminate/ cut down the sugary and unhealthy creamers in coffee.
By using a nutritious protein powder in your proffee, you can add beneficial vitamins and minerals to your diet, while also increasing your energy levels.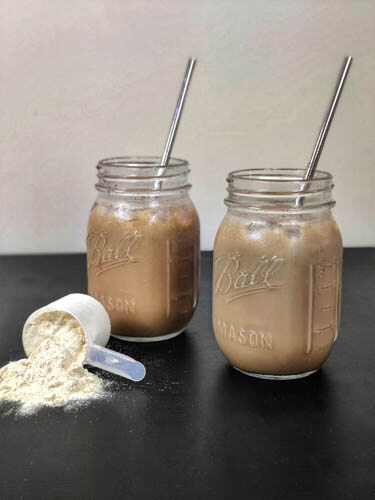 It also gives you a good boost of energy before your workout. Caffeine and amino acids (in protein) can improve high-intensity exercise performance. You can read more about it here.
In general, protein coffee is pretty healthy and has low-calorie! It all depends on what you put in your coffee. You can add tons of calories by going overboard with syrups and sauces!
Commonly Asked Questions
How to have proffee – hot or cold?
Protein powder usually clumps together and doesn't blend well when added to hot warm. If you want to have a hot proffee, add the protein powder to slightly cooled coffee or you can add a ready-to-drink protein shake to your hot coffee instead of the protein powder.
Does protein powder expire?
Protein powder often contains soy, eggs, and other robust components for optimal impact, all of which expire. Protein powder has a longer shelf life than these components do on their own, but it can still go bad and expire.
Does protein powder have caffeine?
While some protein powders do contain caffeine, the majority do not.
LOOKING FOR MORE COFFEE RECIPES??
If you're interested in more coffee recipes or recipes with coffee flavor, you can check them out below.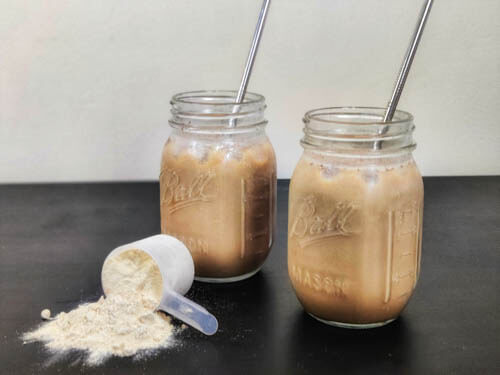 Easy Proffee Recipe
Jumpstart your day with Proffee, aka protein coffee -a high protein, low carb, on-the-go breakfast + coffee drink using this quick and easy recipe!
Ingredients  
2

scoops

Protein Powder

2

cups

Almond Milk

Brewed Coffee

cooled

Ice

Dash on Cinnamon

optional
Instructions 
Brew coffee and set it aside to cool.

Make your protein shake according to the package instructions.

Divide the protein shake into two mason jars filled with ice.

Then add in your brewed coffee.

The ratio of coffee to a protein shake is completely up to you. Add more or less to achieve your preferred flavor mix.

Top it off with a dash of cinnamon!
Notes
Optional Add-Ins
You may jazz up your proffee recipe with numerous add-ons.
Here are some of our favorite protein powders :
Have you made Proffee before? Let me know by leaving a comment down below and leave me a star rating. If you have any other questions regarding this or any other recipe , you can also contact me directly by pressing the "Contact Me" button at the top! Don't forget to share with family and friends!
If you found this post useful, PIN the image below to your
"Appetizers" Board on Pinterest to check it out later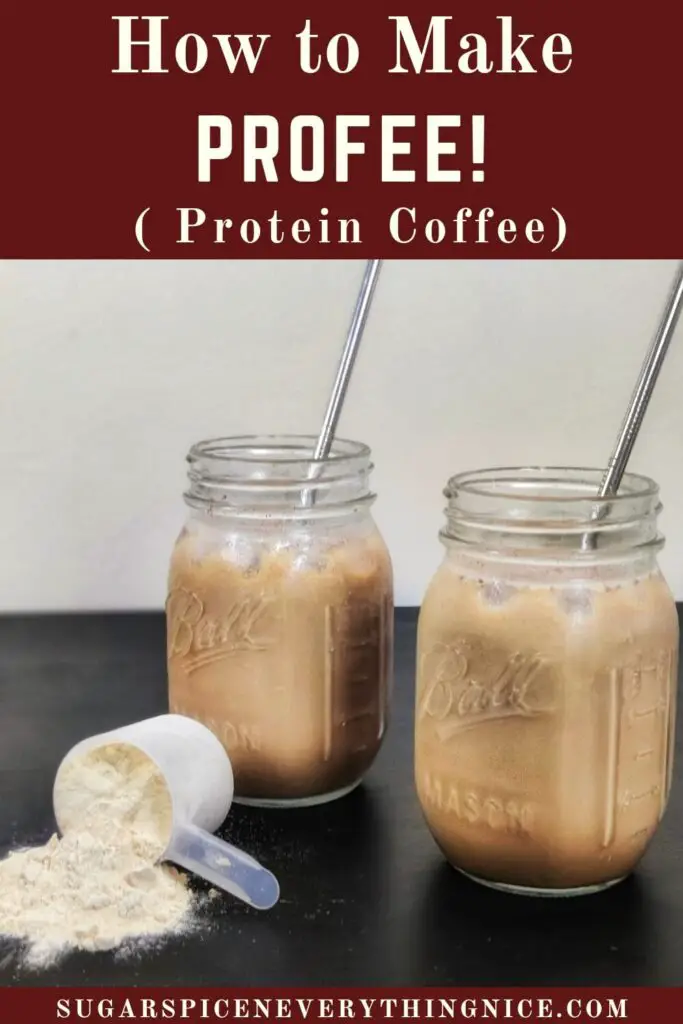 Join Sugar Spice Community:
Facebook Group | Pinterest | Instagram | YouTube
Looking for more recipes? Sign up for our Sugar Spice newsletter and our YouTube Channel for weekly videos. Also rate, comment and share this article!
Disclosure: This page may contain affiliate links, which may earn me a commission, with no additional cost to you. Each of these links are referenced with the asterisk symbol * next to it, at all places it is posted.
About the Author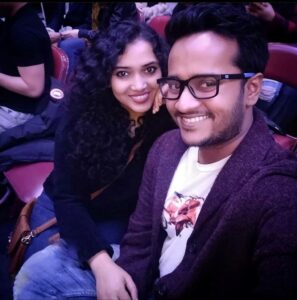 Hi! Akshita & Midhun here! Welcome to our blog where we show simple yet awesome recipes for your cravings.
Akshita being allergic to egg, we are committed to providing egg-free recipes along with some vegan friendly options. Read more about us here!
We are sorry that this post was not useful for you!
Let us improve this post!
Tell us how we can improve this post?