Eggless Crème Brûlée

Ingredients
3/4 cup – Granulated sugar
1/4 cup – Corn starch
Pinch of salt
A pinch of turmeric (mainly for color; optional)
400 ml – Full fat milk (or coconut milk)
4 tsp -Vanilla extract
2 tsp – Lemon squeeze
1/4 cup – Butter (or choice of vegan butter)
Directions
Mix sugar, cornstarch, salt and turmeric into a saucepan. Keep the heat off.
Add milk, vanilla extract and lemon juice and start stirring with a whisk
On low heat, keep stirring bring the mix to a boil. Keep stirring constantly till you reach a thick consistency (Check video at the bottom). Never stop stirring!
Add in the butter and keep stirring till its melted
Pour the mix into 4 ramekins
Let it cool. Refrigerate so they can cool down all the way
After about 1 hour, sprinkle a layer of cane sugar on top.
Next, we have to caramelize the sugar. You can use a blow torch but if you don't own one like me, use the broil mode in the oven.
Once the oven is heated up on broil mode, keep the ramekins on a rack close to the coil.
Keep an eye on them for the next few minutes. Remove the ramekins once the sugar has caramelized.
Let them sit for 10 to 15 minutes or until a solid crust is formed on top
Serve with fruits on top. Strawberries go really great with them!
Are you drooling yet ? Check out our other recipes on our Home page and also follow us on Instagram and Facebook !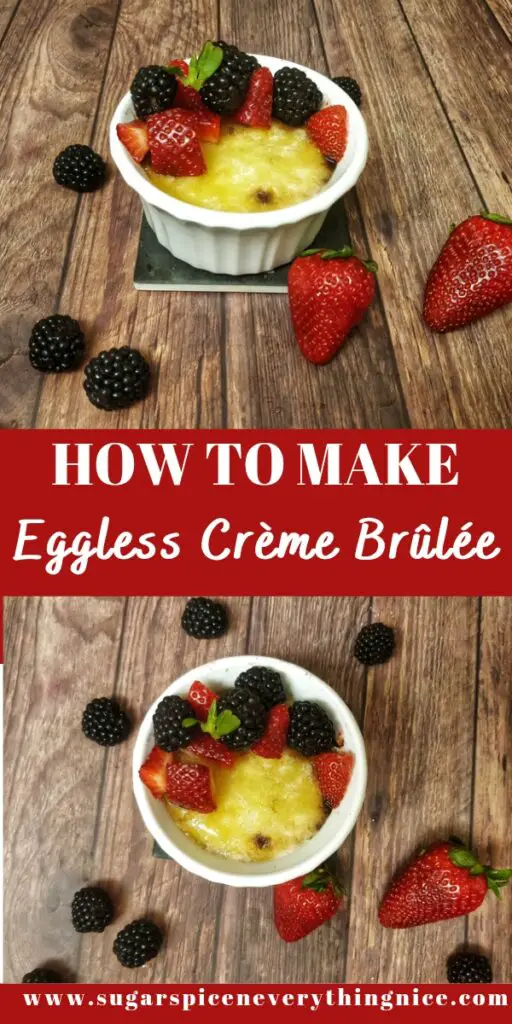 If you try out our recipe, let us know how it turns out! You can tag us @sugarspicen_everythingnice on Instagram.
We are sorry that this post was not useful for you!
Let us improve this post!
Tell us how we can improve this post?