Eggless Pancakes for Two
Jump to Recipe
Jump to Video
I am a BIG fan of brunches! And what's more perfect than a stack of delicious eggless pancakes ! Here's a recipe for those of you who likes to start off a Sunday with soft light pancakes with some whipped cream on top and a sprinkle of fruits.
Being used to having just South Indian type Dosa, which is more of a salty pancake (also eggless) made with rice and lentil flour, served with spicy coconut chutney, I never knew about American pancakes till I was in high school and even then, it was only when I saw it in some movies. If my memory serves me right, I had it first when I moved to US for few years. Oh damn! Oh the fluff! Drenched in the right amount of maple syrup or some berry compote, it just blew my mind! Check out our other brunch/ breakfast recipes : Blueberry Scones, Cheddar & Chives Scones, The Best Vegan Challah Bread, Homemade Vegan Cinnamon Rolls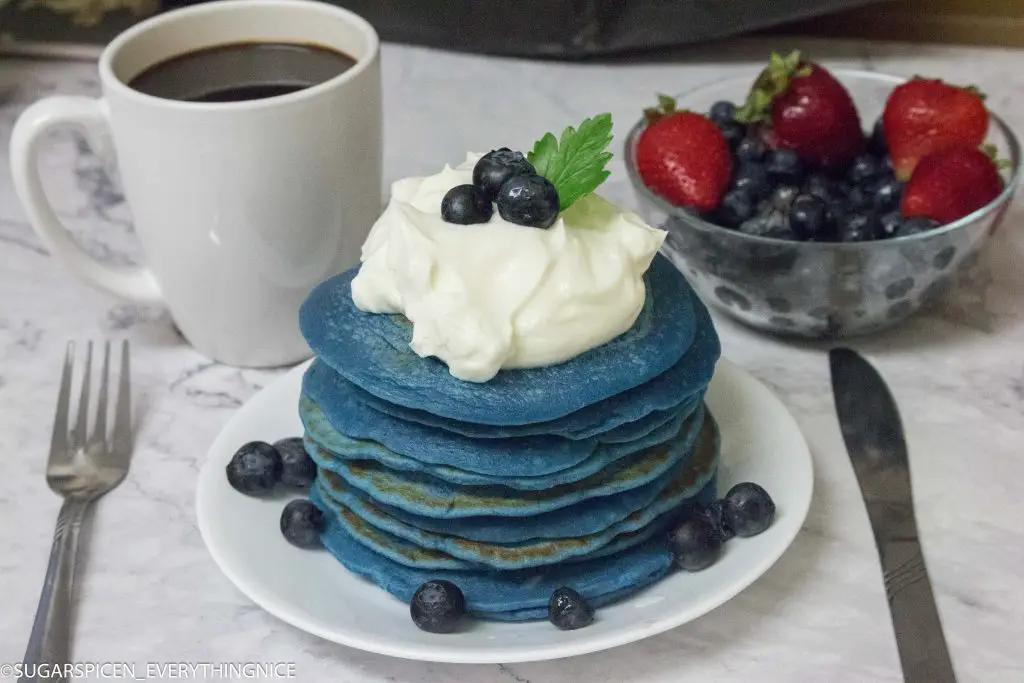 Alright alright! So I have had the pleasure and fun of having quite a lot of pancakes. Brunch, dinner, sobering up at 4 in the morning. You name it! Akshi, on the other hand, not so much. Eggs! All of them have eggs in the recipes. She has had the opportunity to grow a liking for them through the few times we visited couple of vegan restaurants in Seattle. If anyone of one you ever happens to visit Seattle, definitely give Plum Bistro a visit. Really awesome pancakes and sandwiches! So Akshi found a really simple eggless pancake recipe for some awesome pancakes for two!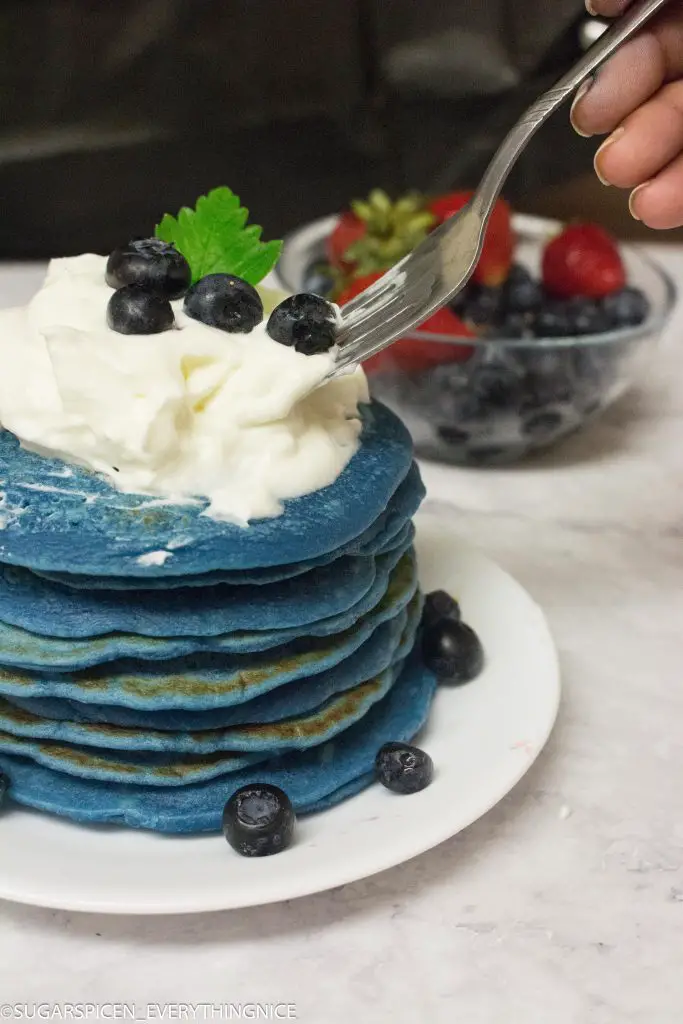 Tips to Perfect the Eggless Pancakes
Make sure the pan isn't over heated. It best to cook with medium heat
You can also add few blueberries or chocolate chips to the pancake batter.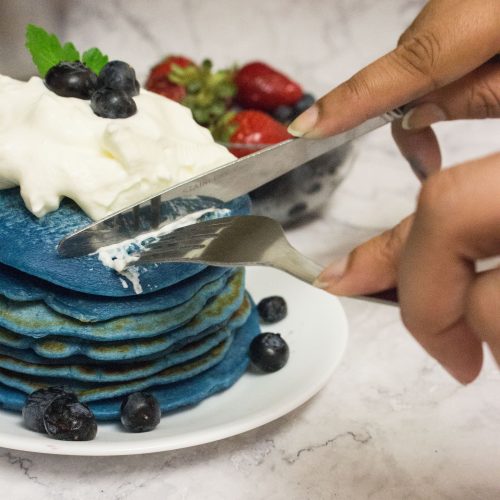 Eggless Pancakes for Two
Easiest Recipe to make these fluffy eggless pancakes from scratch. Enjoy with a side of blueberries, whipped cream and coffee
Instructions 
Whisk all the dry ingredients together.

Then in a measuring cup, add milk. To it add vegetable oil, water and vanilla extract and mix well.

Whisk in the wet ingredients to the dry ingredients.

Melt the butter and add it to the pancake batter and mix well. Don't worry if there are some lumps in it.

At this point you can add blue gel color (or any color that you like) to the pancake batter and mix again.

Pour in a ladle of batter when the pan is hot enough.

Make sure you cook until bubbles starts forming on the pancakes. Then flip again and cook for couple of minutes.

Serve with whipped cream and fruits!
Pin the image below to check it out later!
If you enjoyed this recipe and would like to check it out again, then just save THIS PIN to your Easy Brunch Recipe or Eggless Brunch Recipe Board.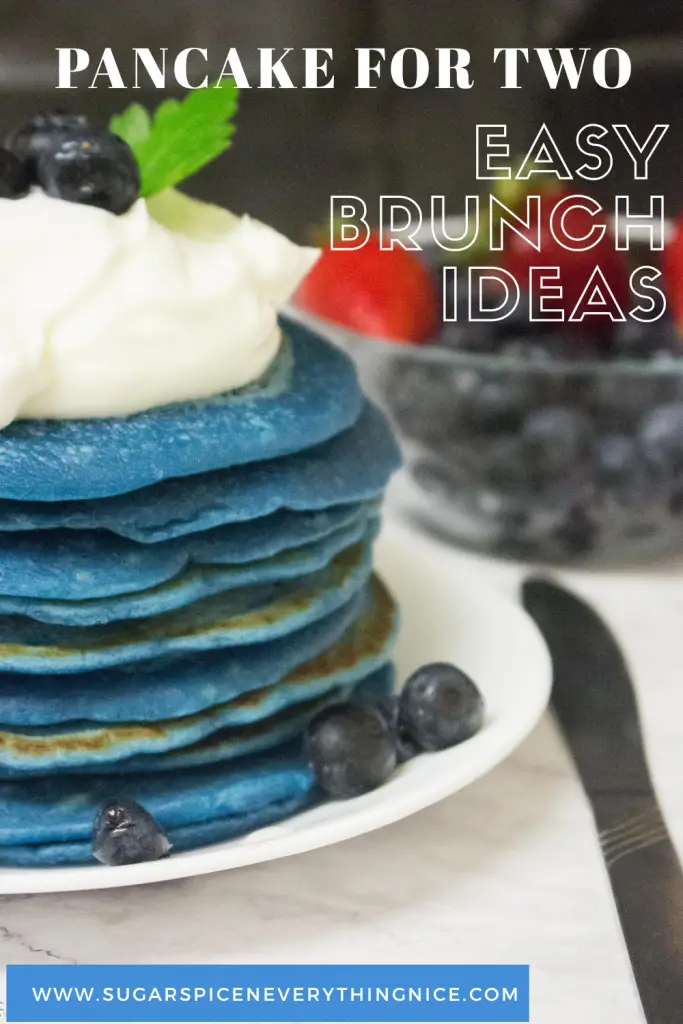 Disclosure: This page may contain affiliate links, which may earn me a commission, with no additional cost to you. Each of these links are referenced with the asterisk symbol * next to it, at all places it is posted.
About the Author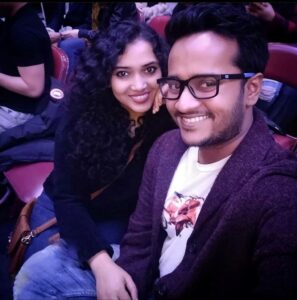 Hi! Akshita & Midhun here! Welcome to our blog where we show simple yet awesome recipes for your cravings.
Akshita being allergic to egg, we are committed to providing egg-free recipes along with some vegan friendly options. Read more about us here!
We are sorry that this post was not useful for you!
Let us improve this post!
Tell us how we can improve this post?