The Best Wingstop Ranch (Copycat Recipe)
The Wingstop ranch dressing is a creamy and delicious blend loaded with mayonnaise, buttermilk, sour cream, herbs, and some spices. This easy copycat recipe takes less than 5 minutes and tastes exactly like the one you get at a Wingstop restaurant.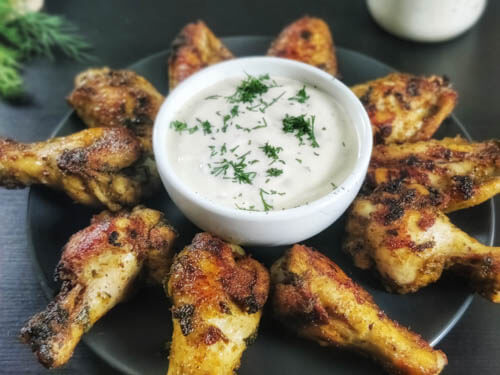 Disclosure: This Page May Contain Affiliate Links, Which May Earn Me A Commission, With No Additional Cost To You. Each Of These Links Are Referenced With The Asterisk Symbol * Next To It, At All Places It Is Posted.
Wingstop is an aviation-themed restaurant, based in the United States. Even though they specialize in fried chicken wings, their ranch has set a benchmark among the restaurant served ranch dressings.
The Wingstop ranch is widely considered to be the best ranch and is extremely popular amongst the masses. It is hands down, one of the most irresistible salad dressings/ dips and is extremely versatile. It is my favorite salad dressing as well as our go-to dip for buffalo wings, fresh veggies, and even chips.
If you have never tried the Wingstop ranch, we've got you covered! Our Copycat Wingstop ranch dressing recipe is super easy to make and it will surely elevate your taste buds and it is vegan-friendly.
The best part is that it is made from ingredients already present in your pantry/refrigerator.
Get New Recipes Every Week Directly in your Inbox!
Full Recipe Ingredients/Instructions are available in the recipe card at the bottom of the post. You can find important tips/tricks in the blog post.
What is Ranch?
Ranch is a type of dipping sauce or dressing that is commonly added to salads or used as a dip.
It's a combination of buttermilk, mayo, sour cream, and spices like onion powder, garlic powder, and herbs like dill, and parsley. The sour cream and mayonnaise serve as emulsifiers, and the herbs such as chives and dill add flavor to the ranch.
Main Ingredients and Alternatives
The Wingstop ranch essentially consists of two elements. First, is a creamy mixture of mayonnaise, sour cream, and buttermilk which gives the dressing a rich and smooth texture.
The second element consists of a combination of dill, parsley, onion, and garlic powder, which brings in the perfect balance of spices.
Check below for ingredients used as well as suggested alternatives for vegan versions of the recipe.
Mayonnaise: It is definitely an essential ingredient since it brings in the desired thickness and creaminess to the ranch. So it is important that you use good quality mayonnaise.
I used vegan mayo* in this recipe. You can of course use regular mayo if you aren't looking for an eggless or vegan option!
You can make a delicious ranch dressing even without using mayonnaise by simply replacing it with sour cream. Use a ratio of 2 parts sour cream to 1 part buttermilk.
Sour Cream: It gives a hint of tanginess and a velvety texture to the ranch. You can use vegan-friendly and low-calorie options as well. You can also use Greek Yogurt in its place.
Buttermilk: Buttermilk is basically fermented milk. It is needed to make the ranch more creamy and tangy as well as to thin the ranch out and give it a bit of a runny texture.
You can buy it in stores or make it easily at home, as shown in our video.
For a vegan version, use almond milk or soy milk and add 1 tbsp of lemon juice instead of 1 tsp to 1/4th cup of almond milk.
Dill: You can use fresh or dried dill*. It adds an earthy taste and is one of the key herbs needed to make this copycat Wingstop ranch recipe.
Parsley: Using fresh or dried parsley* gives freshness to the recipe and complements the flavor of dill.
Onion and garlic powder: Do not use minced garlic/onion since it would overpower all the other flavors. Use onion powder* and garlic powder* to get the desired flavors. Plus, with powder, your ranch will stay nice and smooth without any chunks.
Salt and black pepper:  These are optional. I did not add it to my ranch but it can be added in if needed, as per your liking. You can even add cayenne pepper to it if you are feeling adventurous.
How to make Wingstop Ranch
1. Make Buttermilk
Mix in lemon juice to milk and keep it aside for 10-15 min or till it curdles and forms buttermilk
2. Blend in Ingredients
Add vegan mayonnaise* to a bowl., followed by the buttermilk and sour cream. Stir them together, till they are well combined and smooth.
3. Herbs
Next add in dill* and parsley*.
4. Spices
Then add onion* and garlic powder*. Mix well using a hand mixer or spatula. Taste. Add salt and pepper if needed.
5. Refrigerate
Refrigerate for couple of hours or until it's time to serve to bring all the flavors together.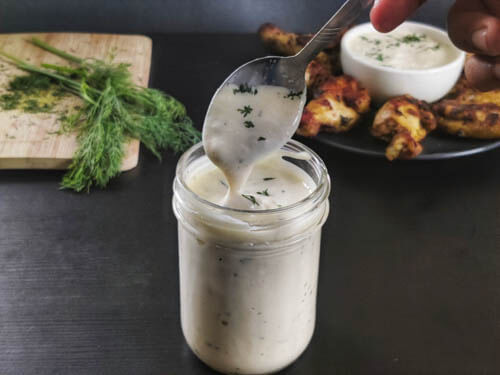 How to thicken Wingstop ranch
If your ranch dressing is too runny, refrigerate it for some more time. You can also thicken it by simply adding more vegan mayonnaise or vegan sour cream. I would suggest adding one spoon at a time till you get the right consistency.
Other alternatives like cornstarch or xanthan gum can also be used to thicken the ranch dressing.
On the other hand, if the dressing is too thick, just stir in little milk, heavy cream, or buttermilk before serving to get that thin dressing back.
Storing Wingstop Ranch
Since Wingstop ranch is made up of dairy products such as mayonnaise, sour cream, and buttermilk, it needs to be stored in a well-sealed and airtight container and refrigerated when not being used.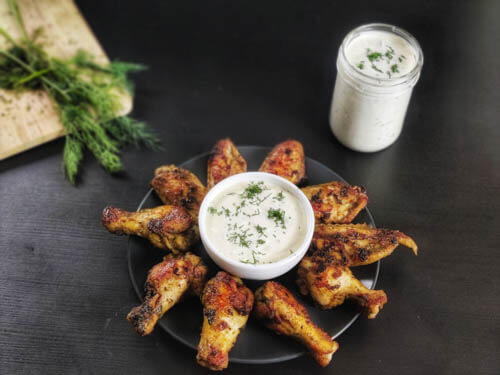 It will easily last for about a week in the refrigerator. Use fresh products to prolong the shelf life. Also, ensure that the dressing doesn't sit out for too long since it can get spoilt due to the heat.
I would not recommend freezing it because mayonnaise does not do well in the freezer. If frozen, the consistency and the creamy texture of the ranch will change.
Make-Ahead Options
The Wingstop ranch can be made few days before needed. Refrigerate until it's time to serve!
Wingstop Ranch Serving Guide
The Wingstop ranch is extremely versatile and can be served in several ways. Use it as a dip with your Louisiana Rub Wingstop wings or veggies or add it on top of your salad.
You can even add your creamy casserole or on top of your chili! Ranch dressing can also be used as a creamy white pizza sauce and can be used to mellow out the hot buffalo sauce*.
They especially go well with Wingstop buffalo ranch fries and also Wingstop Cajun Fried Corn!
LOOKING FOR MORE OTHER COPYCAT RECIPES?
Here are some of my favorite ones, that I am sure you would love –
Get New Recipes Every Week Directly in your Inbox!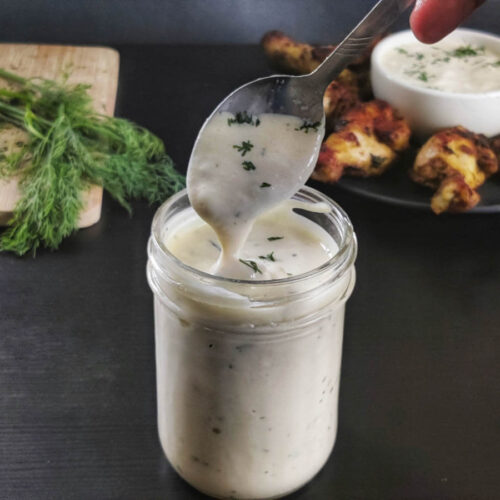 The Best Wingstop Ranch (Copycat Recipe)​
The Wingstop ranch dressing is a creamy and delicious blend loaded with mayonnaise, buttermilk, sour cream, herbs, and some spices. This easy copycat recipe takes less than 5 minutes and tastes exactly like the one you get at a Wingstop restaurant.
Ingredients  
1

cup

Mayonnaise

1

tsp

Lemon juice/squeeze

1/4

cup

Milk

1/2

tsp

Dried parley flakes

1/2

tsp

Dill

1

tsp

Garlic powder

1

tsp

Onion powder

Salt & Pepper

Optional
Instructions 
Making buttermilk
Add lemon squeeze to milk

wait 10 to 15 mins for milk to curdle
Making the ranch
Add mayo*, sourcream, buttermilk to medium bowl and mix

Add salt and pepper to taste (optional)

Refrigerate for at least 2 hours to bring out all the flavors.
Did you find this recipe helpful ?? Leave me a star rating & comment about it or any recipe idea you would love to see. Don't forget to share with family and friends!
Commonly Asked Questions
What commercial ranch tastes like Wingstop?
The closest thing to Wingstop ranch is the ranch from the Hidden Valley brand. This is the next best option. Packets of Hidden Valley ranch can be combined with mayo and buttermilk to make a Wingstop-style restaurant mix. Homemade ranch seasoning can by mixing dried dill, parsley, salt, and pepper and add it to ranch dressing mix to get that Wingstop taste!
Is Wingstop ranch Keto-friendly?
The homemade Wingstop ranch can be customized to be appropriate for a keto-friendly diet. Accommodate low-carb, vegan-friendly mayonnaise, sour cream, and buttermilk. Make sure that you avoid brands that have added sugar.
Does ranch dressing contain eggs?
In general, yes it does. Ranch contains mayonnaise, which is made of eggs. But for this recipe, I have used vegan mayonnaise. So, this copycat recipe for Wingstop ranch dip does not contain eggs!
If You Found This Post Useful, PIN The Image Below To your " Sauces and Dressing" board on pinterest & Check It Out Later!
Looking for more recipes? Sign up for our Sugar Spice newsletter and Follow along on Facebook, Instagram, Pinterest for updates. Remember to Subscribe to my YouTube Channel for weekly videos.
Disclosure: This page may contain affiliate links, which may earn me a commission, with no additional cost to you. Each of these links are referenced with the asterisk symbol * next to it, at all places it is posted.
About the Author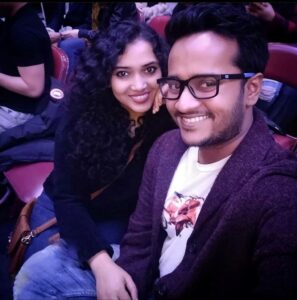 Hi! Akshita & Midhun here! Welcome to our blog where we show simple yet awesome recipes for your cravings.
Akshita being allergic to egg, we are committed to providing egg-free recipes along with some vegan friendly options. Read more about us here!
We are sorry that this post was not useful for you!
Let us improve this post!
Tell us how we can improve this post?