Starbucks Dragon Drink Recipe (Copycat)
Make Starbucks Dragon Drink right at your home with this easy recipe! This vibrant pink drink is made with simple ingredients and is vegan, gluten-free, and can even be made caffeine-free!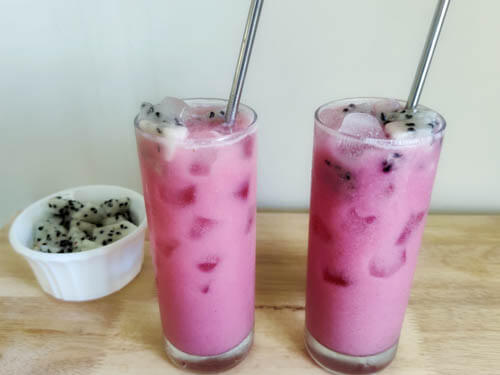 Disclosure: This Page May Contain Affiliate Links, Which May Earn Me A Commission, With No Additional Cost To You. Each Of These Links Are Referenced With The Asterisk Symbol * Next To It, At All Places It Is Posted.
The Starbucks Dragon Drink took off all too well because of the its Insta-fame just like its predecessors – Pink Drink and Violet Drinks! Besides, what's not to like about this vibrant colored drink? 
Starbucks' Dragon Drink is very similar to Starbucks Mango Dragonfruit Refresher but just sweeter and creamier! This tropical drink combines the refreshing flavors of mango and dragon fruit with the creamy, nutty flavors of coconut milk.
This copycat recipe tastes exactly like the real deal. If you're not a big fan of making rounds of your local Starbucks, you should unquestionably make this in the comfort of your home. Very realistically, it'll save you a lot of time and a hell lot of money as well.
Why I Love this Recipe
Packed with the sweet tropical flavor of dragon fruit.
The best part is – It is budget-friendly! One venti Starbucks dragon drink can cost up to $5. You can make this homemade dragon drink for 1/4 of that price!
This dragon fruit drink has way less sugar than the Starbucks dragonfruit refresher recipe or the other Starbucks refreshers, making the homemade version, the healthier option.
Super easy and quick recipe (takes only about 10 minutes).
Vegan & gluten-free
Kid-Friendly: Since this recipe can be made without using caffeine, it can also be consumed by kids and toddlers.
Easy to customize as per your desired level of sweetness and dragon fruit flavors.
If you love making Starbucks hot and cold drinks at home(for all of the reasons above) then you will love these copycat recipes – Chai Tea Latte and Iced White Chocolate Mocha.
What is Dragon Drink
Starbucks' website calls it a tropical pick-me-up and sure enough Dragon Drink has a pleasant and refreshing vibe to it and it is also so pretty to look at! 
This popular iced drink was a part of Starbucks' secret menu. Due to its undeniable popularity, Starbucks made it a permanent menu item in 2019.
This amazing drink is one of the 3 dragon fruit-inspired drinks on the Starbucks menu and they are all a variation of the Starbucks Mango Dragon Fruit Refresher:
Regular refresher which is made with water.
Coconut milk is added to the mango dragon fruit refresher to create this pink, creamy, fruity drink called "Dragon Drink".
Mango Dragonfruit Lemonade is made when Mango Dragon Fruit Refresher has lemonade as a base instead of water.
Starbucks Dragon Drink Recipe Vs Pink Drink
Both of these beautiful drinks are definitely Instagramable and they look pretty similar with vibrant pink colors! The main difference between them is the base used to make these drinks.
Dragon Drink is made by adding coconut milk and freeze-dried dragonfruit pieces to the Mango Dragonfruit Refreshers base.
On the other hand, the famous Pink Drink is made by combining a Strawberry Acai base and creamy coconut milk and it is garnished with freeze-dried strawberries.
Which one do you prefer more? Let me know in the comments below!
Caffeine in Starbucks Dragon Drink
If you're wondering if it contains caffeine then let me tell you, that the original drink does in the form of green coffee extract! However, our copycat version does not!
This iced drink has a refreshing combination of sweet mango flavors and dragon fruit with creamy coconut milk and diced dragonfruits.
It is smooth on your throat and sugary on your tongue with a few bites of the diced fruit every now and then.
Why make Starbucks Dragon Drink Recipe at Home?
This drink costs between $3.25 to $4.95, depending on the size and location at Starbucks. So, if you're going to want to sip on this refreshing drink more often, it's cheaper to make it at home.
Looking for more reasons to make it at home?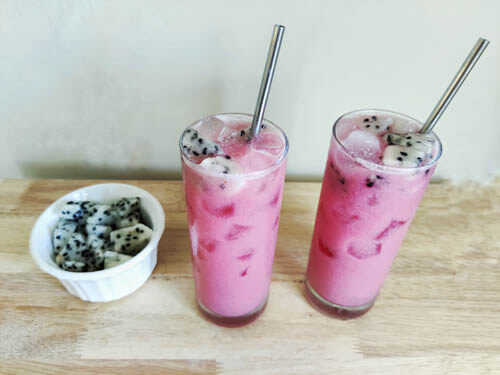 Well, a grande Dragon Drink at Starbucks contains 23 grams of sugar! If you make it at home, you can make a healthier version by controlling how much sugar you add to it. 
You also have the option of making it caffeine-free as shown in this recipe!
Starbucks Dragon Drink Ingredients and Alternatives
Freeze-Dried Dragon Fruit Powder* – It is also known as Pitaya powder. This gives a bright pink color to this drink and also enhances the dragonfruit flavors. I would not recommend skipping out on this key ingredient. You can find it on amazon or grocery store chains such as Whole Foods.
Mango Juice – You can either use bottled mango juice or make it at home using fresh mangoes If you make your own mango juice, make sure to remove the pulp before adding it to the drink.
White grape juice – Starbucks uses White Grape Juice Concentrate but you can use any light-colored fruit juice. Apple juice is a good option. However, avoid the ones with dark colors.
Coconut Milk – This gives the silky richness and creamy texture to this drink. I would recommend using coconut milk beverage* instead of canned coconut milk for best results.
You can use either sweetened or unsweetened coconut milk. Just adjust the sugar level accordingly. You can also use oat milk instead of coconut milk but the texture and taste would vary a little.
If you only have canned coconut milk, I highly recommend you filter it to remove the white lumps, before using.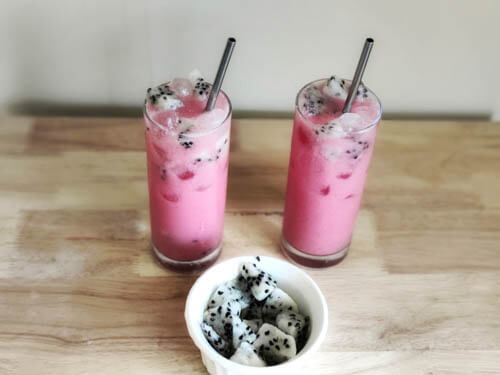 Sugar – Add sugar based on your preferred sweetness level. You can also use Stevia or monk-fruit sugar* as a healthier alternative. Also, feel free to omit it completely if using sweetened coconut milk!
Diced Dragon Fruit (Optional ingredient) – If you are able to find fresh dragon fruit, you can dice and add a scoop of actual dragon fruit to this Starbucks drink. You could also add freeze-dried dragon fruit cubes instead as done by Starbucks, or omit it completely.
Green Coffee Bean Extract* (Optional ingredient) – I haven't used it in my recipe as it adds caffeine without adding a lot of flavor to the drink. But if you are determined to follow the Starbucks recipe to the T, add 1/2 teaspoon of green coffee extract to this recipe.
If the natural green coffee flavor is too strong for you, you can leave it out, use less of it, or replace it with green tea extract.
How to Make the Perfect Dragon Drink
In a small bowl, mix in the dragonfruit powder and grape juice and mix till the powder dissolves fully. This might take a few minutes. You could also add the green coffee extract* here if you want, but it's optional.
In another container, add the mango juice, and sugar (to taste), dragon fruit-grape juice mix and stir well.
NOTE: A cocktail shaker can be used to mix all the ingredients together.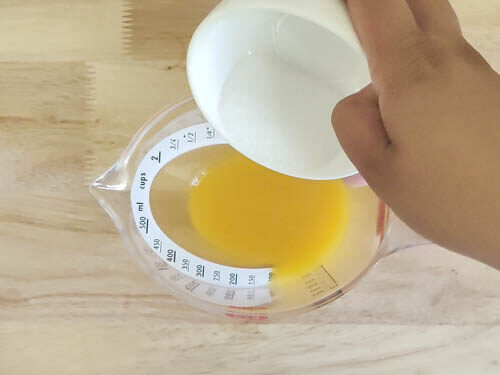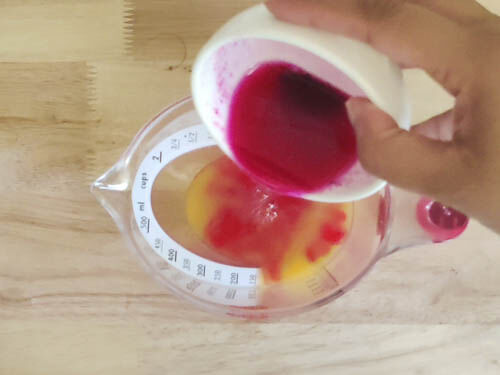 Now add in the coconut milk and mix again.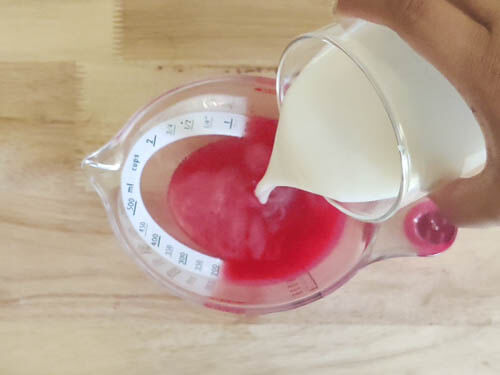 Strain the mix into another container. This will remove any dragonfruit powder that is not dissolved properly.
Add ice cubes and bits of dragon fruit pieces or freeze-dried dragon fruit pieces to a large glass. Pour this dragon fruit pink drink into the serving glass.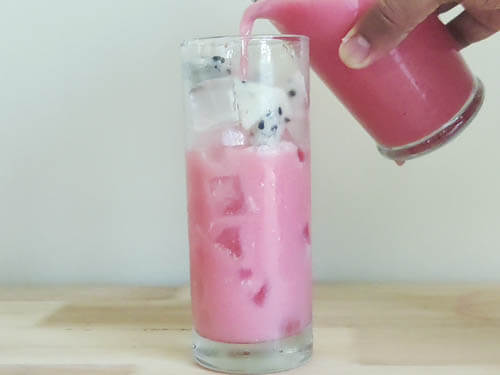 Top it off with few more diced dragonfruit pieces.
Serve immediately!
How to Store Dragon Drink
This drink is best had immediately after making it.
But you can keep the strained juice mixture in a mason jar in the fridge for up to 4 days. I do not advise making it completely and then storing it as the ice will melt and dilute the drink. Moreover, If you use frozen dragon fruit, it will rehydrate too much and begin to break down.
Another option is to freeze it! You can easily turn this dragonfruit drink recipe into popsicles by pouring the liquid into popsicle molds and freezing it with popsicle sticks. It will keep in the freezer for 3 months!
Variations
Add water instead of coconut milk to turn this recipe into a dragon fruit refresher. You can also add some soda water or sparkling water to this recipe to give it a natural fizz.
You could also add lemonade instead of coconut milk to make mango dragonfruit lemonade.
In place of coconut milk, you can use skim milk or any type of dairy-free milk such as oat milk.
If you want to amp up this Mango Dragonfruit Starbucks Refresher, add 1 scoop of vanilla protein powder to this drink and blend it in a blender (instead of a shaker bottle!)
To reduce the sugar content even further, use sugar-free grape juice and mango juice. You can also use peach or apple juice in place of white grape juice for a slightly different flavor.
If you are worried about excess calories, use stevia or monk fruit instead of cane sugar.
You can also add or omit caffeine to this recipe by simply adding or omitting green coffee extract.
Commonly Asked Questions
What's in the Starbucks Dragon Drink?
The Iced Dragon Drink is a specialty drink at Starbucks. It is made with a mango-dragonfruit refresher base, coconut milk, ice, and freeze-dried dragonfruit pieces.
Is the Dragon Drink healthy?
While they certainly aren't the healthiest drink out there, as far as coffee shop drinks go, these are on the healthier side. They are low in fat and have less sugar than a Frappuccino and other calorie heavy drinks topped with whipped cream.
What's the healthiest way to enjoy the Dragon Drink?
As a lot of sugar is extracted from the fruit itself, you can reduce the pieces of the diced fruit added to the drink. Another way to enjoy a healthier version of this drink is by swapping out full-fat coconut milk for skim milk. You could also order their smallest size – tall, which only has 18g of sugar!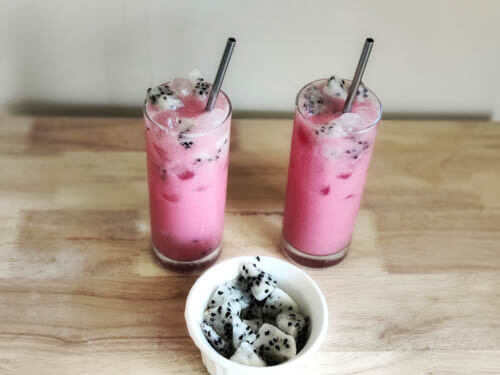 How to order the dragon drink at Starbucks?
Being a permanent addition to the Starbucks' menu, there's a good chance that the barista will know what you're asking for when you simply mention Dragon Drink. But, if that's not the case, you can go ahead to order the Mango-Dragonfruit Refresher and then request your barista to use coconut milk instead of water to mix it.
Is the dragon drink good for you ?
This drink has 23 grams of sugar and not much protein to buffer the sugar. So, if you treat this drink as a refreshment and indulgence, then it is sure to please both your taste buds as well as your Instagram feed! You can make it healthier if you make it at home!
Does dragon drink have caffeine ?
Yes! It does, but this copycat version DOES NOT. Starbucks Dragon Drink has 45 mg of caffeine in it.
LOOKING FOR MORE COPYCAT RECIPES??
Here are some of my favorite ones, that I am sure you would love –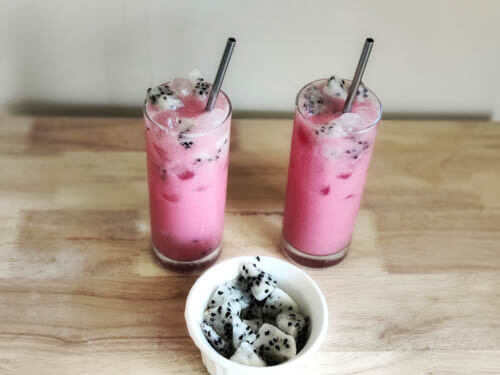 Starbucks Dragon Drink Recipe (Copycat)
Extremely fruity and energizing, check out this Starbucks Dragon Drink Recipe and try it out at the comfort of your home!
Instructions 
In a small bowl, mix in the dragonfruit powder* and grape juice and mix till the powder dissolves fully. This might take a few minutes.

In a larger container, add the mango juice, sugar (to taste) dragnofruit-grape juice mix and stir well.

Now add in the coconut milk and mix again

Strain the mix into another container. Fill up a tall glass with ice cubes and pour the Dragon Drink mix into it.

Top it off with few diced dragonfruit pieces.
Notes
TIPS :
To make sure the dragon fruit powder and green coffee powder (if added) dissolve properly, you'll need to mix them with a small amount of liquid first. Mix very well until there are no clumps of powder in the mixture.

The ratio between the dragon fruit powder and coconut milk will determine the color of the drink. If you add more coconut milk, you'll get a softer pink instead of bright color.

If you need caffeine, add green coffee extract to this drink.

Taste as you go. Add the sweetener gradually until it reaches your desired level of sweetness. Use stevia* or monk fruit* for a healthy option. (If you use sweetened coconut milk, you might not need to add sugar.)

If using apple juice instead of white grape juice, make sure that the apple juice that you are using is light in color so it won't affect the color of the drink.
Did you find this recipe helpful ?? Leave me a star rating & comment about it or any recipe idea you would love to see. Don't forget to share with family and friends!
If you found this post useful, PIN the image below to your
"Starbucks Copycat Recipes" Board on Pinterest to check it out later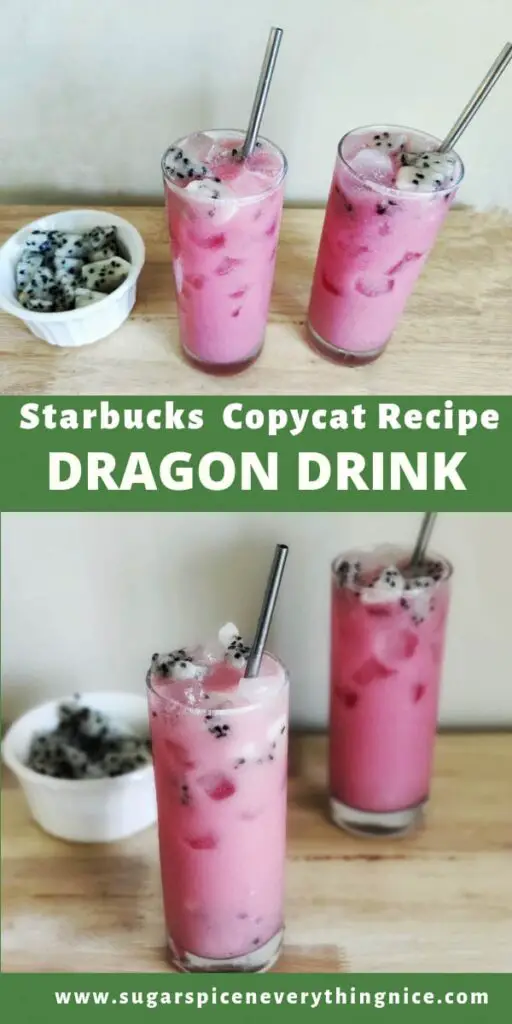 Join Sugar Spice Community:
Facebook Group | Pinterest | Instagram | YouTube
Looking for more recipes? Sign up for our Sugar Spice newsletter and our YouTube Channel for weekly videos. Also rate, comment and share this article!
Disclosure: This page may contain affiliate links, which may earn me a commission, with no additional cost to you. Each of these links are referenced with the asterisk symbol * next to it, at all places it is posted.
About the Author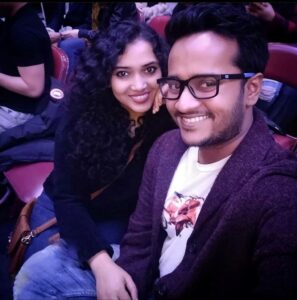 Hi! Akshita & Midhun here! Welcome to our blog where we show simple yet awesome recipes for your cravings.
Akshita being allergic to egg, we are committed to providing egg-free recipes along with some vegan friendly options. Read more about us here!
We are sorry that this post was not useful for you!
Let us improve this post!
Tell us how we can improve this post?