Rasmalai Cake Recipe (Eggless)
Rasmalai cake is a fun fusion dessert. This easy eggless recipe, combines flavors of the Indian dessert Rasmalai in the form of cake!
Disclosure: This Page May Contain Affiliate Links, Which May Earn Me A Commission, With No Additional Cost To You. Each Of These Links Are Referenced With The Asterisk Symbol * Next To It, At All Places It Is Posted.
This rasmalai cake recipe is a creamy, fragrant and fun fusion cake that will surely elevate all your special occasions and is a perfect dessert for the festive season.
The saffron and cardamom flavored eggless sponge cake is soaked in rich and creamy ras malai milk or ras and topped with a layer of whipped cream frosting, pistachios and rose petals!
Basically, this dessert is the best of both worlds – cake and rasmalai together, and it's always a hit!!
This delicious cake will definitely satisfy your sweet tooth. Read on and follow the easy steps to make this ultimate fusion dessert that is a perfect blend of traditional and contemporary flavors.
Little Bit About Ras malai
Ras malai is one of my favorite desserts. It is a decadent Indian treat served for special occasions like weddings or for Diwali.
It originated in the state of West Bengal and very soon became popular throughout the Indian subcontinent. The word itself can be broken down into " Ras" which means juice and "malai" which means cream.
This dessert essentially consists of soft, spongy dumplings prepared with "chenna"(cheese curd) soaked in a creamy saffron and cardamom flavored, sweetened thickened milk.
Garnish Options for Eggless Rasmalai Cake
You can jazz up this cake using a variety of garnishes and here are some of our recommendations-
Rabri is made by continuously boiling milk on low heat till it becomes off-white and dense, and later flavored with sugar or jaggery, nuts and other traditional Indian spices. You can either make this at home or get it from the market.
To garnish this eggless cake, coat a thick layer of Rabri over it and drizzle some chopped pistachios, slivers of almonds, cardamom powder and dried rose petals.
Viola! You have a scrumptious dessert ready to impress.
What better way to garnish a Ras malai cake than with Rasmalai itself! Take a dollop of whipping cream and spread it evenly on the cake, then place small pieces of rasmalai on top of the cake.
To make it look more rich and festive, you can cover the edges of the cake with some rose petals, chopped nuts and edible gold flakes.
You can elevate the Rasmalai cake by using rose milk flavored or Paan flavored macarons for garnishing.
This fancy garnishing will jack up the delicious Rasmalai cake and highlight the contemporary aspect of this fusion dessert. Store bought macarons usually contain eggs but you can make vegan version of it like this recipe.
Rasmalai Cake Recipe Variations
Cakesicles are essentially cake pops but considerably bigger and popsicle-shaped.
You can transform the eggless Rasmalai cake or its leftovers into delectable cakesicles and make a combination of Rasmalai cake crumbs and frosting, milk chocolate coating. Top it with some dried rose petals and edible gold flakes.
Tres Leches cake is a classic Mexican dessert, which is essentially a butter cake soaked in three kinds of milk: evaporated milk, condensed milk, and heavy cream.
To make Rasmalai Tres Leches you just need to use heavy cream and evaporated milk along with whole milk while making the "Ras" and the rest of the steps and recipe remains unchanged.
Cake jars are perfect for gift hampers and takeaways. The eggless Rasmalai cake jar will dazzle all your guests and make you the perfect host.
You can make this with layers of soft eggless cake, flavoured saffron milk and rasmalai flavored whipped cream topped with small rasmalai pieces, saffron, chopped nuts and dried rose petals.
You can even adorn these cake jars with ribbons and other embellishments to make them look more festive.
If you like jar desserts, you will love our Cheesecake in a Jar!
You can also bake this cake batter into cupcakes. Bake for 15-18 minutes or till a tooth pick inserted comes out clean.
Once the cupcakes have cooled down, poke holes and add rasmalai milk. Chill overnight and then frost and decorate!
Also check out these cupcake recipes : Christmas Tree Cupcakes, Red Velvet Cupcakes.
Ingredients and Alternatives
All Purpose Flour: I used all purpose flour to make the cake. We haven't tried this recipe with other flour types.
Milk: I recommend using whole milk for this recipe. You could also use 2% milk.
Yogurt: Yogurt was used as the egg replacement for this cake. I used plain Dahi (Indian Yogurt) for this. You can use plain or vanilla flavored yogurt.
Cardamom powder: If you don't have cardamom powder, roast some whole cardamom pods on low heat till you see golden specs on the pods. Crush using a motor and pestle or by grinding in a food processor.
Saffron (Optional) : You only need a pinch of saffron strands. Very little quantity will be enough to give a good amount of color to the rasmalai milk.
Rose water (Optional): Make sure you get the food grade one.

Oil: We used olive oil, but any cooking oil will do.
Vanilla essence: Use pure vanilla extract and try avoiding artificial ones. Artificial ones sometimes have a peculiar taste depending on the brand you pick up.
Others: Powdered sugar, granulated sugar, water, baking powder, baking soda, salt, heavy cream, shredded rose petals and unsalted pistachios.
How to make the perfect eggless ras malai cake
Mix water, whole milk, cardamom powder, saffron, sugar and condensed milk to an instant pot. Cook on high pressure with the vent sealed for 1 minute.
Let the pressure release naturally. Do not vent out the pressure forcefully since it might cause the milk to splatter. Once the pressure is released completely, open the lid, and let the milk cool down to room temperature.
If you want a richer yellow color for the rasmalai milk, you can optionally add yellow gel food color as well at this time.
You can make this mix up to 4 days in advance and keep it refrigerated.
Mix yogurt, rasmalai milk, oil and sugar, into a large bowl. Use a whisk to break the lumps from the yogurt or you will end up with an inconsistent batter.
Sift the all-purpose flour, baking soda, baking powder, salt and cardamom powder into the same mixing bowl. Fold in the dry ingredients into the wet ingredients till its evenly combined.
Line an 8 inch spring form cake pan with parchment paper or aluminum foil and grease with butter. Pour the batter into the prepared cake tin and tap against a counter to let it level out and to remove any air bubbles.
Bake in an oven pre-heated at 350F for 20 to 25 minutes. Check if its baked by sticking a toothpick in the center of the cake and see if it comes out clean. Depending on your oven, the baking duration might change.  
After the cake is baked, let it cool for 5 minutes in the pan itself. Then remove from pan and transfer it to a wire rack. Cool to room temperature.
Once cooled, move the cake back into the spring form pan and then pour the rasmalai milk on the cake as shown in the video. Use a pastry brush and spread the milk around.
Wrap the cake (while still in the pan) with plastic wrap, and refrigerate for 1-2h or overnight.
In a small bowl, add in the heavy cream and rasmalai milk. Whisk using a hand mixer for few minutes until you see the cream thicken slightly.
Now add in the powdered/ icing sugar, vanilla extract and rose water. Fold and mix gently using a spatula and then whisk at medium-high speed with the hand-held mixer till you see soft peaks.
Remove the chilled cake from the spring form pan. Apply an even layer of the whipped cream frosting over the cake using an offset spatula.
Garnish with shredded rose petals and crushed unsalted pistachios.
How to serve rasmalai cake
Once the rasmalai flavored frosting has been added on top of this cake, it is ready to be served. You can serve this cake warm or cold.
Since it's a Rasmalai cake, I recommend pouring a little bit of the "Ras" on the serving plate and then place the cake slice over it.
Do ask your guests to leave room for more because one slice will not suffice and they'll want to dive in for more!
How to store Ras Malai cake
You can store the unfrosted cake for 2 days at room temperature or for a week in the refrigerator. If the cake is frosted, cover and store it in the refrigerator for 3-4 days.
You can also freeze the unfrosted cake. Allow it to cool completely, cover in a cling wrap and seal airtight before storing in freezer. When ready to have the cake, thaw it at room temperature and then add the whipped cream frosting.
Rasmalai milk can be made ahead and stored in fridge for 3-4 days before using it.
If you want to make this cake a day before a special occasion, follow all the steps till the cake is baked, then soak it rasmalai milk overnight instead of couple of hours.
Next day, you can add whipped cream and garnish on top of the cake and its ready to be served!
If you don't want to make everything from scratch, you can use bake a basic vanilla cake using a box mix. Just add cardamom powder and saffron to it and bake according to instructions on the package.
You can also use cool whip or ready made whipped cream instead of making it on your own.
This may not taste exactly as the cake made from scratch but is a good quick alternative.
Eggless Rasmalai Cake Video Tutorial
Rasmalai Cake
Spongy, cardmaom flavored rasmalai cake topped with rasmalai cream cheese frosting - this is the ultimate fusion dessert, bringing the best of both worlds!
Ingredients  
Ramalai Milk
2

tbsp

Water

2

cup

Whole milk

1/4

tsp

Cardamom powder

2

tbsp

Condensed milk

4

tbsp

Granulated sugar

Pinch of saffron
Cake
For soaking cake after Baking
Frosting
1

cup

Heavy cream

1

cup

Powdered sugar

1/4

cup

Rasmalai milk

1/2

tsp

Vanilla extract

1/2

tsp

Rose water
Tips to make the perfect Rasmalai Cake
Use freshly ground cardamom powder. To make the cardamom powder, put about a teaspoon of cardamom seeds in a mortar and pestle and grind to get a semi-rough powder.
Check the cake is baked well, by inserting a toothpick or knife in the center, if it comes out clean then take the baking pan out, otherwise bake for few more minutes.
Rasmalai milk can also be made on the stove top. Add all the ingredients to a heavy-bottomed pot instead of instant pot and bring it to a boil while stirring occasionally. Lower the heat and simmer for 5-10 mins. Then turn off the heat. Rasmalai milk is ready and can be used once cooled.
Avoid overmixing the cake batter as it will lead to denser cakes.
Is Rasmalai made of Paneer?
No, Rasmalai is not made of Paneer, it is made of Chenna ( cheese curd). The process of making both is the same but more effort is taken to make Paneer. Once Chenna is made, more pressure and weight is put on it to make paneer hence, chenna is softer and has more moisture. Paneer is generally used in Indian curries and appetizers whereas Chenna is popularly used in making Indian desserts.
Is Rasmalai eaten cold?
It is a matter of personal preference. However, traditionally it is best served cold with thickened milk and garnished with chopped nuts.
Can this be made into a layered cake?
Yes you can! You cant cut this one layer cake in the center and add whipped cream in the middle or you can double the recipe to make a two layered cake!
If You Found This Post Useful, PIN The Image Below To Check It Out Later!
Disclosure: This page may contain affiliate links, which may earn me a commission, with no additional cost to you. Each of these links are referenced with the asterisk symbol * next to it, at all places it is posted.
If you give this recipe a try, let us know how it turned out in our comments below and leave us a rating! Also, snap a photo and share it on Instagram. Make sure to tag @sugarspice.2020 so I can see your creations!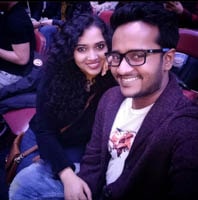 Hi! Akshita & Midhun here! Welcome to our blog where we show simple yet awesome recipes for your cravings. Akshita being allergic to egg, we are committed to providing egg-free recipes along with some vegan friendly options. Read more about us here!
We are sorry that this post was not useful for you!
Let us improve this post!
Tell us how we can improve this post?