Authentic Chicken Salan Recipe
Here is an authentic chicken salan recipe that captures the essence of South Asian Cooking. This is a simple, one-pot recipe made in the traditional North Indian/Pakistani style.
Disclosure: This Page May Contain Affiliate Links, Which May Earn Me A Commission, With No Additional Cost To You. Each Of These Links Are Referenced With The Asterisk Symbol * Next To It, At All Places It Is Posted.
This classic chicken curry is also known as chicken ka salan or murghi ka salan. This recipe needs only basic ingredients and is pretty easy to follow.
The Indian and Pakistani versions of the dish may vary a little but they are equally tasty and its essence remains the same. It is definitely a comfort food.
A distinct feature of this dish is that you can find a thin layer of oil on top of the curry.
You might be tempted to use less oil than what the recipe calls for but I would advise against it if you are looking to make an authentic version of this dish. You need the oil to brown the onions, sear the chicken pieces, and ensure the spices don't stick and burn.
Get New Recipes Every Week Directly in your Inbox!
Full Recipe Ingredients/Instructions are available in the recipe card at the bottom of the post. You can find important tips/tricks in the blog post.
The secret behind a good Shorba
The shorba of chicken salan refers to the gravy of this dish. Unlike a lot of other chicken curry dishes, like this Chicken Chettinad., the curry of chicken salan is thinner. It has a soup-like consistency.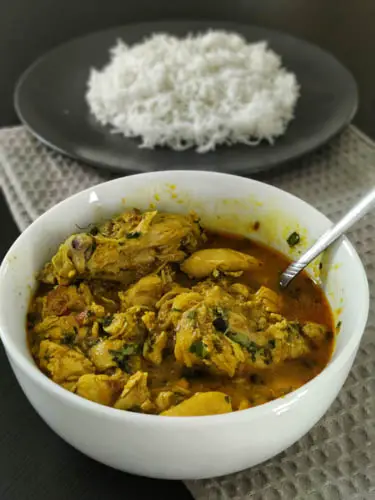 The shorba needs to have a good body and color without it being too thick.
The right consistency depends on the ratio of tomatoes and onion used. I used one medium onion and two medium tomatoes for around 800g of chicken.
The shorba also needs to be smooth, without any large onion or tomato chunks. To get a smooth masala, make sure you slice the onion and tomatoes into small pieces.
Spices Used to make Chicken Salan
Like most Indian and Pakistani food, this curry uses a variety of whole and ground spices. These can be easily found in any Indian or Pakistani store near you.
This chicken recipe calls for whole cloves, whole black peppercorns, cumin seeds, bay leaves, and green cardamom pods.
These whole spices are optional but I highly recommend adding them to your dish if you can find them as these spices elevate the flavor and fragrance of the dish.
I also used ground spices such as turmeric powder, garam masala, cumin powder, and coriander powder.
I used Kashmiri chili powder instead of regular chili powder in this recipe as it gives a wonderfully vibrant color. But you can use the regular chili powder if aren't able to find Kashmiri powder.
For garnishing, I used dried fenugreek leaves (also called kasuri methi in Hindi). You could use fresh coriander/cilantro leaves as well.
Is Chicken Salan Hot?
Though the chicken salan recipe has a variety of spices, this dish is not very spicy. Most of the spices used in this recipe just add a deep flavor without much heat.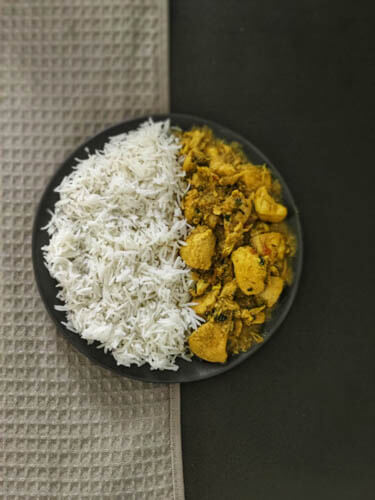 However, if you are still concerned about the heat in this dish, you can reduce or even omit the black peppercorns.
I would also recommend using Kashmiri chili powder instead of red chili powder as it has less heat but more color.
Ingredients and Alternatives to make chicken salan
Olive Oil – I used olive oil for this recipe but you can use any vegetable oil for this.
Onion – Though I used fresh onion, you can use fried onions in its place. This will also reduce the prep time and cooking time as you wouldn't need to cut or fry the onions.
You can use white or red onion for this recipe.
Tomatoes – You can use fresh or canned tomatoes.
Minced ginger and garlic cloves – You could use add ginger garlic paste* instead of adding them separately.
Ginger garlic paste is commonly used in both Indian and Pakistani cuisine.
Chicken – You can use boneless chicken but I highly recommend using bone-in breast pieces or a mix of drumsticks along with boneless breast pieces.
Others – salt, and all the spices mentioned above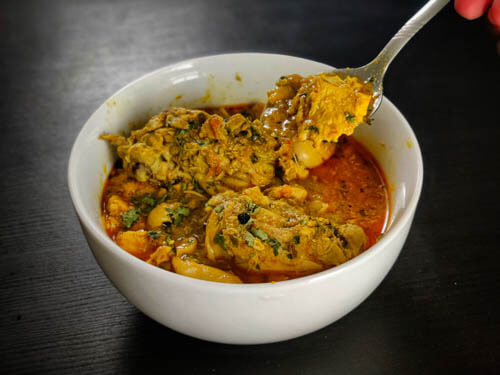 How to make the perfect Chicken Salan
Fry Onions
Heat oil in a deep pan and then add your cut onion. Cook them in medium-high heat till they become translucent.
Cook Tomatoes
Next, add cut tomatoes and cook for 5 min on low heat.
Add spices
Turn up the heat and add minced ginger and garlic, followed by all the spices except garam masala.
Stir constantly to mix all the spices with the tomatoes and onion. Also, mash the onions and tomatoes as you stir.
Cook chicken
Then, add chicken, once the masala dries out and oil begins to separate from the edges. Cook the chicken on high heat while stirring occasionally.
Once the texture of the chicken changes and you can no longer see the pink color, add water. I would recommend adding lukewarm water. Bring it to a boil. Then cover and simmer for half an hour.
Garnish
Stir in the garam masala once the chicken is cooked. Top it off with dried fenugreek leaves or fresh coriander/cilantro leaves.
This tasty dish is best served hot!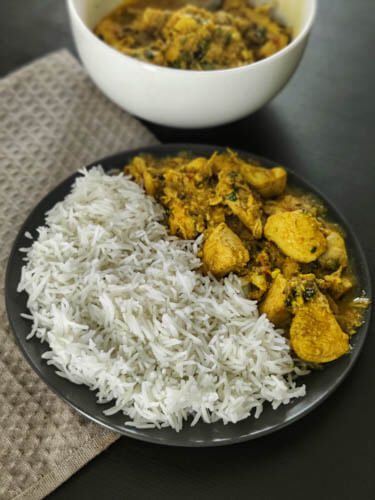 What to serve with chicken salan?
Chicken salan pairs well with white basmati rice. It can also be served with flatbread like naan and roti!
Chicken Salan Storage & Freezing Options
You can store the curry in the refrigerator for up to a week.
If you plan on freezing the curry, don't add water at the end of the recipe. Freeze the thick curry, once it has cooled down.
I would suggest pre-portioning chicken salan before freezing so you can have as much as you want each time without having to thaw the whole curry. You can freeze it for 2-3 months.
When you plan on eating this curry, add the pre-portioned frozen curry, directly into the pot. Then add the water that you didn't add last time. Let it simmer for about 15 to 20 minutes while stirring occasionally.
What to do with leftover chicken salan
You can make pulao rice with leftover gravy.
Leftover gravy can be used to make mirchi ka salan.
Shred the leftover chicken and make sandwiches or unshredded chicken can be added to pasta dishes.
LOOKING FOR MORE DINNER/LUNCH RECIPES??
Here are some of my favorite ones, that I am sure you would love –
Get New Recipes Every Week Directly in your Inbox!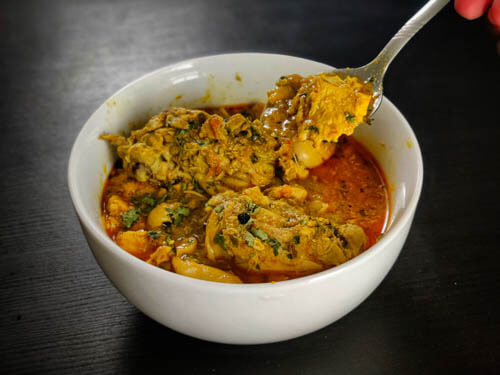 Chicken Salan Recipe
This authentic chicken salan recipe is a simple, one-pot recipe, made in the traditional North Indian / Pakistani style.
Instructions 
Heat oil in a deep pan and add the onion.

Cook in medium high heat till translucent.

Add in the tomatoes and cook for 5 minutes.

Turn up the heat. Add ginger, garlic and the remaining spices except garam masala.

Stir constantly and mash in the tomatoes as you stir.

Once the masala dries out and oil begins to separate from the edges, add the chicken.

Cook no high heat and stir occasionally.

Once the chicken is just cooked, add lukewarm water and bring it to a boil.

Cover and simmer for half an hour.

Stir in the garam masala.

Garnish with dried fenugreek or coriander/cilantro leaves.
Did you find this recipe helpful ?? Leave me a star rating & comment about it or any recipe idea you would love to see. Don't forget to share with family and friends!
Tips to make the perfect Chicken Salan
Take time to add each ingredient, one at a time.
Make sure the onions have turned translucent before proceeding to the next step. This step can take a while.
Maintain the temperature as mentioned in different steps of the recipe.
If You Found This Post Useful, PIN The Image Below To " Chicken Recipes" & Check It Out Later!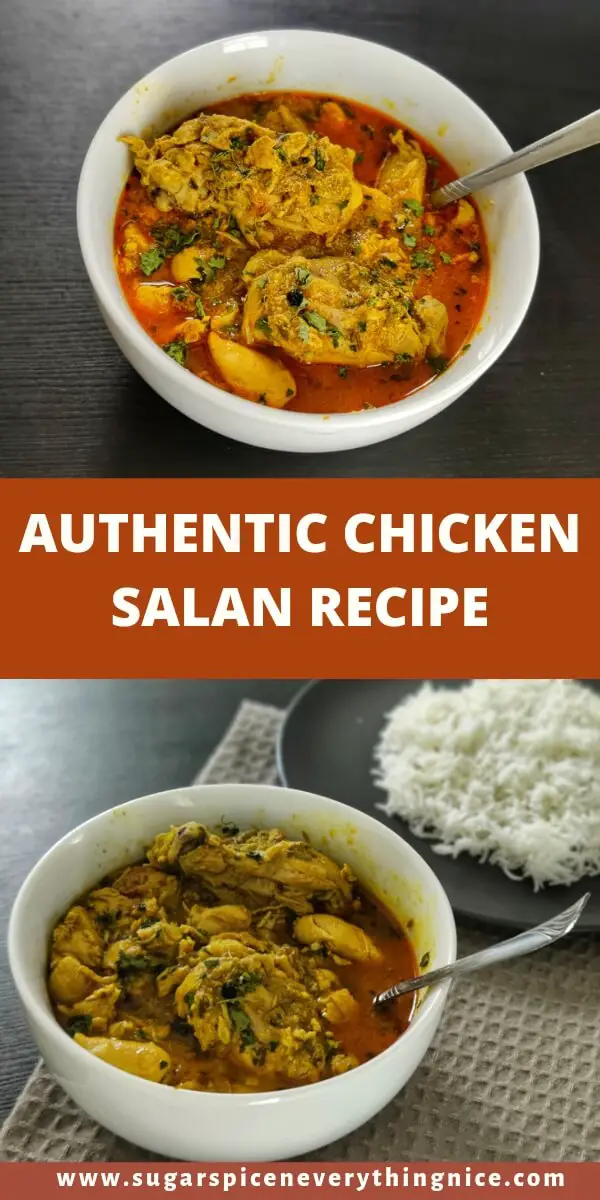 Looking for more recipes? Sign up for our Sugar Spice newsletter and Follow along on Facebook, Instagram, Pinterest for updates. Remember to Subscribe to my YouTube Channel for weekly videos.
Disclosure: This page may contain affiliate links, which may earn me a commission, with no additional cost to you. Each of these links are referenced with the asterisk symbol * next to it, at all places it is posted.
About the Author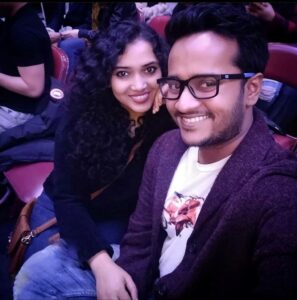 Hi! Akshita & Midhun here! Welcome to our blog where we show simple yet awesome recipes for your cravings.
Akshita being allergic to egg, we are committed to providing egg-free recipes along with some vegan friendly options. Read more about us here!
We are sorry that this post was not useful for you!
Let us improve this post!
Tell us how we can improve this post?