Easy Tiramisu Recipe (Eggless)
Tiramisu is an Italian dessert made with layers of Mascarpone cream cheese and soft fluffy ladyfinger biscuits that is dipped in espresso & coffee liqueur.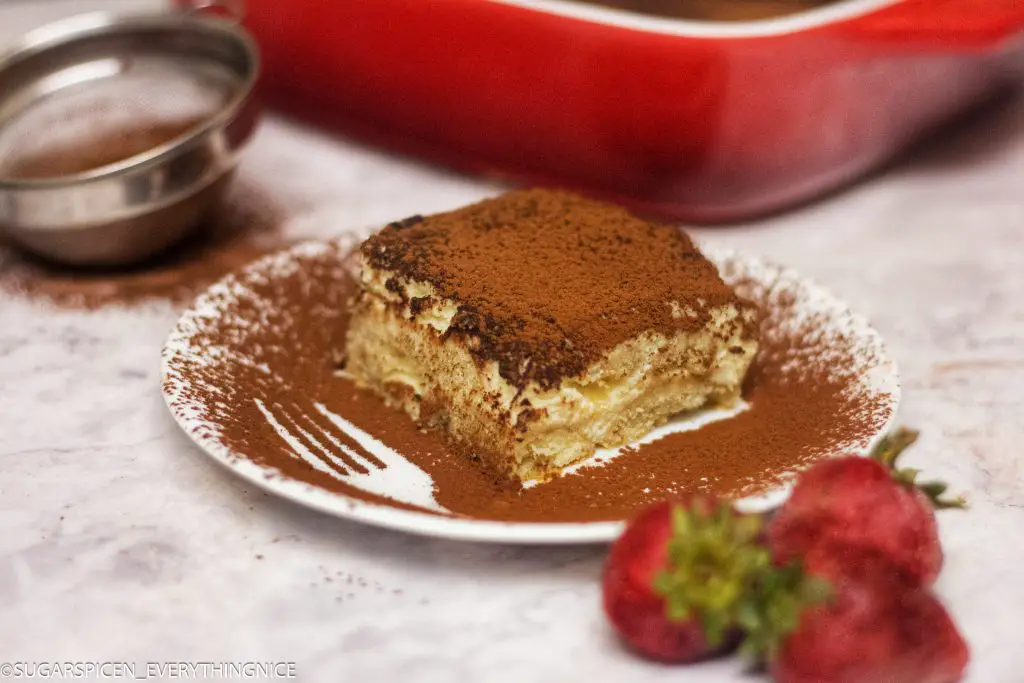 Disclosure: This Page May Contain Affiliate Links, Which May Earn Me A Commission, With No Additional Cost To You. Each Of These Links Are Referenced With The Asterisk Symbol * Next To It, At All Places It Is Posted.
This turned out to be not as hard as I thought it would be . You can consider this as an adult's Tiramisu recipe with the addition of coffee and liqueur! If you like coffee desserts, dont forget to check out Coffee Bean Cookies.
You can go for an easier route by going for store-bought ladyfinger biscuits, which are basically just small sponge cakes. However, if you want to make everything from scratch like me, you have the recipe for that as well!
Trust me when I say that the hardest part would be the overnight wait while the tiramisu chills in the refrigerator.
Bit more about Tiramisu
Tiramisu is originally from the city of Veneto, Italy. There's some debate about this, that the dessert might have been from the city of Treviso in Italy.
Honestly, I'm just glad it exists and thanks to the person who crafted this delicious creamy piece of art, sometime in the early 1800s. If you want to know more about the origins of this dessert, check it out here.
So this is going to be a recipe that's survived through the tides of time with little tweaks of adding coffee liqueur into it, which is an optional ingredient.
With the espresso soaked ladyfingers and the sugar combined with the mascarpone cream cheese, it validates the meaning of the word Tiramisu which means 'Pick me up' in Italian.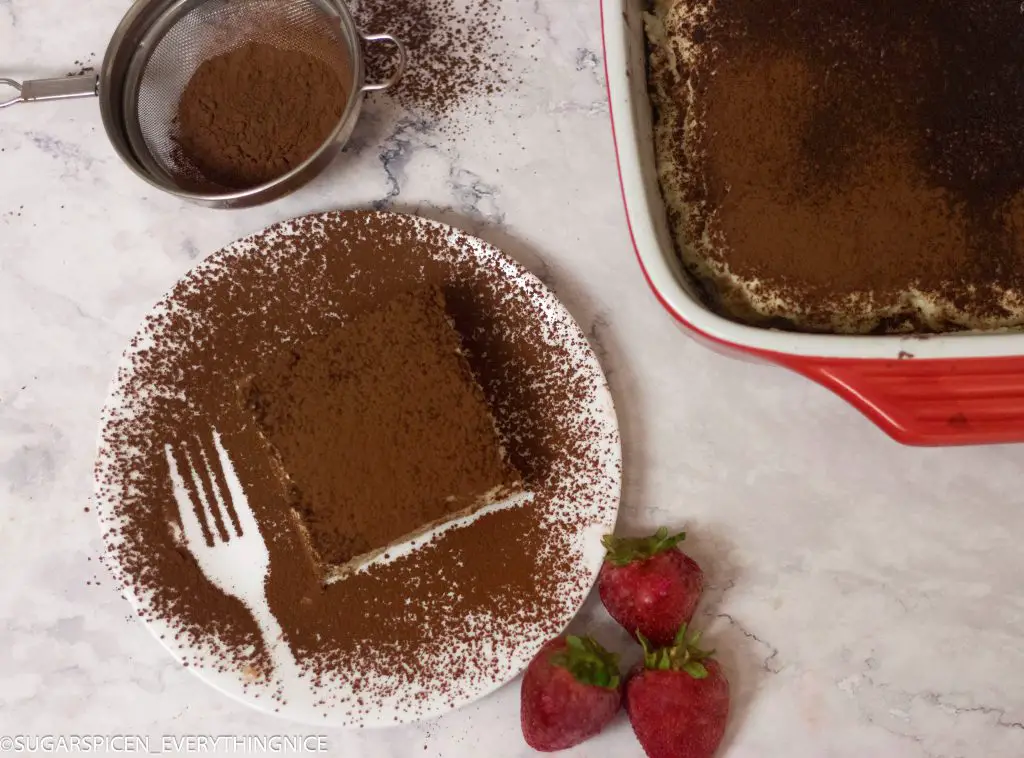 I can't recall when or where I had my first Tiramisu. I want to say maybe the Bellagio, in Las Vegas.
All I remember is what I felt when I took the first bite. Creamy and soft. The kick of coffee and hint of cocoa just blew my mind. I'm so happy that I could share this eggless tiramisu recipe with you guys! Enjoy!
Easy Tiramisu Recipe (eggless)
This creamy, delicious & EASY tiramisu recipe is made with coffee soaked lady fingers, sweet creamy mascarpone & cocoa powder dusted on top.
Ingredients  
Filling
1

Cup

Water

1

Cup

Mascarpone cream cheese

at room temp

1

Cup

Whipping cream

½

Cup

Powdered sugar

2

Tbsp

Instant coffee powder

2

Tbsp

Coffee liqueur (used Kahlua)

Cocoa powder to dust
Instructions 
Ladyfingers
Preheat the oven to 250 F.

Line a baking tray with parchment paper. Grease the paper with butter.

In a large bowl, add the butter which is at room temperature.

Add in the granulated sugar and mix well using a spatula or whisk till its well blended in.

Combine the milk and vanilla extract.

Drop the dry ingredients in and mix till everything is combined well. The batter should be a relatively thick paste as shown in the video.

Transfer the batter to a piping bag and cut out around a 1/2 inch hole to pipe through.

Pipe out around 2 1/2 to 3 inches long batter onto the baking tray lined with parchment paper. You should have around 16 to 20 of these.

Dip your fingers in cold water and shape the edges of the ladyfinger batter. It might be difficult to get the right shape and length at first but as you do a few, it gets easier. You can see from my work that even I messed up the initial few!

Bake for 10 to 12 minutes till they are very lightly golden. The biscuits will be more on the pale side and not brown. It should be fluffy and soft.
Filling
In a large bowl, add in the mascarpone cheese and powdered sugar and mix till blended well.

Take a smaller bowl, beat up the whipping cream till you get stiff peaks.

Combine whipped cream into the mascarpone bowl along with vanilla extract till you get a creamy texture as shown in the video.

In a small container, take 1 cup of water and add in the instant coffee powder and mix well. Mix in the coffee liqueur (this step is optional).
Assembly
Take an 8 x 8 inch container, about 2 to 3 inches deep.

Dip the ladyfinger biscuits in the coffee mix for about 2 to 3 seconds. Don't soak for too long as the biscuits might get soggy.

Arrange the biscuits in the container as the first layer.

Add in half of the mascarpone cream cheese filling on top of this layer and spread it evenly.

Add the remaining ladyfinger biscuits as next layer.

Top it off with the rest of the mascarpone filling and spread it out evenly.

Refrigerate for 4 hours or overnight.

Dust with cocoa powder before serving.
Did you find this recipe helpful ?? Leave me a star rating & let me know how it turned out in the comments below. Don't forget to share with family and friends!
Pin the image below to check it out later!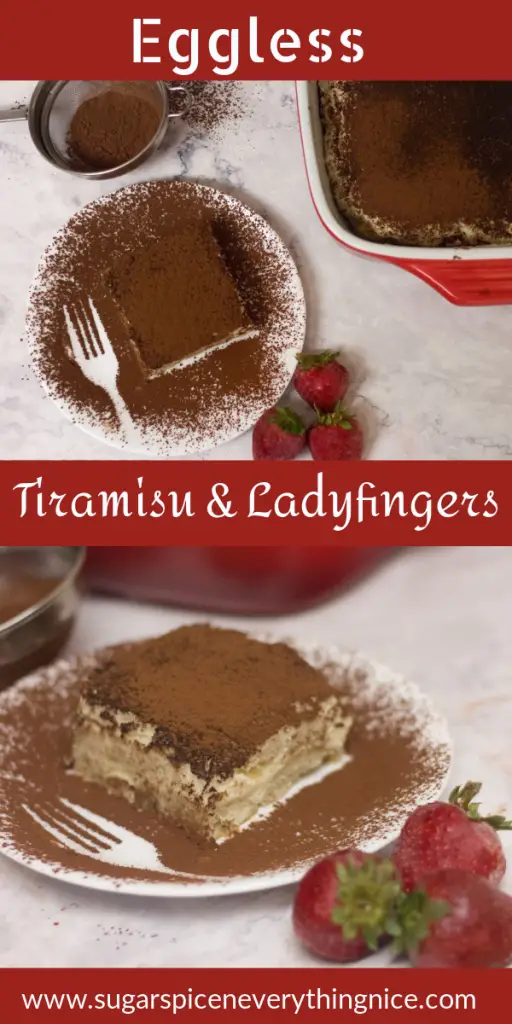 Join Sugar Spice Community:
Facebook Group | Pinterest | Instagram | YouTube
Looking for more recipes? Sign up for our Sugar Spice newsletter and our YouTube Channel for weekly videos. Also rate, comment and share this article!
Disclosure: This page may contain affiliate links, which may earn me a commission, with no additional cost to you. Each of these links are referenced with the asterisk symbol * next to it, at all places it is posted.
About the Author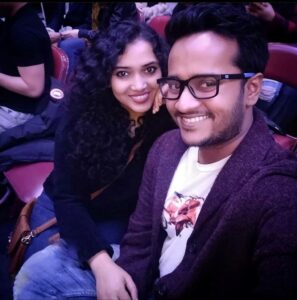 Hi! Akshita & Midhun here! Welcome to our blog where we show simple yet awesome recipes for your cravings.
Akshita being allergic to egg, we are committed to providing egg-free recipes along with some vegan friendly options. Read more about us here!
We are sorry that this post was not useful for you!
Let us improve this post!
Tell us how we can improve this post?