4 Ingredient Galaxy Fudge Recipe
Galaxy foods seems to be one of the hottest new food trends to emerge on Instagram and Pinterest food blogs. So we jumped on the bandwagon with this galaxy fudge recipe. The name comes from the design which looks like the actual solar system has arrived in your kitchen to satisfy all your snacking needs. Plus, it is literally out of this world. The credit goes to the awesome food color gel by Wilton's icing color*. If you don't have access to these colors you can simply make them without it and call them vanilla fudge or milk chocolate fudge.
Disclosure: This Page May Contain Affiliate Links, Which May Earn Me A Commission, With No Additional Cost To You. Each Of These Links Are Referenced With The Asterisk Symbol * Next To It, At All Places It Is Posted.
First time I came across Galaxy fudge was at a bakery somewhere in downtown Vancouver. There was peppermint fudge, chocolate fudge with white chocolate chips, rocky road fudge and then there were these beautiful bars of galaxy fudge. I had never seen or heard anything about it before. At first it looked interesting and upon a closer look its just so mesmerizing what was done with the colors and the patterns on it.
Whether its for the holiday season or you just want to whip up some delicious treats, this easy recipe would be a great start. This cosmic creation looks difficult to make, but fear not! Follow the step by step instructions in the recipe to make the most extra (galactic) fudge, this side of the universe.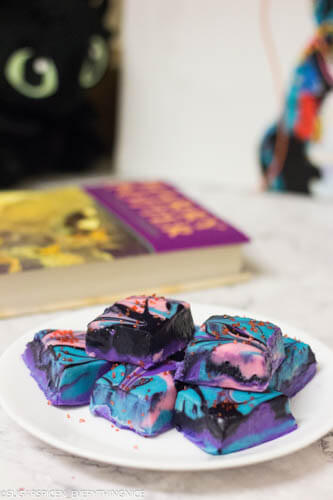 If you enjoyed this colorful fudge recipe, you will also love our Rainbow Cheesecake and our 4th of July Special Swiss Roll !
Check out other popular galaxy food trends here.
Another easy no bake recipe : Peanut Butter Bon Bons
Is white fudge the same as white chocolate?
Fudge calls for chocolate, condensed milk, butter and few other ingredients. Compared to that…white chocolate…well, its just chocolate, made using coca butter from the bean.
Is white fudge healthier than chocolate ?
Fudge in any form, even if you argue that you have added some healthy nuts or even peanut butter fudge, is best kept as special treat for a special time of the year or two. Loaded with around 130 calories per ounce, this sweet treat is not a healthy treat. Even if you try using sugar substitutes, it still does not go enough to make it healthy in anyway.
4 Ingredient Galaxy Fudge
This Fudge is soooo outta this world! ;)This mesmerizing deliciousness is just so easy to make and it only takes 15 minutes! Quick and easy way to get a sugar rush 🙂
Instructions 
Melt the white chocolate in a bowl over a water bath.

Add in the condensed milk and melted butter into bowl and mix till everything is blended in thoroughly.

Split the whole batch into 4 equal parts. Add in different color into each bowl. Depending on the richness of the color, you may have to add different quantities.

Line parchment paper in a square/rectangular container/pan that is about 2 or 3 inches deep and 10 cup capacity.

To get the galaxy kind of effect on your fudge, pour small portions of each color one after the other in the prepared pan or container and swirl through the mix to create a pattern. We did zig-zag from left to right and then top to bottom.

Sprinkle red colored granulated sugar (optional step).

Pop it in the fridge for at least 4 hours or overnight and the creamy texture will come out as a solid block

Cut them into perfect squares and serve. Store it in airtight container
If you give this recipe a try, let us know how it turned out in our comments below and leave us a rating! Also, snap a photo and share it on Instagram. Make sure to tag @sugarspice.2020 so I can see your creations!
PIN The Image Below To "Bar Desserts" Board to Check It Out Later!
Disclosure: This page may contain affiliate links, which may earn me a commission, with no additional cost to you. Each of these links are referenced with the asterisk symbol * next to it, at all places it is posted.
We are sorry that this post was not useful for you!
Let us improve this post!
Tell us how we can improve this post?