5 Ingredients Almond Flour Cookies (Vegan And Gluten free!)
These are not your average crispy buttery cookies. If you are looking to try a cookie that is crispy on the outside, soft, bendy and chewy on the insides for a change, this alternative would be the perfect start. These delicious cookies mixed with chocolate chip cookies are an awesome snack and it takes less than half an hour to prepare. It's that easy! Let's get a little bit into almond flour and almond cookies.
Disclosure: This page may contain affiliate links, which may earn me a commission, with no additional cost to you. Each of these links are referenced with the asterisk symbol * next to it, at all places it is posted.
In the past decade, low-carb diets, keto diets and works have gained a lot of popularity. I am guilty of trying a few of these out myself as well! Things like avocado, chia seeds, etc., which were otherwise not so popular, just became a celebrity sensation of sorts.
Blanched And Unblanched Almond Flour
That being said, you need to watch out for what kind of almond flour you buy. Ensure that you don't get unblanched almond flour, which is high in phytic acid. Phytic acid is found in almond skins and its main purpose is to protect thle seed until it is planted and germinates. The phytic acid binds to nutrients, holding on to them till the time when the seed is ready to grow into a plant. So this is not good for the human body as it binds with the phosphorus, calcium and magnesium, causing nutrition related problems, if taken in large quantities frequently.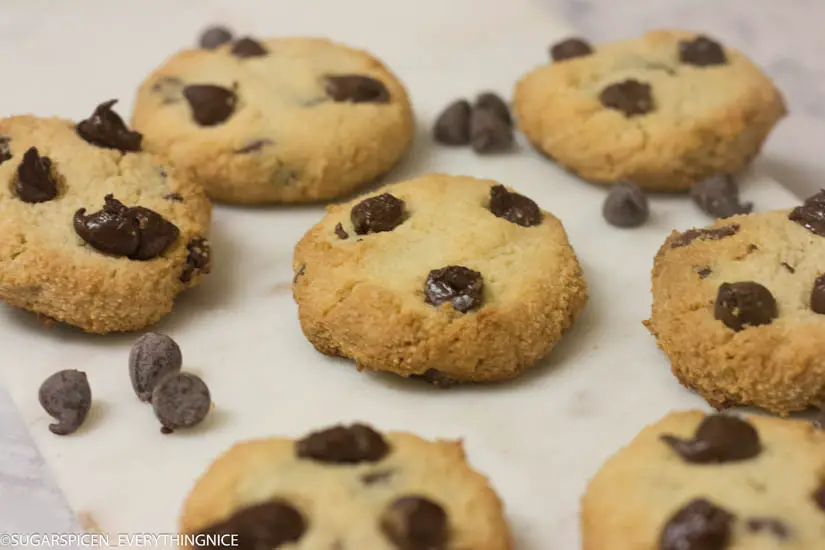 So if you are looking for almond flour to try out this recipe, make sure you get blanched almond flour. It might be on the pricier side…but hey! You can't put a price on a healthy diet, right? Turns out you can, haha! Jokes aside, blanched almond flour comes without the risk of the phytic acid, packed with proteins, healthy fats and low carbs & sugars. Now let's jump into the main reason why we are all here! Take a glimpse at the Tips before proceeding to the instructions.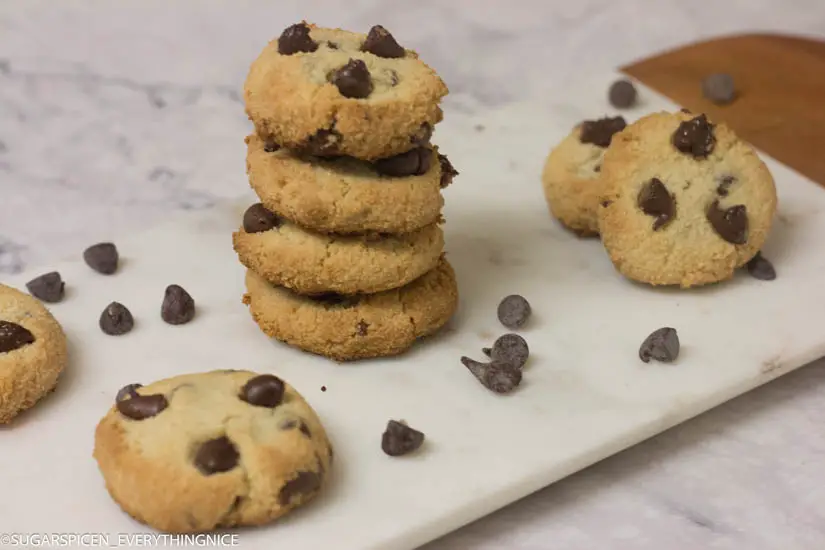 Tips To Almond Flour Cookies
Ensure to buy only blanched almond flour.
If you feel the dough is too sticky, don't worry. You have not messed anything up…..yet! It's supposed to be sticky and you just need patience.
The first 10 minutes of the bake needs to be over a water bath. Place the cookie dough on a silicone baking mat* or baking tray. Keep this baking tray on a larger baking tray that has about an inch or less of water on it. The few times we tried without the water bath, the under the side of the cookie got a little burnt. Make sure you bake the remaining 10 minutes off the water bath
Cooling the cookie after the bake is very essential. The cookie might look and feel like its not at all cooked when you take it out of the oven but it will get bit more crispy on the outside by the time its cooled down.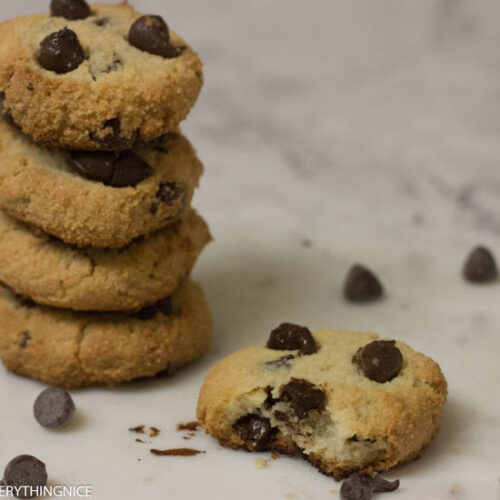 5 Ingredient Almond Flour Cookies (Vegan and Gluten-free)
Healthy, vegan and gluten-free almond flour cookies. You wouldnt believe that no butter or oil is used in this easy recipe! Takes only ~20min
Ingredients  
112

g

Blanched Almond Flour

(1 Cup)

3

Tbsp

Sugar

1/2

Tsp

Baking Powder

2

Tbsp

Water

1/2

Cup

Chocolate chips
Instructions 
Pre-heat the oven to 350F (175 C). Line a baking sheet with parchment paper.

Measure almond flour and pass it through a sieve to remove lumps.

Mix the almond flour, sugar and baking powder. Next, add water and stir until blended (as shown in the video).

Add chocolate chips to the cookie dough mix.

Scoop out 1 Tbsp sized cookie dough and place it on the prepared baking sheet, 2 inches apart. Press on it lightly to make it flat.

Bake in the pre-heated oven over a water bath for 10 min and without the water bath for 10 more minutes or until it turns golden brown. Check "Tips" Section on how to prepare the water bath.

Remove from the oven and cool for 10 min on the baking sheet. Transfer the cookies to a cooling rack and cool completely.
Pin The Image Below to "Cookies" Board To Check It Out Later!
If you give this recipe a try, let us know how it turned out in our comments below and leave us a rating! Also, snap a photo and share it on Instagram. Make sure to tag @sugarspice.2020 so I can see your creations!
Disclosure: This page may contain affiliate links, which may earn me a commission, with no additional cost to you. Each of these links are referenced with the asterisk symbol * next to it, at all places it is posted.​
We are sorry that this post was not useful for you!
Let us improve this post!
Tell us how we can improve this post?