Adult Lunchable – Easy Meal Prep Ideas
Adult lunchable is a fun and healthy way to make your meals more interesting. Who said Lunchables are only for kids anyway? Use fresh ingredients to turn your boring lunch into a protein-packed meal that is perfect for the office or on the go.
PIN the image below to check out adult lunchable Ideas later!
Disclosure: This Page May Contain Affiliate Links, Which May Earn Me A Commission, With No Additional Cost To You. Each Of These Links Are Referenced With The Asterisk Symbol * Next To It, At All Places It Is Posted.
Packing lunchables for work instead of grabbing take-out is also a good way to save money and eat healthily.
You can add or remove ingredients for a snack-sized bite or a full lunch. Either way, they are easy to prep ahead, and you're going to love them. These are perfect to make lunches fun again.
What is an adult lunchable?
An adult Lunchable is essentially a bento box* or a lunch box filled with protein, vegetables, crackers, dips, fruits, etc. of your choice.
They are simple to prepare and are an excellent meal prep option. It's a fantastic concept, not just for kids but also for adults. But unlike kid's lunchables, the portions for adult lunchables are bigger.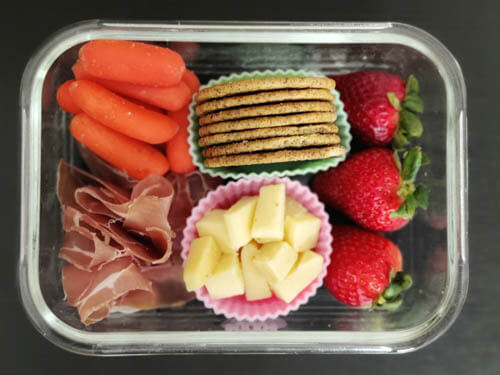 I recommend including a lot of fresh and healthy ingredients to make a balanced meal. You can tweak them as per your desires and get creative by incorporating various colors and textures into your DIY lunchable.
Why make adult lunchables?
Adult lunchables are the quickest meal prep choice.
It is also a good no-cook, cold-lunch alternative.
A good way to save money by not buying lunch at work.
Easy to customize based on allergies, food sensitivities, likes, dislikes, and even mood.
Best for people who like to graze and snack, or those who want a bit of this and a bit of that.
Makes it easy to eat a healthy, well-balanced meal.
Leftover food can be added to your lunchable. This avoids food wastage as well as reduces your prep time. Pre-cooked proteins such as chicken wings, bratwurst, rotisserie chicken, or smoked salmon can be added to the bento boxes.
Are lunchables healthy?
These lunchables for adults are the best way to get your nutrients without having to eat another salad. Unlike the pre-made option, you have complete control over what you add and how you customize it.
You can acquire a perfect balance of protein, fiber, and carbs in a box by including food that is high in protein, low in carbs, vegan or gluten-free, depending on your needs.
What to put in an adult lunchable?
You can create your lunchable based on your needs, food preferences, and sensitivities. Make it as simple or as sophisticated as you like.
Here I mentioned broad categories of food that are good to include for a balanced meal. Tweak it based on what works for you!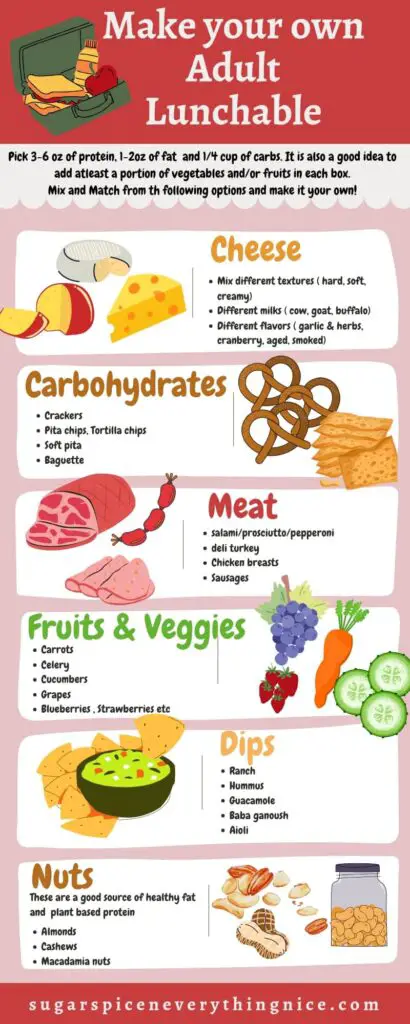 Meats
Meat is a good source of protein. It will digest slowly and will keep you full for a longer time. You can include a variety of charcuterie meat and cold cuts which are a good source of protein like ham, salami, turkey slices, prosciutto.
You can also add leftovers such as chicken wings, summer sausage, etc. Cured meat with different flavors is also a nice addition to your lunchable.
If you don't eat meat, you can skip it and opt for other sources of protein such as cheese or nuts.
Cheese
Cheese is another great source of protein. If you are like me, you can use packing lunchables as a perfect excuse to try different types of cheeses. This is definitely the best part for me!
You can add 1-2 types of cheese to make your adult lunchable. (choose ones made from different milk types and ones that have a different texture).
You can add Gouda, Havarti, cheddar, feta, or any other kind of cheese you love or the ones you want to try!
Crackers
Adding Carbohydrates to your lunchable would provide the required energy throughout the day. You can pick whole-grain alternatives* for additional fiber.
Incorporating crackers and bread would also give your adult lunchable some texture and crunch. You can add Multi-grain crackers*, Pita wedges, Tortilla chips, Pretzels, Pita chips, Rice crackers*, sliced baguette, etc.
If you are on a keto diet, feel free to choose keto crackers* instead.
Veggies, Fruits, and nuts
Adding whole foods such as vegetables and fruits to your lunchable will provide the necessary fibers, vitamins, and minerals for a balanced diet.
Veggies such as celery, baby carrots, sliced bell peppers, and sliced cucumbers are great with the dips. You can also add avocado slices, nuts, and seeds. These are good sources of healthy fat!
Fruits such as grapes, strawberries, and blueberries also go well with crackers and cheese. It is best to pick fresh fruits that are in season.
Dips
The right dips/spreads will enhance the overall flavors of your adult lunchable. Here are some delicious options – homemade ranch, hummus, guacamole, baba ganoush, cheese dip, aioli, chipotle bitchin' sauce, southwest chipotle sauce, etc.
Desserts
Desserts are also an option – because why not? You could go with some classic M&Ms or a small slice of vegan brownie or even granola bars.
Healthy adult lunchable combination ideas
The adult lunchable ideas I'm sharing here are great when you want something tasty and satisfying but don't really feel like preparing a meal.
These ideas are also good if you are looking for cold lunch ideas for work that don't need to be re-heated. Feel free to swap items you don't like for the ones you prefer.
Mediterranean bento box – Add grilled chicken, sliced cucumbers, cherry tomatoes, pita wedges, hummus, and feta cheese for a Mediterranean-style lunchable.
Aioli and Turkey bento box – Deli turkey, baby carrots, cherry tomatoes, pita chips, aioli dip, and some blueberries make a well-balanced lunch.
Vegan bento box – You can make several healthy and delicious vegan lunchables. Add in Vegan baguette, sliced avocado, tofu Gouda, mushroom pate, and some sliced kiwis.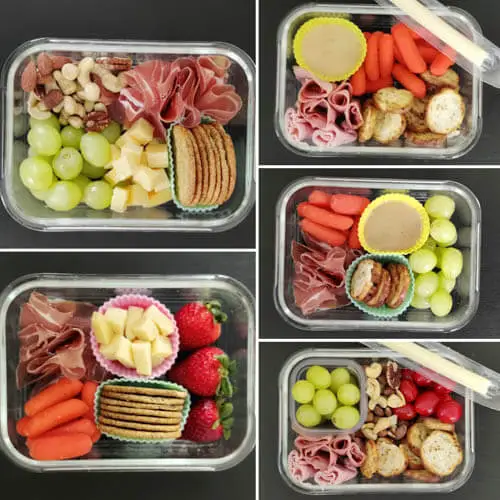 Mexican bento box -To make this bento box, add tortilla chips and kidney beans with black olives, cherry tomatoes, red bell pepper, and queso fresco along with some guacamole or salsa dip.
Keto low-carb lunchable – If you are on a keto diet, make a protein-packed lunchable with Salami or pepperoni, Havarti cheese, roasted broccoli, cherry tomatoes, and pumpkin seeds
Crackers and cheese adult lunchable (Cheeseboard lunchable) – You can even make a fancy desk lunch like a Charcuterie board bento box or Cheese plate bento box.
Add charcuterie meat such as Prosciutto, crackers, sharp cheddar cheese cubes, soft brie, almonds/cashews, grapes, carrot, and ranch. Add different kind of cheeses that have different textures to take it to the next level.
How to meal prep Adult lunchable for work?
Adult lunchables are simple to make ahead of time and will keep in the fridge longer than other prepared foods.
If you don't like different types of food touching each other, you can get containers with compartments such as this glass bento box*. I however don't have an issue with this. So I used these regular glass containers* to make my work lunchable.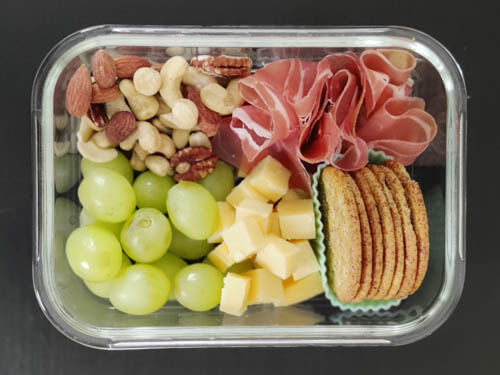 Whatever container you use, make sure they have a lid and they are large enough to pack enough food for adults.
It is best to keep dry and wet ingredients separate. This will ensure that crackers, chips, bread, etc. won't get soggy.
You can also use silicone cupcake* liners to hold crackers, sliced fruits, vegetables, nuts, or cheese in the box. It is also a good idea to pack your dips in a sealed container if you are worried about spilling them during transport!
How much of each ingredient do you need to make adult lunchable
This would vary from individual to individual. I like to pack 3-6 oz of protein, 1-2oz of fat (this includes cheese, avocado, nuts, and nut butters), and 1/4 cup of carbs. It is also a good idea to add at least a portion of vegetables and/or fruits in each box.
If you are following a keto diet, feel free to omit carbs completely. Make a low-carb lunchable instead with more meat, cheese, and veggies.
If you're a vegetarian or vegan, you could leave out the meat and add in more nuts and in-season fruits. Check out your local farmer's markets for things in season and locally produced.
Storage and make-ahead options
Most of the ingredients will stay fresh for many days in the fridge. So you can pack 3-4 lunches ahead of time in bento boxes / airtight lunch boxes and keep it in your refrigerator. This way you wouldn't have to wonder what to eat for lunch every day!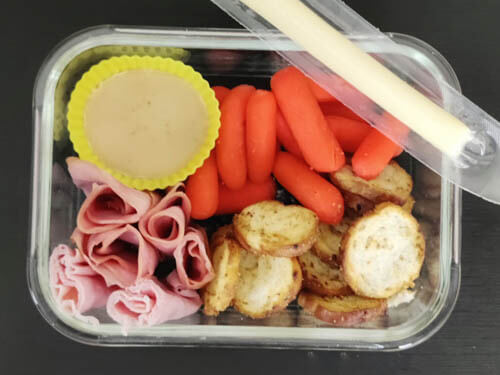 I would suggest not to keep the crackers in the fridge. Just grab them on the day of or the night before you plan to take them to work. This way the crackers will retain their crunch.
You can also do a lot of prep work ahead of time such as cut-up cheese and meats once for the week.
Commonly Asked Questions
Do lunchables make you fat?
The original lunchables, the store-bought kinds that kids ate during school lunch are usually on the unhealthy side and can lead to weight gain. If you are making your very own DIY adult lunchables, you get to make a healthy well-balanced meal as you get to choose what you put in.
How to prevent the crackers from getting soggy if making lunchables ahead of time?
You can add the crackers on the day you will be taking that particular lunchable box, It is also a good idea to keep the crackers in a separate compartment or in silicone cupcake liners, away from fruits and dips.
Did you find this post helpful ?? Leave me a star rating & comment about it or any recipe idea you would love to see. Don't forget to share with family and friends!
Join Sugar Spice Community:
Facebook Group | Pinterest | Instagram | YouTube
Looking for more recipes? Sign up for our Sugar Spice newsletter and our YouTube Channel for weekly videos. Also rate, comment and share this article!
Disclosure: This page may contain affiliate links, which may earn me a commission, with no additional cost to you. Each of these links are referenced with the asterisk symbol * next to it, at all places it is posted.
About the Author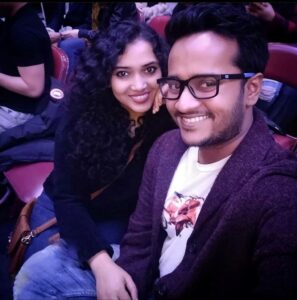 Hi! Akshita & Midhun here! Welcome to our blog where we show simple yet awesome recipes for your cravings.
Akshita being allergic to egg, we are committed to providing egg-free recipes along with some vegan friendly options. Read more about us here!
We are sorry that this post was not useful for you!
Let us improve this post!
Tell us how we can improve this post?