Mini Blueberry Galette (Vegan!)
Jump to Recipe
Jump to Video
Our first French recipe, Mini Blueberry Galette! These small-sized desserts are an easy bake if you have about 2 hours in your hands. The key part here is the way the pastry is made. The cutting of butter into the flour makes all the difference in the texture. It gives the pastry, a flaky, puffy texture and you can sooo taste the butter in it. You will see what I mean in a bit. This can be made into a variety of versions with different fruits stuffed in the centre. You can even make it savory, but that's for another time.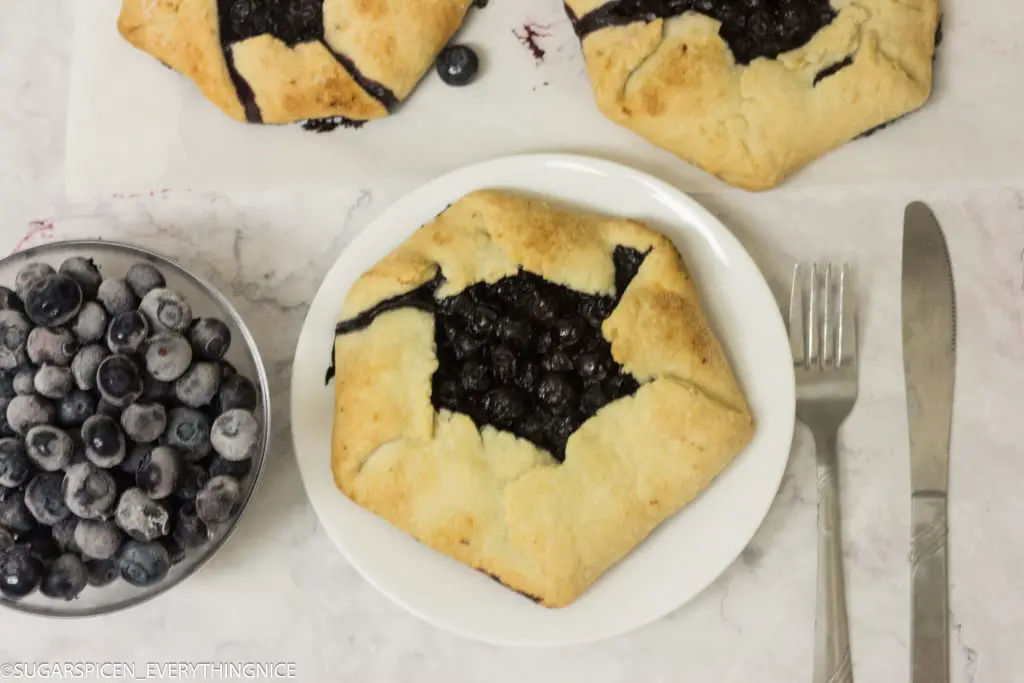 Summer is coming to a close and blueberry  season is slowing down. We recently went to Cultus Lake, BC recently for a kayaking. On our way back we stopped by a small farmers' market with the hope of picking up some fresh strawberries. Unfortunately, strawberries were out of stock but they had some freshly picked blueberries. So we ended up getting a 5 lb crate of blueberries! Why not, right! We thought maybe we could do a short series of blueberry recipes for you guys. You can check out the other blueberry recipes here : Blueberry Scones, Blueberry Topping Sauce, No Churn Blueberry Ice Cream
As always, before we get more into it, lets see the story behind galettes now, shall we?
A  Bit about Galettes
Galette, comes from Brittany in France and is a lesser known take on Italy's pizza. While traditionally made as a savoury dish, and with buckwheat flour, over the years, it has obviously and inevitably gone through changes and adaptations. A traditional galette looks like a dark brown pancake or crepe, though you might not want to call a galette, a crepe if you ever visit France. Apparently sometimes, people find it weird and take offense. In most French crêperies, savoury buckwheat flour pancakes is commonly called Galette or Breton galette.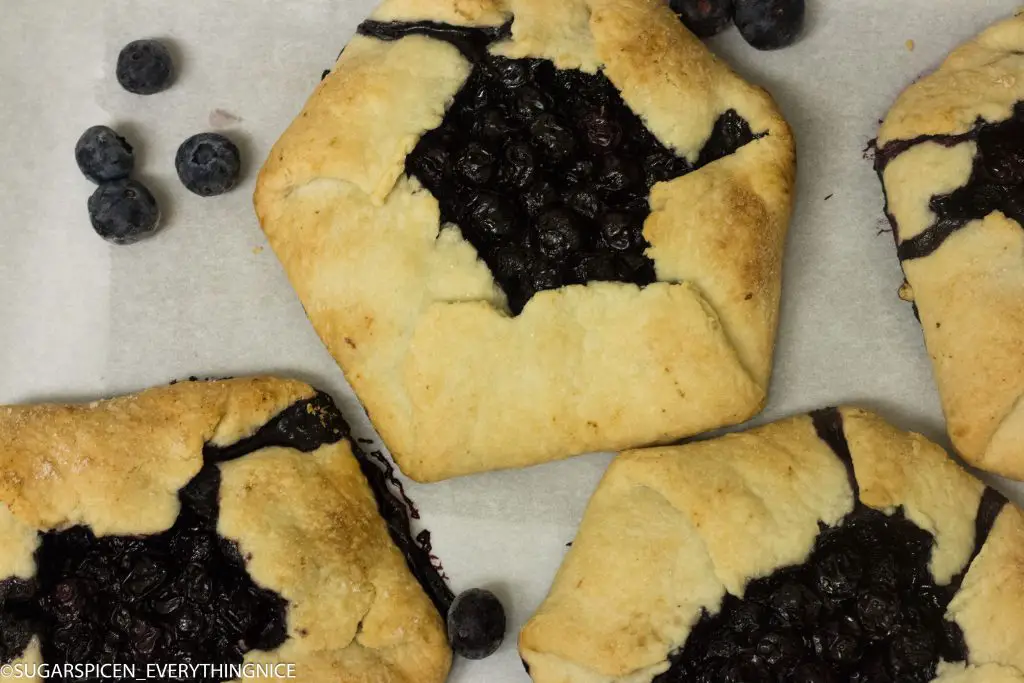 For the longest of time, galettes from buckwheat flour was a staple for the people in Brittany. To this day, buckwheat is still grown in Brittany. Though French food is usually associated with wine, galettes are accompanied by ciders, sipped from a large mug. Galettes are popularly garnished with egg, meat, cheese, veggies and other ingredients. One of the most popular ones known as galette complète, is one where the galette is covered with Emmental cheese, ham and egg. Other varieties include a sausage wrapped in a galette, similar to a hot dog. Having never tried buckwheat before, I cannot comment much on itd taste, but its very popular so I am assuming it must be pretty darn good. Hope to try someday!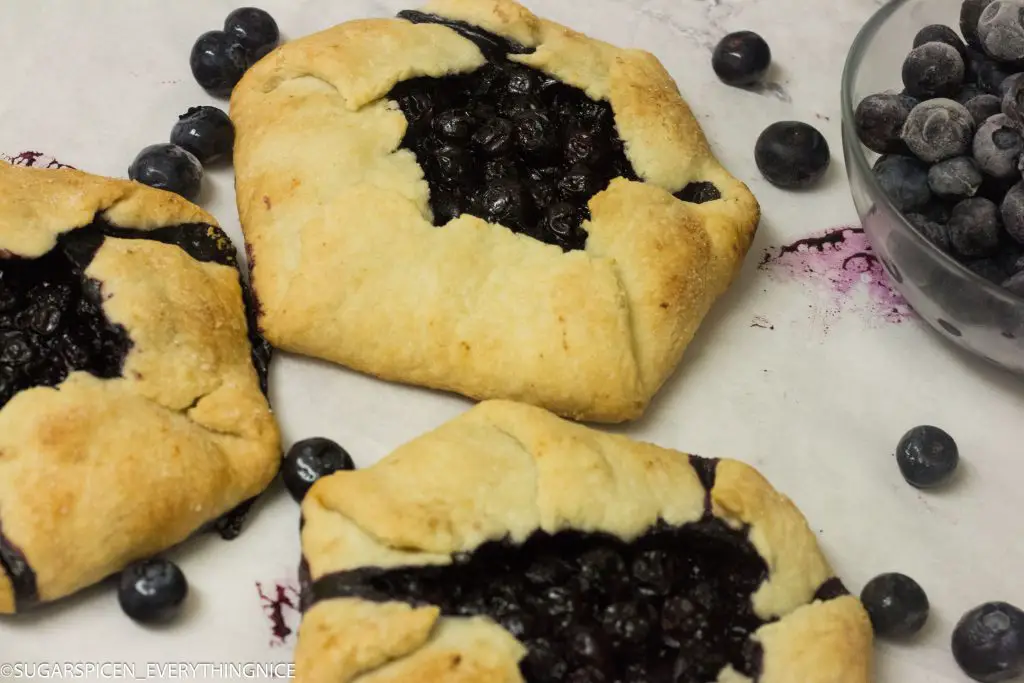 Tips for perfecting the Blueberry Galette
Cutting butter into flour: This is the first time we have tried this. This delicate process involves mixing cold chunks of butter into flour. There are few ways of cutting the butter into the flour. You can use two knives to cut the butter and mix it into the flour. Second, is to use a fork (which is what we did). Third, is to use your own hands. Now, it is very important to not use your palm while blending the butter as it might melt the butter too fast. So using your fingers should be kept as a last resort. There are other ways you can improvise this process as well. The consistency of the flour after the butter is cut in and before the water is added, should be chunky.
Temperature of the butter: The butter being cut into the flour, has to be cold. If the butter is melted before adding to the flour, then while baking the pastry would not be soft and flaky like we want it to be. It is because of this same reason that we prefer to cut butter into flour using knives or forks.
Sprinkling almond flour to the pastry before adding the blueberry is a way to ensure that some of the moisture of the blueberries are absorbed during the bake. You could try to skip this step, but sometimes the bottom gets soggy and could crack.
RELATED POSTS: Egg wash substitute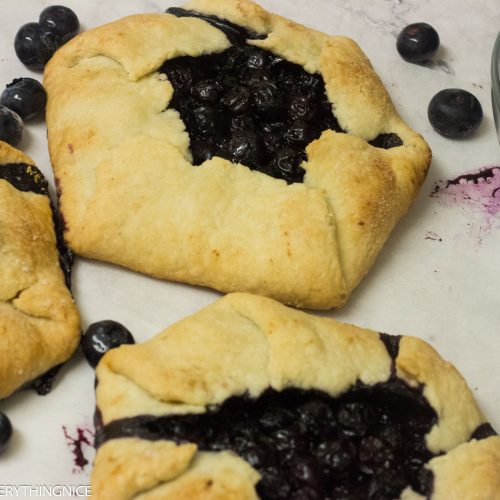 Mini Blueberry Galettes (Vegan!)
A simple vegan blueberry galette recipe – Delicious blueberry baked into a pocket of buttery pastry! These are also known as Corstata, Rustic pie or Rustic tart. Perfect for new bakers – cannot go wrong with this one.
Ingredients  
2

Cups

Unbleached all-purpose flour

1/2

Tsp

Salt

4-6

Tbsp

Ice cold water

3

Cups

Fresh or frozen blueberries

1

Tbsp

Sugar (plus more for topping)

1

Tsp

Cornstarch

4

Tbsp

Almond Flour

12

Tbsp

Vegan butter (cold)
Instructions 
Preheat oven to 400 degrees F (204 C)

In a large mixing bowl, mix the flour and salt. Cut cold butter into the flour until well blended using a pastry cutter or fork.

Add chilled water 1 Tbsp at a time until the dough comes together (as shown in video). If you add too much water, add more flour to compensate.

In the meantime, add blueberries to the bowl and toss it with sugar and cornstarch. Set it aside.

After 1h of refrigeration, transfer dough to a lightly floured surface. Then divide it into four parts to make 4 mini galettes.

Working one at a time, roll each piece of dough out into a rough circle.

Then, use the rolling pin to carefully transfer to the baking sheets by placing the rolling pin at one end of the dough and gently folding the dough over the rolling pin. Then lift, transfer, and fold the dough off of the rolling pin onto the baking sheet.

Sprinkle almond flour in the center of the rolled dough.

Then place blueberries in the center.

Next, carefully fold the crust edges up, overlapping them as you go (Check video to see how!)

Brush pies with a touch of melted vegan butter and sprinkle with sugar to ensure a golden, crisp crust.

Bake for 28-35 minutes or until the crust is golden brown and the fruit is bubbly.

Store leftovers loosely covered at room temperature up to 2-3 days, in the refrigerator up to 3-4 days, or in the freezer up to 1 month.
Pin the image below to check it out later!
Looking for more recipes? Sign up for our Sugar Spice newsletter and Follow along on Facebook, Instagram, Pinterest for updates. Remember to Subscribe to my YouTube Channel for weekly videos.
Disclosure: This page may contain affiliate links, which may earn me a commission, with no additional cost to you. Each of these links are referenced with the asterisk symbol * next to it, at all places it is posted.
About the Author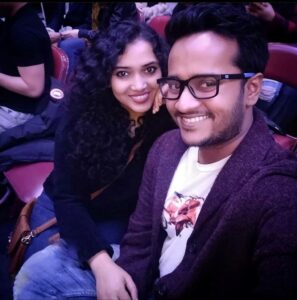 Hi! Akshita & Midhun here! Welcome to our blog where we show simple yet awesome recipes for your cravings.
Akshita being allergic to egg, we are committed to providing egg-free recipes along with some vegan friendly options. Read more about us here!
We are sorry that this post was not useful for you!
Let us improve this post!
Tell us how we can improve this post?