Strawberry Mousse Chocolate Cake
Moist fluffy chocolate cake at bottom with creamy delicious strawberry mousse on top. This is a very easy way to make mousse cake. This is a perfect dessert for any special occasion, or if you really want it, you don't need to create the excuse of an occasion. Just make it anyway! Its way too easy and all you need are simple ingredients and a 3″ to 4″ cake pan or ring.
Disclosure: This Page May Contain Affiliate Links, Which May Earn Me A Commission, With No Additional Cost To You. Each Of These Links Are Referenced With The Asterisk Symbol * Next To It, At All Places It Is Posted.
Mousse is a soft prepared dessert. It incorporates quite a bit of air in it by fluffing using an electric beater or whisk. Depending on the preparation technique, you can make it creamy and served inside a cup or fluffy and more stable form like a cake. To get the cake form, you use gelatin powder in the recipe which is what we did.
We noticed that you guys like it when we put a bit of creative spin on our decors. So we got some melted dark chocolate, put in a sandwich bag and piped out some designs. Luckily few of them came out pretty decent.
If you like these, check out another one of our bite sized dessert : Cheesecake In A Jar. You can check out another strawberry dessert idea here: Strawberry Topping Sauce.
Tips To Perfect This Recipe
While baking the chocolate cake, lay out the batter to 1/4 inch thickness. You want the right proportion of chocolate cake to mousse, with around 1/3 of cake and rest of mousse.
If you do not have a steel cake ring, you can use a cake pan and knife to cut out the individual circular cakes
Cool the cake down completely before adding the mousse on top.
Make sure to soften the cream cheese to room temp before using it to make mousse.
Check out some of our other cake & cupcake recipes: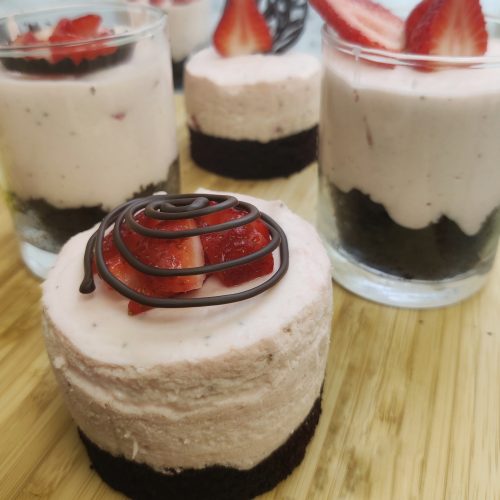 Strawberry Mousse Chocolate Cake
This perfect miniature, make ahead dessert couldn't be easier to whip up! Impress everyone with the rich and creamy strawberry mousse over bite sized chocolate cake
Equipment
Steel cake ring - 3" to 4"
Ingredients  
Strawberry Mousse
1

cup

Sweetened condensed milk

3

cup

Strawberries

2

cup

Heavy Cream

1/2

cup

Granulated sugar

12

ounces

Whipped cream cheese

At room temperature

1

cup

Diced strawberries

3

cup

Strawberries

1/2

ounce

Unflavored gelatin

1/4

cup

Water
Instructions 
Chocolate Cake
Preheat the oven to 350 F

In a large bowl, sieve all dry ingredients except the sugar and mix well

On a separate bowl, add vinegar and almond milk and let is sit for 10 minutes

Then add sugar to the vinegar mix and whip it till the sugar dissolves

Now, add the wet ingredients to the dry ingredients and mix using a spatula, whisk or electric beater until you get a smooth batter with little or no lumps

Line a baking tray (around 8 inches wide) with parchment paper. Pour the batter in and spread it to around 1/4 inch thickness

Bake at 350 F for 30 minutes or until a toothpick inserted comes out clean

Let the cake cool to room temperature
Strawberry Mousse
Add the 3 cups of strawberries and the condensed milk into a blender and run in puree mode till all the strawberries are blended in well.

In a medium bowl, add in the heavy cream and sugar and whip using an electric beater till you get it fluffy and forms peaks.

Add the softened cream cheese into the mix and whip again till blended in

Fold in the strawberry puree from before, until everything is combined well

At this point, add in the diced cup of strawberries and fold them in till evenly distributed

In a small sauce pan, add gelatin and 1/4 cup of water and mix on medium heat till the gelatin is dissolved completely.

Add the gelatin mix to the prepared strawberry mousse mix. Stir till well combined.
Assembly
Once the cake is cooled, cut out circular pieces using the cake ring ( as shown in the video)

Cut out a thin strip of parchment paper, approx 3 inch wide and long enough to cover the circumference of the ring.

Place this cut parchment along the inside wall of the ring. Then place the whole assembly over the circular cake making sure that the sheet tucks gently in between the ring and the cake.

Pour mousse over the assembled cake. Fill it almost to the brim of the parchment paper.

Refrigerate for 1-2h until the mousse is set.

Once set, remove the ring gently. Then peel off the parchment paper.

Decorate with strawberries and chocolate. This is ready to be served!
If you give this recipe a try, let us know how it turned out in our comments below and leave us a rating! Also, snap a photo and share it on Instagram. Make sure to tag @sugarspice.2020 so I can see your creations!
If You Found This Post Useful, PIN The Image Below To Check It Out Later!
Disclosure: This page may contain affiliate links, which may earn me a commission, with no additional cost to you. Each of these links are referenced with the asterisk symbol * next to it, at all places it is posted.
We are sorry that this post was not useful for you!
Let us improve this post!
Tell us how we can improve this post?