Chocolate Peanut Butter Bon Bons
Peanut butter bon bons are so easy to make that even your children can make them alone. You can make them year round or as a special no-bake, easy treat for a Christmas party!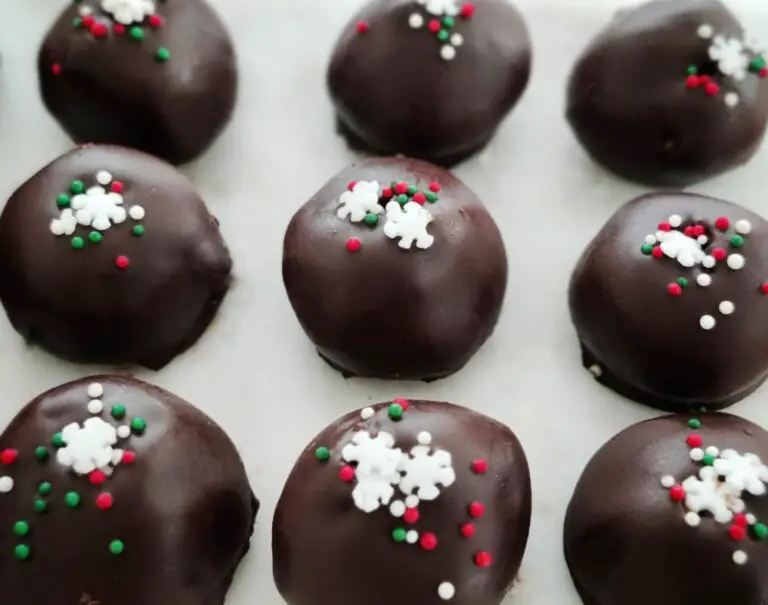 Disclosure: This Page May Contain Affiliate Links, Which May Earn Me A Commission, With No Additional Cost To You. Each Of These Links Are Referenced With The Asterisk Symbol * Next To It, At All Places It Is Posted.
If you like Reese's peanut butter cup as much as I do, you will definitely love this easy recipe.
 These candies are as soft as oreo truffles and as irresistible as peanut butter cups!
Bon bons have been around for centuries. They are a small confection with an outer chocolate shell with a center made of peanut butter, fruits, nuts or caramel. 
Though they first originated in France, you don't have to go all the way there for these bliss balls.
All it takes to make this simple recipe are some easily available ingredients and little less than an hour of your time.
Read on to know how to make these amazing chocolate peanut butter bon bons. Follow all my tips for dipping into chocolate and use the video tutorial as your guide.
Looking for more festive holiday treats? Try our easy Vegan Cranberry Orange Bread and delicious Vegan Cinnamon Rolls!
Full Recipe Ingredients/Instructions are available in the recipe card at the bottom of the post. You can find important tips/tricks in the blog post.
Get New Recipes Every Week Directly in your Inbox!
What's inside a bon bon?
The outer coating of a bon bon is always chocolate but you can decide what goes inside. 
In France, its common to add fruits in the center of bon bons. You could also add buttercream, noughat, peanut butter, coconut or any other flavors that you like! 
Now doesn't that sound like something you would enjoy! 
Difference between truffle, bon bons and buckeyes
Truffles are round balls of chocolate mixed with other flavors. They can be covered with something simple as cocoa powder* or chopped nuts. 
Bon bons on the other hand can be found in a variety of shapes, including round and their centers can be made of any number of flavors.
Moving over to buckeyes, these are typically an American treat that are made only with peanut butter and chocolate. These peanut butter balls are only partially dipped in chocolate so they resemble nuts from a buckeye tree.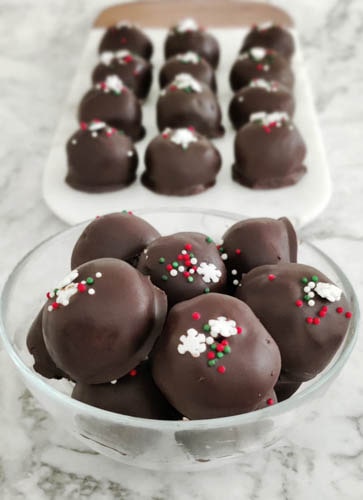 An easy way to differentiate between a truffle, bon bon and buckeye balls- if the center of this confection has chocolate, it's a truffle. 
If the center is made with peanut butter and has a chocolate covering and it resembles a the buckeye nut, it's a buckeye. 
If the outer covering is chocolate but the inner filling is anything but chocolate, you have got yourself a bon bon!
Flavor and Recipe Variation
As we have mentioned before, there is really no limit to what kind of combinations you can make for bon bons. 
Fill it with sea salt caramel, marzipan, peanut butter, vanilla custard, raspberry, Irish coffee or cinnamon.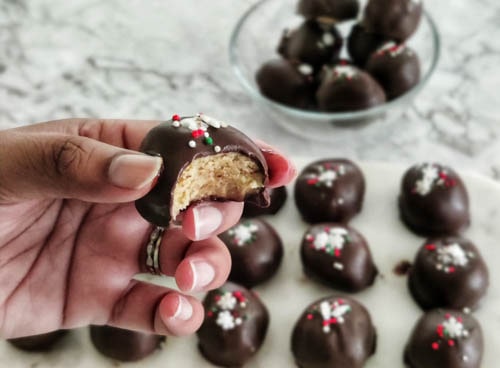 You can also try a mix of fillings, like how we are mixing peanut butter and crispy rice cereal in this chocolate peanut butter balls recipe.
For the outside, you can use dark or milk chocolate and add different flavored drizzles, crushed nuts, sprinkles etc on the top. You are only limited by your imagination!
Ingredients and Alternatives
Here are the handful of ingredients that are used for making bon bons along with options for their substitute options.
Butter – We used vegan salted butter. You can go for salted or unsalted butter – there is no need to compensate for salt in case you use unsalted ones. 
You can also use regular butter in place of its vegan counterpart.
Rice Crispy : Get any sweet rice crispy cereal brands. We used 1.5 cups Rice Krispies by Kellogs*, crushed.
You can pulse it few times in a food processor* or you can add the rice crispy in a large freezer bag and roll it with a rolling pin* to crush it. You could also use graham cracker crumbs in its place.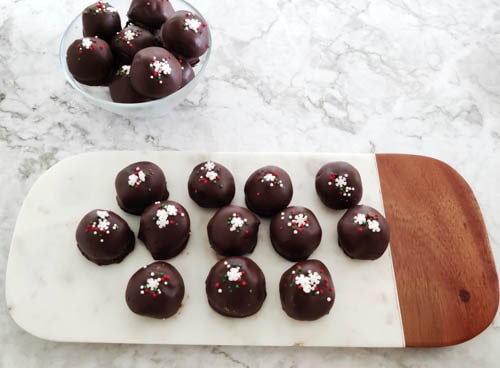 Semi-sweet Chocolate Chips: You can also use white, milk or dark chocolate chips. Depending on the type of chocolate you use, you might have to adjust the sugar in the bon bons.
Peanut butter: We used the smooth peanut butter. If you want a bit more crunch, you can use the crunchy peanut butter instead but it might be harder to roll them into smooth balls
Powdered sugar : This is also known as confectioners sugar. It binds everything together and adds sweetness.
How to make the perfect peanut butter bon bons
Make the filling
Heat up a small saucepan* on low heat. Add in the butter and the creamy peanut butter and stir till everything is melted. Make sure not to burn them, so its essential to keep the heat low.
You should end up with a smooth silky liquid. Take it off the heat.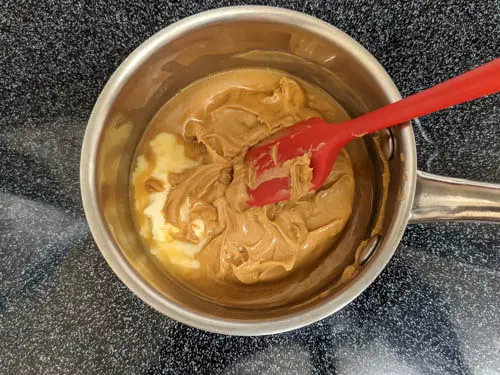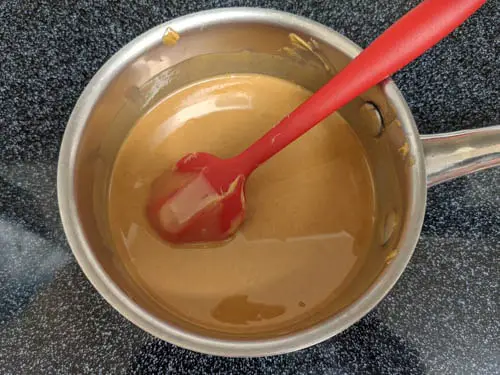 In a separate large mixing bowl, add in the crushed rice crispy and confectioners' sugar and whisk till everything is mixed.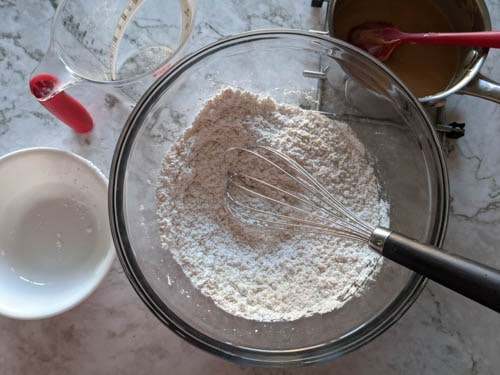 Add in the peanut butter mix over the rice crispy mix. If the melted peanut butter mixture cools down to room temperature, it might thicken up too much so warm it up just a little bit, before pouring, so that it loosens up.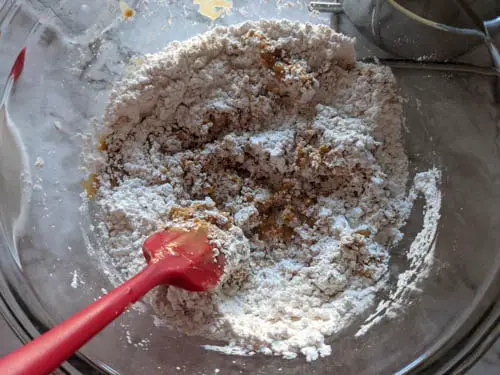 Use a wooden spoon*, rubber spatula* or your hands to mix everything evenly. The ideal texture is one where the mix is not too wet that it sticks to your hand. 
If it feels too wet, add some more confectioners' sugar to it and mix again. On the other hand, if it looks too dry, add more peanut butter & butter mixture.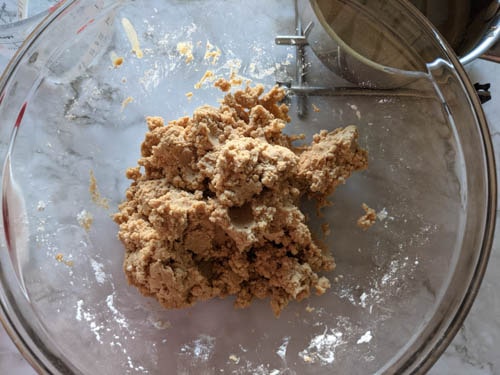 Refrigerate
Refrigerate the whole mix for 10 to 15 minutes. The refrigeration really helps firm up the mix so that its easier to roll in your palm.
Roll into balls
Use a tablespoon scoop or a small cookie scoop* and roll it into small balls.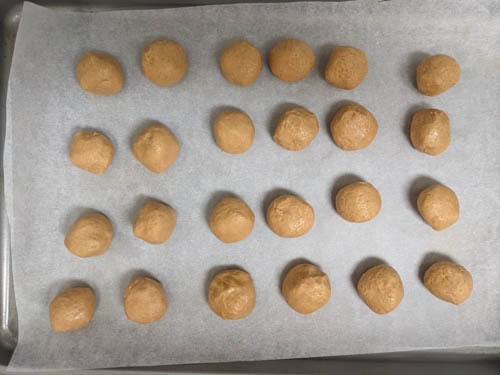 Refrigerate
Put the rolled up peanut butter rice crispy balls back on d roll it into small balls. the tray and refrigerate for 1 hour or up to a day.
Dip in Chocolate
Melt chocolate chips in a microwave (heat in a microwave-safe bowl for 30 seconds, mix it. 
Then repeat with 10 seconds till its melted thoroughly) or double broiler* (heat the bowl of chocolate by keeping on a pan of hot water).
Take each of the chilled balls and coat it with the melted chocolate ( check how to below). Add some sprinkles on top, though this is optional.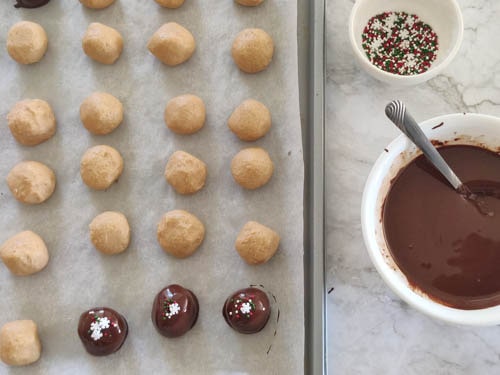 Let Chocolate Set
Refrigerate the dipped peanut butter bonbons for 30 minutes or until chocolate has completely set.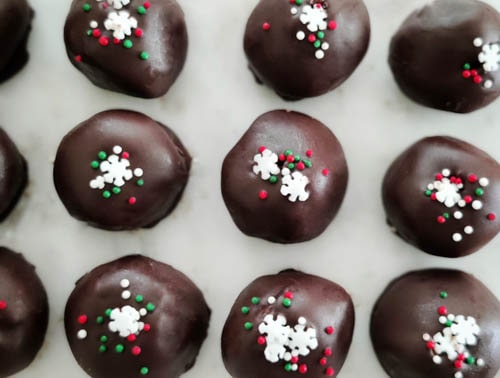 Peanut Butter Bon bons video tutorial
Also check out our other easy no bake recipes that your kids will love :
Dipping Peanut Butter Bon Bons in chocolate
Use a fork or toothpick* to dip the bon bons in the melted chocolate and make sure to cover all the surface with it. Then flip it upside down and place it on the baking sheet. 
The peanut balls should slide off the tooth pick easily onto the cookie sheets. You can see how I do it in the video above.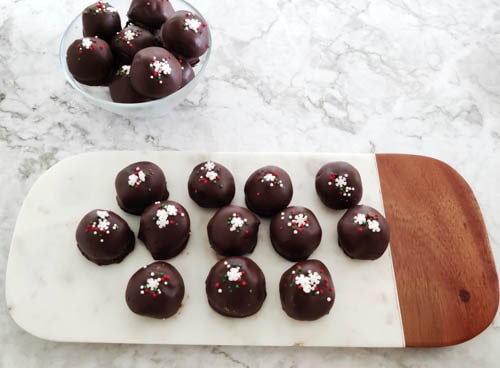 Storing Peanut Butter Bon bons
You can start this recipe 1 day ahead of time. The shaped peanut butter balls can be chilled in the refrigerator for up to 1 day prior to coating. 
To retain the best taste and texture, store bon bons in a cool dry place. Ideal temperature should be between 60 to 70F (15 to 20 C). 
Store in an airtight container and ideally without them touching each other. Wrap them individually in parchment paper or aluminum. 
If you want to store up to a month, then refrigerate it an airtight container. Freeze them for in zip-lock bags for up to 4 months. 
lOVE HOLIDAY BAKING??
If you love holiday baking as much as I do, you will love these recipes –
Get New Recipes Every Week Directly in your Inbox!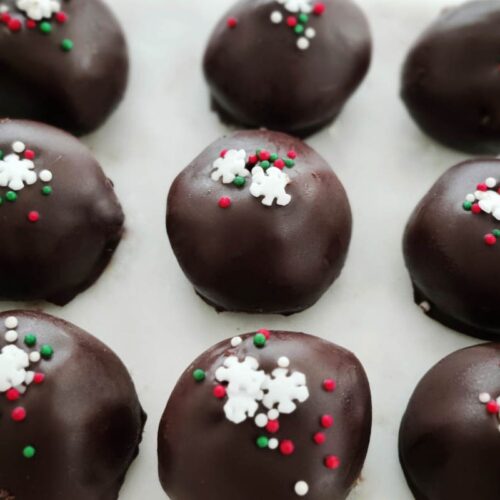 Peanut Butter Bon Bons
Delicious peanut butter bon bons with the crunch of rice crispy and covered in rich chocolate, this makes up for an awesome Christmas delight
Ingredients  
1

cup

Creamy Sweetened peanut butter

1

cup

Confectioners' Sugar

(powdered sugar)

1/4

cup

Unsalted vegan butter

(or regular unsalted butter)

1 1/2

cup

Crushed rice crispy*

1 1/2

cup

Semi-sweet chocolate chips

(150 g)
Instructions 
Making the peanut butter rice crispy balls
In a small saucepan, melt peanut butter and butter on low heat and mix well.

Take it off heat once you get a smooth silky texture

In a large bowl, add the rice crisps and confectioners' sugar and mix

Pour in the peanut butter mix while it is still warm

Mix with a spatula or your hands till everything mixed well

If the mix is too wet, add more confectioners' sugar. If its too dry, pour in more peanut butter + butter mix.

Once mixed thoroughly, refrigerate for 15 minutes

Line a baking tray with parchment paper.

Take off a 1 inch scoop (or a small cookie scoop) from the mix

Roll into balls and put back on the tray and refrigerate for 1 hour or up to a day (if you want to make ahead)
Chocolate Coating
In a small bowl, melt the chocolate. You can also use a double broiler to do this.

Take each of the peanut butter + rice crispy balls and coat with the melted chocolate

Place back on the tray. Add sprinkles on top for decor

Refrigerate for at least 30 minutes or till the chocolate is set
Did you find this recipe helpful ?? Leave me a star rating & comment about it or any recipe idea you would love to see. Don't forget to share with family and friends!
Tips and Tricks
If dipping chocolate is too thick, add 1 tsp of vegetable or coconut oil to thin it. Add more oil (1 tsp at a time) if the chocolate is still too thick.
Adding little bit of oil also adds a nice shine and gives a smooth finish to the bon bons.
If the chocolate keeps hardening before you are done coating, reheat in the microwave for 10 seconds and work quickly!
If You Found This Post Useful, PIN The Image Below To " Holiday Baking" Board & Check It Out Later!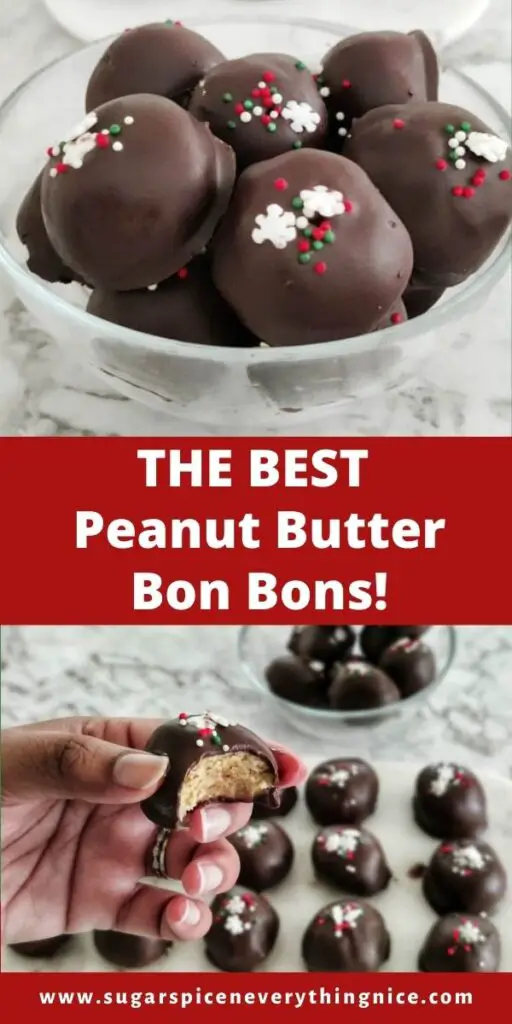 Looking for more recipes? Sign up for our Sugar Spice newsletter and Follow along on Facebook, Instagram, Pinterest for updates. Remember to Subscribe to my YouTube Channel for weekly videos.
Disclosure: This page may contain affiliate links, which may earn me a commission, with no additional cost to you. Each of these links are referenced with the asterisk symbol * next to it, at all places it is posted.
About the Author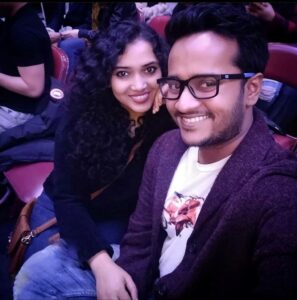 Hi! Akshita & Midhun here! Welcome to our blog where we show simple yet awesome recipes for your cravings.
Akshita being allergic to egg, we are committed to providing egg-free recipes along with some vegan friendly options. Read more about us here!
We are sorry that this post was not useful for you!
Let us improve this post!
Tell us how we can improve this post?