Easiest Lemon Bars
Jump to Recipe
Jump to Video
After trying out Lemon Loaf from Starbucks once, we were kinda snooping around for a lemon dessert to share with everyone. That's how we decided to try making Lemon Bars! Although we had never tried them before, the pictures looked delicious enough to nudge us into giving it a shot. Glad we did! It was easy to make and turned out pretty good.
We are not used to having much prominent lemony flavors in our desserts, so the experience was kinda new. The sour kick of lemon hits you first, then the sugar and the crispy bite of the base. 
A bit about Lemon Bars
Call'em squares or bars, these treats are awesome year around and you can see them featured in bakeries and coffee shops. The history of lemon bars itself does not go as much way back as it has been for our other recipes. That being said, the main ingredients were used a lot during the Renaissance period. Lemons have historically been used for flavoring savory dishes as well as the main ingredient that goes into cheesecakes, custards and baked goods. Lemon custard was a popular dessert during this time as well and shortbread/cookie crumb base recipes were developed recently.
Now, even though the key components of the lemon bars were popular during the Renaissance, its assembly into a 3 layered dessert did not occur until the 20th century. Whoever came up with the idea of assembling and making this 3 layered dessert, his/her name never got put down in history. American cookbooks at the time featured date bars as the earliest examples of squares or bar cookies. So there's a good chance that these might have evolved from earlier bar desserts such as brownies.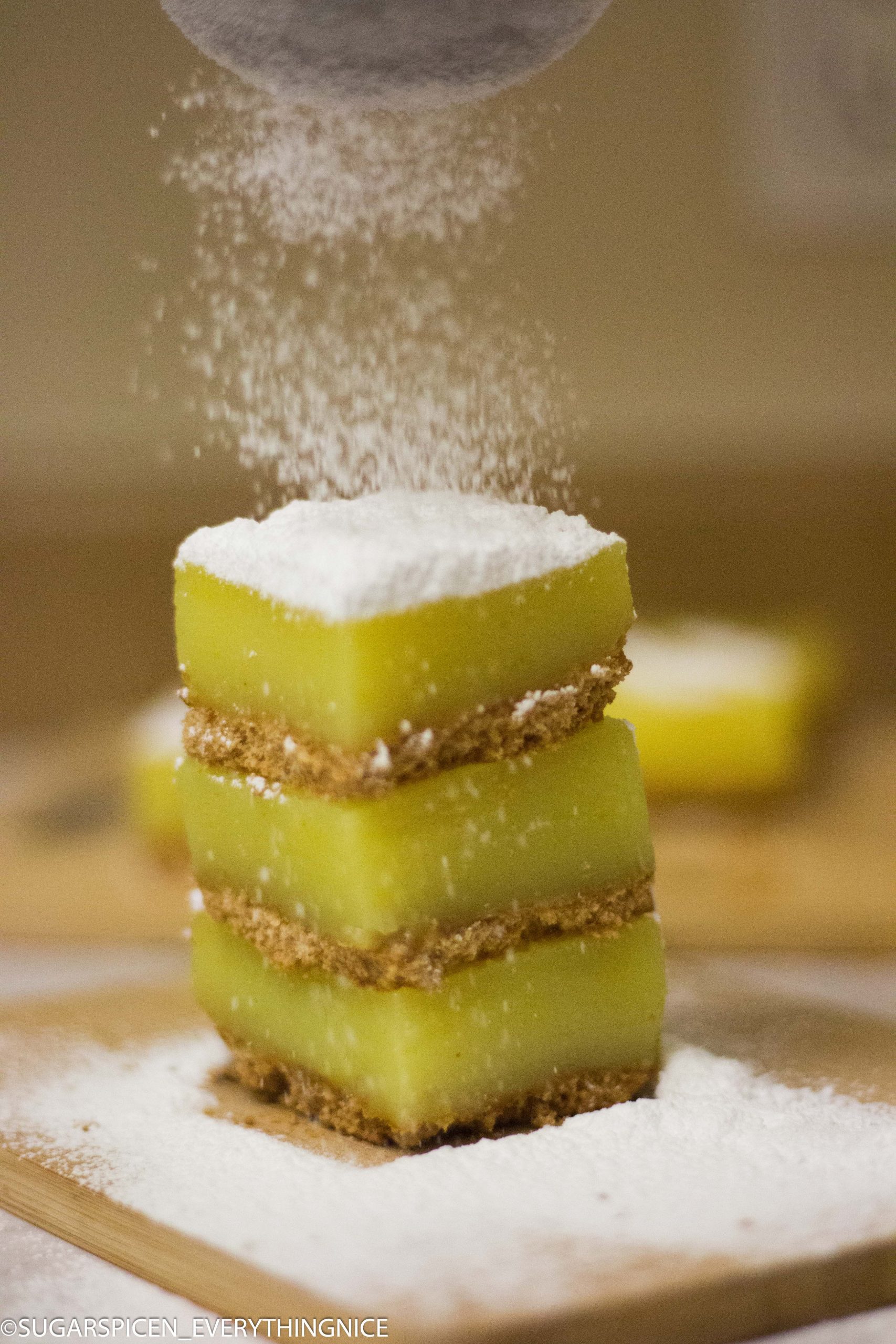 As they gained in popularity, variations led to new recipes, such as peanut butter bars, chocolate coconut bars, chocolate cheesecake bars, toffee bars, pineapple bars, almond bars, apple bars, and the seven-layer bar. So here we are with one of those variations…..our awesome Lemon Bars. Try out our recipe and see how it comes out for you!!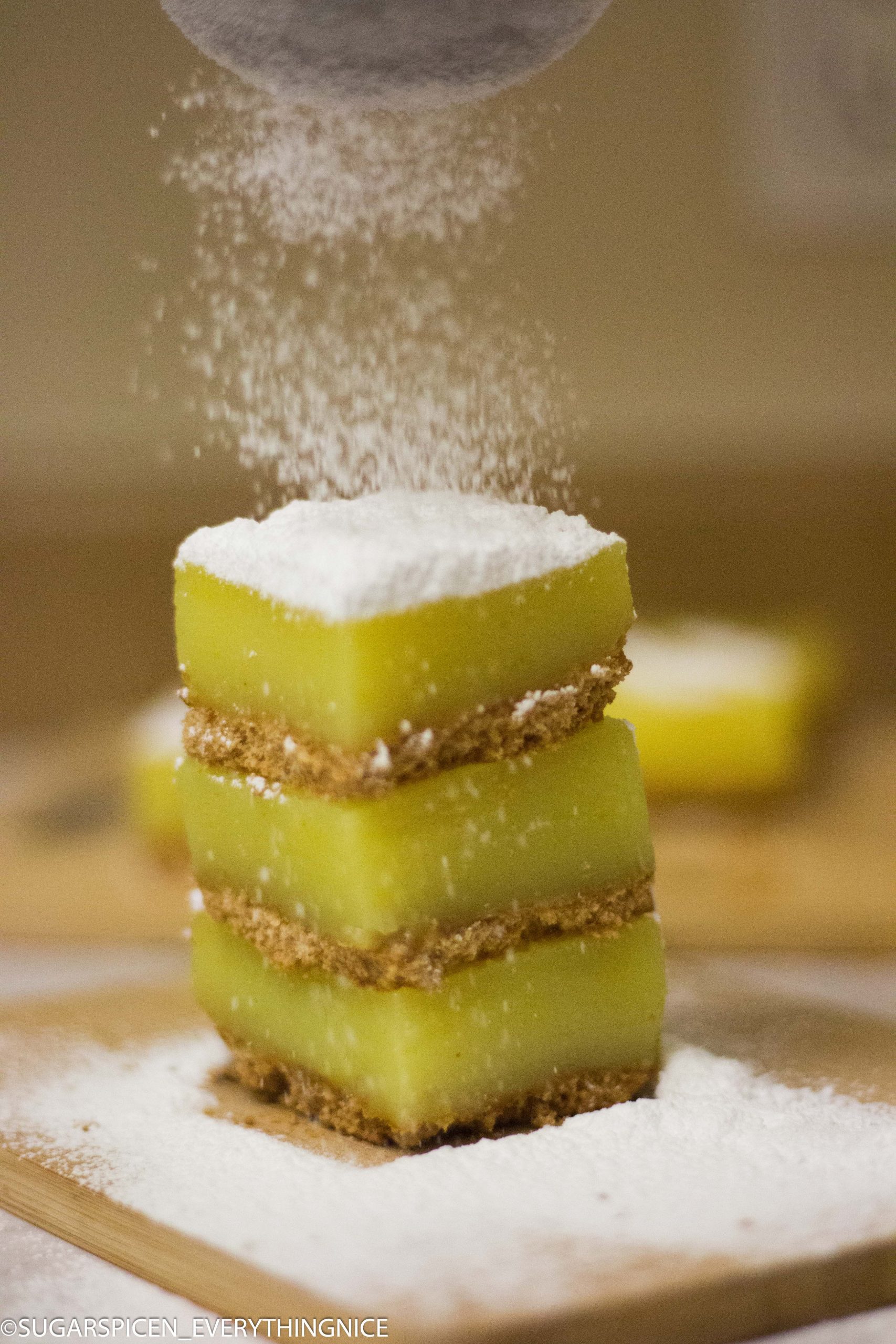 Easiest Lemon Bars
Easy Lemon Bars – These tangy bars are quick, easy and oh so delicious! Its made with a buttery crust and tangy lemon filling.
Ingredients  
150

g

Digestive biscuits

75

ml

Melted Vegan Butter

¾

cup

Lemon squeeze

6

tbsp

Corn flour

1/4

tsp

Turmeric

2

tsp

Lemon zest

1 ½

cup

Granulated sugar

1 ¼

cup

Almond Milk

Powdered sugar for dusting
Instructions 
Crush the digestive biscuits to crumbs using a food processor or by putting them in a sandwich bag and running a rolling pin over it.

Add the melted butter to the crumbs and mix till combined.

Line parchment paper on a baking tray or any oven-safe container and grease the insides with melted butter.

Add in the crumb mix to the bottom of the container and press it down with the palm of your hands.

In a saucepan, add lemon squeeze, granulated sugar, lemon zest, corn flour, milk and turmeric.

Put on medium heat and keep stirring continuously. The mix will start to thicken slowly.

When it reaches the consistency as seen in the video, take it off heat and spread it over the prepared base evenly.

Bake at 350F for 15 minutes.

Once baked, cool it over a wire rack for 30 minutes. Refrigerate for at least 2 hours or overnight.

Carefully remove the parchment paper from the lemon block. Cut it into small squares or bars.

Dust them generously with powdered sugar or get creative and try out some patterns!
PIN the photo below to " Dessert Bars " Board to check it out later!
Disclosure: This page may contain affiliate links, which may earn me a commission, with no additional cost to you. Each of these links are referenced with the asterisk symbol * next to it, at all places it is posted.
About the Author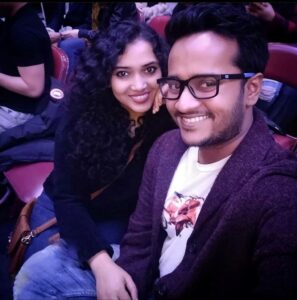 Hi! Akshita & Midhun here! Welcome to our blog where we show simple yet awesome recipes for your cravings.
Akshita being allergic to egg, we are committed to providing egg-free recipes along with some vegan friendly options. Read more about us here!
We are sorry that this post was not useful for you!
Let us improve this post!
Tell us how we can improve this post?