The Best Custard Fruit Tart
Crispy buttery tart crust filled with creamy custard and topped with cranberry jelly and sliced up fruits. An awesome dish to complete your dinner with. Tart is basically a baked dish with some form of a filling laid over a pastry (usually a short-crust pastry). The filling can be either sweet or savory. Nowadays fruit-based tart or one that is topped with fruits are more popular
Disclosure: This page may contain affiliate links, which may earn me a commission, with no additional cost to you. Each of these links are referenced with the asterisk symbol * next to it, at all places it is posted.
The history of tarts go way back. There are two theories, or lets call them stories, about how tart came into history. One is that tarts are the result of people stacking up different kinds of food, one on top of the other, notably round, flat pieces of bread.
The second theory is that tarts come from medieval pie-making tradition, and are a type of flat, open-faced pie. This sounds closer to the idea of a tart since the shape and technique is very similar. For me personally, the two theories seem to have an overlap. To begin with, pies themselves are a sort of food stacked on other food, mostly with the top covered with pastry. Combine this with removing the top pastry cover off, Voila! A tart!
The difference between pies and tarts come from the fact that while pies were the common man's way of recycling left-overs for later consumption, tarts were meant for high cuisine. Tarts were made not for their taste, but for their looks, as a way for a cook to portray art through edible foods.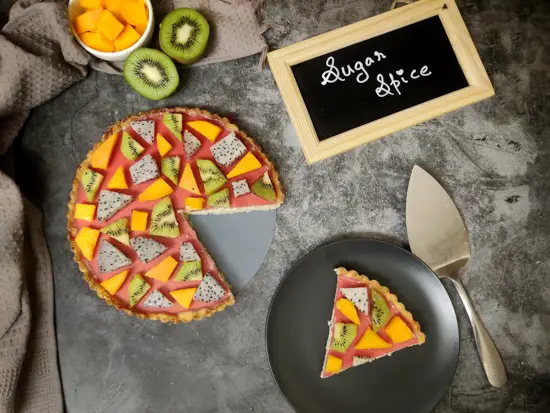 Tips To Perfect Your Tart
Cutting the butter into the flour needs to be done very methodically. Use only cold butter right out of the refrigerator. Cut the butter into the flour as small chunks and it is important that the butter does not melt during the cutting process. You can use a cutter, like we used, to cut the butter. If you don't have one, then you can use two knives, or a fork. You can always use your fingers as a last resort but you have to be very careful not to let you palm come in touch with the butter since it will cause the butter to start melting soon. More recipes that use this technique : Blueberry Scones, Cheddar & Chives Scones, Mini Blueberry Galette (Vegan!)
While rolling out the dough for the tart crust, roll it thin to about 1/8th inch. If its to thick, then you end up with a higher portion of crust, and thin layer of custard. Ideally you want crust to be the thinnest layer.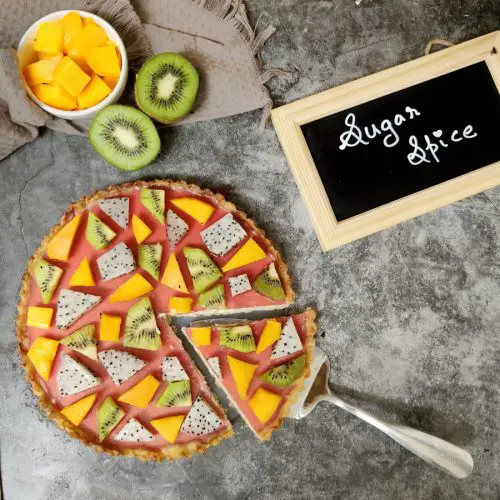 The Best Custard Fruit Tart
Crispy buttery tart crust filled with creamy custard and topped with cranberry jelly and sliced up fruits, to complete your dinner perfectly.
Ingredients  
Tart Crust
2

cup

All purpose flour

¼

cup

Granulated sugar

½

tsp

Salt

½

cup

Butter

Cut into small 1 inch cubes

5

tbsp

Cold water

2

tbsp

Heavy cream
Custard Filling
2

tbsp

Milk

7

g

Unflavored Gelatin

1 ¾

cup

Heavy cream + 2 tbsp

½

cup

Sugar

1 ½

tsp

Pure Vanilla Extract
Cranberry Jelly
1

cup

Cranberry Juice

3.5

g

Unflavored Gelatin
Instructions 
Tart Crust
Preheat oven to 400 F (200C)

Add flour, sugar and salt into a large bowl. Whisk together till mixed.

Add the cold butter and cold water. Cut the butter into the flour. When its done, the butter should have been mixed in as small chunks and mixed well with the flour.

At this point, use your hands to mix the dough and knead until a smooth dough is formed.

Mold t.he dough into a disk and wrap it in plastic wrapper and keep it in the refrigerator for 30 min.

Then place the dough on a parchment paper.

Roll out the dough into ¼ inch thickness (as shown in the video) and move it to a 9 inch tart pan. Press the bottom and sides firmly to form an even tart shell.

Prick the tart crust with a fork. Then line the crust with parchment paper and top with pie weights (use uncooked rice, beans or chickpeas).

Bake for 15min. Remove from tart from the oven and carefully remove the weights as shown in the video.

Brush the edges of the tart with a mixture of heavy cream and turmeric.

Return the tart to oven and bake for another 10 min.

Let the crust cool completely before adding the filling
Custard Filling
Stir together the milk and gelatin, in a small bowl. Leave it aside.

In a saucepan, stir sugar and heavy cream together. Bring the mix to a full boil on medium heat. Keep an eye on the mix as heavy cream will rise up the pan and might spill over.

Now add in the gelatin – milk mix and stir continuously. Once dissolved, keep stirring for an additional 1 min, then remove from the heat.

Stir in the vanilla extract.

Pour it into a cooled tart shell.

Refrigerate for 1-2h till the filling has set.
Jelly Topping
Pour cranberry juice or any other fruit juice in a saucepan.

Add 3.5g of Gelatin. Stir continuously and bring it to a boil.

Cool slightly and pour it over the set custard layer.

Place tart in fridge for 2 h to set.

Remove the tart from the pan by gently pressing against the removable bottom.
Pin The Image Below To Check It Out Later!
If you give this recipe a try, let us know how it turned out in our comments below and leave us a rating! Also, snap a photo and share it on Instagram. Make sure to tag @sugarspice.2020 so I can see your creations!
Disclosure: This page may contain affiliate links, which may earn me a commission, with no additional cost to you. Each of these links are referenced with the asterisk symbol * next to it, at all places it is posted.​
We are sorry that this post was not useful for you!
Let us improve this post!
Tell us how we can improve this post?