11 Ways to reheat frozen tamales – The ultimate guide
If you are a fan of Mexican cuisine and authentic Mexican spices, I am sure you love tamales – homemade tamales as well as store bought ones. In this post I will tell you all the different ways to reheat frozen tamales in a way that's quick and leaves them fresh!
PIN the image below to your to read it later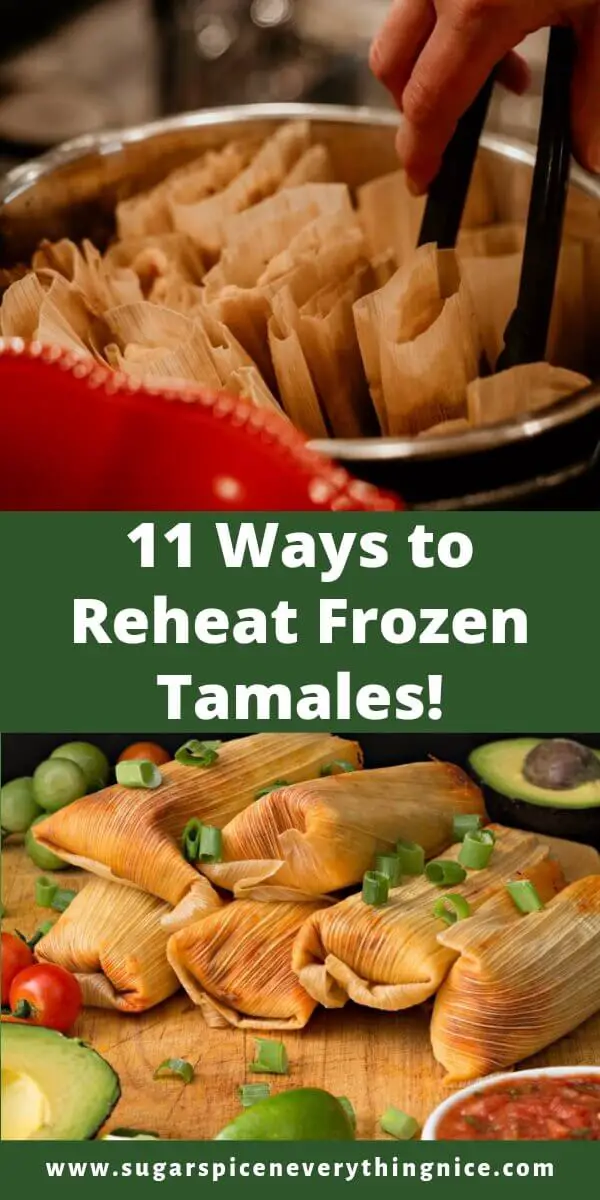 Disclosure: This Page May Contain Affiliate Links, Which May Earn Me A Commission, With No Additional Cost To You. Each Of These Links Are Referenced With The Asterisk Symbol * Next To It, At All Places It Is Posted.
Tamales are corn dough packets that are stuffed with either sweet or savory filling. This crumbly delicacy is wrapped and cooked in corn husks or banana leaves. They almost tastes like the steamier version of corn cake. 
You can make either sweet or savory tamales. Some of the most popular ones are burnt strawberry, steamed pork, crispy baked or fried pork tamales, chicken and cheese etc.
This is a perfect dish to make for a whole family. You could even make large batches of tamales and freeze them. These tamales can then be easily reheated for a delicious and quick meal.
Preparing frozen tamales for reheating
You can reheat the frozen tamales straight out of the freezer using the methods mentioned below. But they will heat up much faster if you thaw them first.
I would recommend thawing them in the fridge, without removing the outer corn husk or banana leaf wrapping. This will help to hold in the moisture and prevent the tamales from drying out and getting hard and crusty.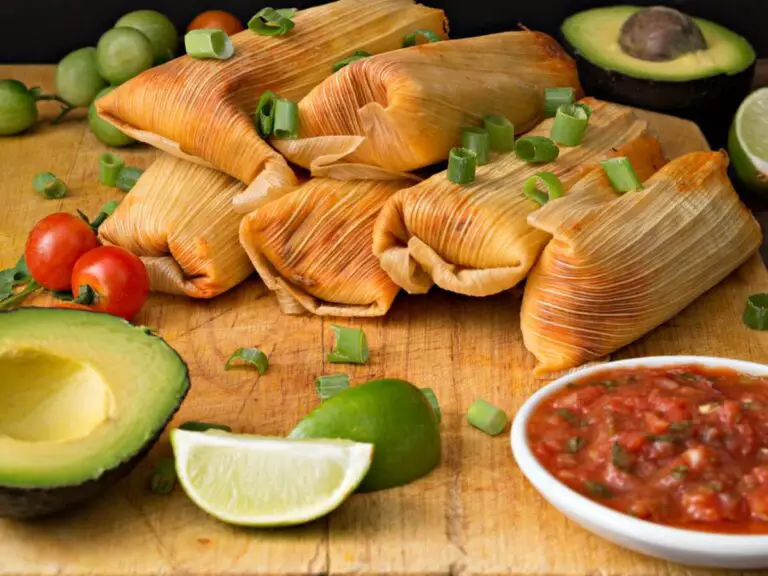 If water is being used to reheat them, make sure to not let the tamales sit directly in it so that they don't get mushy.
How to cook frozen tamales
There are various ways to cook or reheat frozen tamales. Steaming is the best way to cook or reheat a large batch of frozen tamales. But if you are looking to heat couple of them for a quick but delicious lunch, heating tamales in a microwave would be the best option.
Let us look at all the different ways to cook frozen tamales. Please note that the methods mentioned here are best suited for pre-cooked frozen tamales and not uncooked tamales. 
For each of these methods I would recommend checking the internal temp to check if they are thoroughly heated in the center.
1. Steam Frozen Tamales over Stovetop
Traditionally steamers* were used to cook tamales. It also works to reheat frozen tamales as steaming ensures that they stay moist and soft.
The moisture content in steam rehydrates the tamales and prevents it from drying out. This is a great way to retain original flavor of the dish!
Step by step process to steam frozen tamales over stovetop
Fill a large pot with water and put steamer insert inside it. Make sure the water doesn't come up to the steamer insert.
Place tamales with their open end facing upward in the steamer basket
Add extra water if needed, to create proper steam.
Heat for around 30-45min. For best results, avoid over steaming or the tamales will get soggy!
You can cook at least a dozen tamales at once with this hot steamer method but don't over crowd the steamer.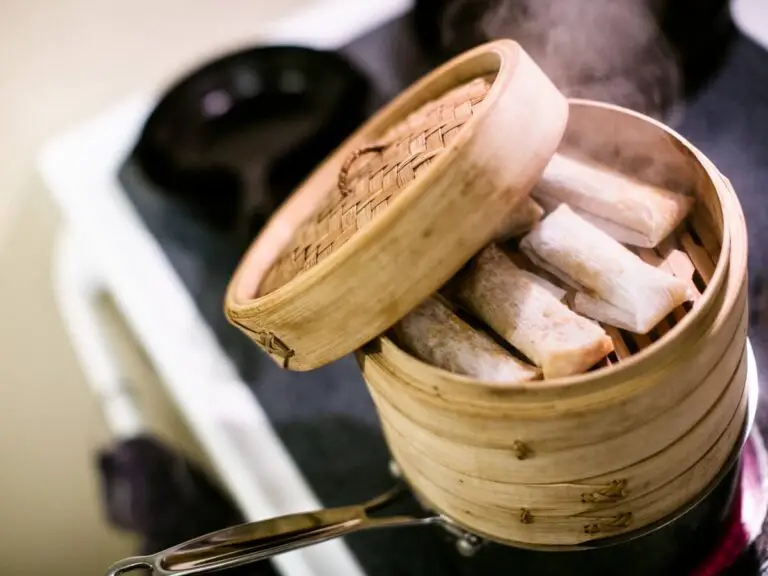 Steaming tamales without a steamer: If you don't own a steamer, it's not a problem. You can still steam the tamales by placing a metal, heat-safe bowl inside a water-filled pot upside down on top of a rack. 
You'll have to place the tamales inside the pot in a way that they rest in between the overturned bowl and the rack in the pot. Now, place a lid on the pot and heat it. The steam will reheat the tamales. Make sure to check the water level every few minutes.
2. Frozen tamales in oven
Reheating tamales in oven is very easy. The only downside to this is – you run the risk of drying out your tamales. But there is an easy solution to this problem – cover your baking pan* in tin foil or wrap each tamale individually in aluminum foil.
You can use this method if you have lot of tamales to cook but don't have a steamer. Baked tamales may not be as moist as steamed tamales.
Step by step process to reheat frozen tamales in oven
Preheat oven to 325°F.
Wrap every single tamale along with the husk, tightly in aluminum foil.
Place the single layer of tamales on a sheet pan.
Put them in the oven for a good 20 minutes and wait till it's done!
If these are tamales are frozen and not in the thawed state, they might take a little longer to be done.
3. Reheating tamales in the microwave oven:
Using a microwave* is one of the fastest way to reheat tamales. One issue with this method is that the heat isn't distributed equally and you might end up with slightly rubbery dough.
Leaving tamales in the microwave for too long can also make its very dry. But I've got you a way through which you can avoid that!
Step by step process to reheat frozen tamales in microwave
Wrap each tamale in a damp paper towel.
Place each of them on a microwave-safe plate making sure there's enough space between them.
Heat them for about 1-2 minutes.
Make sure to flip the tamales after around 30s so that they heat evenly.
Microwaves vary, so you may need to adjust your cooking time. Keep doing this till they tamales are piping hot!
Once they reach the required internal temperature, remove the paper towels from around the tamales and allow them to cool.
4. Frozen Tamales in rice cooker
You can also use your rice cooker* to steam the tamales but the water might be too close to them. To prevent the bottom of the tamales from getting submerged in water and get mushy, roll up some tin foil or find a metal rack to place at the base of the rice cooker.
This method works best if you have to reheat only 4-6 tamales. Anything more will over crowd the rice cooker and all the tamales may not heat evenly.
Step by step process to reheat frozen tamales in rice cooker
Add couple of inches of water to the rice cooker.
Stand tamales upright on their close end and make sure they are out of water.
Cook on high for 20 min. If it hasn't reached the desired internal temp, steam for another 10 min.
5. Steam Tamales in Instant Pot
Another reliable alternative to reheat tamales is using instant pot. This method is only recommended if you have a steamer basket specially designed for your Instant Pot*.
Also check out how to make Basmati Rice in Instant Pot.
You would need only around 10 min to heat up the tamales. Just make sure each tamale has enough space to thoroughly cook and isn't cramped up. 
You can use the "Keep Warm" function on the Instant Pot to keep the tamales warm until serving time.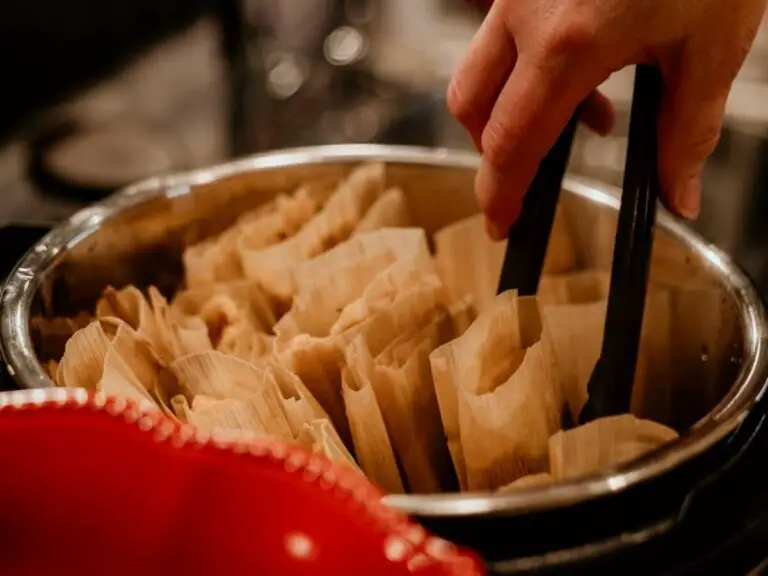 Step by step process to reheat frozen tamales in instant pot
Add around 2 cups of water to the instant pot.
Place the instant pot trivet at the bottom of the instant pot and then place the instant pot compatible steamer basket on top of it.
Place the tamales with the husks and openings pointing up, in the steamer basket*. Make sure it doesn't touch water.
Close the lid, change the steam release handle on the top of the Instant Pot from to "sealed" position from the "venting" position.
Click on manual settings and set the timer to 10 min. Once the timer is done, release pressure naturally and not by quick release.
Remove tamales using tongs*.
6. Reheating tamales in a crock-pot or slow cooker
This is an easy method but it takes longer time than the other methods mentioned here.
Set up the slow cooker* or crock-pot* and set the temperature to high.
Stack the frozen tamales with the husk, in the crock-pot or slow cooker in such a way that the open end faces the lid
Sprinkle some water on them and close it with a lid.
Reheat for 60 to 90 minutes. Start checking if they are done after 45 min.
7. Deep frying Tamales
Similar to frying, this method also works best for thawed tamales as time spent in the deep fryer* isn't long enough to thaw it. You can thaw the tamales either in the fridge for few hours or pop it in the microwave for 2-3 min.
Pre-heat deep fryer to medium heat and then add oil.
Remove the corn husk or banana wrapping from the tamales and pat them dry.
Place these tamales in fryer basket and lower them into hot oil.
Fry for 2-3 min till they turn golden-brown color.
Remove from oil and drain on paper towel.
8. Frying Tamales on a Griddle
This method works best if the tamales are thawed before frying. This a traditional way of reheating tamales and it is a quick method!
Place the tamales with outer wrapping on a hot griddle* or frying pan*.
Flip the tamales and allow husk to blacken on all sides.
This will take 5-7 min over high heat.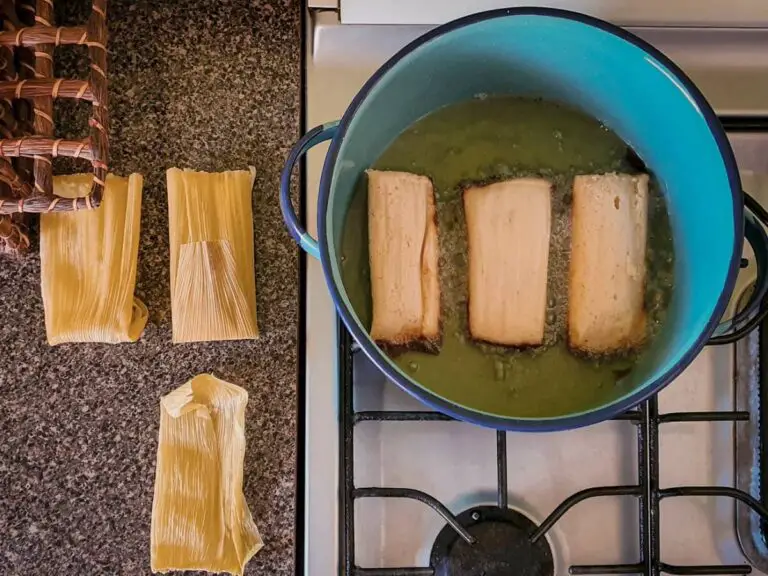 You can pan fry tamales even if it doesn't have the outer husk. Add some cooking oil to the griddle before adding the tamales to make sure they doesn't stick to the pan. This will give you a crispier crust and takes about 3 min on each side.
9. Frozen Tamales in Air Fryer
In recent years, it has become popular to use air fryer* to reheat tamales as it is a fast and easy method.
Heat the air-fryer to a medium temperature.
Wet the outer wrapping with some cold water.
Then place the tamales in the air fryer basket.
Make sure you don't overcrowd them and give at least 5 minutes to heat.
If you do own an air fryer, you will love these recipes : Frozen chicken wings in air fryer, Air fryer pizza rolls and Air fryer hash brown recipe.
10. Reheating Tamales on the Barbeque Grill
This is a good way to reheat tamales if you want to serve them for an outdoor picnic or for a barbeque party. This method gives tamales a crunchy exterior and a slightly smoky flavor.
Pre-heat the grill* to medium heat. If you don't have a traditional grill, an indoor grill* will also do the job.
Keep the tamales in the husk and keep it on the grill. You could also add a layer of aluminium foil on top of the grill before placing the tamales if you prefer to have less charring.
Turn the tamales occasionally till the husks start to blacken. Cook till the tamales are very hot.
Once cooked, take them off the grill. Cool them, remove the husk and enjoy!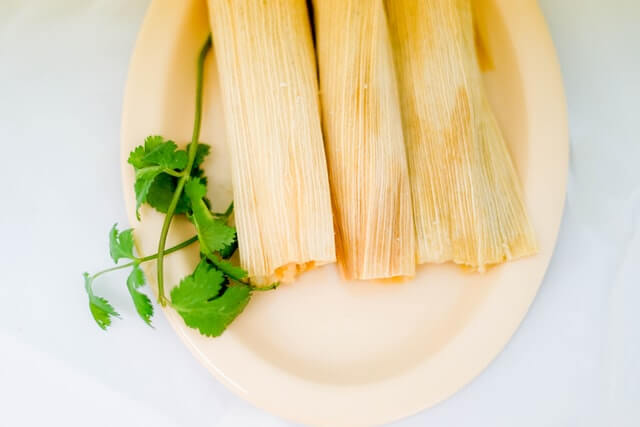 11. Boiling to reheat tamales
This is not a method that I would recommend as there is a lot of room for errors. But you can use this method if you aren't able to use any other options mentioned here. Only thing is – you have to absolutely make sure no water touches the tamales or they will turn very mushy.
Place the tamales in sous vide bag* or an airtight food grade resealable bag. Ziploc bag isn't safe to be used for boiling.
Seal the bag and keep them in boiling water for 10-15 min.
Keep a close eye on the bag to make sure no leaks develop.
Related Post
How to serve Tamales
Traditionally tamales are served with a side of rice and beans. They can also be served as it is as they are also considered grab and go food. 
If you want to play around and mix flavors, serve a side of Tortilla soup with tamales. You can also serve them with Mexican crema, corn chowder, black bean soup, cilantro rice or jicama slaw. 
Toppings such as your favorite salsa, fresh homemade guacamole or sour cream can also be added on tamales.
How to store leftover tamales
Reheated tamales will have great taste the next day as well. If you want to keep them for longer, store tamales, with their corn husks intact, in airtight container and refrigerator for 2 to 3 days. I would advise against refreezing the tamales.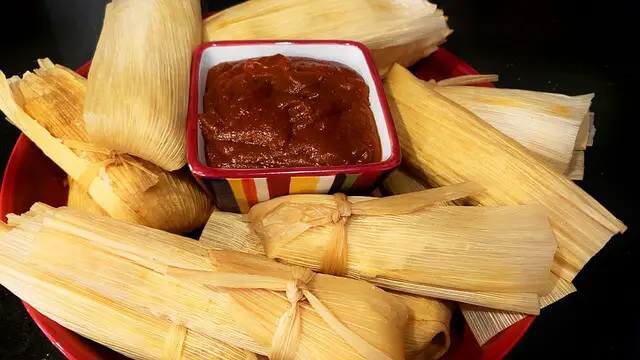 Commonly Asked Questions
How to freeze tamales?
Wrap the tamales tightly in aluminum foils and place them in a freezer bag and seal it tightly. Slide them into the freezer and that's all that you have to do!
Is it better to freeze tamales cooked or uncooked?
It is better to freeze cooked tamales, as uncooked fillings could change flavor and texture when frozen. so freezing tamales after they have been cooked does save more of the flavor, texture, and quality.
How do you cook frozen raw tamales?
To cook frozen raw tamales, steam them or 45-60 minutes. You can tell tamales are fully cooked when the corn husk has changed from white to off-yellow color and the corn flour is not mushy.
Did you find this post useful ?? Leave me a star rating & comment about it or any recipe idea you would love to see. Don't forget to share with family and friends!
Join Sugar Spice Community:
Facebook Group | Pinterest | Instagram | YouTube
Looking for more recipes? Sign up for our Sugar Spice newsletter and our YouTube Channel for weekly videos. Also rate, comment and share this article!
Disclosure: This page may contain affiliate links, which may earn me a commission, with no additional cost to you. Each of these links are referenced with the asterisk symbol * next to it, at all places it is posted.
About the Author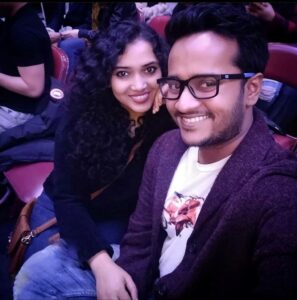 Hi! Akshita & Midhun here! Welcome to our blog where we show simple yet awesome recipes for your cravings.
Akshita being allergic to egg, we are committed to providing egg-free recipes along with some vegan friendly options. Read more about us here!
We are sorry that this post was not useful for you!
Let us improve this post!
Tell us how we can improve this post?