3 Ingredients Oreo Truffles
Ingredients
36 Oreos (Use the regular oreos)
240 ml – Cream Cheese
200 ml – Melted Dark Chocolate
Directions
Remove the cream filling from the cookie and keep it separately.
Put the cookies inside a large size zip-lock bag and seal them
Crush the cookies to crumbs by running a rolling pin over it or improvise your own way to do it
Take the crumbs in a medium sized bowl
Add in the cream cheese and the cream filling you had separated before, and mix together using a electric mixer or a spatula until combined well
Scoop out 1 tbsp size portions and roll them to balls in the palm of your hands
Freeze the truffles for 15 minutes
Take out the frozen truffles, dip them in the the melted dark chocolate and keep them aside.
You can sprinkle your favorite toppings or you can let the dark chocolate to set on the truffles.
Store them in a cool place in an airtight container
Are you drooling yet ? Check out our other recipes on our Home page and also follow us on Instagram and Facebook !
If you try out our recipe, let us know how it turns out! You can tag us @sugarspicen_everythingnice on Instagram.
If you like this recipe, PIN the image below to "No Bake Desserts" Board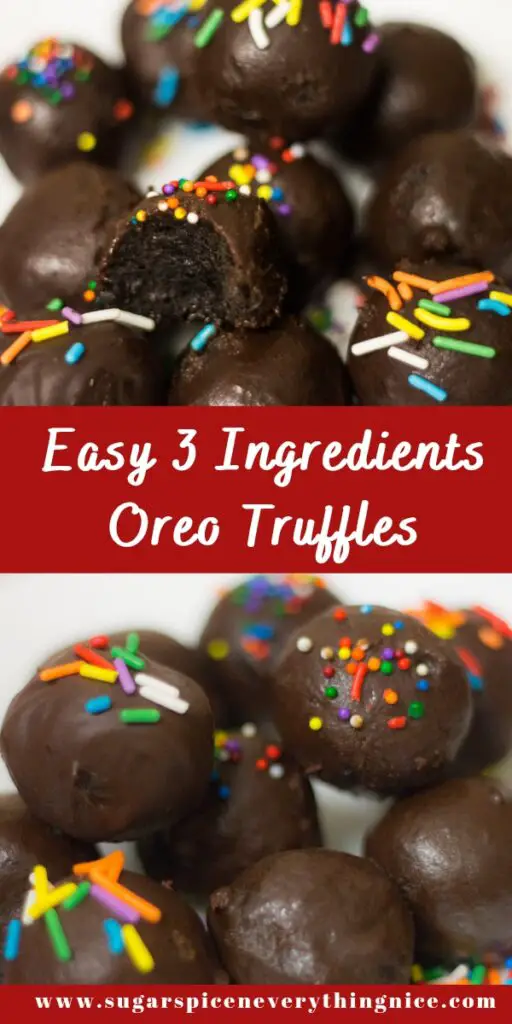 We are sorry that this post was not useful for you!
Let us improve this post!
Tell us how we can improve this post?