Mango Panna Cotta

Ingredients
1/6 cup – Milk
7 g (usually 1 sachet) – Unflavored gelatin
2 ½ cups – Heavy cream
½ cup – Sugar
1 ½ tsp – Pure Vanilla Extract
*Serving size – 5 to 6
Directions
Stir together the milk and gelatin, in a small bowl. Leave it aside.
In a saucepan, stir sugar and heavy cream together. Bring the mix to a full boil on medium heat. Keep an eye on the mix as heavy cream will rise up the pan and might spill over.
Now add in the gelatin – milk mix and stir continuously. Once dissolved, keep stirring for an additional 1 min, then remove from the heat.
Stir in the vanilla extract and pour into 5 or 6 small bowls/ramekins/glasses and let them cool to room temperature. Once cooled, refrigerate for at least 6 hours or overnight. You can store the glass cup at an angle like I did to make it look fancy :-P. If you find more creative ways, I would love to know what you did!
After 6 hours, it is ready to serve. Top it off with thick mango pulp and some of your favorite berries!
Are you drooling yet ? Check out our other recipes on our Home page and also follow us on Instagram and Facebook !
If you try out our recipe, let us know how it turns out! You can tag us @sugarspicen_everythingnice on Instagram.
If you like this recipe, PIN IT to Desserts Board to check it out later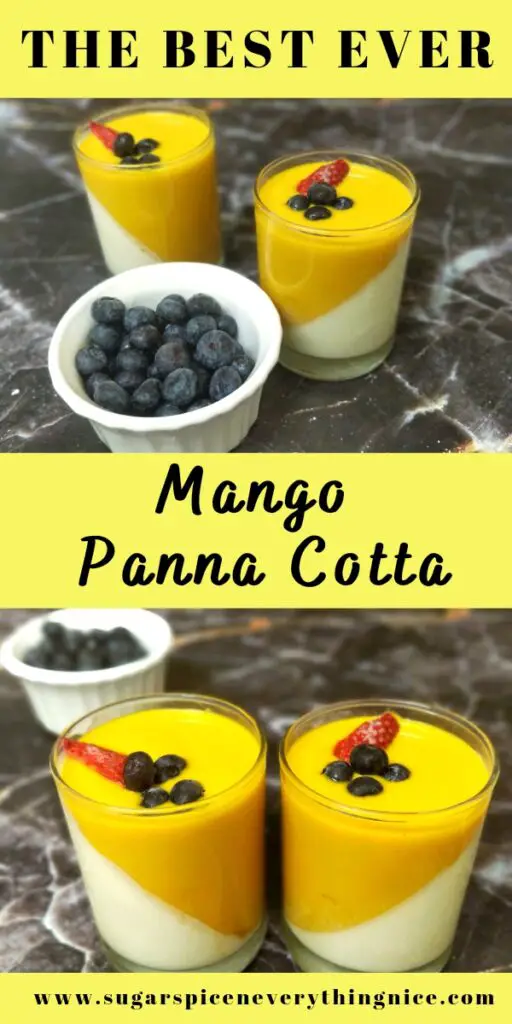 We are sorry that this post was not useful for you!
Let us improve this post!
Tell us how we can improve this post?