How to cook bratwurst in the oven
Bratwursts are perfect for barbeque parties and busy weeknights when you are looking for a fast and easy dinner idea. Learn how to cook bratwurst in the oven as the weather turns cold and you are unable to grill them!
Disclosure: This Page May Contain Affiliate Links, Which May Earn Me A Commission, With No Additional Cost To You. Each Of These Links Are Referenced With The Asterisk Symbol * Next To It, At All Places It Is Posted.
Oven-baked brats are even faster than grilling bratwurst and they turn out just as amazing! The oven brats brown well and have a great texture. They are slightly crispy on the outside and extremely soft and flavorful on the inside.
Cooking bratwurst in the oven is also pretty quick and the clean-up after making them is easy too. With some simple prep and the right oven temperature, you'll have tasty brats in no time.
These oven-baked brats can be cooked together with peppers and onions for a delicious meal. Pair it with an Oktoberfest beer or German-style lager to celebrate Oktoberfest year long!
Scroll down to the bottom of this post to see the full printable recipe card with ingredients and instructions!
The Germans love their sausages and there is no lack of options when it comes to sausages in Germany.
There are around 1,500 types of sausages known and made in this country, from tangy Currywurst to the classic Aufschnitt. Germany is indeed the land of "Wurst".
One such variety of sausage that has shined globally is the "Bratwurst". The word 'brät' means 'finely chopped meat' and 'wurst' means 'sausage' in old High German.
It is a classic German sausage that is mostly made of pork, but some are also made of veal or beef. Slathered with some mustard and grilled onions, these brats will surely win your hearts.
Why Should I Cook Bratwurst In the Oven?
I know most people grill their bratwurst. But living in Vancouver where it rains for the majority of the year it does not make sense for me to invest in a grill.
Even if this isn't a factor for you, there are a lot more reasons to cook bratwurst in an oven instead of a grill or even a pan!
First and foremost, the clean-up process is so much easier! Cleaning the sheet pan is definitely quicker and easier (especially if you have lined the baking dish with aluminum foil or parchment paper) than scrubbing a grill pan or the stovetop.
Baking brats is less messy, easier, and quicker than grilling these brats.
You can also cook more brats using this simple method than on a pan, grill, or air fryer. It is the best way to cook bratwurst if you're hosting a big party.
You can cook a variety of sides such as bell peppers and onion together with the brats in the oven, at the same time.
Last but not the least, you get to eat these scrumptious brats year-long irrespective of the weather outside!
How long to cook bratwurst in the oven
Oven-baked brats are extremely delectable, tender, and juicy. Cooking time depends on the thickness of the uncooked brats.The thicker the brats, the longer it will take to cook.
Turning them over halfway through cooking to ensure even cooking and a nice roasted appearance. Use tongs to flip them.
Then, use a food thermometer to check if the brats have cooked through. They are fully cooked when their internal temperature reaches 160 degrees Fahrenheit and they are no longer pink in the center.
Once they are fully cooked, you can use the broil setting and place the pan on the top oven rack. Broil for about a minute to get a nicer color. This step is totally optional.
Let the brats rest for 5 min once they are done. This allows for the juices to re-distribute throughout the whole brat and will result in super yummy, tender brats.
How to cook bratwurst in the oven
Learn how to cook bratwurst in the oven by following these simple steps.
Preheat the oven to 400 degrees Fahrenheit and make sure your oven rack is in the center position.
Then in a small bowl stir together the olive oil, red wine vinegar, stone ground mustard, garlic powder, salt, and pepper, and set this vinaigrette aside.
Cover a large baking sheet or baking pan with aluminum foil or parchment paper. You can also use a disposable lasagna pan or aluminum pan as we did. Just make sure that the baking tray that you chose has a rim so that the brats don't roll off and fall.
Prep before cooking brats in oven
Now slice the bell peppers and onion into 1/4-inch strips and place them on a large baking pan.

Add the raw bratwurst links to the baking pan and drizzle the vinaigrette over top. Toss the peppers, onions, and bratwurst until everything is coated in the vinaigrette.
Make sure that the raw brats are kept in a single layer without the sides touching. This helps with even cooking.
Place the baking pan with the bratwurst and veggies in the oven and roast for 15 minutes. Give everything a good stir and flip the bratwursts.
Return the baking pan into the oven and roast for another 20 minutes, or until the bratwurst, peppers, and onions, have browned on the edges.
Use a meat thermometer and check the internal temp of the brats to see if they are cooked thoroughly. Brat internal temperature should be around 160F.
Once the brats are cooked, you can use the oven broiler at the end to give them a bit of a charred taste as they would get on the grill.
Turn on the broiler and place only the brats under the broiler for 2 minutes or until they start to char. I did not do this optional step while preparing these brats.
Stuff the bratwurst, peppers, and onions into the buns. Add shredded cheddar on top. Place them back in the oven for about 5 minutes to melt the cheese and toast the buns.
Top with more mustard and serve them hot with the sour sauerkraut and your favorite beer!
Quick Note: If you are cooking the brats without any veggies in the pan, they'll need just 15 minutes or so. Bake one side for 10 min in a preheated oven and then flip the brats and bake the other side for 5-7 or until browned.
Always make sure the internal link temperature reaches 160F to consider the brats to be cooked.
Cooking Frozen Bratwurst in the Oven
Frozen brats can also be cooked in the oven but they need to be first brought to room temperature. Then cook them following the same directions above but for an additional 15-20 min.
I would also recommend that you flip them once or twice more than that mentioned in the directions to get that nice browned appearance.
This traditional German sausage got revamped as "Beer brats" in the state of Wisconsin, USA and now beer bratwurst are popular everywhere!
Simply marinate the brats with your favorite beer in a shallow pan for about 30 minutes before putting them on the grill or in the oven. You can even marinate the brats overnight for a better infusion of beer.
If you are making these beer brats in the oven, transfer them to a baking dish after marination and cook as directed above. Beer Baked Bratwurst tastes absolutely divine.
You can serve them the same way you serve hot dogs. Stuff these brats in hot dog buns and add mustard and some caramelized onions over them.
You can top them with some chili, coleslaw, pineapple salsa, wasabi mayo, or cheese to elevate your baked brats.
If you prefer to have it the traditional way instead, have these bratwursts as the main entrée, without the buns. Traditionally they are served with a side of Sauerkraut which is essentially sour cabbage fermented by lactic acid bacteria.
You can also serve these oven-baked brats with German Potato Salad and cucumber salad. Another classic way of serving bratwurst is with some baked beans! And of course, don't forget to wash it down with your favorite beer!
Brats are low in carbs and high in fiber, which makes them perfect for keto diets as well. Have these brats with a side of sauteed peppers and onion or other roasted veggies for a keto-friendly dinner.
What to do with leftover oven-baked bratwurst
If you won't be having all the five brats in one sitting, only stuff the buns that you are planning on eating.
You can store the remaining bratwurst sausages, pepper, and onion in the refrigerator in an airtight container for at least 3 days. Reheat them in the oven before having them.
You can even freeze the brats. Keep them in a well-sealed container once they reach room temperature and then put it in the freezer. You can freeze them for about 3 months.
Thaw in the fridge overnight and then heat them in the oven or microwave before serving.
You can also use up the leftovers instead of storing or freezing them. Chop up the leftover bratwurst and use them in pasta, rice dishes, soups, salads, or even as pizza toppings.
Here are some of my favorite ones, that I am sure you would love –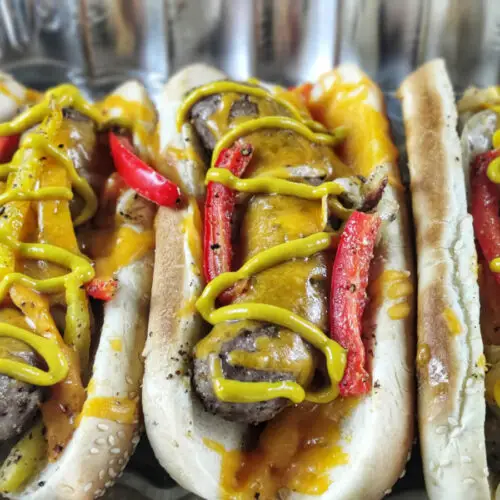 How To Cook Bratwurst In The Oven​
Bratwursts are perfect for barbeque parties and busy weeknights when you are looking for a fast and easy dinner idea. Learn how to cook bratwurst in the oven as the weather turns cold and you are unable to grill them!
Ingredients  
5

Bratwursts

1

White onion

3

Bell Peppers

Any colors

2

tbsp

Olive oil

1

tbsp

Red wine vinegar

1/2

tbsp

Fresh ground or whole grain mustard

1/4

tsp

Garlic powder

1/8

tsp

Salt

or to taste

5

Hot dog buns

Mustard sauce
Instructions 
Preheat the oven to 400ºF with the rack in the center position

In a small bowl, add olive oil, red wine vinegar, mustard, garlic powder, salt and pepper. Mix till evenly combined. Set this vinaigrette aside

Slice onion and bell peppers to 1/4 inch strips

Add them to a disposable baking pan

Stir the vinaigrette once and drizzle into the pan. Toss the bratwurst, peppers and onions till the vinaigrette has evenly coated everything

Place the baking pan in the oven and roast for 15 minutes.

After 15 minutes, toss everything again and make sure the bratwursts are flipped

Bake again for 20 minutes till the bratwursts, onions and peppers have browned edges. Check the internal temperature of the bratwursts. It should be 160 F to be fully cooked

You can serve as is, or you can stuff them into hot-dog buns along with the veggies. Spread some cheddar on top and put them back in the oven for about 5 minutes for the buns to be toasted and the cheese to melt

Add mustard sauce or any other toppings as needed.
DID YOU MAKE THIS RECIPE?
Let me know what you thought!
Leave a rating below in the comments and let me know how you liked the recipe.
How to cook brats on the stove?
While cooking brats on the stove, you'll have to use the hybrid method which involves part steaming and part browning. Take a pan and fill ½ inch with water, place sausages in it and cover the lid. Steam the brats on medium-low heat till the water gets absorbed. It should take about 12 minutes and the brats should register around 145-150 degrees Fahrenheit. Then sear the brats in a pan until they become nice and brown on the exterior and the internal temperature is 160 degrees Fahrenheit after cooking.
Can undercooked bratwurst make you sick?
Undercooked brats can definitely make you severely sick. Always check the internal temperature of the brats. They are cooked if the internal temperature reaches 160F.
Should you poke holes in bratwurst?
No, you should never poke holes in the Bratwurst because it allows the fats to leak out. The brats will become dry and flavorless without it. No matter how unhealthy, fats are extremely essential for the brats.
If You Found This Post Useful, PIN The Image Below To Check It Out Later!
Disclosure: This page may contain affiliate links, which may earn me a commission, with no additional cost to you. Each of these links are referenced with the asterisk symbol * next to it, at all places it is posted.
DID YOU MAKE THIS RECIPE?
Don't Forget To Leave A Review!
If you give this recipe a try, let us know how it turned out in our comments below and leave us a rating! Also, snap a photo and share it on Instagram. Make sure to tag
@sugarspice.2020
so I can see your creations!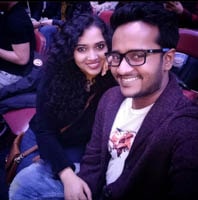 Hi! Akshita & Midhun here! Welcome to our blog where we show simple yet awesome recipes for your cravings. Akshita being allergic to egg, we are committed to providing egg-free recipes along with some vegan friendly options. Read more about us here!
We are sorry that this post was not useful for you!
Let us improve this post!
Tell us how we can improve this post?