Tri-Color Modak
Though it might look intimidating this tri-color modak is fairly easy to make if you follow our recipe!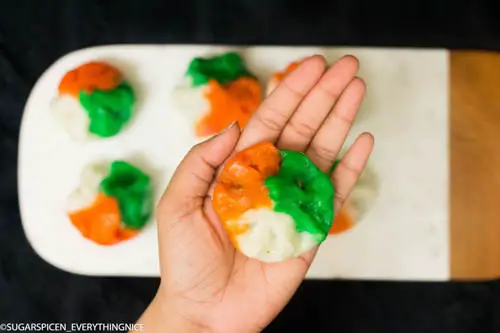 Disclosure: This Page May Contain Affiliate Links, Which May Earn Me A Commission, With No Additional Cost To You. Each Of These Links Are Referenced With The Asterisk Symbol * Next To It, At All Places It Is Posted.
Looks similar to steamed momos, modaks are soft and chewy treats made with rice flour shell on the outside. Sometimes they are made with wheat flour but most popularly rice flour is the way to go.
The stuffing however, is different from momos. Its filled with freshly grated coconut and jaggery.
To those who might not know what jaggery is, it is a traditional non-centrifugal cane sugar consumed in Asia. It is a concentrated product of cane juice and often date or palm without the separation of the molasses and crystals. The color varies between golden brown to dark brown in color.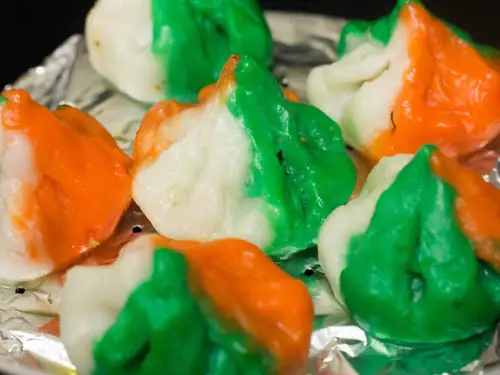 In the northern side of Kerala, it's made the same way as Modak is made, except the shape is simply a ball, without the syrup.
As we are celebrating India's Independence Day, we thought we will show you guys this popular dessert that is very close and dear to Indians, with 3 colors representing the colors of our Indian Flag.
Let's get back to Modak here and dive a bit deeper into origins, stories and whatnots.
A Bit About Modak
he origin of modak goes back to ancient legends which revolve around Lord Ganesh. One story goes that a during a fight between Lord Ganesh and the sixth avatar of Lord Vishnu, during which Lord Ganesh's tooth was broken.
This rendered him incapable of eating anything and soft modaks were slathered with ghee that melted in his mouth. It is believed that since then, modak became his favorite food.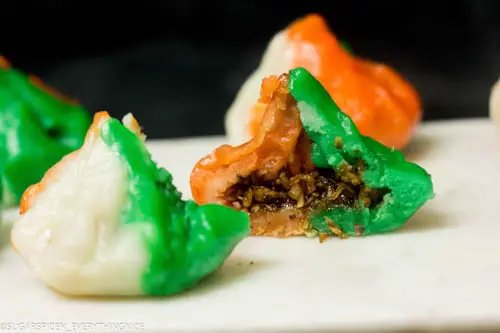 Another story that goes around why Lord Ganesh and his fondness for modak is about a time when Devas came to visit Lord Shiva and Goddess Parvati and gifted them a modak. According to legends, the person who ate the modak would become knowledgeable in all scriptures, science, art and writing.
Goddess Parvati wanted to present it to her sons – Lord Ganesh and Lord Kartik. The brothers were not willing to share it so Goddess Parvati put them to a test. Whoever proved the true meaning of sincerity and devotion would get the sweet.
While Lord Kartik went around to visit spiritual places, Lord Ganesh went around Lord Shiva and Goddess Parvati to show his unconditional love for them. An impressed Goddess Parvati, gifted the modak to Lord Ganesh and it became his favorite food.
To this day, during a major festival in India (Ganesh Chaturti, which is the celebration of Lord Ganesh's birthday), his devotees offer him 21 modaks.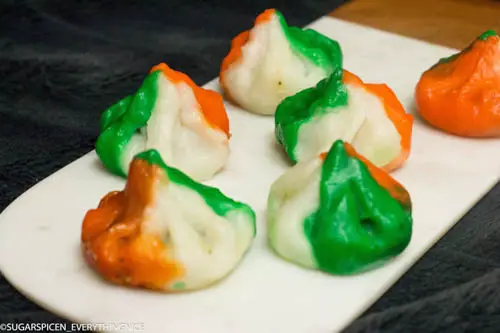 Going on a tangent here, but to note something interesting. A variation of modak exists in Japan as well. Going by the name Kangidan, this sweet is offered to God Kangiten.
Kangidans have an outer covering of kneaded dough from parched flour and shaped like a bun, stuffed with curds, honey and red bean paste. These are then deep fried before being served.
We have not tried anything with rice flour yet, so this is a first for us! Hope you guys give it a shot and let us know about your experience in the comments!
Tips Before Proceeding
Milk gives binding and nice color to modak.
While making pari or modak if the dough sticks to hand then do not use oil or ghee. If you use oil or ghee, you won't be able to make nice folds while making modak. Use dry rice flour or corn flour.
If you steam modak on high heat, they will break and stuffing will come out.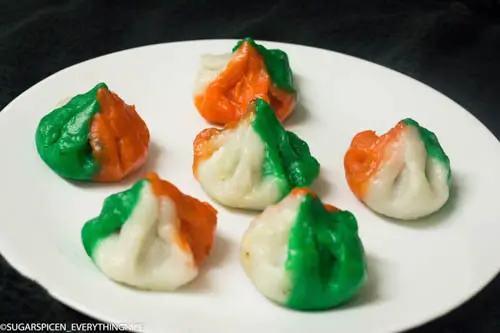 Tri-Color Modak
Steamed modak or kozhukkatta made with coconut and jaggery stuffing wrapped with coconut and jaggery, popular during Ganesh Chaturti.
Ingredients  
1

cup

Rice Flour

2

tbsp

Milk

1/4

tsp

Salt

1

cup

Water

1/2

tsp

Ghee

1

tsp

Poppy Seeds

1

Cup

Shredded coconut

1/2

cup

Jaggery

Green food color

Orange food color
Instructions 
Heat up water in a medium sized pan

Add milk, salt and ghee and bring it to a boil

Once it starts boiling, turn off the gas and add the rice flour

Mix it well with a spatula till everything is combined well

Keep it covered for 10 minutes or till you are done preparing the filling

Heat up another pan on medium heat and add in the poppy seeds

Dry roast the poppy seeds for about 1 to 2 minutes. Make sure you don't burn them!

Add in the shredded coconut and dry roast till its about slightly brown in color.

Add in the jaggery and keep roasting it for 5 to 7 minutes

Add 1 tbsp of water in between to make the filling slightly wet

Let the filling cool down

Take the dough into a clean plate and start kneading it for 7 to 8 minutes

If the dough is too sticky, rub some ghee on your hands for kneading

Divide the dough into three equal portions, one for each color

Add orange gel food color into one of the portions and knead it till the color is mixed in well

Repeat the above with green gel food color with the 2nd portion of the dough

Leave the third portion as it is. Now you have three colors

Start making smaller 1 inch size balls from each of the dough portions. You should get around 7 to 8 balls for each color

Take one ball of each color and press them together as shown in video, with no gaps in between any of the three different balls. This step will require some practice so make sure you check out the video

Once the dough is somewhat pressed out flat and thin, fold and pinch along the edges to make a form of dip in the center.

Add in the filling and close up the dough by pinching the top of the folds to the center

Now the modak is ready to be steam cooked

Bunch up some aluminum foil into three small balls and place it in a deep pan. The foil balls are kept to give some clearance between the bottom of the pan and the modak

Add in an inch of water to the pan

Grease a plate with ghee and place the modaks on it. Place this on the aluminum foil. If you want, you can improvise a steamer like what I did by poking holes on aluminum foil, wrapped around an Instant Pot wire roasting rack, and placing the modak on it

Close the pan with a lid and steam the modak on medium heat for 20 minutes. Do not steam at high heat

After 20 minutes, take the modaks out. Drizzle some ghee on it and serve it hot.
Did you find this recipe helpful ?? Leave me a star rating & let me know how it turned out in the comments below. Don't forget to share with family and friends!
Join Sugar Spice Community:
Facebook Group | Pinterest | Instagram | YouTube
Looking for more recipes? Sign up for our Sugar Spice newsletter and our YouTube Channel for weekly videos. Also rate, comment and share this article!
Disclosure: This page may contain affiliate links, which may earn me a commission, with no additional cost to you. Each of these links are referenced with the asterisk symbol * next to it, at all places it is posted.
About the Author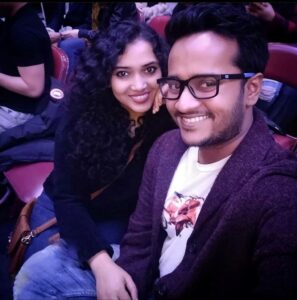 Hi! Akshita & Midhun here! Welcome to our blog where we show simple yet awesome recipes for your cravings.
Akshita being allergic to egg, we are committed to providing egg-free recipes along with some vegan friendly options. Read more about us here!
We are sorry that this post was not useful for you!
Let us improve this post!
Tell us how we can improve this post?