World's Best Chocolate Rum Cake (Vegan)
Rum cakes are a Christmas must have! But they take so long to make as you have to soak the dry fruits in rum for days or months in advance! And between you and me, I am not a big fan of all the dried fruits. So I decided to bake chocolate rum cake instead!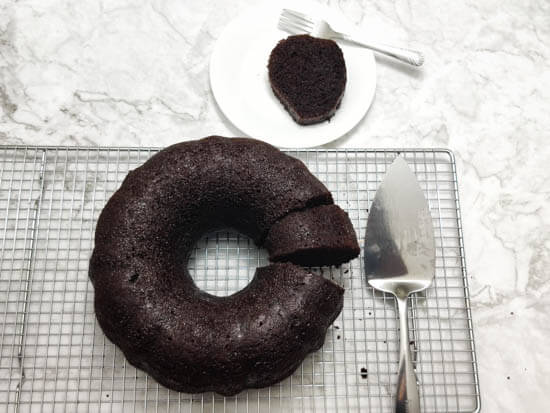 Disclosure: This Page May Contain Affiliate Links, Which May Earn Me A Commission, With No Additional Cost To You. Each Of These Links Are Referenced With The Asterisk Symbol * Next To It, At All Places It Is Posted.
It is similar to the classic holiday rum cake but without dried fruits. I am sure this will be a hit for your Christmas party! 
Made from scratch, this chocolate rum cake recipe gives you an extremely delicious, moist cake with a touch of boozy rum flavor. Basically, it's a chocolate cake with a kick!
Traditional Rum cake vs Chocolate rum cake
There's a significant difference between rum cake and chocolate rum cake in terms of the color as well as the ingredients. 
Rum cake will usually have a yellow color with a brown crust while the chocolate rum cake is all brown from the outside as well as the inside as we add cocoa powder* to cake batter.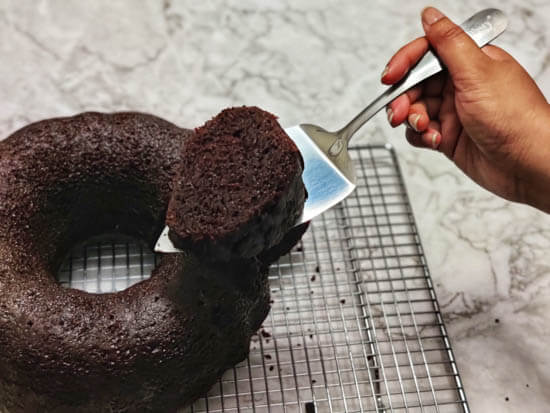 When it comes to the ingredients, rum cakes are made of the usual all purpose flour* while the chocolate ones will have cocoa powder* added to the all purpose flour.
Most holiday rum cakes I have come across, use eggs in them. But my recipe, like ALL my recipes are EGG-FREE! In fact, this is a vegan recipe!
Can you Taste Alcohol?
The cake itself has only 4 tbsp of rum in the batter. It has a light rum flavor and the alcohol bakes out. 
The rum glaze has 1/4 cup of rum. Some but not all of the alcohol is cooked out while making the glaze. But the glaze does give a stronger rum flavor to the cake. So you can taste the flavor of the alcohol but having couple of slices will not make you tipsy.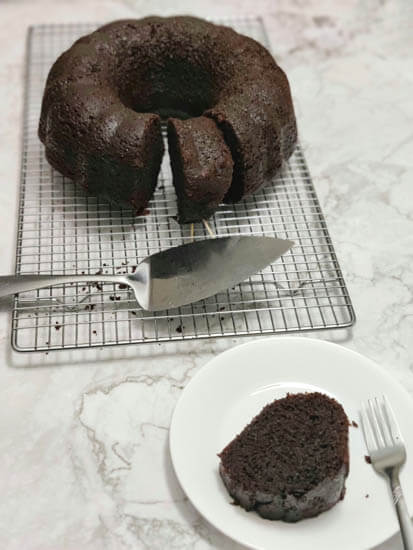 Having said that, if you need your cake to be more boozy, add rum to the glaze after the butter, water, sugar mixture is off the stove top and has cooled to room temperature.
Type of Rum to use for chocolate rum cake
Use your favorite rum – it could be light rum, dark rum, or even spiced rum. You don't need to use any of the fancy rums either as most of it is cooked out!
Ingredients and Alternatives
Rum: Dark or white rum.
Cocoa Powder: Use good quality unsweetened cocoa powder*. Makes a lot of difference.
Oil: Any vegetable oil* without a pungent taste works.
Milk: We used almond milk* to keep the cake vegan. You can alternatively use regular milk if you are not particular about keeping this vegan.
Butter: We used unsalted plant based butter to keep the cake vegan. Feel free to use regular butter if you want
Others: Granulated sugar, vanilla extract* , salt, baking soda, vinegar and water
How to make the perfect chocolate rum cake
The instructions below show the detailed steps involved in making the chocolate rum cake. I would highly suggest going through the detailed steps and video recipe first and then move to the quick recipe which comes later. 
The quick recipe is just for the purpose of going through as you are baking, for quick reference. All minute details, tips and tricks, come in the step by step instructions given below.
1. Mix Dry Ingredients
In a large bowl*, mix all the dry ingredients, except the granulated sugar. For best results, sieve* the ingredients to remove any lumps from being formed in the flour mixture.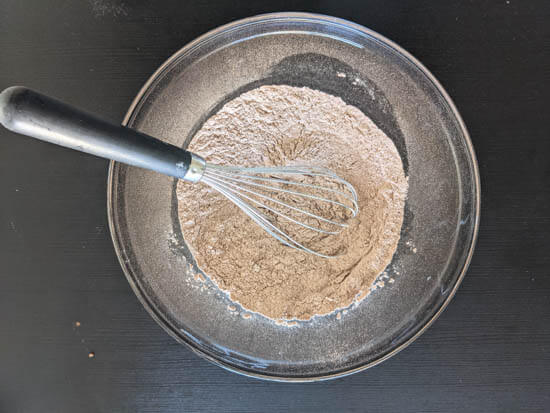 2. Mix Wet Ingredients
In a separate container or small bowl, take the milk* and add the vinegar. Stir and let it sit for 1 to 2 minutes to let it turn into buttermilk. Now add in the granulated sugar and whisk till all the sugar dissolves.
Now add in the oil and vanilla extract* to the buttermilk mix and stir again.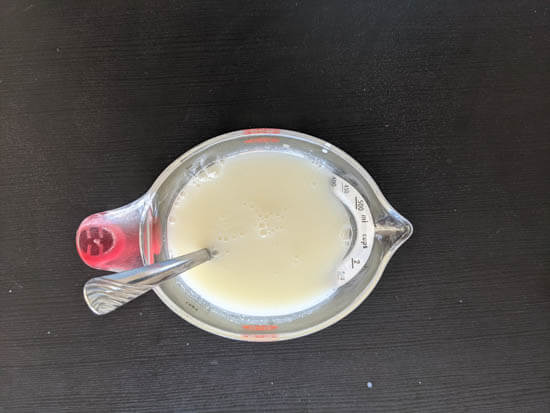 3. Make the batter
Add in the wet ingredients into the dry ingredients and mix. You can use either a whisk* or electric mixer* (first on low speed and moving up to medium speed; best to avoid high speed as it might overmix the cake batter).
 Mix till you no longer see any lumps. Add in 4 tablespoons rum and mix again.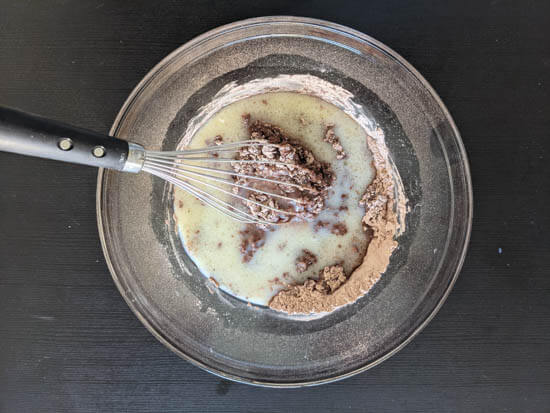 4. Prepare Pan
Melt butter and grease a 9 inch bunt cake mold* with butter. Make sure you grease generously on the sides and bottom of the bundt pan.
You can alternatively use a 9 inch cake pan* as well, but for this you can line parchment paper* and grease it or just grease the sides and bottom of the pan directly.
Pour batter into the prepared pan or bunt cake mold and tap it gently on the counter to remove air bubbles. If you see any bubbles still hovering on top then pop them using a toothpick*.
5. Bake
Place in an oven preheated to 350 F for 30-40 minutes. Depending on the oven, this time could wary. 
Stick a toothpick or skewer in the cake after around 30 min and see if it comes out clean to check if its baked fully. Once baked, remove the cake from the cake pan and let it rest on a wire rack.
6. Rum Syrup/ Rum Glaze / Rum Sauce
Heat up a small sauce pan* on medium heat. Add the butter and let it melt. Mix in the sugar, water and half cup of rum and bring it to a boil.
Switch to low heat and let it simmer for 4 to 5 minutes. Remove from heat. Let the syrup cool to room temperature.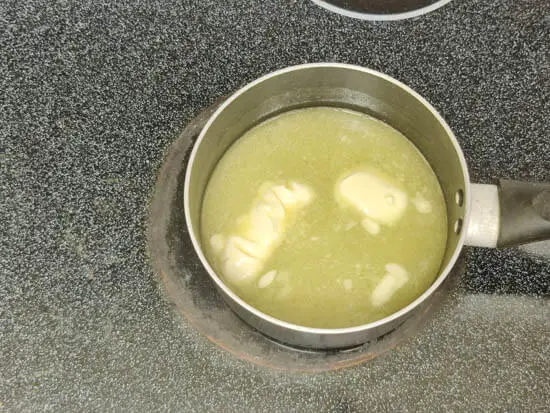 7. Applying rum syrup on the cake
Make sure the cake has cooled down completely to room temperature. Even if its a warm cake , don't apply the syrup yet.
To apply the syrup, pour over the cake little by little with a small spoon. If you want, you can also poke holes on the cake with a toothpick and then apply the syrup to let the syrup seep in more.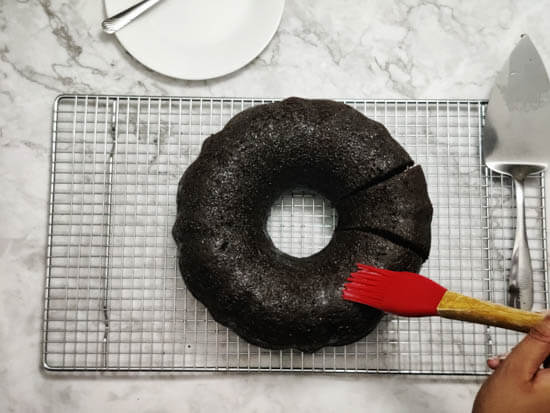 How to Remove Bundt Cake without Ruining it
Make sure to grease the bundt cake pan* with vegan butter before adding the batter!
Once baked, let the cake cool for ten minutes in the pan. Then, placing the wire rack* over the base of the cake, invert the pan.
If the cake doesn't immediately come out of the pan after turning it over, just give it a bang.
If the cake is really stuck, leave it upside down on a plate for 5-10 min and let gravity do its magic and release the cake!
Storing Chocolate Rum Cake
Cover cake with plastic wrap* and store at room temperature for up 2-3 days, if any leftovers remain. Chocolate rum cake can also be put in an airtight container in the refrigerator for a week.
If you want to store rum cake for longer, wrap it twice in plastic sheet, then cover in aluminum foil, then put it in a freezer bag* and freeze for up to 3 months.
Allow to thaw overnight in the refrigerator and bring to room temperature before serving!
LOVE CHRISTMAS BAKING??
Here are some of my favorite ones, that I am sure you would love –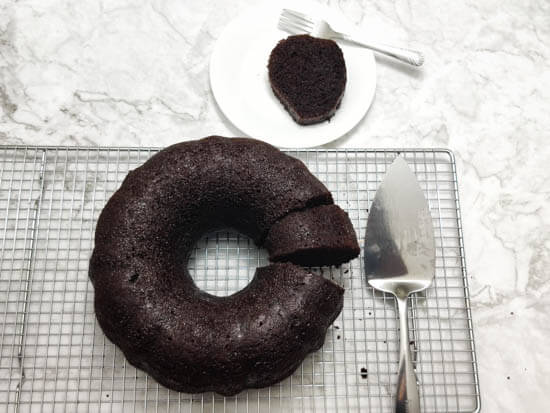 Chocolate Rum Cake
Soft to touch and moist to bite, this chocolate rum cake will melt in your mouth and fill you with rich chocolate flavor and a kick of rum!
Ingredients  
Rum Syrup
1/2

cup

Unsalted vegan butter

1

cup

Granulated sugar

1/4

cup

Water

1/2

cup

Rum

White or Dark rum
Instructions 
Making the cake
Sieve all the dry ingredients, except the granulated sugar, into a large bowl and mix.

In a smaller bowl, mix in the milk* and vinegar and let it stand for 1 to 2 minutes to turn into buttermilk.

Now add in the granulated sugar and whisk till all the sugar dissolves.

Now add in the oil and vanilla extract to the buttermilk mix and stir again.

Add wet ingredients into the dry ingredients and mix till everything is evenly combined and no lumps are seen. Do not overmix.

Add in 4 tablespoons rum and mix again.

Pour batter into it. Gently tap the mold on a table top to remove air bubbles.

Place in the oven for 30 to 40 minutes. Starting at 30 minutes, check if the cake is done by inserting a skewer and see if it comes out clean.

Once baked, let it cool in the pan for 30 min. Then remove from the cake mold and let it cool to room temperature on a wire rack.
Making the rum syrup
While the cake is cooling, heat up a small saucepan on medium heat.

Add butter, let it melt and then mix in the sugar, water and rum.

Bring it to a boil and then let it simmer for 4 to 5 minutes.

Remove from heat and let it cool to room temperature over a wire rack*.
Applying rum syrup on the cake
Once both the cake and the rum syrup has cooled down to room temperature, pour the rum syrup over the cake, little by little using a spoon.

Cut and slice and pour a generous amount of syrup over it and serve.
Did you find this recipe helpful ?? Leave me a star rating & comment about it or any recipe idea you would love to see. Don't forget to share with family and friends!
Also check out this list of  23 amazing and eggless cheesecake recipes! Lot of vegan and gluten-free options available as well!
Commonly asked questions
Does alcohol cook out of rum cake?
Yes! Most but not all of the alcohol is cooked out of rum cake. The amount of alcohol that cooks out of rum cake depends on the time you bake your cake for.
Can chocolate rum cake be left out at room temperature?
Yes, you can most certainly leave your chocolate rum cake at room temperature for a few days. Just make sure to cover it up with foil or plastic wrap* to prevent drying out.
What is the shelf life of rum cake?
Rum acts as a natural preservative which means your rum cake is going to have a longer shelf life than the usual alcohol-free cakes. It can be stored for up to 5 days in the refrigerator and up to 3 months if frozen.
If You Found This Post Useful, PIN The Image Below To your "cakes" board on Pinterest & Check It Out Later!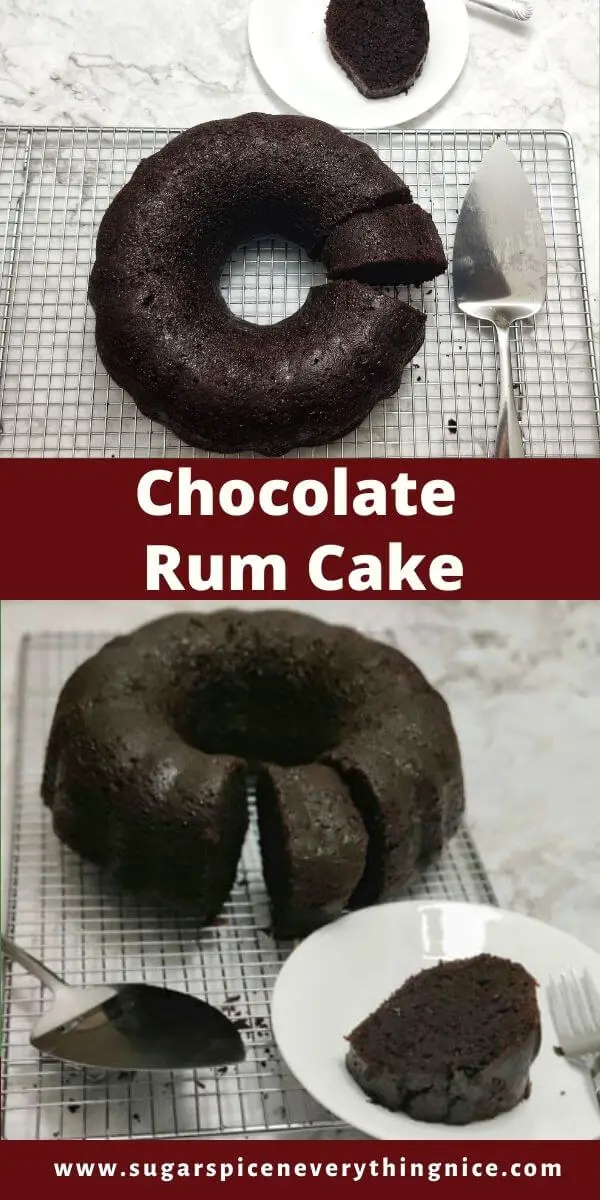 Join Sugar Spice Community:
Facebook Group | Pinterest | Instagram | YouTube
Looking for more recipes? Sign up for our Sugar Spice newsletter and our YouTube Channel for weekly videos. Also rate, comment and share this article!
Disclosure: This page may contain affiliate links, which may earn me a commission, with no additional cost to you. Each of these links are referenced with the asterisk symbol * next to it, at all places it is posted.
About the Author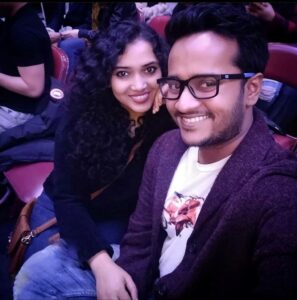 Hi! Akshita & Midhun here! Welcome to our blog where we show simple yet awesome recipes for your cravings.
Akshita being allergic to egg, we are committed to providing egg-free recipes along with some vegan friendly options. Read more about us here!
We are sorry that this post was not useful for you!
Let us improve this post!
Tell us how we can improve this post?