Texas Roadhouse Chili Recipe(Copycat)
From the famous Texas Roadhouse restaurants, I bring to you our Texas Roadhouse Chili recipe. Thick, savory and with a slight heat, you can make this copycat recipe at the comfort of your own home for your whole family.
Disclosure: This Page May Contain Affiliate Links, Which May Earn Me A Commission, With No Additional Cost To You. Each Of These Links Are Referenced With The Asterisk Symbol * Next To It, At All Places It Is Posted.
To me, a bowl of chili speaks comfort food, something that I like to have with a tall glass of my favorite apple cider and a side of Netflix. 
You can even serve it for your next potluck or game night and you will not be disappointed.
This homemade chili recipe calls for very simple ingredients such as ground beef, onions, kidney beans, few herbs & spices, and a dash of brown sugar. To top it off, use some shredded cheddar, jalapenos, and few crackers.
You could get creative and add other favorite ingredients of yours like a dollop of sour cream on top, but this copycat recipe is the closest thing you can get to the actual Texas Roadhouse Chili.
Here are some other copycat recipes :
Full Recipe Ingredients/Instructions are available in the recipe card at the bottom of the post. You can find important tips/tricks in the blog post.
Get New Recipes Every Week Directly in your Inbox!
Ingredients Used & Alternatives used in Texas Roadhouse chili recipe
Ground beef: Depending on your preference you can use regular or lean ground beef. 
I have also come across recipes which have used beef chucks. Chuck is a part of the sub-prime cut of beef and comes with a lot of fat and flavor. Unless its cooked properly, it might end up being chewy, so not a lot of people buy it.
So, I would advise sticking to ground beef for this recipe, but if you are feeling a bit adventurous, then try out beef chuck and let me know in the comments how it turned out.
If you are trying to avoid red meats, then you can replace ground beef with another ground meat like ground turkey or chicken, though the flavors will be different from a typical Texas Roadhouse chili recipe. 
You can also skip out meats completely and double the beans to make it vegan. Again, please let me know how it turns out and which one is your favorite!
Onions: We used white onion for this recipe but you could use red onions as well. Avoid using yellow onion as it could be a bit on the sweeter side when you cook it. Stay away from sweet o18nions.
Vinegar: Use regular white vinegar for this recipe. Alternatively, you could try out apple cider vinegar or white wine vinegar.
All purpose flour* :This is an optional item that is added to thicken the chili in case yours turns out too runny for you.
Others: Crushed tomatoes, kidney beans*, red chili powder, paprika, cumin powder, garlic cloves, olive oil, Italian seasoning, brown sugar, salt and pepper.
How to make the perfect texas roadhouse chili
Below are the detailed instructions for making the perfect Texas Roadhouse Chili. I would highly suggest reading through the following steps for minute details and tips and follow it up with the video. 
The recipe at the end is more of a quick reference guide for you to use.
Heat up a large pot on medium heat and then add oil.
Once the oil heats up, add the onion and garlic. Sauté till the onions are translucent. This would take about 3 to 4 minutes depending on your stove top. 
Add in the ground beef and mix it using a spatula till the beef is evenly browned.
Once browned, add all the remaining ingredients, except the flour. Treat the flour as an optional item to thicken the chili if needed.
Mix everything in thoroughly. Close with a lid and let it simmer for 30 to 40 minutes. 
Around 30 to 40 minutes, if the chili looks too watery, then add the flour, mix and let it cook for another 10 to 15 minutes or until you feel the chili has reached the right thickness. 
Again, use the flour only if you feel the chili has too much water.
Serve warm.  You can even serve focaccia bread on the side. Top it off with some shredded cheddar, sliced jalapenos, sour cream or crushed crackers. 
How to store texas roadhouse chili
This chili recipe is perfect to be stored for later use. It does not sit well at room temperature past few hours. Store it in the refrigerator for 3 to 4 days, in an airtight container.
If you are freezing it, store in an airtight container or freezer bag and it can last up to 6 months.
How to serve texas roadhouse chili
Chili is a very versatile dish so you have a lot of options here. Some of the best side dishes include Southwest Salad (or any other green salad), side of cornbread, and tortilla chips (to have the chili like a salsa).
I, personally have also had chili served on hotdogs, back when I was in school in Iowa. While it was a bit messy to eat, it was really yum! Some people have suggested having it with spaghetti, rice or noodles. For those who dare, let me know how it turned out.
Commonly asked questions
Does Texas Roadhouse Chili have beans?
Depending on the location of the Texas Roadhouse Steak House you visit, the chili may vary. Some locations add beans, some don't. Interestingly, the traditional Texas chili ( not the same as Texas Roadhouse Chili) does not use any beans or tomato paste/base.
How to spice up your chili?            
Hot sauce is one of the best secret ingredient that can really spice up your chili. Turn heat to low flame and let the hot sauce blend into the chili. Freshly sliced jalapenos, cayenne pepper, paprika, red chili powder or chili flakes can also add heat to the chili.
How to fix if your chili is too spicy?
While chili is being cooked, toss in few peeled russet potatoes to the pot. The potatoes will absorb some of the liquid from the recipe and along with it, some of the spice as well. If you feel the chili is thickening too much due to this, add some warm water to the potato – chili mixture. Just make sure you remove the potatoes before you serve the dish. Other alternatives include adding melted cheese into the chili or having with sour cream.
What are the substitutes for kidney beans?
You could completely skip out kidney beans and replace equal proportion with meat. Otherwise you can use pinto or red beans.
How to use leftover chili?
If you are making a large pot of chili, you are most likely bound to have some leftovers. Obviously you can store in the refrigerator and reheat it the next day. However, if you feel like exploring your cooking skills, some of the best chili dishes includes chili stuffed pepper, chili topped on cheese fries, chili and cheese lasagna, chili empanadas, chili mac and so on.
LOOKING FOR MORE COMFORT FOOD??

Here are some of my favorite ones, that I am sure you would love –
Get New Recipes Every Week Directly in your Inbox!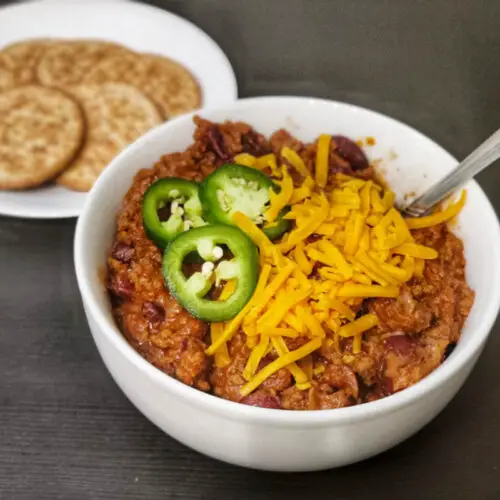 Texas Roadhouse Chili Recipe (Copycat)
Thick, savory and a kiss of heat, here you have the Texas Roadhouse Chili recipe (copycat) from the iconic Texas Roadhouse restaurant chain.
Instructions 
Heat up a large pot on medium heat and then add oil.

Sauté onions and garlic till the onions are translucent.

Add in the ground beef and mix it using a spatula till the beef is evenly browned.

Add all the remaining ingredients, except the flour. Mix well.

Close with a lid and let it simmer for 30 to 40 minutes.

If the chili looks too watery, add the flour, mix and let it cook for 15 minutes or till it reaches your preferred consistency.

Serve it warm in a bowl. Top it off with shredded cheddar, sour cream or sliced jalapenos.
Did you find this recipe helpful ?? Leave me a star rating & comment about it or any recipe idea you would love to see. Don't forget to share with family and friends!
If you found this post useful, PIN the image below to your
"BEST CHILI RECIPES" Board on Pinterest to check it out later
Looking for more recipes? Sign up for our Sugar Spice newsletter and Follow along on Facebook, Instagram, Pinterest for updates. Remember to Subscribe to my YouTube Channel for weekly videos.
Disclosure: This page may contain affiliate links, which may earn me a commission, with no additional cost to you. Each of these links are referenced with the asterisk symbol * next to it, at all places it is posted.
About the Author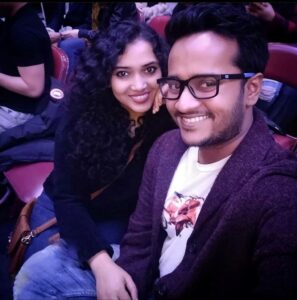 Hi! Akshita & Midhun here! Welcome to our blog where we show simple yet awesome recipes for your cravings.
Akshita being allergic to egg, we are committed to providing egg-free recipes along with some vegan friendly options. Read more about us here!
We are sorry that this post was not useful for you!
Let us improve this post!
Tell us how we can improve this post?