Easy Mosaic Jello

Ingredients
1/2 sachet (10g each) of 4 different flavored gelatin (strawberry, lemon, lime, blueberry)
3 cup – boiling Water
2 cup – yogurt at room temperature
2 sachet – unflavored gelatin (14g)
1/2 cup -tequila
1/2 cup – Margarita mix
1 cup – cold water
2 tbsp – lemon squeeze
Instructions
Add 1/2 cup boiling water to one of the flavored gelatin. Mix well
Let this cool to room temperature.
Add 1/2 cup yogurt into the mix and stir till combined. It is important that the yogurt and the gelatin mix are at room temperature before doing this step.
If you find lumps of yogurt floating around, you can filter the solution through the finest sieve you can find.
Pour the mix into a container and refrigerate overnight.
Repeat the above steps for each flavor of gelatin
After refrigerating overnight,the mix should be set. Run each container under warm water for about 10 to 20 seconds. This helps removing the gelatin easily from each container.
Cut up the gelatin into small cubes. Add it to a cake mold and set it aside.
In a medium sized bowl, add 1/2 cup of cold water and whisk in the unflavored gelatin. Let it sit for 5 minutes.
Pour in 1 cup boiling water, stirring constantly.
Add lemon squeeze, margarita mix, tequila and 1/2 cup cold water. Stir again till combined
Pour over the jello cubes that were set aside. Refrigerate for 6 hours or overnight.
Once it is set, run the mold under warm water for 10 to 20 seconds to help release the jello. Run a thin knife along the sides to further help the release. Invert the mold over a flat surface and the jello should have released now.
Eat responsibly. Don't jello and drive!
Are you drooling yet ? Check out our other recipes on our Home page and also follow us on Instagram and Facebook !
If you try out our recipe, let us know how it turns out! You can tag us @sugarspicen_everythingnice on Instagram.
If you found this recipe useful, PIN IT for later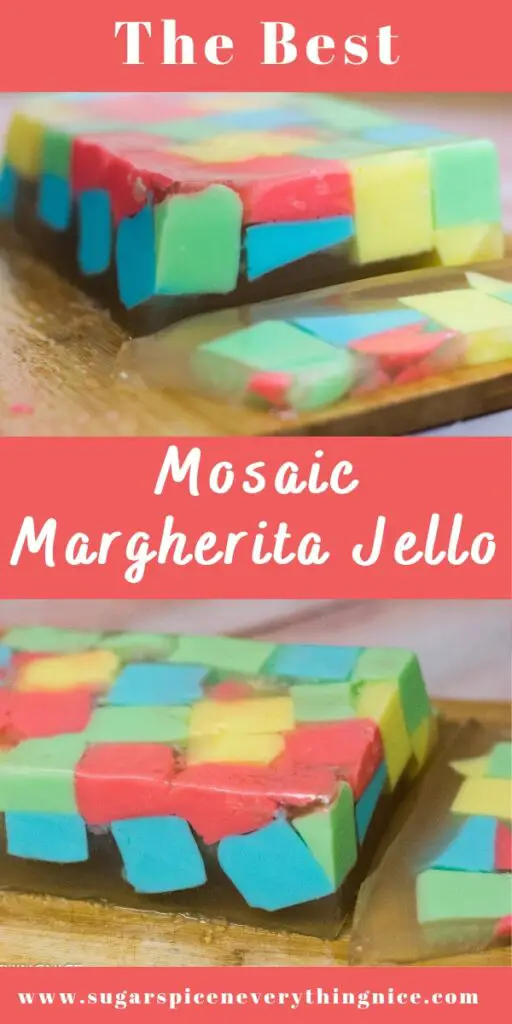 We are sorry that this post was not useful for you!
Let us improve this post!
Tell us how we can improve this post?