15 Baking Essentials for Beginners
Here are 15 baking essentials for beginners. These are some of my favorite kitchen tools that I personally use. This list is a great place to start if you're a beginner baker, are creating a registry, or are shopping for a gift for someone who likes to bake (or wants to learn).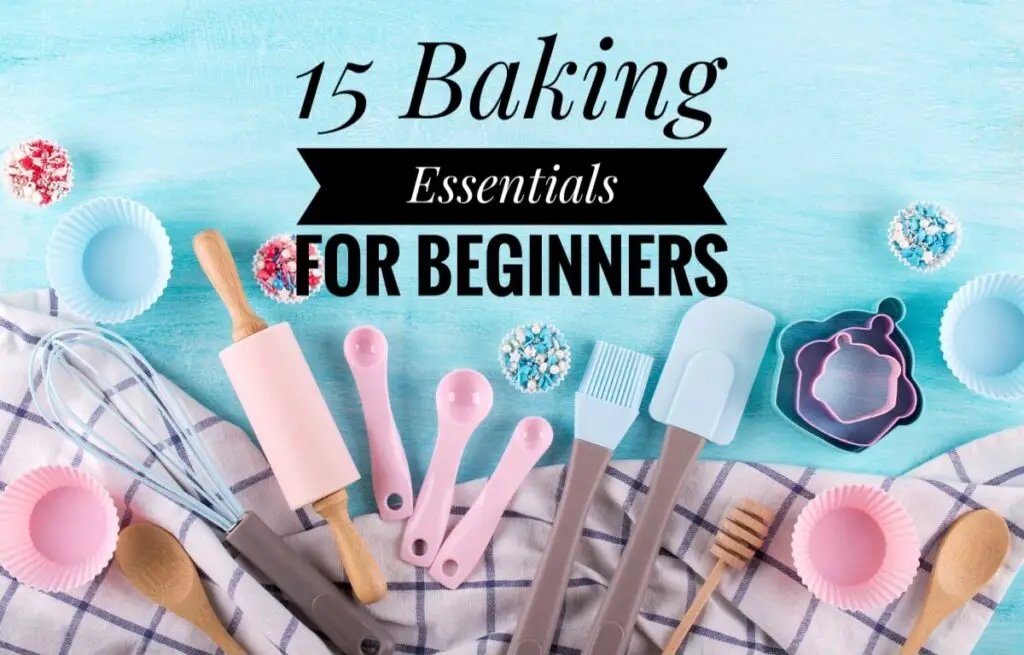 Disclosure: This Page May Contain Affiliate Links, Which May Earn Me A Commission, With No Additional Cost To You. Each Of These Links Are Referenced With The Asterisk Symbol * Next To It, At All Places It Is Posted.
Baking can feel overwhelming, especially if you're just starting out. There are numerous pans and baking tools available in the market right now and it is hard to figure out which ones are actually essential for a new baker.
I have been in your shoes where I simultaneously wanted to buy every fancy kitchen tool on Amazon and at the same time had a nagging feeling that I may not actually use it!
So where does one start? I've rounded up just 15 of the most basic and essential baking tools for a beginner baker to have in their arsenal. Consider this your one-stop shop for stocking a baker's kitchen.
These are the kitchen tools a beginner home baker needs. I have also mentioned a list of tools you can buy later on in your baking journey as you gain experience and confidence.
None of the items in this post have been sponsored by any company. They are truly just items I love and am happy to recommend to fellow home bakers. 
Baking Essentials for beginners
These are the tools you absolutely need in your kitchen, the ones you'll reach for more often than you think. Whether you're baking a cake or stirring up a batch of cookies, make sure you have the right tools on hand before getting started.
1. Round cake pans
What I use and love : Wilton's 8-inch cake pan set of 2*
Every baker or aspiring baker needs cake pans. I recommend having 2 of the same size on hand for layer cakes. The majority of beginner cake recipes will call for an 8-inch pan.
I also own this Springform pan* with removable bottom. These are perfect if you are worried about taking the cake out of the tin.
2. Loaf Pan
What I use and love : Amazon Basics Loaf Pan, 9 x 5 Inch*
You can bake a loaf of bread (such as cranberry orange bread) or even a loaf cake using this pan. A 9×5-inch loaf pan is the standard size most bread recipes and should suffice for new baker.
3. Muffin Tin
What I use and love : Wilton's 12-count Muffin Pan*
If instead of making a full cake, you want to start with baking a cupcake or even a muffin, you would want to get yourself this standard 12-cup muffin pan.
While you are at it, grab these cute cupcake liners* to use the muffin tin to bake cupcakes.
4. Sheet Pans
What I use and love : 3-Piece Cookie Sheet Baking Trays*
Baking Sheet pans are pretty versatile and can be used for baking cookies, scones, and even nachos or vegetables! I would recommend getting a set of 3. These are especially useful when baking various batches of cookies for Christmas!
I also love this square pan* to make brownies!
5. Cooling Racks
What I use and love : Hiware 2-Pack Cooling Rack*
Any experienced baker would tell you to never let your baked goods cool completely on the pan! Your desserts can continue cooking even when out of the oven due to the residual heat from the pan.
Baked items need to be cooled on a cooling rack so that air can circulate. Plus, you can even use them in the oven as a rack for making bacon or oven-baked chicken!
6. Measuring Cups and Spoons
What I use and love : Oxo Measuring Cups and Spoons Set*
Baking is an exact science. You need to make sure you have the exact quantities as called for in the recipe.
So I definitely recommend that a beginner baker buys a set of measuring spoons and cups. Also, check this how to measure baking ingredients correctly.
I also recommend getting this Pyrex measuring cup* to measure liquid ingredients in a recipe.
7. Mixing Bowls
What I use and love : Anchor Glass Mixing Bowls*
You really cannot bake without mixing bowls. Be it bread or cake, you would need them to mix your ingredients. Having a variety of sizes is also a must in case you need to use multiple bowls for a recipe.
When I first started baking I used a set of plastic bowls* Now I mostly use glass mixing bowls as I can use them without any issue to melt chocolate/butter in the microwave and also use it in a double broiler.
I, personally am not a fan of stainless steel bowls. I don't like the sound of steel on steel. But if that isn't an issue for you, this set of small, medium, and a large bowl from OXO* is a good set to invest in.
8. Silicone Spatulas & Whisk
What I use and love : StarPack Silicone Spatula Set* & OXO Balloon Whisk*
Rubber spatulas and whisks are essential tools in baking. You would need them for almost all recipes – from stirring and mixing to scraping the sides of bowls, spreading frosting, cooking, etc. 
As for whisks, you only need one sturdy whisk with a good handle to start with. Any that you purchase, just make sure they are of good quality and heavy-duty.
9. Kitchen Scale / Food Scale
What I use and love : Nicewell Food Scale*
It is recommended to weigh dry ingredients such as flour and sugar, rather than measuring them by volume, especially for baking bread.
The degree to which the ingredient is compacted or its coarseness can lead to variable volumes, so measuring with a digital scale gives the greatest accuracy.
10. Parchment paper
Baking cookies or cake batter over parchment paper will make cleanup so much easier and prevent your baked goods from sticking to the pan. These silicone baking mats* are also a good investment as they are reusable and more eco-friendly.
11. Rolling pin
What I use and love : Farberware Classic Wood Rolling Pin*
Rolling pins are needed for rolling out cookie dough, puff pastry, or pie crusts. Besides this, I have also used it to crush cookies/ graham crackers to make a cheesecake base in this no-bake cheesecake recipe.
12. Sieve / Sifter
What I use and love : Stainless Steel Sifter*
Some recipes require sifting dry ingredients like flour, sugar, chemical leaveners, and/or cocoa powder. That step is crucial and is done to aerate these ingredients and get rid of any lumps.
I usually use a sifter but these mesh strainers / sieves* are also very popular.
13. Hand Mixer
What I use and love : KitchenAid 5 Speed Ultra Power Hand Mixer*
I would love to have a stand mixer someday but right now I do not have enough kitchen counter space and they are pricey! A handheld mixer / electric mixer is the perfect alternative for beginner bakers.
I love my KitchenAid hand mixer. It's so easy to use, uses less storage space, and also gives you more control over the beaters!
14. Oven Mitts
What I use and love : KEGOOU Oven Mitts*
Oven mitts can easily be forgotten but they are one of the biggest baking essentials, not just for beginners but also for professional bakers! Your tins and trays will be extremely hot when coming out of the oven, so you must protect yourself.
I like the KEGOOU oven mitts as they are extra long and non-slip. They are also heat resistant for up to 500F and comes in various colors!
15. Oven Thermometer
What I use and love : Rubbermaid Over Thermometer*
I'll be honest, I didn't use it when I initially started baking, but now I won't bake without it. I live in a rented apartment and I was shocked to see how off my oven temperature really was.
Unless you have a brand new or regularly calibrated oven, your oven's temperature is likely inaccurate too. If you've ever followed a recipe step-by-step and it hasn't come out right, it is probably an issue with your oven not heating up to the right temperature.
Incorrect temperature ruins baked goods and you waste hours spent on the recipe and money spent on ingredients.
Nice-to-Have Baking Equipments
Once you've made sure you have enough space in your kitchen for the baking essentials, you can start adding a few tools from this nice-to-have list.
While the items on this list are not baking essentials for beginner, these additional baking supplies will make your most tried and true recipes quicker and easier.
1. Cookie Cutters
I love collecting cookie cutters in all different shapes and forms. I used these fall leaf cookie cutters* for my fall leaf sugar cookie recipe.
You could also buy these Wilton's 101 Cookie Cutters* for all seasons.
2. Pastry Cutter / Pastry Blender
What I use and love : Spring Chef Professional Pastry Cutter*
This is by no means an essential or a necessary item, but if you like making scones, biscuits, or pies, this is a handy tool to have. It'll make cutting cold butter or shortening into flour much easier.
However, if you don't have one, you can use two butter knives/forks instead to cut the butter into the flour.
3. Offset Spatula
What I use and love : Offset Frosting Set*
This is probably not a tool that you'll use every day. But if you want the frosting on your baked goods to look almost perfectly smooth, using an offset spatula is the best way to go.
4. Cookie Scoops
What I use and love : Saebye Cookie Scoop Set*
Scoops ensure that uniform amounts of batter are baked, resulting in perfectly even cookies, cupcakes, and other baked goods!
Aside from influencing appearance, they also ensure baked goods cook evenly. I prefer to have cookie scoops of different sizes so I can decide which one to use based on my needs.
5. Cake Leveler
What I use and love : Wilton Adjustable Cake Leveler*
I did not buy this till much later in my baking journey. But when you start making layer cakes, it's good to have a cake leveler to get the perfect layered cakes.
6. Bench Scraper
What I use and love : OXO Stainless Steel Scraper*
These are perfect for cutting out the sticky, wet dough. Unlike a kitchen knife, these cutters won't stick to the dough and will keep your fingers clean.
Did you find this post helpful ?? Leave me a star rating & let me know in the comments below. Don't forget to share with family and friends!
Can't Read it Now? Then PIN It for later!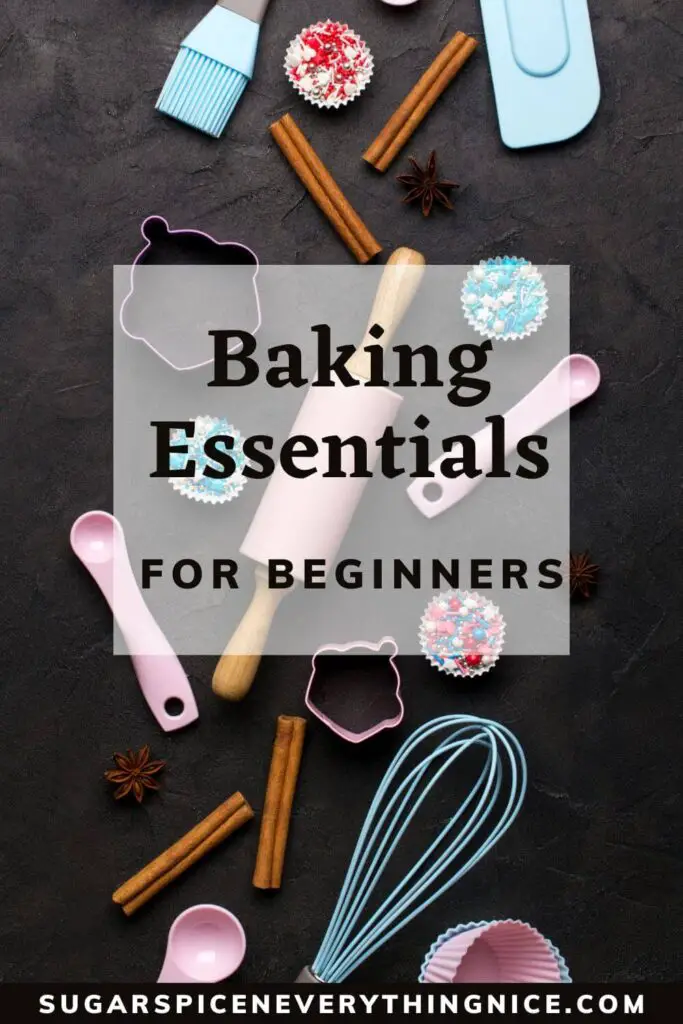 Join Sugar Spice Community:
Facebook Group | Pinterest | Instagram | YouTube
Looking for more recipes? Sign up for our Sugar Spice newsletter and our YouTube Channel for weekly videos. Also rate, comment and share this article!
Disclosure: This page may contain affiliate links, which may earn me a commission, with no additional cost to you. Each of these links are referenced with the asterisk symbol * next to it, at all places it is posted.
About the Author