Nuoc Mam Recipe (Vietnamese Fish Sauce)
Spicy, zesty, and sweet, this nuoc mam recipe ( nước mắm ) packs a lot of flavors. You can make this iconic Vietnamese Dipping Sauce or Vietnamese Fish Sauce in just 8 minutes and with simple ingredients.
Disclosure: This Page May Contain Affiliate Links, Which May Earn Me A Commission, With No Additional Cost To You. Each Of These Links Are Referenced With The Asterisk Symbol * Next To It, At All Places It Is Posted.
The classic Vietnamese dipping sauce is one of the most quintessential recipes of Vietnamese cuisine. 
It is accompanied on the side of Vietnamese dishes such as spring rolls and egg rolls where it is used as a dipping sauce. It is also added to vermicelli bowls or noodle bowls to bring out the flavor of the dishes. It can also be used in place of vinaigrette or as a salad dressing.
What is Nuoc Mam dipping sauce?
Nuoc Mam is a popular Vietnamese dipping sauce made from fish sauce. It balances the strong and salty flavor of the fish sauce with the sweet and sour flavors of sugar and lime juice.
It has watery consistency, unlike American-style dipping sauce such as this subway chipotle sauce. Though it is thinned out with water, it still packs a punch of flavor.
The term Nuoc mam can refer to both the bottled fish sauce that goes into this recipe as well as this dipping sauce recipe. It is also called nuoc cham, nuoc mam cham ( nước mắm chấm ) and nuoc mam pha ( nước mắm pha ), all of which refers to the same dipping sauce. . 
 Nuoc cham translates to "dipping sauce"  and Nuoc mam cham means "fish sauce for dipping". Nuoc mam pha means "mixed fish sauce".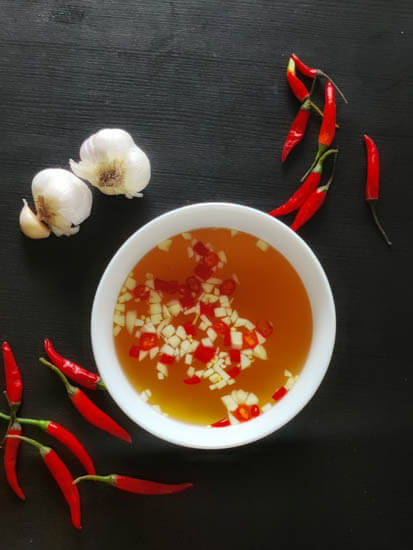 Everyone likes their nuoc mam a little differently. Some people like it to be sourer, others may like it a little more or less sweet/salty and some even like it to be super garlicky!
This recipe is very easy to tweak by changing the ratio of the different ingredients used.
I would encourage you to experiment and make it your own based on your preferences. There's no wrong way to make this delicious sauce as long as you love the taste!
Ingredients and alternatives used in nuoc mam recipe
Fish Sauce: This is a fermented sauce made mostly by combining anchovies (sometimes other fish as well) with salt and aged for 6 to 12 months in barrels.
Depending on the different fish sauce brands, and their fermenting process, the strength of the bottled fish sauce will vary. How much fish sauce to add would depend on the different levels of saltiness of the different brands so you need to adjust the recipe based on that.
The brand I used is Blue Dragon's Fish sauce. You should be able to find this in your nearest Asian supermarket or even an Asian aisle of your local grocery store.
In case you want to make it vegan, you can replace the fish sauce with soy sauce, and it still makes a great dipping sauce.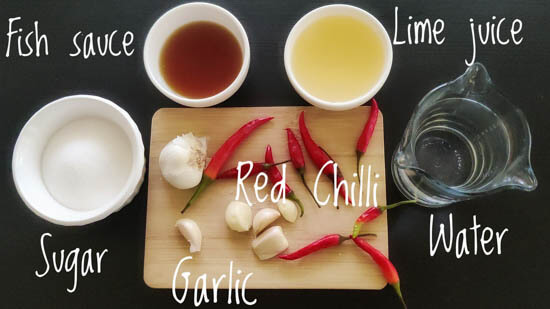 Garlic: I used finely chopped garlic. However, if you prefer a stronger garlicky flavor, then you can crush the garlic using a mortar and pestle or food processor.
This will help release stronger flavor from the garlic but this does make the sauce look a little murky.
Lime juice: Lime juice gives the sauce its tartness. The recipe calls for fresh lime juice to get the best results.
If you want less zest you can use lemon juice as well. Another option is using vinegar (rice vinegar or regular white vinegar ).
Sugar: This is one of the main ingredients that gives the sauce its sweetness. You can use honey or other sugar substitutes in its place if you don't want to add sugar.
Red Chili: I used bird's eye chili (Thai Chiles or Thai chili peppers) to add little heat to this sauce. But any hot chilies you have on hand will work perfectly. Adjust the amount based on its heat and your preference.
Other: Water
How To Make The Perfect Nuoc Mam
Take a small bowl and add hot water.

Dissolve sugar in the water.

Once sugar dissolves, stir in lime juice and fish sauce.

Then add optional ingredients – freshly sliced garlic and bird's eye chili to the fish sauce mixture.

Sample the nuoc mam and adjust the ratio of the ingredients as per your taste.
Adjusting Nuoc mam recipe as per your taste
Make sure you adapt it as you go and make it your own. You may need to add more or less of the ingredients depending on your taste.
If your nuoc mam is bland or not salty –

add more fish sauce.

If it has a strong fish sauce aftertaste –

add more sugar, lime, and water to round it out.

If nuoc mam does not have enough tang –

add more lime juice.

If it has too much tang

– add more sugar.

If it needs a little more sourness without using lime or lemon –

add some vinegar.

If it tastes too strong –

add a little water to dilute the flavors.

If it tastes pretty close but not quite there –

give the sauce time to develop.
Give the Sauce Time to Develop
The sauce tastes better the day after you make it. This is because garlic needs time to infuse and for the flavors to develop. 
If you serve it immediately after making it, nuoc mam will have a slightly sharp taste due to the strong fish sauce flavor.
Making it a day ahead will also give time for other ingredients to slowly round out the flavor, leaving you with a beautiful tasting Vietnamese dipping sauce. The flavors mingle and mature a bit after the first 24 hours.
Difference between Vietnamese restaurant made and homemade Nuoc mam
In restaurants, Nuoc Mam is made in big batches and they typically use vinegar instead of lemon or lime since it's easier and cheaper.
So you are looking for a restaurant-style nuoc mam recipe, then vinegar would be the ingredient you'd want to use for the tartness. Vinegar and fresh lime juice differ in the level of sourness and flavor.
Vinegar is less sour as compared to fresh lime juice, and lime juice also gives a slight fruity lime flavor to nuoc mam.
Most restaurants also don't go through the trouble of adding finely chopped or minced garlic.
Nuoc Mam Serving suggestions
Nuoc mam is one of the essential recipes in Vietnamese cuisine. This versatile sauce takes many of the Vietnamese dishes to a whole different level. Here are a few dishes you can serve with nuoc mam :
Nuoc mam and spring rolls are a classic pair. Serve it on the side deep-fried or fresh spring rolls.
Nuoc mam goes well as a dip for almost all Vietnamese appetizers.
You can also add it to your grilled meats to spice it up and give a pop of flavor.
Drizzle this sauce on Vietnamese salads in place of vinaigrette.
This can also be added to the vermicelli bowl to make it less bland and add a complex flavor.
Use in on authentic Vietnamese recipes like Banh Xeo and Banh Cuon.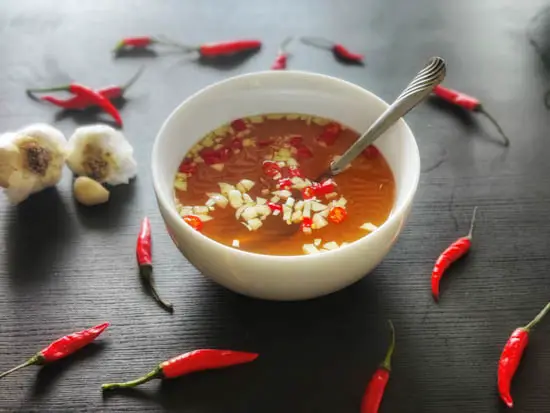 You can store it for 1-2 weeks in an airtight container or mason jar in the fridge. I would recommend using it as soon as possible as you will lose the tartness of lime juice, longer it stays in the fridge.
However, if vinegar is used instead of lime juice, you can keep it for about 2 months in the fridge, again in an airtight jar. Give the contents a quick stir before using.
As mentioned above, it is recommended to make this easy recipe at least a day before serving to mellow out the strong fish flavor and to let the garlic flavor infuse better with the sauce.
Here are some of my favorite ones, that I am sure you would love –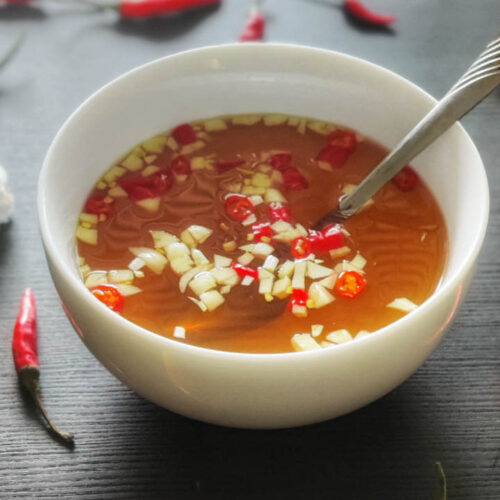 Nuoc Mam​ - Vietnamese Fish Sauce
Spicy, zesty, and sweet, this nuoc mam recipe ( nước mắm ) packs a lot of flavors. You can make this iconic Vietnamese Dipping Sauce or Vietnamese Fish Sauce in just 8 minutes and with simple ingredients.
Ingredients  
1

cup

Water

1/2

cup

Sugar

1/2

cup

Lime juice (or vinegar)

1/4

cup

Fish sauce

2

tbsp

Garlic

Finely chopped

2

whole

Bird's eye chili

Finely chopped
Instructions 
Take a small bowl and add hot water.

Dissolve sugar in the water.

Once sugar dissolves, stir in lime juice and fish sauce.

Then add optional ingredients - freshly sliced garlic and bird's eye chili to the fish sauce mixture.

Sample the nuoc mam and adjust the ratio of the ingredients as per your taste.
DID YOU MAKE THIS RECIPE?
Let me know what you thought!
Leave a rating below in the comments and let me know how you liked the recipe.
Tips to make the perfect Nuoc Mam Dipping Sauce
Use hot water to help dissolve the sugar faster. Then allow the sauce to cool to room temperature before serving.

Finely chop the chili and garlic, so you don't end up biting into a big piece.

Add the ingredients in small increments. Taste and adjust the ratio of ingredients as you go.

It is best to use fresh ingredients such as fresh lime instead of the one you get in squeeze bottles.
How to cook with fish sauce?
Fish sauce can be really strong to taste and smell if you try it out from the bottle. However, it can be milder to taste if you balance it out by adding in some vinegar or lime juice, sugar, and spices.
Is hoisin sauce the same as fish sauce?
Fish sauce is made from mostly anchovies (sometimes some other fish as well), salt, and water. Hoisin sauce is a thick vegan sauce made from fermented soybean paste, garlic, and few other ingredients. The taste is more salty and sweet and not as strong and intense as fish sauce.
Is oyster sauce the same as fish sauce?
Short answer, no. Fish sauce has a very pungent 'fishy' taste whereas oyster sauce is way more thicker, darker, and sweeter with a slight salty tone.
If You Found This Post Useful, PIN The Image Below To Check It Out Later!
Disclosure: This page may contain affiliate links, which may earn me a commission, with no additional cost to you. Each of these links are referenced with the asterisk symbol * next to it, at all places it is posted.
DID YOU MAKE THIS RECIPE?
Don't Forget To Leave A Review!
If you give this recipe a try, let us know how it turned out in our comments below and leave us a rating! Also, snap a photo and share it on Instagram. Make sure to tag
@sugarspice.2020
so I can see your creations!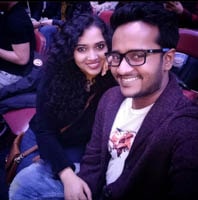 Hi! Akshita & Midhun here! Welcome to our blog where we show simple yet awesome recipes for your cravings. Akshita being allergic to egg, we are committed to providing egg-free recipes along with some vegan friendly options. Read more about us here!
We are sorry that this post was not useful for you!
Let us improve this post!
Tell us how we can improve this post?